Although Helsinki's an expensive city, it also has a wealth of free and low-cost things to do – you just need to know where to look. Check out our guide on how to get the best out of Helsinki on a budget! You can use the links below to hop to a section.
Parks and nature
Historic sights
Public spaces
Walks
Museums and galleries
Events
Health and fitness
Shopping
Eating and drinking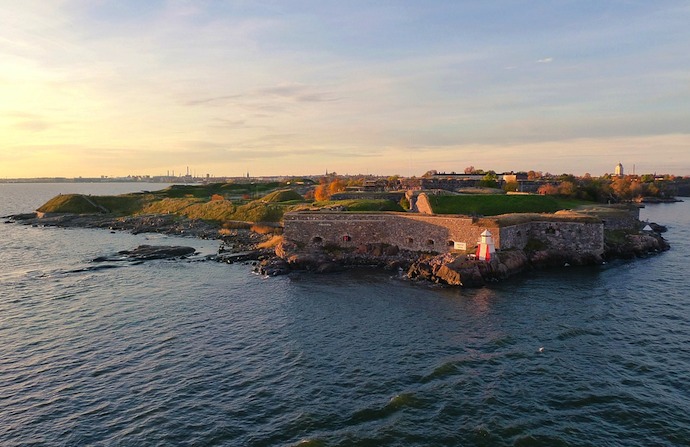 Parks and nature
1) Jump on ferry for a 20-minute trip from Helsinki's central harbour to the island of Suomenlinna, an old Swedish fort and Unesco World Heritage Site. You can use a public transport pass, just like hopping on a tram. Skip the museums, which have entry fees, and enjoy the sensational fort, nature and views for free. Pack a picnic lunch and a bathing suit for the small beach!
2) Ride the #24 bus from the centre of town, then walk across the charming bridge to the small island of Seurasaari. The museum here closes in winter, but you can still walk around the historic houses and coastal forest for free. It's beautiful and peaceful, and you can even learn a thing or two.
3) Stroll by the sea, have a beer at the café, or visit the Ursa Observatory (around €4; check viewing times first) in Kaivopuisto Park. Then, take a walk down the nearby Embassy Row for more impressive views.
Historic sights
4) There's always something going on at Helsinki Cathedral in Senate Square, the city's most recognisable landmark – and entrance is free.
5) Just across the street from the Cathedral, the historic National Library is also free to enter, but don't be intimidated by its imposing front doors and strict bag check.
6) Climb up from the harbour to the onion-domed Uspenski Cathedral for spectacular views and a look round Western Europe's largest Orthodox church.
Is the Helsinki Card worth buying?
Read this guide to see how much you could save during your trip!
Public spaces and secret spots
7) You can do pretty much anything – make and build things, play games, watch movies, sing, eat, drink and, of course, read – at the spectacular Oodi Library. Everything on the second floor, including 3D printers, a recording studio, gaming stations and the photo studio is free to use.
If you want to book any of the facilities in advance, you'll need a Finnish library card, but if slots are available, just ask a librarian (they all speak English) or join the queue for your turn. The third-floor balcony is a great spot for coffee or just relaxing.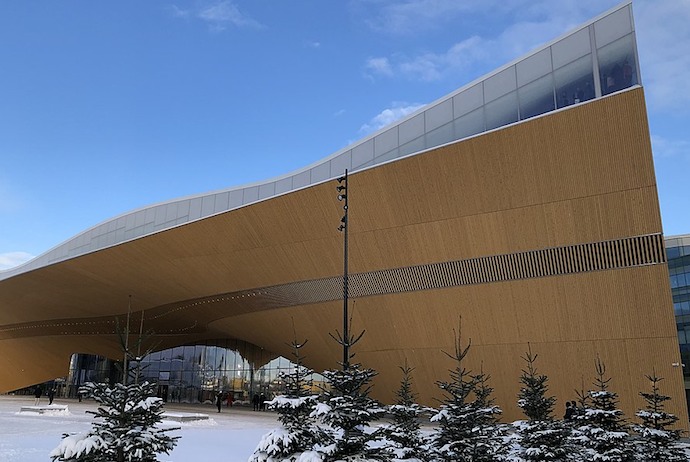 8) Escape from the chaos of Kamppi Square into the calming Kamppi Chapel, an architectural masterpiece that's also known as the Chapel of Silence.
9) No tickets needed to go inside the spectacular Finlandia Hall, designed by world-renowned Finnish architect, Alvar Aalto, even down to the doorknobs. Check out the optical illusions on the exterior of the building, then head inside to have a coffee, shop, and explore this remarkable place.
10) Make like a student and take the lift to the seventh floor of the Helsinki University Main Library. Soak in the impressive architecture and strange silence on your way to the southern windows, then go out onto the deck for one of Helsinki's best views. This is one of those secret spots that you won't want to miss.
Walks
11) Tove Jansson is the author and illustrator of the extraordinary Moomin books for children and Finland's best loved author. Follow her life on the Tove Jansson Walk, a great way to see the city. Stop en route for lunch at one of the city's Moomin Cafés.
12) Start from the back of Finlandia Hall and take a walk around Töölö Bay. Join the jogging, strolling and pram-pushing locals, who head to the playgrounds, old houses and cafés along the east shore. In summer, you can rent a kayak. In winter, if you're feeling brave, you can walk across the ice!
13) Search out the graves of famous Finns such as Alvar Aalto or 'The Marshall' Carl Gustaf Emil Mannerheim in the historic and beautiful Hietaniemi Cemetery.
Museums and galleries
14) Check out the Helsinki City Museum, just off Senate Square. Especially great for kids, it's free to visit for all.
15) Take in some art at HAM (Helsinki Art Museum). The permanent displays are always free, and include (Moomin fans take note) the Tove Jansson treasure trove – though you'll have to pay for the special exhibitions.
16) Don't miss the fun exhibition on Finnish saunas, and learn all about the country's history at the National Museum of Finland. Admission is free on Fridays from 4–6 pm.
17) The Kiasma Museum of Finnish modern art is free on the first Friday of every month.
18) The new Amos Rex Museum may not be free to enter (unless you have a Helsinki Card or Museum Card), but if you walk around the back you can hang out at the quirky lunar landscape for free. Grab a coffee at one of the charming cafés and watch adventurous children and tourists climb the hills, even on the iciest, snowiest, darkest Finnish days.
19) Under 18s can visit the Ateneum (the Finnish National Gallery of Art) for free, though adults without a Helsinki Card or Museum Card will have to pay around €17.
Top tip: If you love museums and are in Finland for a while, the Museum Card is one of Europe's best deals. For around €70 it gives a year's unlimited entry to museums and galleries all over Finland.
Events
20) Freezing? Dark? Sleeting sideways? Who cares when Lux Helsinki is on? At the beginning of January each year, the main streets in the centre of Helsinki are closed for this outdoor light festival, where thousands of Finns push prams, drink beer, and wander along a route lined with light installations, laser shows and lantern gardens.
21) The best €13 euros you'll ever spend! The joyous Lakritsi & Salmiakki Festival each October celebrates liquorice and salty liquorice, a curious (some may say revolting) national obsession.
22) In October, drop into the Helsinki Baltic Herring Festival, where you can sample pickled, smoked, marinated and other herring bites right off the back of fishing boats in Helsinki's main harbour. The festival has been running since 1743, but has now expanded to include a pop-up sauna, handicrafts and other Finnish fishy delicacies.
Health and fitness
23) Get naked (or wear a swimsuit – Finns don't judge) at the free, volunteer-run Sompasauna. This ramshackle sauna on the end of an unassuming pier is a do-it-yourself, at-your-own-risk, jump-in-the-bay community experience. A great way to make friends and meet the locals.
24) Swim nude in the gorgeous 1920's Art deco Yrjönkadun Swimming Hall, Finland's oldest public pool. Then bake in the wood sauna, and repeat. It's around €6 to use the facilities, or around €14 for a private cabin upstairs. Check the opening hours, as there are separate sessions for men and women.
25) Look out for free ice skating in Helsinki's public parks. Charming, free rinks pop up all over the city in winter. It's BYOS (Bring Your Own Skates), so you may want to hit one of the many cheap second-hand equipment stores first. Or, you can rent skates and strut your stuff for around €6 at the pop-up rink just outside the main train station.
Shopping
26) Flea Markets are a big deal in eco-conscious Finland, so don't miss the excellent Hietalahti Flea Market. From April to September it's outside the Hietalahti Food Market, then it moves around the corner and indoors for winter.
27) If you're plagued with expensive taste but an empty wallet, the Iittala & Arabia Design Centre museum is free, while the adjacent shop can have some amazing bargains on these usually expensive, distinctive Finnish brands.
28) A great place to buy some distinctive Finnish shopping is at one of the TRE stores, a co-op of small Finnish design companies. Or, for budget souvenirs, head to Uniqeco and buy one of its inexpensive reflectors for your clothes and bags – the mark of a true Finn.
Eating and drinking
29) At the back of the Hotel Torni take the lift up to the Ateljee Bar, where you can mosey onto the outdoor decks for a panoramic view of the city and the sea beyond. Don't miss a trip to the bathrooms, where the views are even better. Mixed drinks are pricey here, though beers are cheaper.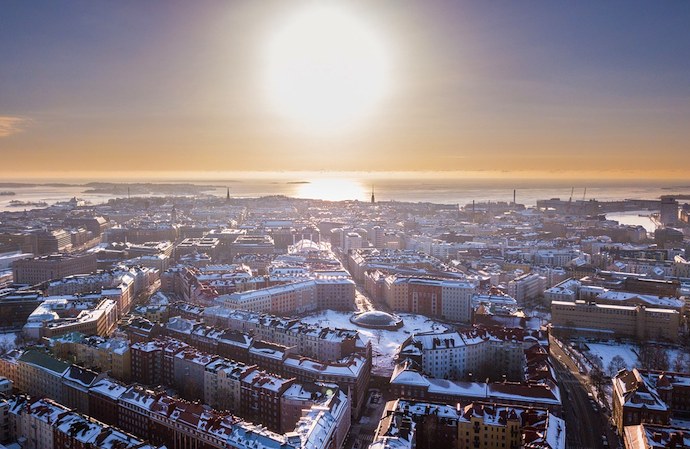 30) After pretending to know that Sibelius wrote Finlandia at the Sibelius Monument in Sibelius Park, head over to the Café Regata for Helsinki's best cinnamon rolls, an outdoor fire, and a warm blanket by the sea.
31) Wander the alleys of Helsinki's Hakaniemi Market Hall for great eats and shopping. The historic hall is being renovated until January 2020, but the market continues in full swing next door and is still definitely worth a visit.
32) Grab a bowl of steaming ramen at Fat Ramen at the Hietalahti Market Hall. Slurp it upstairs with views of the Saturday flea market and harbour below. A perfect weekend afternoon!
33) Fancy a bowl of Finnish salmon soup? The best is at the Old Market Hall, just off the central Helsinki harbour. Or pick up some reindeer and chips on the go.
See also:

Is the Helsinki Card worth buying?
Five fun day trips from Helsinki

Like what you've been reading? Get our best tips by email!