Christmas is a big deal in Denmark and might even be partly responsible for the famous Danish concept of hygge. From mid-November onwards, atmospheric markets pop up all over the country, many enjoying unique settings around castle courtyards, along cobbled streets or in historic neighbourhoods.
There's plenty for visitors to do and explore at Christmas, from a day in the capital's wintery Tivoli Gardens, to Christmas markets in Fyn, Aarhus and Ribe, plus outdoor ice-skating around the country. Here's our guide to some of the best ways to spend Christmas in Denmark.
What to expect from a Danish Christmas
You can't rely on a white Christmas in Denmark, with snow usually not arriving until January or February. But it does happen occasionally, and the Danes are ever hopeful, with TV weather forecasts featuring a 'White Christmas indicator' in December.
One thing is certain though – the days are short. This explains why locals cosy up at home to bake Christmas cookies, or dress up warm and hit the streets for some shopping or to experience the Christmas markets.
Shopping streets and department stores become increasingly packed the closer we get to the big day, which in Denmark is Juleaften (Christmas Eve) on December 24; the 25th is devoted to recovering from too much eating and drinking.
Visiting Denmark at Christmas
It might not be able to offer the same 'winter wonderland' experience that parts of northern Sweden and Norway are famous for, but Denmark is a still a great place to visit in the run up to Christmas. Here are some ideas for things to do on a yuletide trip to Denmark:
1. Go Christmas shopping in the capital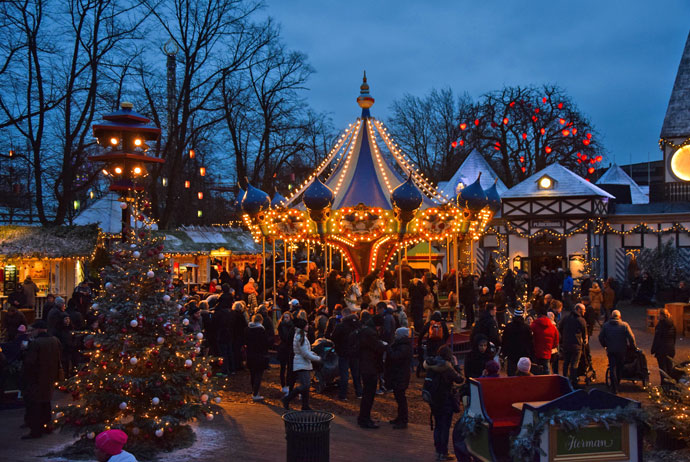 Copenhagen is a big magnet for visitors at Christmas, when its streets and squares are lit with twinkling lights and flagship shops are dressed to impress. From the classy department stores like Magasin Du Nord and Illum, to the big brand shops along Strøget (the main shopping street), they are all ready to fill your bags with nifty Scandinavian design.
Look out for the famous porcelain manufacturer Royal Copenhagen, behind one of the city's most beautiful facades at Amagertorv 6. Every year, it displays six extravagant 'Christmas table' arrangements designed by artists and celebrities, a tradition dating back to 1963.
The luxurious five-star Hotel D'Angleterre on Kongens Nytorv (Kings New Square) has housed everyone from Hans Christian Andersen to Beyoncé over the years. Every Christmas its facade becomes an attraction in itself: it's adorned with spectacular themed decorations that can be enjoyed by everyone for free.
If you're looking for arts, crafts and edible treats, Copenhagen has a wide range of atmospheric Christmas markets, from the Hans Christian Andersen-themed stalls around Axeltorv to the cobbled streets along the picturesque Nyhavn area. There's even a market for beer lovers at Visit Carlsberg and an oriental alternative in the freetown of Christiania.
The Christmas season at the Tivoli amusement park runs from mid-November to December 31st, when it ends with a bang on New Year's Eve. During this time, the trees are covered in fake snow (in case the real stuff doesn't show up), while thousands of lights and open fires add to the magical atmosphere. As well as the colourful Christmas market, many of the park's rides open throughout the season and there's a choice of 43 different places to eat and drink.
TOURS AND ACTIVITIES IN COPENHAGENMORE TOURS
2. Set your sights on Aarhus
Denmark's second largest city, Aarhus, is booming  – and it makes an excellent alternative to Christmas in the capital. Head to the historic Den Gamle By (The Old Town) for an authentic insight into how Christmas was celebrated in the past. Browse the crafts and candy stalls, and peak inside the historic shops, then take a horse and carriage ride – maybe in the snow, if you're lucky.
Meanwhile the Tivoli Friheden amusement park is bedecked in some 300,000 lights during its Christmas season (from mid-November to the end of December). It also offers action-packed rides plus plenty of market stalls and an atmospheric walk through a 70-metre-long tunnel of light.
The city's vast ARoS art museum is home to a traditional festival on December 13 that celebrates Saint Lucy with a candle-lit procession along its iconic rooftop rainbow walk. There's also an ice rink nearby, so lace up your boots and take a spin on the ice.
3. Enjoy fairytale fun on Fyn
A trip to the island of Fyn (also known as Funen) will get you in the mood for Christmas with its many markets and festive events. On the last three weekends of November, the magnificent 16th-century Egeskov Castle is a spectacular setting for a Christmas market of more than 100 stalls, selling everything from arts and crafts to modern design. Although most of the castle's exhibitions are closed in winter, a small entrance fee gives you access to roam the large park.
Hans Christian Andersen's hometown of Odense also hosts a traditional Christmas market on the first two weekends in December. The fairytale writer's own neighbourhood echoes to the sound of horses' hooves on cobblestones as they pass between colourful old townhouses, and is redolent with the smell of freshly baked æbleskiver (Danish doughnuts) sprinkled with icing sugar.
Check out some of the island's charming coastal towns too. Don't miss the annual Santa Race in Middelfart on the west coast or the historical-themed market in Nyborg on the east coast (the latter takes place on the first two weekends of December). And, for an unusual Viking-themed market, head to the small town of Korinth near Faaborg, where Danish celebrity Jim Lyngvild has built his own Viking castle.
4. Take to the ice around the country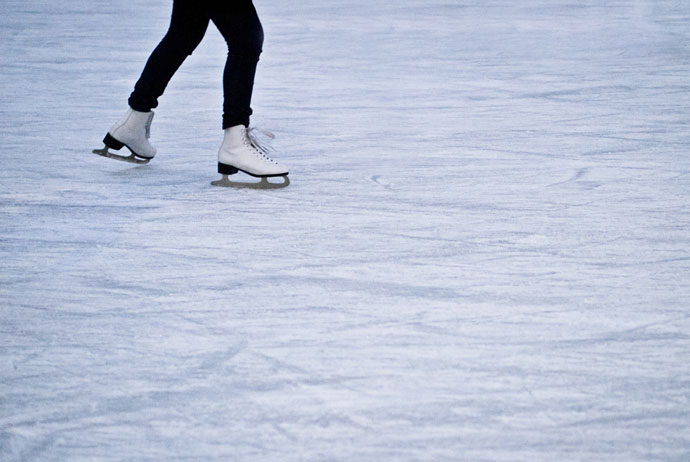 Admittedly, it's rare these days that you can enjoy natural outdoor ice skating in Denmark – even in mid-winter. But there are plenty of artificial outdoor rinks in the country's bigger cities, where you can cool you off after the heat of the Christmas shopping race. All the rinks mentioned below are free if you bring your own skates, though you can also hire skates.
In Frederiksberg Have (park) just west of central Copenhagen, you can practice your pirouettes in the fresh air at Frederiksberg Runddel (open from the end of November).
Head east to Middelfart on Fyn, where you can skate with a perfect view of the iconic Little Belt Bridge (from around mid-December), while the large outdoor rink on the main square in Esbjerg, on Denmark's west coast, is a great place to chill out after some Christmas shopping in the surrounding pedestrian streets.
Up north in Aalborg, C.W. Obels Plads is a welcome outdoor alternative to the city's large indoor ice arena. The outdoor rink is open most days in December and it is conveniently near the Christmas market at Gammeltorv.
5. Get cosy in Denmark's oldest city
The ancient city of Ribe in Southern Jutland is one of the best places to experience Danish Christmas traditions, themed around the 19th-century children's book Peters Jul (Peter's Christmas). Start by browsing the julehytterne (Christmas cottages) in the square below Ribe Cathedral, with stalls selling crafts and Christmas decorations (open weekends in December until Christmas).
Then take a stroll between the old town houses to see the beautifully decorated Christmas tree at the Museet Ribes Vikinger (Viking Museum), drop in at the old merchant's house Quedens Gaard for lunch, and try to catch a Christmas concert inside the towering Romanesque cathedral.
Where to stay in Denmark at Christmas
Copenhagen has hotels and Airbnbs for all budgets and the capital is an obvious choice if you want to experience the city's Christmas markets and Tivoli (here are some unusual ones worth checking out).
There's also the option of combining a stay in Copenhagen with a trip across Øresundsbroen (known to crime drama fans as The Bridge), which takes you to Malmö in Sweden. This guide has info on getting across the bridge.
On Fyn, the island's capital Odense makes a good base to explore the rest of the island, with its central location and good selection of hotels. There are also plenty of free and cheap things to do in Odense. If you're in Jutland, Aarhus and Aalborg provide plenty of good accommodation options.
Find an Airbnb in Denmark
Danish Christmas traditions
Although the shops are usually a month or two ahead of the game, Danes start gearing up for Christmas properly at the beginning of December.
Since the 1990s, advent has been marked by a series of Christmas-themed TV shows, usually split into 24 episodes – one for each day from December 1st and until Christmas Eve. Originally, these stories were based on simple hand puppet plays, but since then they have evolved into often high-quality productions of fantasty-like series full of magic and historical references. There are adult versions, too, and these tend to be comedies.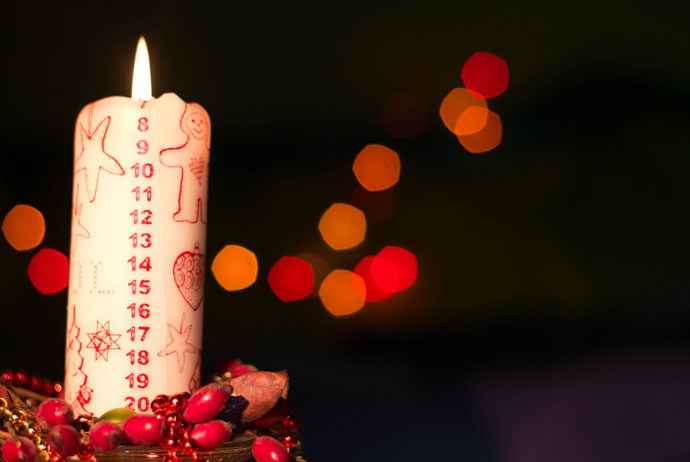 Some homes also mark advent by counting down the days to Christmas Eve with a kalenderlys (calendar candle), with a little bit of the candle burnt away each day until the 24th of December.
Workplace Christmas dinners are still a big deal for Danish office workers, and can either be held at the actual workplace or at restaurants in the city. In recent years it has become popular for several individual companies to gather staff at larger Christmas dinner events featuring big name entertainers and musicians. Due to the fact that many people have tight schedules in December, some of these company Christmas dinners can sometimes be arranged as early as the beginning of November or even in January.
It's popular for many restaurants to serve a specific 'Christmas Menu' or traditional Danish Christmas food, which is a great opportunity to try something different if you visit as a tourist. You might get to try cold buffets based on rye bread with traditional toppings, or dinner menus with a roast.
And of course – don't forget the beer. You might be familiar with the ever-popular Carlsberg, but did you know that many Danish breweries produce specific Christmas-themed beers each year? This so-called julebryg (Christmas brew) is often darker and stronger than traditional Danish pilsner and the most sold version is Tuborg Julebryg. This beer is released annually on J-dag (J-Day) which usually takes place on the first Friday in November – normally there's free beer around the country and lots of additional merchandise.
Speaking of beers another fun thing is the Nisseøl (Elf Beer), which is a very sweet and dark small ale type of beer with a very low amount of alcohol, making it suitable even for older kids to drink (very few actually seem to like it though).
No Danish Christmas is complete without cakes and cookies, and the Danes have a bunch of favourites that they either stock up on in the supermarket or bake themselves. Among the beloved classics are pebernødder (pepper nuts), brunkager (brown cookies) and vaniliekranse (vanilla rings). Besides that you simply can't go through a Danish Christmas period without being offered æbleskiver with gløgg – ball-shaped donuts served with marmalade and powdered sugar, plus a cup of mulled wine containing spices, raisins and almonds.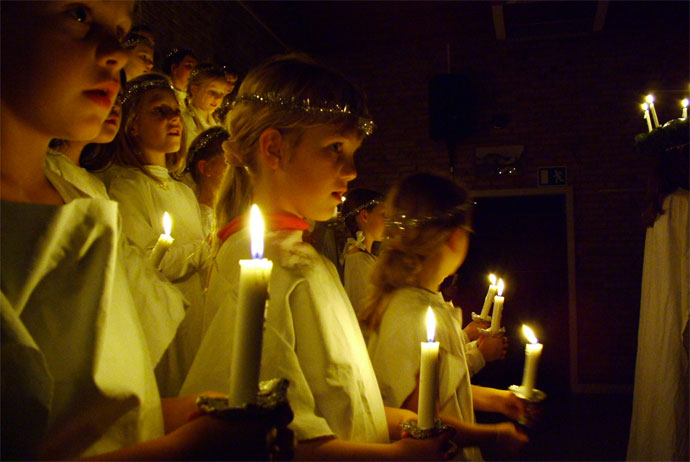 Just like in neighbouring Sweden, Danes celebrate the day of Saint Lucy or 'Sankta Lucia' on December 13th. Normally celebrations take place at schools and in public spaces with a Lucia procession, where young girls (usually) wear white dresses and carry lit candles, singing as they go.
The biggest day of the year in Denmark is the 24th December. Juleaften (Christmas Eve) is when children tear open presents and families gather together for Christmas dinner – usually a traditional Danish roast with pork and vegetables, although you might be served fish in some specific parts of Jutland.
After Christmas dinner, Danes often eat risalamande (rice dessert) or the more simple risengrød (rice pudding). The latter is sprinkled with sugar and cinnamon and topped with a spoon of butter. Ris a la Mande is based on rice, cream and chopped almonds, and includes the tradition of a secret mandelgave (almond gift) – a whole, skinned almond is hidden in the full bowl of rice dessert and the one who finds it gets a gift.
On Christmas Day (25th December), most people tend to chill out at home, watching movies and eating leftovers from the previous day's feast.
The 26th and the 27th of December are known as 1. juledag and 2. juledag respectively (first and second Christmas days). These are traditionally reserved for lunches or dinners with the family members you couldn't spend Christmas Eve with – or for the youngsters to head out and meet up with their friends.