Denmark has just four cities with more than 100,000 inhabitants – and that includes the tourist-magnet capital of Copenhagen.
But it's a different story when it comes to the country's lesser-known towns. In fact, the list of small Danish towns with charm and character seems almost as long as the coastline itself.
From tiny fishing towns to historic hubs and attractive island capitals, there's lots to discover beyond the major cities. Here's our guide to the best small towns to visit in Denmark.
Skagen
As Denmark's northernmost town, Skagen tops not only mainland Jutland but also many locals' list of where to spend their summer holidays.
The charming coastal town of yellow houses (it even has its own colour, 'Skagen yellow') is surrounded by stunning beaches and is the gateway to Grenen (The Branch) – the very tip of Jutland, where two seas clash into one another, frothing around as they hit the sand and creating a bit of a tourist attraction.
Skagen is buzzing in the summertime when big cruise ships dock here and when the traditional Skagen Festival draws a crowd in the first weekend of July. If you're staying over then Brøndums Hotel is a good bet – located near the station, it's a grand, comfy place dating back to 1874..
Mariager
Dubbed 'the town of roses', Mariager is a charming place that sits on the edge of the fjord with the same name (it's the longest one in Denmark). Halfway between the major cities of Aalborg and Aarhus, Mariager makes a perfect day trip from either of them.
Why should you visit? Well, to take relaxing strolls, to admire the pretty, half-timbered houses and to visit Denmark's very own Saltcenter (yeah, really!), which has its own mine. Or you can jump on the vintage railway at the harbour for a scenic trip through the surrounding countryside. There are a few nice Airbnbs in and around town.
Ebeltoft
Its historic heart surrounded by beautiful landscapes, the coastal town of Ebeltoft is located on the Jutland peninsula of Djursland, east of Aarhus.
From the nearby beaches to the hilly terrain of Mols Bjerge National Park, there are plenty of opportunities to chill out or to stride out in your hiking boots around here.
The pretty town hall (from 1789) is among the must-sees of the narrow cobbled streets, as is the 'Fregatten Jylland', an old warship turned museum. Feeling wild? Then take a safari at the nearby Ree Park safari park.
Ribe
Denmark's oldest town, Ribe was a major settlement in Viking times and you can learn all about its Viking heritage at Ribe VikingeCenter and Museet Ribes Vikinger.
The atmospheric town centre is dominated by the 13th-century Ribe Cathedral, and has a few affordable places to stay at, including this bright hostel. If you're staying for a while, try the nearby Wadden Sea National Park, where you can enjoy seal safaris and visits to the tiny island of Mandø.
Sønderho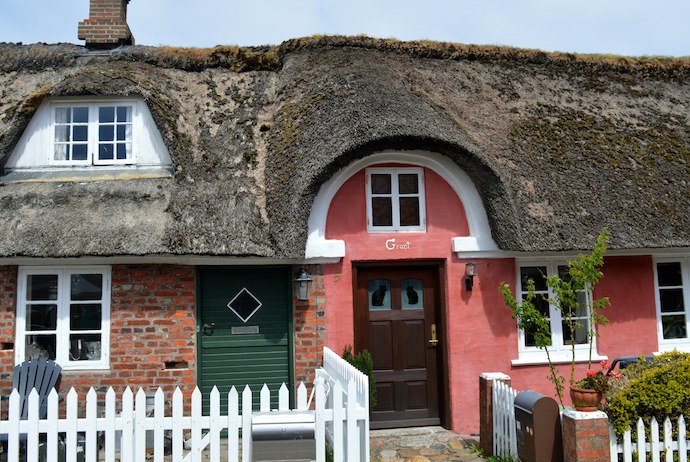 Although it's a bit tricky to reach, and has less than 300 full-time residents, Sønderho attracts a lot of visitors. The town is located on the southern tip of the island of Fanø, one of three inhabited islands in the Wadden Sea, just off Southern Jutland.
What makes this town unique is its 300 thatched roof houses, many of which are protected buildings. It's also home to a museum on local art, an 18th-century church and an old Dutch-style mill. Most visitors stay at one of the many holiday homes on the outskirts of town (try Airbnb and book ahead in summer).
Faaborg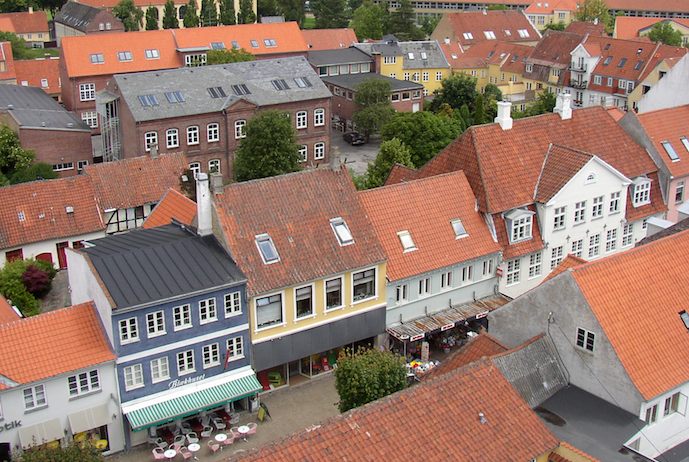 There are plenty of idyllic towns dotted around the coastline of Funen, but few are as fabulous as Faaborg, on the southern coast. Nicknamed 'the town at the South Funen Alps' due to the hilly landscapes nearby, Faaborg sits beautifully between land and sea.
Its old cobbled streets are best seen on a walking tour lead by a watchmen in historical dress (tours run in July and August). Alternatively, you can swim at the revamped waterfront, or visit the local art museum, with its collection of works by the Funen painters.
Ærøskøbing
The houses in Ærøskøbing look like something from a storybook – they seem too cute to be real, and you could waste hours wandering around and admiring their carefully decorated doors and windows.
A genuine must-visit if you're in the South Funen archipelago, Ærøskøbing might just be the most postcard-perfect town in Denmark. You can hang out around the marina or at the beach, which is dotted with colourful beach huts.
While you're in town, be sure to stock up on local whisky and artisan liquorice – you won't regret it!
Dragør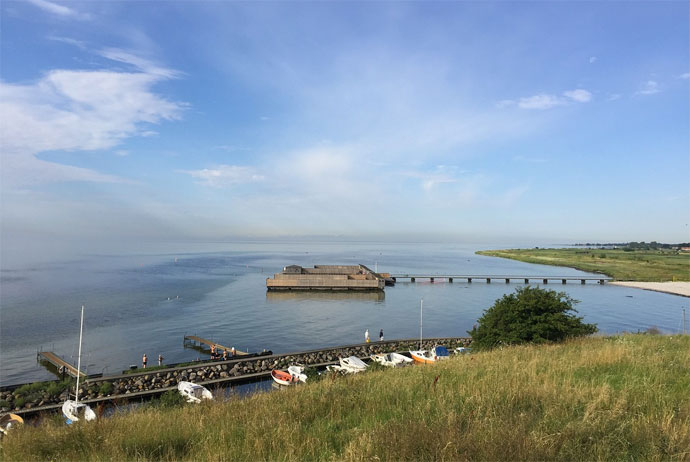 Just a (12km) stone's throw from central Copenhagen, the town of Dragør is surprisingly idyllic, despite having the capital's busy airport as its neighbour.
It's located on the southern coast of the island of Amager (connected by a bridge) and just like Skagen (see above), its old town is dominated by yellow houses with red roofs.
Over time, Dragør has merged with neighbouring Store Magleby, and together the two towns make an excellent day trip from the capital. You can find more ideas for day trips from Copenhagen in this guide.
Gilleleje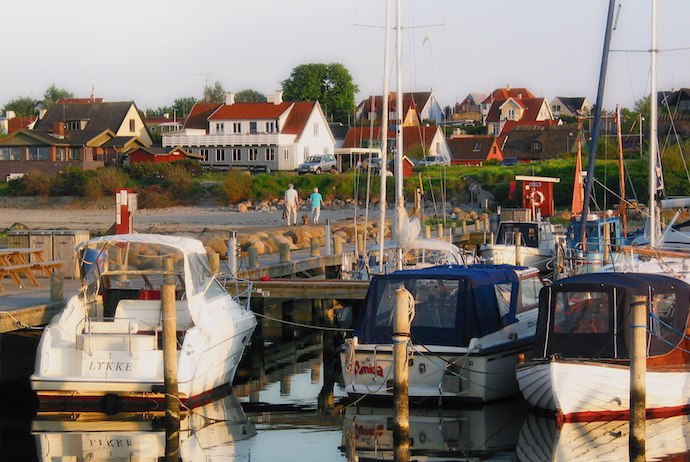 The north coast of Zealand boasts a string of charming old fishing towns that are all worth a visit, but Gilleleje at the northernmost point is a great place to start.
Home to Zealand's largest fishing harbour, it oozes atmosphere with cosy restaurants and plenty of cultural events throughout the summer. Add to that several beaches, art galleries and historic museums, and you have all you need for a small town holiday, Danish style.
If you're happy to splash the cash, Gilleleje Badehotel offers elegant rooms, nice saunas and direct access to the sea.
Svaneke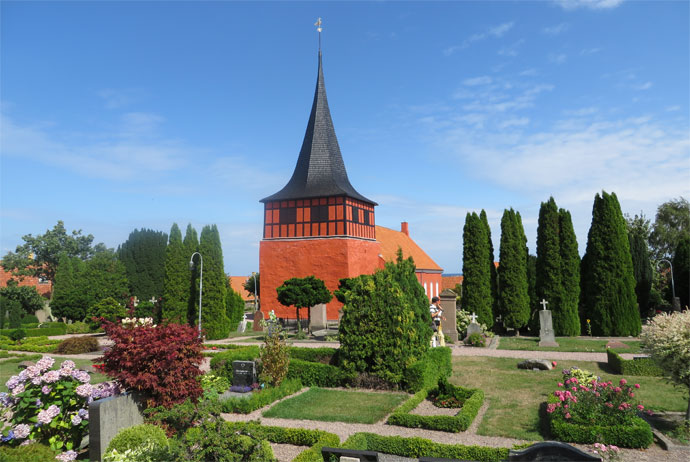 The picturesque coastal town of Svaneke is just one of many reasons to visit the island of Bornholm. It's one of Denmark's best-preserved old towns, but also a wonderland for the taste buds.
Don't miss out on a plate of smoked herring from the town's iconic smokehouse, which is best washed down with a beer from the local microbrewery.
For sweet-toothed visitors, chocolate and traditional sweets can be found in specialist shops around town, while liquorice-lovers can sample gourmet versions of 'the black stuff' at the original Johan Bülow shop.
See also:
Day trips from Copenhagen
The best places to visit in Scandinavia
Map of the best small towns to visit in Denmark
Like what you've been reading? Get our best tips by email!