While Copenhagen and Aarhus draw visitors to the east and west of Denmark, the island of Fyn sits right in between, like the country's green heart. Denmark's second-largest island is a beautiful place to explore, and while Odense has lots to offer, the coastline is dotted with atmospheric seaside towns.
When the weather's good, nothing beats a clockwise Tour de Fyn, stopping at these cute little seaside towns to soak up the laid-back vibe. Here are seven of the best and most attractive coastal towns on Fyn.
Kerteminde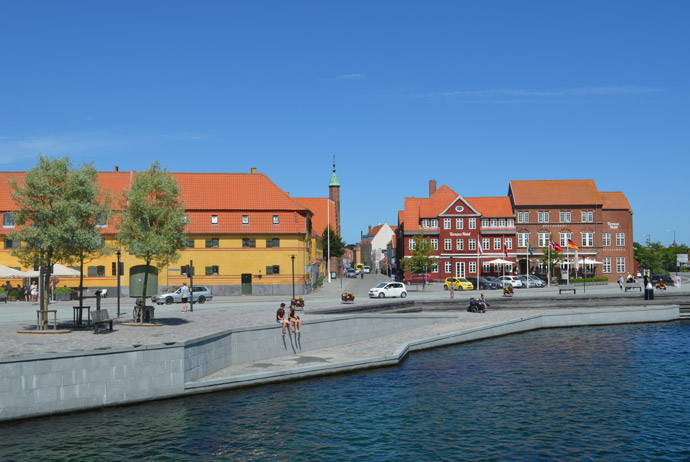 Ice cream. This is the first thing that comes to mind for many locals when they think about the town of Kerteminde. Although it's home to less than 1000 people, the little town has a big reputation as a great place for yummy ice cream. Vaffelhuset, located at Trollegade 2D, is the most famous ice-cream shop in town, as the long queues attest on hot summer days.
A short walk from Vaffelhuset, the marina serves as a popular overnight stop for the many sailboats that visit this part of the island. Kerteminde is also worth a visit for its central and sandy beach, and for reliable Danish restaurants like Rudolf Mathis and Tornøes Hotel, both within easy walking of the centre. Tornøes Hotel also offers simple, comfortable rooms, if you want to stay the night.
While you're in Kerteminde it's worth paying a visit to Farvergården on Langegade. This former merchant's house combines a cosy café with exhibitions on local history. If you'd like to learn more about the area's history make time for Johannes Larsen Museet. Set in a famous painter's former home, this welcoming museum and gallery costs around 90 DKK to look around.
If you have time left over then you might want to say hello to 'Amanda' – the town's most famous sculpture, which acts as a kind of symbol of strength for local ladies. A good lunch spot on Kerteminde is Lulu's Café & Boutique, which offers delicious sandwiches and salads.
Visiting with kids? Then dive into a world beneath the waves at Fjord&Bælt, where you can learn about the waters around Denmark (adult tickets around 110 DKK, kids around 55 DKK).
Nyborg
Just south of Kerteminde along Fyn's east coast, the city of Nyborg was Denmark's first capital. Although it's hard to believe now, this little town was right at the heart of Danish politics and power during medieval times, and there's talk of Nyborg being listed as a Unesco World Heritage Site.
Today Nyborg Slot, the town's castle, is the main attraction (note that it's currently undergoing major restorations and is due to re-open 2020). The castle is guarded by ramparts known as Nyborg Vold, which are home to Denmark's oldest open-air theatre. If you want to see it in use, Nyborg Voldspil puts on its annual musical between July and August (tickets from 120 DKK).
The central harbour in Nyborg combines old fishing boats with modern seafront architecture. Just outside the city centre in a revamped train workshop, Nyborg Destilleri tempts visitors with its own whisky, gin and rum (there's also a café and a restaurant, for those who'd rather not drink).
Another reason to stop in Nyborg is the town's lovely northeast-facing beach, where you can kick back and admire the silhouette of the mighty Great Belt Bridge, which connects Fyn with Zealand. This high-end hotel has views of the bridge, plus a neat spa area, while this beachfront campsite has cheaper digs for overnight stays.
How to get around on Fyn
Fyn is best discovered by car. If you need to rent some wheels, this site searches dozens of local providers to find you the best deal. If you'd rather not drive, you can reach all of the towns we've listed by public transport from Odense. Trains will take you to Svendborg, Middelfart and Nyborg (buy tickets here), while all of the cities are served by Fynbus.
Fyn itself can be reached from either Zealand or Jylland, by train or bus. The journey time from Copenhagen to Odense by train is around an hour and a half. If you go by bus, you can expect the journey to last around two hours.
Svendborg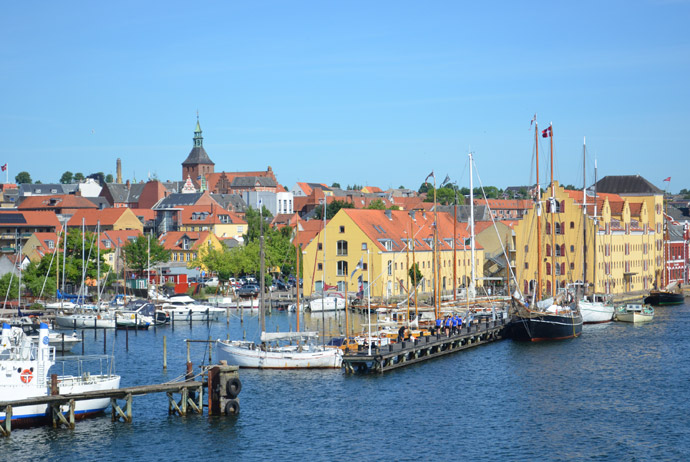 Further south still, Svendborg functions as a lively jumping off point for trips to the South Fyn Archipelago. From here, road bridges lead to smaller islands like Thurø, Tåsinge and Langeland, while ferries take visitors to non-bridged islands like Ærø.
To be honest, you really don't need to leave the city behind to find decent entertainment; this is the second most populous city on Fyn and it offers lots of coastal charm and cultural treats.
Just head to the harbour where you'll find Kammerateriet, a multifunctional music and events venue located in the former shipyard area. This area has been transformed to include an urban beach and other facilities for rest and recreation.
Svendborg's cultural life peaks during major events like the food festival Kulinarisk Sydfyn at the end of June, and the city's film festival at the end of August (it features a sail-in cinema!). Museum lovers would do well to check out the The Danish Yachting Museum, or learn about modern natural history at Naturama (around 110 DKK for adults, while kids go free).
If you're visiting between September and March, why not catch a basketball game at the home of local heroes Svendborg Rabbits, who play in the top Danish league? Tickets are great value at around 80 DKK.
Staying the night in Svendborg? A nice atmospheric place is Hotel Æro, which occupies a 19th-century building by the harbour.
Faaborg
Fyn's most idyllic coastal town atmosphere is probably found along the cobbled streets of colourful Faaborg. Right on the south coast of Fyn and with ferry connections to islands like Bjørnø, Lyø and Ærø, this is one of best places to visit on the whole island.
The city's historic streets surround the central square, from where you can spot the bright yellow bell tower peaking out from behind red rooftops. The church was pulled down in 1536, but the lone tower still acts as the most recognisable landmark in town.
A short walk away, the modernised waterfront area is home to an inviting harbour bath, while trendy waterfront restaurants like Det Hvide Pakhus do a lovely line in local seafood.
For a touch of urbanity in a small town, visit the Helios Theatre. A combined cinema and event venue, it's linked with the excellent Soze coffeehouse and roastery. If you have more time to kill, keep on track with a ride on the vintage railway Sydfyenske Veteranjernbane, where you can take the trip to Korinth and back, 1950s style. Return tickets cost around 90 DKK, while kids go half price.
Assens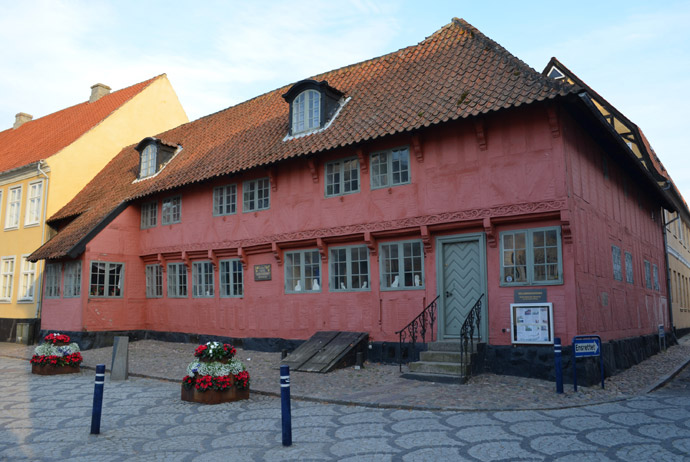 Assens offers plenty of historic charm and some neatly kept half-timbered houses. Most are found along and around the shop-lined main street, Ladegårdsgade, which leads down to the harbour.
This harbour area is often used for cultural events throughout the summer season, like when the big wooden ships arrive during the Fyn Rundt event held annualy at the end of July.
Don't miss out on a visit to the former tobacco factory Tobaksgaarden, which was turned into a cultural hub in 2004 and now houses a small cinema, a café and a concert venue, as well as a music school. Nearby you can visit Willemoesgården – the bright red birthplace of local naval hero Peter Willemoes, who was killed in battle in 1808, just 24 years old.
If hunger strikes, enjoy lunch in the neighbouring Café Plums Gård, which is set in a cobbled courtyard, and take a short stroll to the church Vor Frue Kirke to admire its octagonal tower. Beer lover? Then why not try an alternative to the classic Carlsberg and take a guided brewery tour of Bryggeriet Vestfyen (available on selected days only).
Middelfart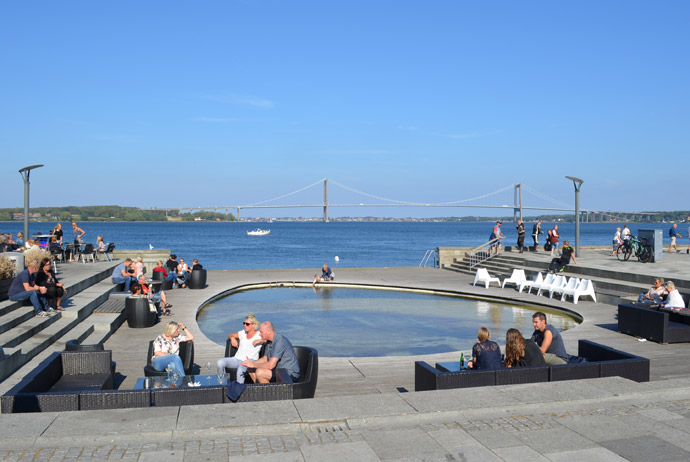 It takes a stern, unhappy traveller not to smile at the sight of the word Middelfart, especially if you've just passed through Assens.
On the west coast, a short bridge-crossing from Danish 'mainland' of Jylland, Middelfart balances history and modern city life well. This can be seen at the revamped waterfront where wooden sailboats are moored in the old harbour, while the big modern yachts head to the new marina instead. Right beside this is Kulturøen, which includes a sea-view restaurant, a cinema, a café and a library.
In between the two harbour areas, the hockey-puck-shaped Café Razz is one of the most popular spots in town, with splendid views of the suspension bridge that spans the Little Belt Strait. The bridge acts as a backdrop for Denmark's biggest one-day festival, Rock Under Broen, which is held every year at the beginning of June. Meanwhile, the older bridge between Fyn and Jylland can be conquered on a Bridge Walking tour for the brave (around 279 DKK).
The Little Belt strait can be experienced up close on local whale-safari tours. Prefer a more sedate activity? Stay on dry land you can check out the fragile ceramic collections at CLAY. There's free entrance on Wednesdays after 5pm.
Bogense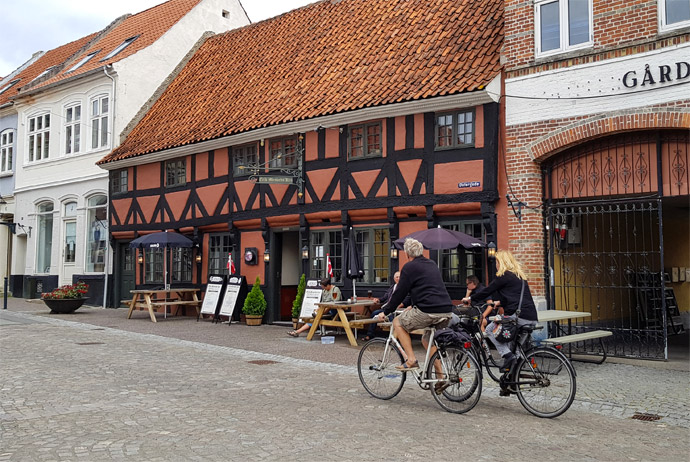 Despite being the smallest town on this list, Bogense has the largest marina on Fyn, and with space for more than 700 boats it's a real hotspot for sailing tourists. Bogense acts like a small capital of Northern Fyn, with a distinct contrast between the old heart – full of tiny townhouses – and the modernised harbour promenades.
Take a stroll around and treat yourself to coffee or lunch at Lunds Hotel or Dampskibshuset. Or drop by Bogense's very own Manneken Pis sculpture, given to the city in 1934 (it's a copy of the more famous version in Brussels, and the little boy relieving himself in a fountain is frequently dressed up for local celebrations).
If you fancy exploring offshore, try one of the sea adventures onboard the well-kept wooden ship M/S Castor (prices vary depending on the type of trip), or strap on your walking boots to explore the nearby island of Æbelø, a protected area which is accessible by foot during low tide. Raining? Then visit Nordfyns Museum for a local history lesson – admission is just 20 DKK.
All pics (c) Brian Schæfer Dreyer unless otherwise shown
Map of the best coastal towns in Fyn
Like what you've been reading? Get our best tips by email!