Copenhagen's abundant parks and open spaces might be a key factor in the Danish capital's consistent ranking as the happiest city in the world. These parks are peppered throughout Copenhagen, offering visitors and locals a change of scenery from the city's busy cobblestone streets.
But there is a problem: with so many great parks to choose from, it can be hard to know which one is the best to visit. That's why we've decided to share a list of our favourite parks in Copenhagen, along with some info on what to expect at each one.
The King's Garden
Indre By
Best for: a royal experience in Copenhagen
The King's Garden (also known as Kongens Have or Rosenborg Castle Gardens), is the perfect place to get a quick taste of greenery in Copenhagen, with the added bonus of having Rosenberg Castle as a magical backdrop. Walk among the immaculate flowerbeds and garden paths, and keep an eye out for the (often free) concerts and festivals which are held in the park during summer.
The King's Garden is the oldest park in Copenhagen. It began as the private garden of King Christian IV, but today the meticulously tended grounds are open to the public all year long, inviting tourists and locals to stroll among the many statues, buildings and monuments.
If you prefer, you can just kick back with a Carlsberg and a picnic from one of the places recommended in our guide to Copenhagen's best cheap eats.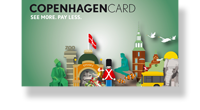 Is the Copenhagen Card worth buying?
Read this guide to see how much you could save during your trip!
Superkilen Park
Nørrebro
Best for: biking and people-watching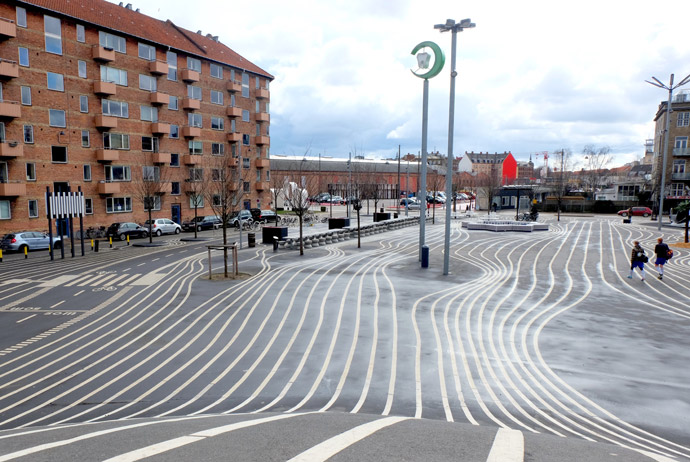 Superkilen Park offers more than the usual combination of grass and trees, and that's why it's become an increasingly popular Copenhagen hangout over the past few years.
Superkilen is an eclectic urban space that runs through the neighbourhood of Nørrebro for half a mile, and is split into three color-coded sections: red, black and green. Explore all three areas in a day and you'll soon feel like a local as you enjoy a mix of outdoor exercise facilities, rolling green hills and cleverly designed bike paths.
Superkilen Park is a collaboration between a local artists' collective and architects from both Germany and Denmark. It was designed as one big urban exhibition that celebrates global diversity; across the park you'll find 60 unusual sculptures and objects from around the world, including a fountain from Morocco, swings from Iraq, and bicycle stands from Germany.
Frederiksberg Gardens
Frederiksberg
Best for: outdoor activities in the sun
Frederiksberg Gardens, or Frederiksberg Have, is a giant green oasis on the western edge of the city.
This romantic park is incredibly grand; it surrounds the Frederiksberg Palace and is home to a Chinese summerhouse, a Roman temple and even a little waterfall. With canals, large manicured lawns and woodland areas connected by winding paths, Frederiksberg Garden is the perfect place to spend time outdoors.
When it's sunny out you're sure to spot locals picnicking, sunbathing and taking long strolls in the park. Once summer rolls around you can even take a leisurely boat ride around the lake and through the park's canals – seeing the entire place from the water makes it just that little bit more special.
Botanical Gardens
Indre By
Best for: travelling the world in a day
The Copenhagen Botanical Gardens, or Botanisk Have, is another lovely green space in the heart of Copenhagen. It's one of the few parks that's a real pleasure to visit on a rainy day.
The gardens have free admission and include 27 picturesque glasshouses, plus a conservatory, a museum, a herbarium and a small shop. The gardens contain a large collection of 13,000 plants species from Scandinavia and around the globe.
The Palm House in the gardens' glass conservatory is more than 50 feet tall at its highest point. Climb up a beautiful cast-iron spiral staircase to the viewing area above for a bird's-eye view of the treetops. The gardens are open daily from 8.30am–6pm.
Kalvebod Bølge
København V
Best for: a taste of Danish creativity
Kalvebod Bølge, or the 'Kalvebod Wave', is an architectural delight in the south of the city. It's located on Copenhagen's waterfront, right across from the popular summer swimming hotspot, Islands Brygge.
Completed in 2014, this new waterfront park has brought some spice back into the community of Kalvebod Brygge, which was once mainly an office area devoid of public life.
Now the Brygge is home to this innovative pier promenade, designed to make the most of the city's… erm… 'variable' weather conditions. Winter or summer, it's a great place to go for a stroll or a cycle. You can also hire kayaks and take guided tours from Kajakhotellet.
Assistens Cemetery
Nørrebro
Best for: peaceful walks in nature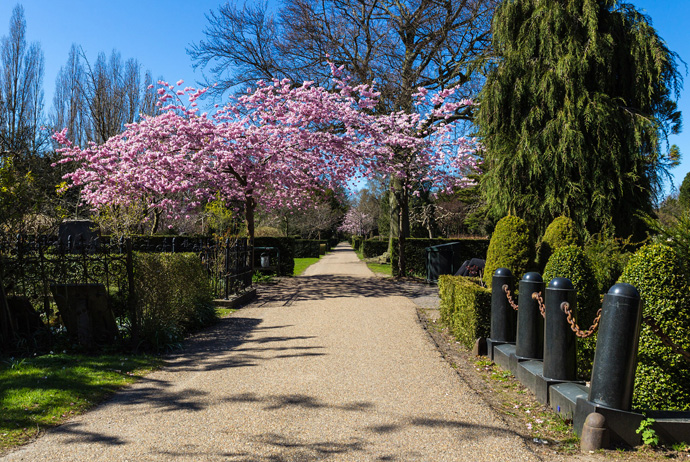 Assistens Cemetery in Nørrebro is a burial site, a cultural centre and a beautiful park all rolled up into one, with plenty of history thrown in for good measure. The cemetery is more than 250 years old and is filled with tree-lined pathways that lead visitors on long walks among the rhododendron bushes and ancient tombs.
The lush green atmosphere of this cemetery is far from dull and somber; the tranquil gardens are actually quite cheerful and locals and tourists flock here come rain, snow or shine.
While walking through the beautiful cemetery, follow signs to find the grave of Hans Christian Andersen, the celebrated Danish author best known for writing The Little Mermaid. There's something fairytale-like about the whole adventure.
Try this self-guided puzzle walk to learn more about the most interesting spots in the area.
Map of Copenhagen's best parks