Denmark is a safe country to travel around with kids and has plenty of theme parks, zoos and cultural hotspots to keep them amused.
And with relatively short distances between the sights, the frequency of the are-we-there-yets can be kept to a minimum.
It's true though that most of Denmark's family friendly sights aren't cheap.
Visiting one of the major theme parks with the whole family can take a big chunk out of your budget.
But many attractions offer weekday-deals, online discounts and family passes to keep the costs down.
In addition, most cities have plenty of free parks and playgrounds – and in Denmark, you're never far from a beach.
From zoos to theme parks to castles, here are some of our favourite child-friendly activities in Denmark.
Theme parks
Tivoli, Copenhagen
Let's face it – while a canal boat tour and waving to the Little Mermaid may be fun, visiting Tivoli will probably be the top experience for kids in Copenhagen.
There is something for all ages to enjoy in the old gardens of this beautiful city centre theme park – from rollercoasters to firework displays.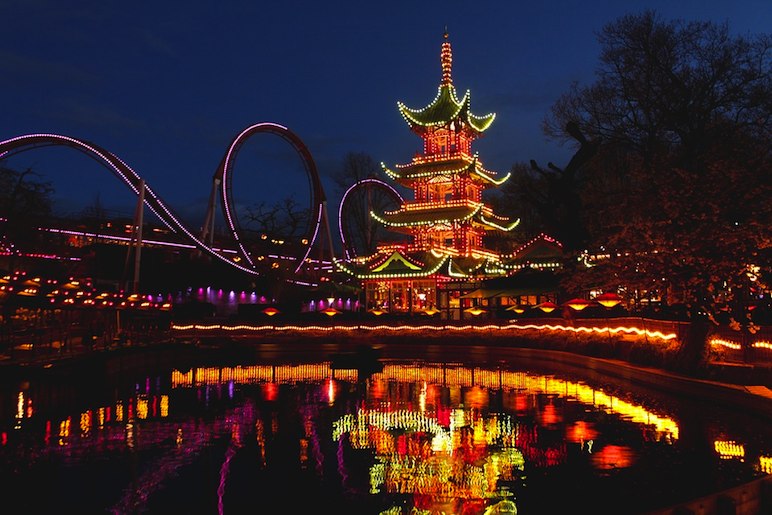 And you can save money and queuing time by visiting on a weekday and booking online, or by buying a Copenhagen Card.

Vesterbrogade 3, København V
www.tivoli.dk
Dyrehavsbakken, near Copenhagen
Bakken, just north of Copenhagen, is a great alternative to Tivoli.
It claims to be the world's oldest amusement park, and it offers shows, rides and entertainment.
Entrance to the park itself is free, while a wristband gives access to the rides and games: prices for a one-day wristband start from around 250 DKK online (or about half as much for children shorter than 115 cm). The park is easily reached from Copenhagen central station by S-train to Klampenborg.

Dyrehavevej 62, Klampenborg
www.bakken.dk
Legoland and Lego House, Jutland
The brightly coloured brick heaven of Legoland tops many youngsters' wish list when visiting Denmark.
Located in Billund in Jutland, it's a day out that kids (and most adults!) won't forget. With different types of themed accommodation on offer, you can spend days in the park if your wallet allows.
But if you're just going for the day, save money and queuing-time by booking ahead online. Family tickets from 250 DKK per person. Check out our guide to getting to Legoland from Copenhagen.
And if your little ones still haven't had enough of the colourful bricks, they can play with them to their heart's content at the nearby Lego House in Billund.
Its exterior is designed to look like it's built of giant lego blocks, while inside are themed zones and interactive displays containing 25 million lego bricks. Tickets must be bought online in advance.
Legoland: Nordmarksvej 9, Billund
www.legoland.dk
Lego House: Ole Kirks Plads 1, Billund
www.legohouse.com
Djurs Sommerland, Jutland
Located on Djurs, a peninsular on the island of Jutland, this Danish theme park makes a great day out from the nearby city of Aarhus.
It has pirate-, Viking-, Western- and farm-themed areas plus playgrounds, water rides and Denmark's longest rollercoaster, Juvelen. A day-ticket with all rides included costs around 300 DKK.
Randersvej 17, Nimtofte
www.djurssommerland.dk
BonBon Land, Zealand
With rides ranging from "calm" to "extreme", this candy-themed amusement park caters for the whole family but is particularly geared up for younger kids.
Near the town of Næstved on Southern Zealand, it's a one-hour drive from Copenhagen, Online tickets start at around 250 DKK.
Gartnervej 2, Holmegaard
www.bonbonland.dk
Fårup Sommerland, Jutland
Near Jutland's northwestern coast, Fårup Sommerland combines more than 60 family rides with Denmark's largest heated aqua park.
So bring your swimming gear and dive right in. The all-inclusive entrance fee is around 250 DKK, and discounts can be found online.
Pirupvejen 147, Blokhus
www.faarupsommerland.dk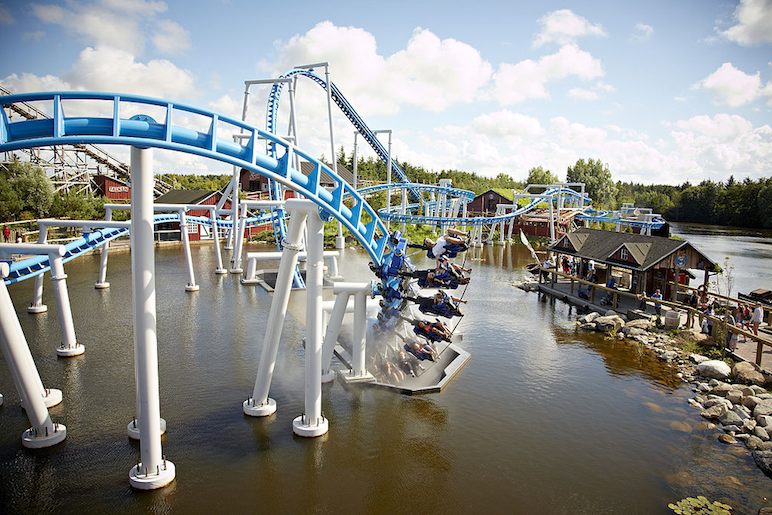 Zoos, aquariums and safari parks
København Zoo, Copenhagen
Go wild in the capital at Copenhagen Zoo, in the Frederiksberg neighbourhood.
With more than 4000 animals including a giant panda, polar bear, rhinos and elephants, Copenhagen's animal park is one of Europe's oldest zoos. Admission is included in the Copenhagen Card, or costs 195 DKK for adults and 105 DKK for children.
Roskildevej 32, Frederiksberg
www.zoo.dk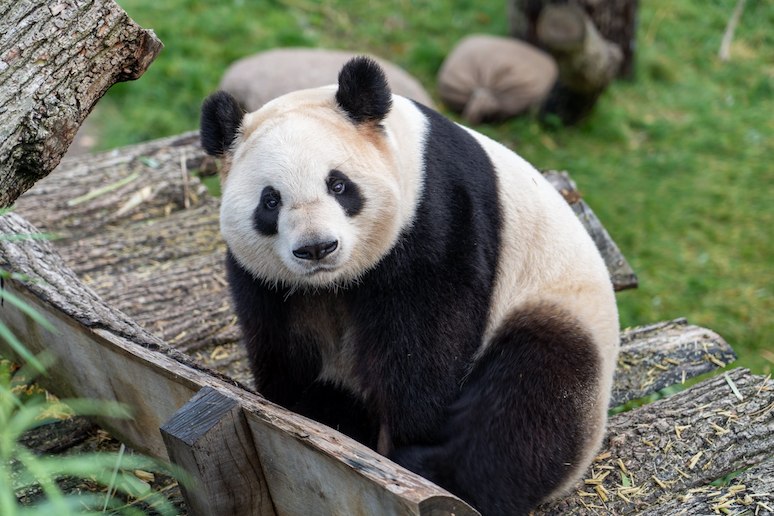 Den Blå Planet, near Copenhagen
Northern Europe's largest aquarium, The Blue Planet is located in a whirlpool-shaped complex near Copenhagen Airport.
It became Denmark's national aquarium in 2013, and today its waters are home to 20,000 animals from 450 different species, including hammerhead sharks. Adult admission is around 200 DKK while kids from 3–11 pay around 100 DKK. Free entrance with the Copenhagen Card.

Jacob Fortlingsvej 1, Kastrup
www.denblaaplanet.dk
Knuthenborg Safari Park, Lolland
The grounds of Knuthenborg Manor on Lolland are home to the largest safari park in northern Europe.
Here you can drive through different habitat zones and get up-close to tigers, zebras, elephants and giraffes. There's also an on-site theme park (included in the admission fee) with waterslides and rollercoasters. Entrance is around 250 DKK, with reductions for buying online in advance.
Knuthenborg Allé, Maribo
www.knuthenborg.dk
Odense Zoo, Odense
Your little ones can get in touch with their inner David Attenborough at Odense Zoo on the island of Funen.
In an idyllic location on the Odense river, its oceanarium with penguins and manatees is especially popular with kids – as is the Bøgetoppen treetop-walk. Adults cost around 200 DKK, kids 100 DKK.
Sønder Boulevard 306, Odense
www.odensezoo.dk
Skandinavisk Dyrepark, Jutland
Learn all about Scandinavian native species at this wildlife park, which is home to bears, wolves, eagles, foxes and moose. You can even spend the night here in traditional Sami-style tents. The day admission fee is 190 DKK for adults, 95 DKK for kids.

Nødagervej 67b, Kolind
www.skandinaviskdyrepark.dk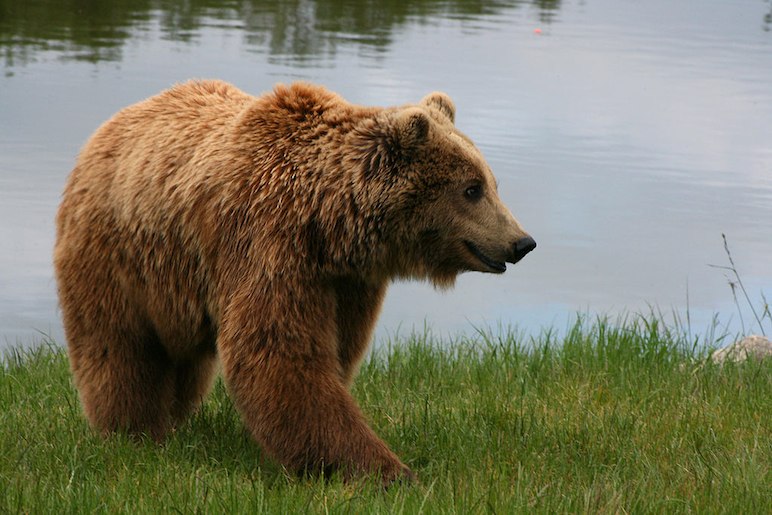 Kattegatcentret, Jutland
Kids will love this aquarium at the very tip of Jutland's "nose", next to the sea.
They can walk along a tunnel through the shark tank, watch baby seals being fed and marvel at the colourful tropical clownfish. Adult tickets cost around 200 DKK.
Færgevej 4, Grenaa
www.kattegatcentret.dk
Museums, culture and castles
Egeskov Castle, Funen
Egeskov is not only Europe's best-preserved Renaissance moated castle, it's also a magical place of fairytale gardens, giant mazes, fire trucks, planes, playgrounds and peacocks.
The castle is on the island of Funen, a 30-minute drive south of Odense. Adult tickets from around 200 DKK.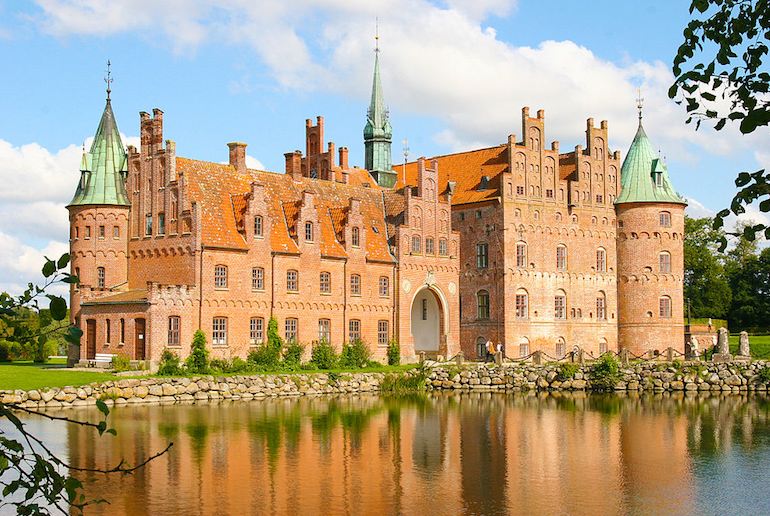 See our guide for more of Denmark's castles and palaces to visit.

Egeskov Gade 18, Kværndrup
www.egeskov.dk
Ribe VikingeCenter, Jutland
If you chose only one Viking-themed museum to visit with kids, it should be the Ribe VikingeCenter, in Denmark's oldest town.
This educational museum is a great place to learn all about the iconic Vikings, their ships, farms and lifestyle – with Viking-themed playgrounds and farm animals to add to the fun. Adults 130 DKK, kids 65 DKK.
Lustrupvej 4, Ribe
www.ribevikingecenter.dk
Den Gamle By, Aarhus
Set in the city's Botanical Gardens, Aarhus Old Town has been a popular attraction since 1914 when it became the world's first open-air history museum.
This living town consists of 75 historic buildings that have been moved here from around the country, with staff dressed in traditional clothing manning shops and workshops.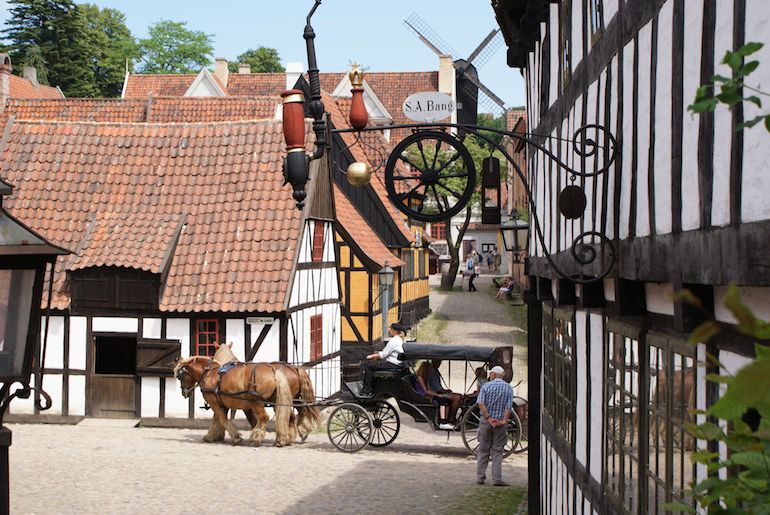 Three distinct historical eras have been recreated – 1864, 1927 and 1974 – with authentic houses, streets, cafés and cars to explore. Best of all, kids go free (adults around 150 DKK).

Viborgvej 2, Aarhus
www.dengamleby.dk
Universe Science Park, Jutland
This scientific adventure park on the island of Als in Southern Jutland has loads of science-themed activities for kids, from a 5D simulator and a virtual rollercoaster to an astronomy dome and an outdoor climbing trail. Tickets from around 200 DKK online.

Mads Patent Vej 1, Nordborg
www.universe.dk
See also:
Copenhagen with kids
Unusual things to do in Denmark
Where to go swimming in Copenhagen
Viking attractions in around Copenhagen
Like what you've been reading? Get our best tips by email!