Yoga is a serious business in the sophisticated Danish capital, and you don't have to stretch too far to find a decent class. Copenhagen has plenty of yoga studios that not only offer classes in English, but also allow passers-by to drop in and work through their asanas.



Whether you're on a tour of Scandinavia, a pan-European adventure or even a weekend getaway, yoga can be a great way to relieve those tired explorer's legs and heal achy spines caused by uncomfortable beds and cramped budget flights.
Taking a yoga class can also be a great way to meet locals and travellers alike in a welcoming and relaxed environment. Most yoga studios in Copenhagen offer drop-in sessions as well as monthly membership passes. There's no need to investigate the options for yourself, though – just read on for our guide to the best yoga studios in Copenhagen.
You can see all of the options on the handy map below.
Yoga Mudra
Ryesgade 106, Østerbro
Drop-in session: around 120 DKK | Monthly price: around 450 DKK
On the second floor of an apartment building, this peaceful yoga studio offers great value for money. Men and women of all ages practice here and the teachers provide a warm and calm welcome. The studio itself is a large and well-equipped space and there are some changing rooms and bathrooms in the back, not to mention some nice showers (that's another reason to take a yoga class if you're visiting Copenhagen on a budget – the showers beat hostel bathrooms any day).
The studio is very quiet, however, and no one seems to hang around after class, so perhaps this is not the best place to make new friends. Although the area is nice and easy to get to, the studio itself is up a couple of flights of stairs, so give yourself time beforehand to find it. If you're a beginner, we'd recommend signing up for the starter class; most of the people here are regulars and know their stuff!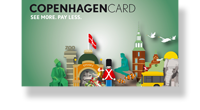 Is the Copenhagen Card worth buying?
Read this guide to see how much you could save during your trip!
Copenhagen Yoga
Gammel Kongevej 43, Frederiksberg
Drop-in session: around 200 DKK | Monthly price: around 950 DKK
This place is a little flashier, but it's situated right in the city centre near the Lakes, so it's very easy to get to. There's also a casual seating area – go early and ask questions, or stay later to meet folks and make a morning or afternoon of it!
If you're not an experienced yogi, you should book the class called 'all levels'. The staff here are friendly and chatty, as are most of the class-goers.
Yoga Factory
Strandvejen 209, Hellerup
Drop-in session: around 100 DKK | Monthly price: around 600 DKK
This studio is in Hellerup, north of Copenhagen, and although it has a lot to offer, we'd only recommend it if you are staying nearby (otherwise, it's a 12-minute train journey from Copenhagen's main station).
On a busy street, the trendy studio is a peaceful little sanctuary with a great yoga merchandise shop inside. The lavender-scented practice room has large windows looking out over the street – needless to say, this space is not for the shy. There's not a huge space for showering or relaxing but we salute the Yoga Factory for its stunning studio space and very reasonable prices.
Hamsa Yoga
Ravnsborggade 19, Nørrebro
Drop-in session: around 150 DKK | Monthly price: around 500 DKK
Hamsa Yoga has a great location in fashionable Nørrebro, a short walk north of Dronning Louises Bro. It offers classes in Vinyasa Flow and Hatha from morning 'til night every day, allowing you to fit yoga in around your schedule (rather than the other way around).
The place itself is the epitome of flawless Scandinavian design; simple furniture, attention to detail and clean, open spaces. This place ticks all the boxes if you want to escape the hustle and bustle of the city without travelling too far.
Yoga Centralen
Allégade 25, Frederiksberg
Drop-in session: around 125 DKK
A more 'neighbourhood' yoga joint than some of the others listed here, this studio in Frederiksberg has great prices and is good fun if you want to meet locals.
There's a laid-back vibe in its changing and locker rooms. It has just two practice rooms and is a bit cramped but it's still a very relaxing space once you grab your mat spot and zone out.
Hot Yoga Copenhagen
Badstuestræde 11, Indre By
Drop-in session: 275 DKK | Monthly price: around 845 DKK
Well, we had to save the best 'til last. This place is seriously a must for yoga in Copenhagen – if you're willing to pay a little more for the privilege, that is.
Along a cobbled side street that's laden with bikes and plant pots, it's just seconds from Copenhagen's main shopping thoroughfare, Strøget. The studio is perfectly decorated, and welcomes men and women of all ages.
Staff were very helpful when we visited and are prepared to give first timers a tour of the studio. There's also a fantastic 'backstage' area with a kitchen, changing rooms and a seating area. As you might expect from the name, all of the classes are hot – we're talking 40 degrees hot, so remember to take some drinking water and a towel. This may be Copenhagen's most expensive yoga place… but you're only here once, right?
Map of yoga studios in Copenhagen
Looking for free things to do in Copenhagen? Start here.