Copenhagen is one of those cities that will make your wallet sigh.
Prices are high compared with most other European capitals, and once you've covered all of the basics like food, transport and accommodation, it can be hard to justify splashing even more cash on sightseeing.
Yep, Copenhagen is an expensive city to visit. But that doesn't mean you have to spend your days stuck in your hotel room, feeling sad and lonely.
There are masses of completely free things to do, from dance lessons to summer swims with the locals. And of course, you can always have an audience with the famous Little Mermaid.
Because no one likes missing out on fun for the sake of a few kroner, we've also included some extremely cheap activities in this list (they're all under 150 DDK). Just use the headings below to hop straight to the section you're interested in.
Historic sights and attractions
Fun and entertainment
Museums and galleries
Parks and nature
Excursions and day trips
Health and fitness
Tours
Viewpoints and lookouts
Window shopping
Just chilling
Eating and drinking
Kids
Cheap places to stay
Historic sights and attractions
1) See the changing of the guard ceremony at Amalienborg. The square outside the Queen's house comes alive at noon each day, with soldiers from the Danish Royal Guard stomping their feet, crashing cymbals and wearing silly hats.
2) Go to church. Completed in 1894, Frederiks Kirke (or the marble church, as locals know it) looks like a mini version of St Peter's Basilica in Rome. Well, maybe mini is the wrong word; the huge copper-clad dome here is the biggest in Scandinavia.
It's free to take a look around the church itself, while tours of the tower and dome only cost 50 DKK.
3) Pay your respects to local heroes like Hans Christian Andersen at Assistens Cemetery, a leafy park that doubles as a burial ground for some of Denmark's most famous people.
4) Snap pictures of the bright yellow row houses in Nyboder, just south of Østerport train station. This district was first planned in the 1600s to help house local sailors. The buildings, which are lined up in neat rows, are still in use today.
5) Visit Copenhagen Cathedral. There's a small museum in Københavns Domkirke that's free to visit, and you can look round the cathedral too as long as there's no service taking place.
6) Check out Copenhagen City Hall. This building may well look familiar as it featured regularly in both Scandi-crime thriller The Killing and political drama Borgen. It's also home to the world's most accurate analogue clock, Jens Olesen's World Clock. The hall and its gardens are free to visit.
Fun and entertainment
7) Visit the world's oldest amusement park. Bakken is a 20-minute train ride from the city centre and admission to the park itself is completely free – you only have to pay to use the rides. So you can bring a picnic, soak up the nostalgic atmosphere and browse the independent shops without spending a penny.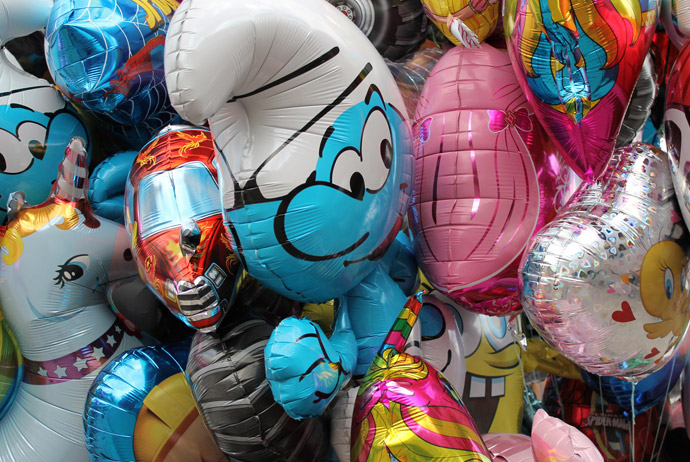 8) Listen to free classical music. Trinitatis Kirke is a nice 17th-century church in the city centre with an impressive gilded interior.
It regularly puts on free classical concerts on Sundays, while there are often singers performing on Wednesday and Friday evenings (check the website for times of concert and singers).
9) Go dancing. Dance with the Danes at free open-air tango, salsa, rumba, Bollywood, swing and Latin classes. The classes are held in the Fælledparken from 7–8pm Monday to Thursday for five weeks in the summer. Djs and bands play til 10pm so you can carry on dancing throughout the evening.
10) Go to the theatre. Okay, you won't get into the main performances without paying, but there are often free shows in the foyer at Skuespilhuset, such as poetry slams, jazz concerts and acrobatic shows. See the Royal Danish Theatre's online calendar for up-to-date info.
11) Listen to free concerts at Ofelia Plads. Some of Denmark's best classical and popular musicians play on a floating stage in the harbour on Thursday evenings in summer. These free concerts are known as Klassik på Kyssetrappen, or Classical music on the Kissing Steps.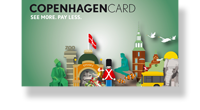 Is the Copenhagen Card worth buying?
Read this guide to see how much you could save during your trip!
Museums and galleries
12) Visit The David Collection. This impressive display of Islamic art and European paintings, sculptures and ceramics is exhibited in a beautiful old house that belonged to the owner of the collection. And it's completely free to enter.
13) Gawp at the incredible collection of Nordic art at Statens Museum for Kunst, Denmark's national gallery. The collection spans more than seven centuries, as well as countless artistic styles.
The museum used to be completely free to visit, but now it's only free for under 18s. Under 27s pay 95 DKK and everyone else 120 DKK – but the admission fee is still well worth it, especially if you make a day of it!
Entrance is free to holders of the Copenhagen Card.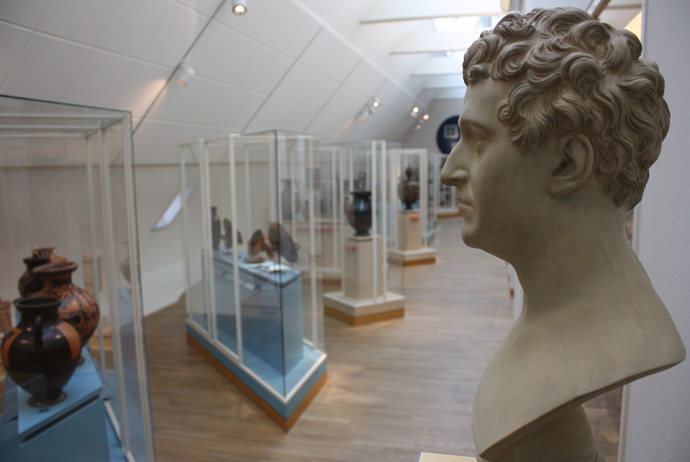 14) See Egyptian mummies, Greek sculptures and sparkly Viking gold at the National Museum of Denmark. You could easily spend half a day wandering through the galleries here. Admission is 120 DKK.
15) Check out the contemporary art at the beautiful Nikolaj Kunsthal. A programme of changing exhibitions and performance art takes place here in the former St Nicholas Church. Admission to all exhibitions is free on Wednesdays, and costs 95 DKK the rest of the week.
16) Marvel at how wealthy beer can make one man on a visit to Glyptoteket, a unique collection of art and antiquities amassed by one of the early bosses of the Carlsberg brewery.
It opened to the public back in 1882. Admission is completely free on the last Wednesday of each month, and 125 DKK the rest of the week.
17) Check out the interesting exhibitions that are held at Møstings Hus, a country house to the west of the city. Entrance to the house and exhibitions are free, though there's an admission fee for some events.
18) It may be niche, but engining buffs and small boys may enjoy the Diesel Museum. Visitors can learn about the history of the diesel engine in the former factory of one of Denmark's largest engineering companies B&W.
It's home to one of the world's largest diesel engines and at certain times of the week, you can watch and hear the engines working. Admission is free to all.
19) Get to grips with masterpieces from the Danish Golden Age at the Hirschsprung Museum, just north of Statens Museum for Kunst (see above). This collection costs 110 DKK to look around, 80 DKK for under 26s and is free for under 18s and art history students.
20) Discover why a Danish sculptor called Bertel Thorvaldsen found international fame and even ended up creating works of art for the Pope.
The museum dedicated to his work is housed in a gorgeous yellow building near Christiansborg Palace, and is free to visit on Wednesdays. Admission is 95 DKK the rest of the week, and free all week for under 18s.
21) Explore the Ballerup Museum, on the northwestern edge of Copenhagen. This interesting village-life museum includes a reconstructed farmhouse, blacksmiths' forge, shoemakers and school room from the early 1900s. Admission is free to all.
22) Learn about Denmark's involvement in violent conflicts (centuries ago and much more recently) at the Royal Danish Arsenal Museum. Along with weapons and stories from the battlefield, you'll find a nifty collection of military uniforms. Admission is 95 DKK, and free for under 18s.
23) Visit the Museum of Copenhagen. Find out all about the city's history and cultural life, with displays of Viking artefacts and early Danish design, including a wooden bike. The museum is free to all on Wednesdays and costs 95 DKK the rest of the week.
24) Go underground. Check out the exhibitions of contemporary art held in the former water cisterns for the city of Copenhagen. Admission costs just 115 DKK, or 90 DKK for under 27s.
25) Shopping fans will love looking round the Magasin du Nord Museum, and learning all about the history of one of Denmark's oldest department stores, which opened in Aarhus in 1868.
The interesting exhibitions tell you all about the working life of the staff and display staff uniforms and examples of the clothing and products sold here throughout the years. Entrance is free to all.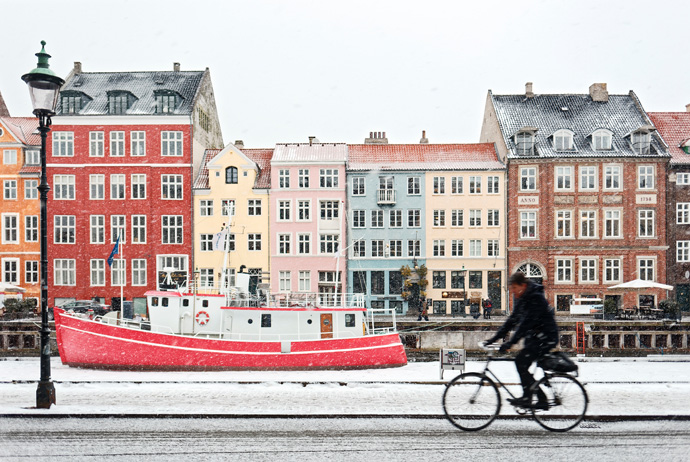 Parks and nature
26) Kick back in Rosenberg Castle Gardens. Set around a 400-year-old castle, these neatly clipped gardens provide the perfect place to have a picnic or just enjoy a little rest while sightseeing.
The gardens are free to visit. Admission to the castle is 130 DKK (84 DKK for students), or free with a Copenhagen Card.
27) Escape the city at Jægersborg Dyrehave, a 1000-hectare park that's home to cycle trails, the Bakken amusement park (see above), and around 2000 free-roaming deer.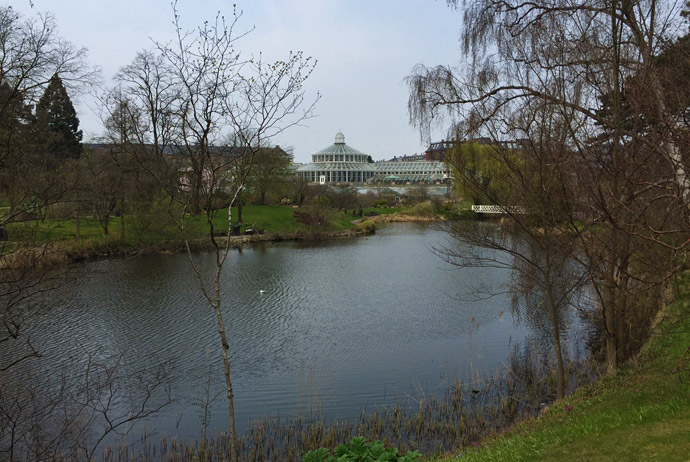 28) See orchids, palms, cactuses and giant lily pads at Copenhagen's botanical gardens, which are home to a series of glasshouses. The botanical gardens are free to visit, though entrance to the main Palm House, which includes the Butterfly House, costs 60 DKK.
Excursions and day trips
29) Hire a bike and explore the city and its suburbs. It's not completely free but it is very cheap – it costs just 80 DKK to rent a standard city bike for up to six hours from one of Copenhagen's many bike rental outlets.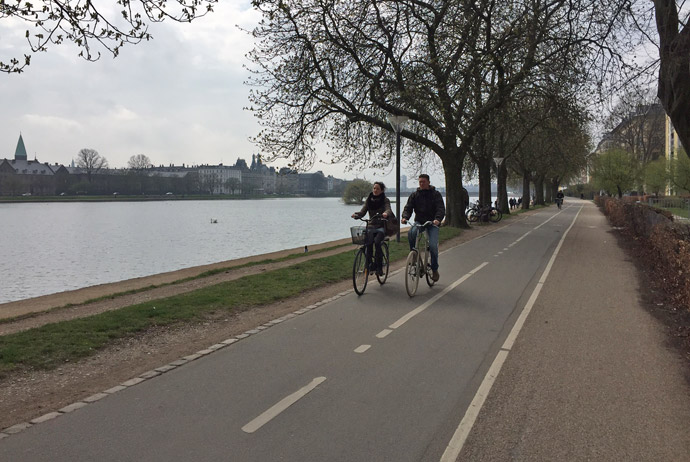 30) Hit the beach. There are a couple of pretty beaches within cycling distance of the city centre, including Amager Strand, where locals come to sunbathe, try kite boarding and (when it's warm enough) go swimming.
31) See what life used to be like for Denmark's poorest farmers at Frilandsmuseet, an open-air museum with dozens of historic buildings. It costs 110 DKK to visit, and you'll need to use public transport to get there: take the train from Nørreport to Sorgenfri (20 minutes) and walk the last 700 metres or so to the entrance.
32) Take a trip out to Bagsvaerd. Just a short trip on the S-train from the centre of the city, this leafy suburb has woods and lovely lakeside gardens to explore. Run, cycle or walk around the lake, or just relax and watch national rowing team training.
33) Visit Sweden. Malmö is a great little city, and it's just across the bridge. Here's how you get there in the cheapest way possible.
Health and fitness
34) Take a dip at Havnebadet Islands Brygge. The open-air pool (summer only) is completely free to visit and has decent views across the water. Expect crowds on sunny days.
35) Do the park run. There are four park runs in Copenhagen; along the waterfront at Amager Strandpark; in Fælledparken; in Amager Fælled; and at Damhusengen. So join the locals on a Saturday morning at 9am for a 5km jog – you know you'll feel good, if you do it!
36) Go kayaking for free. Green Kayak has several locations in Copenhagen where you can take a kayak out onto the water for two hours for free, as long as you commit to pick up litter during your trip.
So you can paddle around the harbour at will, bring back any litter that you find floating in the water – and it won't cost you a penny.
37) Pound the pavements. Local running clubs like NBRO meet on a regular basis.
38) Go for a skate. Copenhagen's cycle paths double as safe places to inline or skateboard (though make sure you don't get in the way of local cyclists). Otherwise, head to the skate park at Fælledparken, which has rails, bowls and a mean-looking half pipe.
39) Go running up that hill! There are several running trails up the steep Copenhill, where mountain runners can challenge their speeds and stamina within the city. The paths are also good for hiking and there are exercise racks for urban training too.
40) Go ice-skating. In winter, you can ice skate in Copenhagen at the Broens Skøjtebane rink. It's not completely free, but admission costs just 20 DKK per session. Skates can be hired at the rink (75 DKK), or bring your own if you have them.
Tours
41) Take a free walking tour. Several companies offer free walking tours around the city centre. We like Copenhagen Free Walking Tours.
Note that guides from all companies work for tips, however, so if you enjoy your tour, don't forget to tip. For more free walking tours in Copenhagen, click here.
42) Go on a treasure hunt. Prefer something a bit more adventurous? Try this Self-Guided Scavenger Hunt and City Walking Tour for 30 DKK.
43) Take a boat trip. OK, so it's not free, but this hour-long canal boat cruise from Nyhavn takes in some of the city's main sights including the Little Mermaid and the Amalienborg Palace for a bargain 120 DKK, or free with the Copenhagen Card..
44) Hop on a guided bike tour. This 90-minute two-wheeled tour of the city costs just over 200 DKK.
45) Take a free tour of the Danish parliament. Borgen fans may be interested to find out how real Danish democracy and politics work.
Free 45-minute tours take you round the building and explain the Danish political system. In summer tours run twice daily: they are less frequent and at weekends only the reset of the year.
46) Take a cruise on the beautiful Bagsværd Lake, surrounded by lush green scenery. You can explore the lake's shore and stop off en route at one of the lakeside locations. Ok so it's not free, but it's a bargain at 99 DKK.
Viewpoints and lookouts
47) Climb Copenhagen's highest tower. The tower at Christiansborg Palace is free to climb and gives great views over the city. There's not a great deal of space at the top, so go early if you want to avoid queues.
48) Get dizzy at Rundetaarn, an astronomical observatory from the 17th century. A spiral-shaped slope makes seven and a half turns on its way up to the top, where you can get a cracking view over Copenhagen's rooftops. Entry is 40 DKK.
49) See the Little Mermaid. No round-up of free things to do in Copenhagen would be complete without mentioning the Little Mermaid statue. It's actually pretty underwhelming and there are often so many tourists clambering about all over the place that you can't even get a decent look at it.
However, you're in Copenhagen, so you have to try anyway. The views across the water from here are pleasant enough, too.
50) Admire the famous Öresund Bridge from the top of the Frederiks Kirke dome (see above). This guide tells you how to cross the bridge. The 50 DKK admission fee will also give you a bird's-eye view of Amalienborg.
51) Get great views from the top of Copenhill. A green park built on top of a waste management centre may not seem very appealing, but this innovative climbing, skiing and hiking centre has fantastic views over Copenhagen from the top. You can walk up the hiking trails or take the escalator to the top for free.
Window shopping and markets
52) Get a taste for Danish design with a walk along Strøget, the city's main shopping street. And it isn't just design here; Danish brands like Trollbeads and Bang & Olufsen also have stores along the kilometre-long street.
53) Browse for bargains at the antiques market that sets up at Frederiksberg every Saturday morning from April–October.
54) Check out the iconic Royal Copenhagen store. Ok, so you might not be able to afford any of the pottery on sale here, but the flagship store is in a beautiful building at Amagertorv 6, and is a great place to browse for the perfect porcelain pieces.
55) Check out Copenhagen's most popular second-hand, pre-loved and vintage clothes market, Veras Market from 10am–3pm on Sundays under the arches at Frederiksberg.
There are private stalls as well as stalls where you can choose five items for 100 DKK, and everything is pre-loved and recycled.
Just chilling
56) Follow your nose to Christiania's 'green light district', where weed is sold and smoked openly. Even if you don't want to smoke, it's an interesting part of town to explore – just keep your camera in your bag, as photos are banned on the main drag, Pusher Street.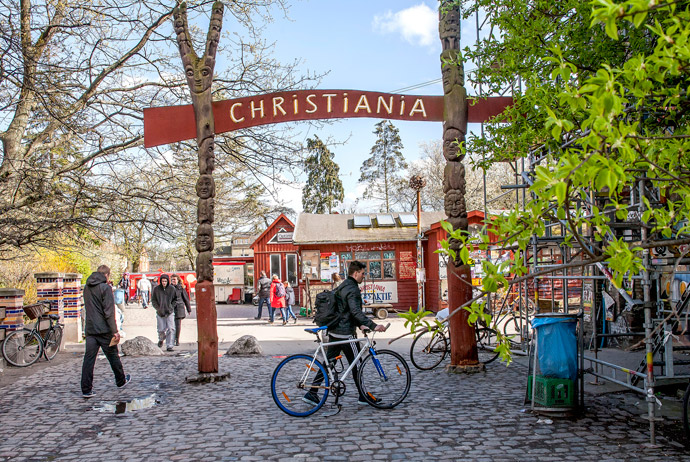 57) Admire the city's modern architecture. Don't miss the controversial opera house or Den Blå Planet, Denmark's national aquarium.
58) Get a new perspective on the city by taking a public ferry. The journey from Nordre Toldbod to Det Kongelige Bibliotek costs just 24 DKK (or is included in your public transport ticket) and is a great way of getting your bearings. Boats 991 and 992 run the route every 30 minutes or so.
59) Check out the Danish design at shiny black glass waterfront Black Diamond building – it's so much more than just a library. Browse the collection of manuscripts by Hans Christian Andersen, check out the exhibitions, or just be wowed by the impressive architecture.
60) And for more amazing architecture, the Danish Architecture Center hosts interesting exhibitions, and has a great terrace café with waterfront views. It's free for under 18s; 60 DKK for under 26s and students; and 115 DKK for adults.
61) Hire a green boat. GoBoat has dinky solar-powered vessels available by the hour, complete with on-board dining tables and optional supplies of Carlsberg. You'll need a group to keep this cheap – if you can pull together a total of eight friends, the price goes down to around 62 DKK per person.
62) Take a stroll along the waterfront at Havnepromenade past moored boats and grand former warehouses for views over the water.
Eating and drinking
63) Soak up the atmosphere at Copenhagen's most famous harbour area, Nyhavn. The bars here are expensive, thanks in part to the number of tourists passing through, but there's nothing to stop you grabbing a cheap beer from a local shop and enjoying the exact same vibe.
64) Volunteer at a food-sharing co-op. On Wednesdays and Saturdays volunteers collect leftover food from markets and bakeries around Copenhagen and hand it out for free to whoever needs it.
It's fun, sociable and uses up food that would otherwise be wasted. Click here for more information.
65) Drop into one of Copenhagen's indoor food markets, like Torvehallerne, where free samples are often handed out. For more on finding cheap eats in Copenhagen, check out our guide.
66) Have a picnic. Stock up on ingredients at budget Danish supermarket Netto (there's a branch near Rundetaarn in the city centre) and head to one of the city's best parks.
67) Head to one of Copenhagen's community kitchens. Held in cultural centres across the city, folkekøkkener serve cheap buffet-style meals for around 50 DKK.
There's usually a vegan/veggie option, and if you're prepared to help out with the cooking or serving you can even get your meal for free. Click here for more on Copenhagen's cheap and cheerful community kitchens.
68) Fill up on cheap and delicious smörrebrød. There's more info on the best places to get this authentic Danish snack in Copenhagen in our ultimate guide to Danish smörrebrød.
69) Check out Copenhagen's street food. Street food trucks are dotted all over the city, selling good quality ethnic and local dishes for very little money. Bridge Street Kitchen and Reffen food markets both have a great variety of tasty street food stalls.
Kids
70) Visit the huge Lego store on Strøget, Copenhagen's main shopping street. Apart from giant Lego models and a kids' play area that dads also seem to love, this place also stocks rare Lego sets that are hard to track down elsewhere.
71) Take the kids to Superkilen. This half-mile-long park in Nørrebro was designed to reflect the diversity of the district – look out for a Spanish bull, a Thai boxing ring and a Japanese octopus slide amongst others.
72) Play the Little Mermaid game. Make sightseeing fun for kids with this exploration game/treasure hunt that takes in fairy tale sights, such as Hans Christian Anderson's house and the Little Mermaid statue.
73) Check out the ducks on Copenhagen's waterways. Take the kids to look at the colourful birds, but don't feed them: twitchers say bread could be harmful to the little feathered creatures. Our favourite bird-watching spot is Frederiksberg Have, which has tree-shaded pathways edging the water.
74) Hunt out the forgotten giants. Kids will love searching for these huge giants or trolls made by sculptor Thomas Danbo out of offcuts of wood and recycled materials. The easiest to find is Green George in Christiania: check out this map for the locations of others.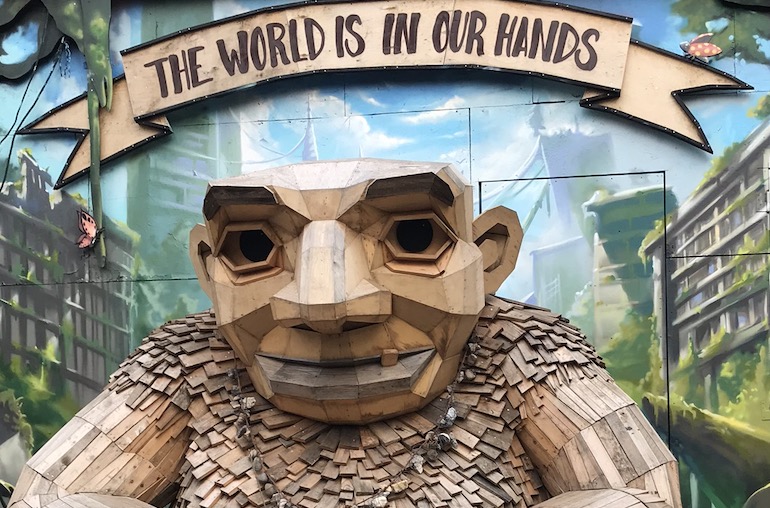 75) Let off some steam at the Guldbergs Plads play area in Nørrebro. It was actually designed to get adults moving, but older kids will love clambering around on the brightly coloured poles and swings.
76) Explore Nørrebro, Copenhagen's coolest neighbourhood, on foot. There are loads of vintage shops, parks and bars to enjoy on the cheap.
77) Take a ride on a cargo bike. Kids will love riding in the bucket seat of these fantastic Christiania bikes, which were invented here in Copenhagen. They cost about 400 DKK for six hours, but that's for two kids in the bucket seat plus the cyclist!
Cheap places to stay in Copenhagen
So, you're on a budget and want some cheap accommodation options too. Here are five of our favourite hostels and bargain places to stay in Copenhagen.
1) Part of the Generator brand, Copenhagen's Generator Hostel offers budget accommodation in a good location in the centre of the city. With appealing industrial decor, urban-style furniture and a chilled vibe, it's a real bargain for the dorm beds in particular.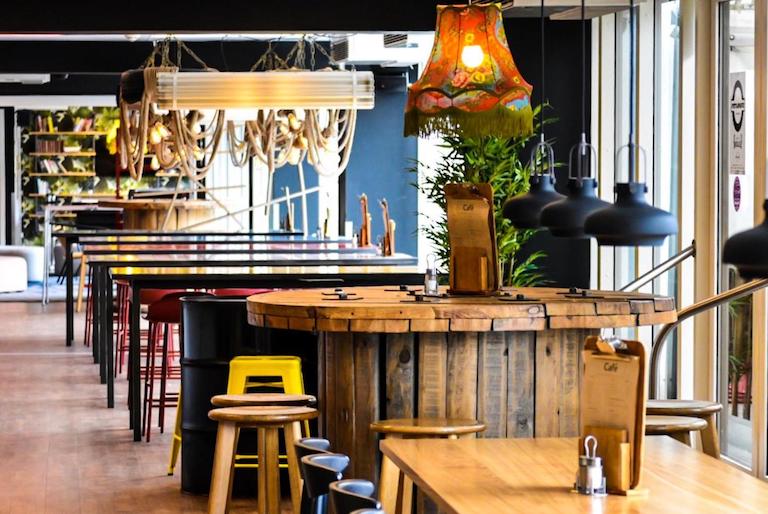 2) It may look like a monolithic tower block, but the dorm beds at the Next House Copenhagen are very good value. Close to the station, it's a good option if you've got an early morning train.
3) Hotel Nyhavn 63 is in a beautiful historic building right on the waterfront at Nyhavn. It has some comfortable doubles and a selection of ultra-cheap capsule cabins in an 18-bed dorm – in reality little more than a bed in a cupboard.
The beds are comfortable and cosy, but what you're really here for is the location at the heart of Copenhagen.
4) The modern Steel House Copenhagen has excellent value dorm beds starting at £25 a night, in a good location close to the Tivoli Gardens. The en-suite family rooms are good value too – and there's even a pool on site.
5) The Urban Camper Hostel has good value dorm beds and doubles in indoor tents, with breakfast linen and towels included in the price. A little further out of the city centre, it's close to the trendy Nørrebro district.
See also:
33 cheap and free things to do in Aarhus
A guide to Copenhagen's best parks
Day trips from Copenhagen by bike