Museum Gustavianum in Uppsala doesn't have a lot of just one thing; it has a little bit of just about everything – including an anatomical theatre and some ancient Egyptian treasures.
Most museums are designed around a theme or an idea. If you're interested in Japanese history, you should head to Östasiatiska in Stockholm; if you're a booze aficionado, then Spritmuseum will be up your street.
Museum Gustavianum in Uppsala is a bit different. Rather than appealing to one specific interest, this unusual museum – a vast collection of oddities and curiosities collected by Uppsala University – is full to bursting with peculiar objects.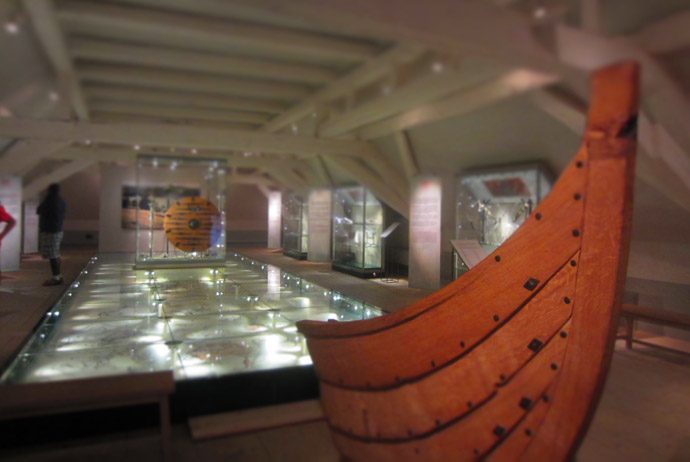 Uppsala's strangest attraction
Compared with towering Uppsala Cathedral, which stands opposite, Museum Gustavianum looks small and unremarkable. But its contents are a lot more intriguing.
A sign in the foyer gives clues about some of the objects inside: a collection of ancient artefacts from Egypt, relics from the Viking Age, and an exhibition dedicated to the history of the university.
And then the promise of an anatomical theatre – you know, the kind of place where they cut dead bodies up in front of a live audience. It's difficult to know where to start.
You could head straight to the top floor to discover the museum's Viking boat graves, or you could start at the bottom and take in the Pyramid Texts. These fragments of stone are etched with hieroglyphic script, forming part of the oldest-known religious texts in the world.
You could also delve right into the collection of objects owned by legendary figures like Anders Celsius, whose famous thermometer sits on a glass shelf. Or you could do something else entirely.
This is the joy of the Gustavianum: there's so much variety that you'll find surprises at every turn. Because it's such a treasure trove, it's hard to imagine that one exhibit could stand out as especially remarkable.
And yet, with predictable unpredictability, Museum Gustavianum has not just one, but two pièces de résistance. The first is that gruesome-looking anatomical theatre; the other is an incredible work of art that feels like a miniature version of the entire museum.
The anatomical theatre
Commissioned in the 1620s by Olaus Rudbeck – groundbreaking scientist, ancestor of Alfred Nobel, and one of Uppsala's most celebrated alumni – the theatrum anatomicum is situated just below the green dome, right at the top of Museum Gustavianum.
Daylight streams down into the steep, bowl-shaped room, past tiers of wooden pews and onto the operating table at its centre. It was here that public dissections of convicts were once conducted, and on a quiet day, you can almost imagine the grisly experiments taking place.
The Augsburg Art Cabinet
Museum Gustavianum's other gem – the Augsburg Art Cabinet – is also a product of the early 17th century. But really, that's where the similarities end.
While the anatomical theatre is large, stark and redolent of humble scientific beginnings, this peculiar cabinet is small and impossibly detailed. It's European craftsmanship at its most refined.
Originally a gift from the Protestant burghers of Augsburg to Gustavus Adolphus of Sweden, the cabinet is a beehive of miniature paintings, ornate decorations and secret compartments, with room for more than 1,000 objects, many of which are now on display.
Among the objects removed from the cabinet for visitors' consideration are a shaving brush made of pig's bristle, a roll of boa constrictor snakeskin, a tooth from a sperm whale, a bottle made of mistletoe wood, a pair of 'illusion gloves', and the claw of a guenon (a long-limbed African monkey, apparently).
All of these are in a single display case; others contain equally weird bits and bobs. All of the objects that remain tucked away inside this odd box of wonders can now be seen by taking a virtual tour of the cabinet, accessible through the Uppsala University website.
Getting to Museum Gustavianum
Museum Gustavianum lies in the heart of Uppsala's university campus on Akademigatan, a 15-minute walk west of the central train station.
If you're visiting from Stockholm, you can get to Uppsala by hopping on an SJ regionaltåg (regional train). The journey takes 40 minutes and tickets cost around 90 SEK. Note that even if you already have a blue SL card for getting around Stockholm, you will need to pay an additional fee to reach Uppsala.
Entry
The admission fee for Museum Gustavianum feels like great value, especially compared with some of the paid-for museums in Stockholm: it's 50 SEK for adults, and 40 SEK for students and seniors. Under 19s get free admission.
Tip: go on a Saturday or a Sunday afternoon and you can join a tour of the museum's highlights in English. Tours start at 1pm and are included with the admission fee.
Museum Gustavianum
Akademigatan 3
Uppsala
+46 184 717 571
gustavianum.uu.se
Jun–Aug: Tues–Sun 10am–4pm
Sep–May: Tues–Sun 11am–4pm
Like what you've been reading? Get our best tips by email!