Heading east from Gothenburg, most people stick to the motorway or the main railway line, which whizzes passengers all the way to Stockholm. If you want to try something a bit different and have a day or two to spare then you can easily make a detour into the Swedish countryside, where dense birch forests and rickety red barns edge the winding roads.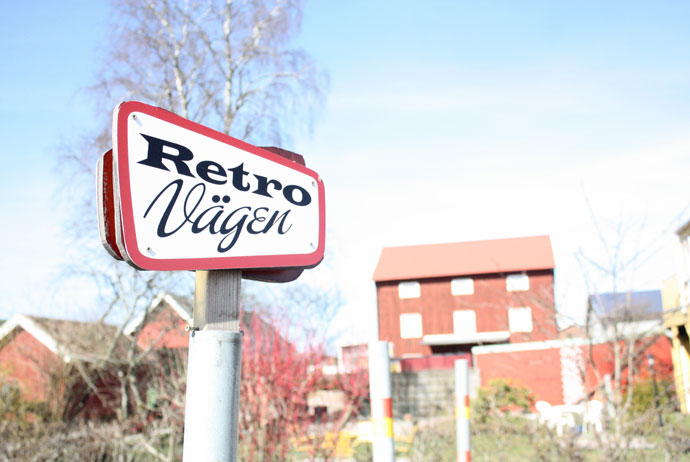 Recently, locals and tourism officials have teamed up to create a 'retro road' along one of these back routes, linking together almost 50 nostalgia-soaked attractions. Retro Vägen is not quite Route 66, but along the way you'll find a bafflingly large number of antiques shops, retro-style petrol stations and museums full of classic vehicles. There's even an American diner complete with checkerboard floors and loads of old rock 'n' roll memorabilia.
Quite where this obsession with retro comes from is anyone's guess, but it's certainly not limited to this part of Sweden. Plenty of towns and villages in rural areas host rockabilly concerts and classic car events during the summer, giving retro fans the chance to show off the chrome-edged Mustangs and Oldsmobiles that they've spent all winter polishing.
A trip along the retro road will give you a feel for some quirky Swedish culture, and let you see some impressive collections of retro stuff. As a foreign visitor who's made the effort to get out into the countryside, you'll also get a warm welcome – but it's worth bearing in mind that at a couple of the places run by older Swedes, little English is spoken.
Where is the retro road?
The route starts on the outskirts of Gothenburg, where you'll find an apartment that's done up in 1950s style and is now open to the public as kooky little museum. There's also a nostalgia museum in nearby Gamlestaden, stocked with clothes, furniture and other fun bits and bobs from the 1960s.
From Gothenburg, the route follows road 190 all the way to Nossebro. This small town is where the idea for the retro road began but it may come as a bit of a disappointment – the most impressive stops are actually on the roads to and from the town itself.
North of Nossebro, a big loop extends all the way to Mariestad and Töreboda, around 190km northeast of Gothenburg.
How to do it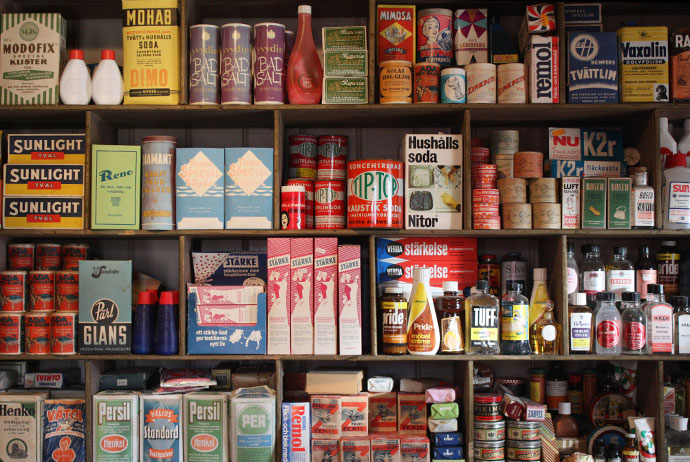 You don't need to try to cover the entire route in one go and quite frankly, we don't suggest you try. The best option is to pick a few places that you like the look of and plan your trip accordingly (we've highlighted some of the best places below). Gothenburg to Nossebro is comfortably done in one day, provided that you don't stop at every place, but for the full trip to Töreboda and back you'd probably need a couple of days with an overnight stay along the way.
Whether you decide to try a part of the route or all of it, you're going to need a car. Buses do run along parts of the retro road but your chances of timing everything just right are practically zero. There's a car hire centre in the middle of Gothenburg, just behind the main train station (all the big international brands have a kiosk there). If their prices are too high, try Statoil or Rent-a-Wreck.
Another thing you should be aware of is that opening hours along the retro road are pretty hard to plan for. Most of the museums, shops and attractions are privately owned and run as hobby projects, so often they're open just one or two days a week. Fortunately there are stops approximately every 15 minutes, so if you can't get into one place, there will usually be another one open a bit further along the road.
The route is still not very well signposted, so use the maps on this page to make sure you stay on the right track. You can also check the official Retro Vägen maps here and here (the pages are in Swedish, but the maps will still give you an idea of where to stop). Most of the places along the route are free to visit; some accept donations.
Essential pit stops along the route
Although there are lots of stops along the retro road, some are a lot more impressive than others (and a lot more 'retro'). Here are some of our favourites – we've added them all to the map at the bottom of this page to make it easier for you to find them. The hours listed below are subject to change at short notice – call ahead to check with the owner if there's a place you really want to have a look around.
Macken, Mobacka
Just outside Töreboda in Mobacka, this retro petrol station is one of the prettiest stops on the entire retro road. It doesn't stock fuel but the owner likes classic car culture so much that he had the whole thing rebuilt directly opposite his house. The lockup nearby is home to a couple of beautiful old cars and motorbikes.
Free
Call ahead
+46 739 318 074
Find a cheap rental car
To book a rental car before your trip starts and to pick it up when you arrive in Sweden, use the form below. It'll search hundreds of local providers for you to find you the best deal.
Kortedala Museum, Gothenburg
One of the closest stops to Gothenburg and relatively easy to reach using public transport, this one-bedroom apartment has been kept exactly as it would have looked in the 1950s. Visitors are free to wander around the rooms, whose shelves and cupboards are full of objects from the era. Friendly guides help to put things in context, but it's open for just a few hours each week. Our full guide to the museum has more info on how to get there by tram.
Free
Sunday noon–3pm
+46 314 859 40
kortedala.museum
Lanthandelsmuseum, Stora Mellby
Ever wondered what a Swedish convenience store looked like half a century ago? Step into Lanthandelsmuseum in Stora Mellby and you'll get a pretty good idea. Owner Kurt Olofsson, himself a former shopkeeper, has saved up hundreds of old products over the years and now has them displayed on wooden shelves behind the counter.
Free
Call ahead
+46 706 901 391
Mandy's Diner, Töreboda
Grab yourself a burger and a root beer float at this American-style diner, which was once just another Swedish petrol station. Empty oil drums and old movie posters decorate the interior, and there's a neat little jukebox by the bar. If you stop here you might also want to check out Epokernas Antik, the antique shop just to the north along the same street.
Wed & Thurs 5pm–10pm, Fri 5pm–11pm, Sat noon–11pm, Sun noon–8pm
(Open daily noon–10/11pm from Midsummer to August)
+46 506 125 26
mandysdiner.se
Scootermuseum, Källby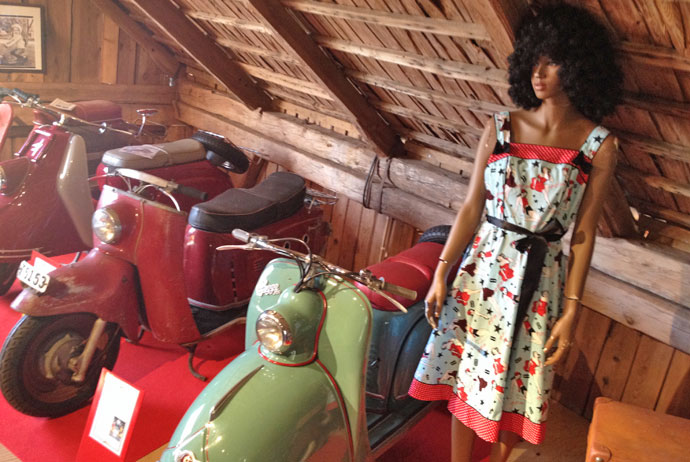 You'd have trouble thinking of a less likely location for Sweden's only scooter museum. On the top floor of a former sheep barn amid rolling farmland, this place is now home to 40-odd rare scooters from Italy, Russia and beyond.
Free
Sundays from May–Sept 11am–5pm
+46 736 786 665
scootermuseum.se
Mackmuseum, Sollebrunn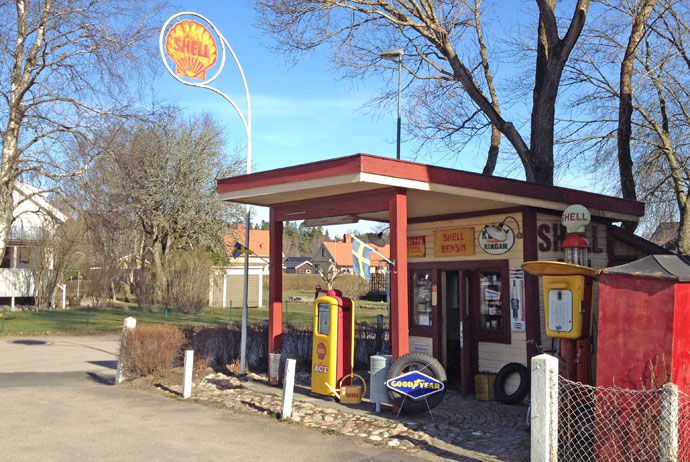 Sven Liljekvist has gasoline in his blood. His impressive collection of old vehicles (including at least one that he's taken the Swedish king out for a spin in) is displayed at the old garage that he ran in Sollebrunn for nearly 60 years. A much older petrol station that he rescued from another part of Sweden (the one pictured here) still stands outside and has become a popular spot for photos.
Free, but donations accepted
Weds noon–5pm, or call ahead
+46 322 400 61
Map of places to visit
Like what you've been reading? Get our best tips by email!