Snowy rooftops, flickering candles and the warm smell of freshly baked gingerbread wafting across the streets: Sweden does a very good job of shaking off the cold and getting people into the Christmas spirit.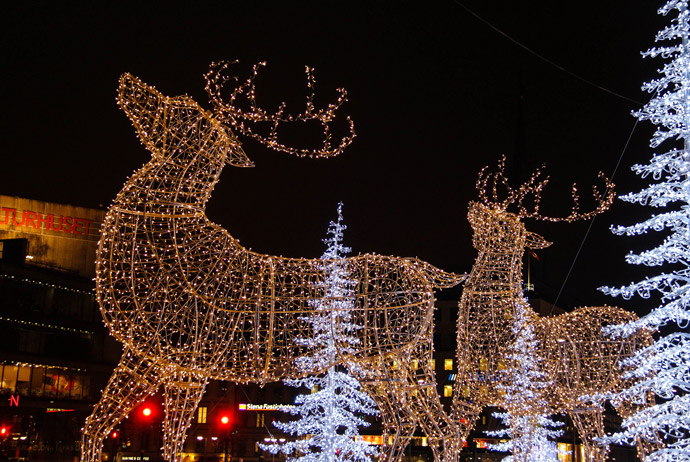 Visit the country at any point between late November and the New Year and you'll see locals welcoming jul (Christmas) with open arms, and doing their best to brighten up the dark days of winter with some seriously festive celebrations.
Christmas is, with the possible exception of Midsummer, the biggest party of the year.
It's a time for feasting, drinking, socialising, present giving and enjoying the great outdoors (weather permitting, of course). But as a tourist, what should you expect from a trip to Sweden at Christmas?
What to expect
Unless you're extremely unlucky, Christmas in Sweden should involve at least some snow.
The white stuff is practically guaranteed if you're heading anywhere in the northern half of the country, but there is always a chance that southern cities like Gothenburg, Malmö and Lund could remain snow-free until January or February.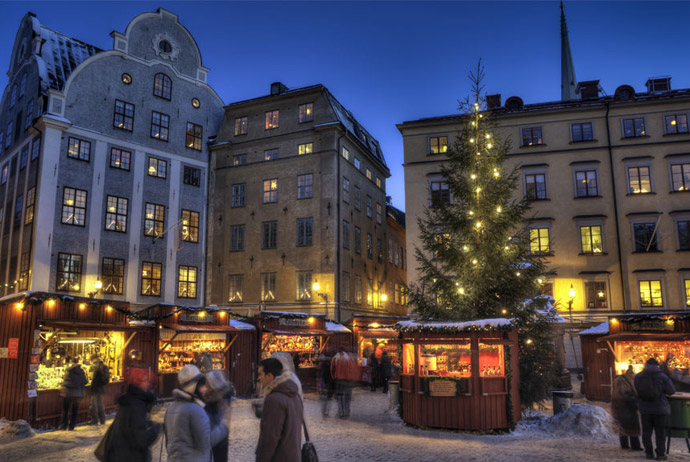 Snow or no snow, you should expect Sweden to be very cold – temperatures in the south of the country hover around freezing point throughout December, while in the far north temperatures struggle to get much above -10c (and -20c is not unusual).
A good down jacket and warm, waterproof boots are essential, and you'd be wise to bring a hat, gloves and a thermal under layer, too.
Another thing to consider is the lack of daylight. While southern parts of the country still get a good few hours of daylight during December, northern reaches of Sweden are dark almost right around the clock.
That doesn't mean you can't visit, but it may limit you in terms of the outdoor activities you can enjoy.
On the upside, lots of darkness will only increase your chances of seeing the northern lights.
Where to spend Christmas in Sweden
There are two main ways to see Sweden at Christmas. The first is to visit one of the big cities like Gothenburg or Stockholm, where tourist boards are making a lot of effort to make things feel extra Christmassy – through markets, carol signing and other festive activities.
Museums and galleries all stay open in the days before Christmas, and even if you don't feel like doing a lot of sightseeing you'll still find stuff to do.
For one thing, eating and drinking at all the cosy, candlelit restaurants and cafés never seems to get boring.
The other option for a Christmas trip to Sweden is to head into the countryside.
This is where you'll get the true winter wonderland experience, with the chance to go dog sledding, see the northern lights, and watch herds of reindeer scampering in and out of frozen forests.
Of course, you can always combine these two very different trips into one, but you'd need at least a week. Want inspiration? Here are six ideas for things to do on a Christmas holiday in Sweden.
1) Visit Gothenburg, Sweden's Christmas city
Some of the main sights are only open during summertime, but in recent years tourism officials have been working hard to transform Gothenburg into Sweden's 'Christmas city'.
What that means in practice is fun, open-air markets with lots of festive food, and a dizzying number of lights.
From mid-November onwards, large sections of the city centre – including Avenyn, the city's main thoroughfare – are festooned with twinkling fairy lights.
Festive imagery is also projected onto the huge brick façade of the city's main art gallery, and there's usually a choir or two signing in the area around Kungsportsplatsen.
The highlight of a yuletide visit to Gothenburg is a look around the Christmas market at Liseberg.
It's very nicely done, with cute wooden cabins selling touristy knickknacks, and after a glass or two of glögg around a crackling fire pit, you can't help but feel a little festive.
For a view of the theme park's lights without worrying about the crowds (or entry fees), head up to Heaven 23 for a drink – the bar has panoramic views of the lights twinkling far below.
In December, smaller daytime markets usually set up in Haga, or inside the Nordstan shopping mall.
RECOMMENDED HOTELS IN GOTHENBURGMORE HOTELS
2) Go husky-sledding
What could be more festive than gliding across the snow on a dog-sled, pulled by adorable fluffy huskies?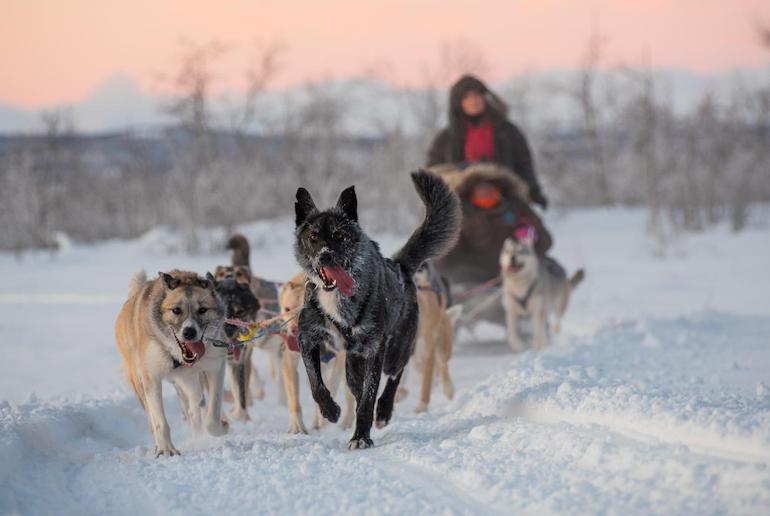 Kids will love this trip – and adults will find it hard to resist too – especially if you've met the dogs beforehand in their kennels, fed them and helped harness them up.
All you need now is to say "mush" and you'll be whizzing along the white stuff at speed.
Kiruna, up in Swedish Lapland, is the place to go husky-sledding.
If you really want to get to know the dogs, stay at the Husky Lodge, just outside town, which is home to loads of cuddly huskies, including puppies – you can play with the dogs and help look after them as well, of course, as going out sledding with them.
Alternatively, this husky-sled tour introduces you to the dogs, then takes you out onto the snow for a ride, before stopping for a warm drink and snack round the campfire at a traditional Sami yurt.
And if you're lucky you may get to see the northern lights during your trip too.
3) Spend Christmas in Stockholm
Stockholm always looks good, but if you manage to visit when the snow is falling, it's Christmas-card pretty.
The cobbled lanes of Gamla Stan (the Old Town) seem to glow a little brighter in late December, with cosy cafés and restaurants welcoming a happy mix of tourists and locals.
From late November until just before Christmas Eve, stalls selling Christmassy bits and bobs set up on Stortorget, the Old Town's main square.
For a more traditional Christmas vibe with lots of handmade gifts and sweets for sale, head to the Christmas market at Skansen, with coloured lights, festive decorations and fun activities for young kids.
There's a good chance you'll be able to meet some reindeer here, too.
And if you fancy getting out of the city into the surrounding countryside, why not consider this winter hike in a forested nature reserve.
If you're lucky you'll see the countryside covered in snow, and walk on frozen lakes before warming up with some Swedish fika in front of a campfire.
4) Rent a car in Swedish Lapland
If you want to see Sweden at its wildest and most magical, head to the far north.
With a week or so in Swedish Lapland you'll have enough time to see herds of wild reindeer, photograph the northern lights and go snowshoeing through forests that seem to bend under the weight of too much snow.
You can also go skiing, ride a snowmobile across a frozen river, discover Sami culture or learn how to make sculptures from blocks of ice.
An easy option is to fly to Kiruna (or take the train) and then hire a car, which gives you the flexibility to explore at your own pace, admiring wildlife along the way.
Abisko – around an hour's drive away from Kiruna by car – is one of the best places on Earth for watching the northern lights, and has loads of outdoor activities right on its doorstep. There are a few decent places to stay, from hostels to cosy guesthouses.
Jukkasjärvi, a 20-minute drive from Kiruna in the other direction, is probably the most Christmassy little village in Lapland.
This is where you'll find the famous Icehotel, which is well worth a visit even if you don't want to stay the night (and it is extraordinarily pricey at Christmas).
This guide has tips on seeing the Icehotel on the cheap.
5) Go skiing in Sälen
If it's guaranteed snow you're after and you don't fancy travelling all the way to Swedish Lapland at Christmas, Sälen is worth a shot.
It's a relaxed, family friendly ski resort with a good mix of different runs and some cosy cabins available for rent.
The Hotel Mezzo near Sälen has comfortable rooms and is just a hundred metres from the ski lift. Our guide to skiing in Sweden has more on what to expect.
6) Catch up with Santa
Little kids will get a big kick out of visiting Sagolandet Tomteland, which is located by Lake Siljan (around 300km northwest of Stockholm).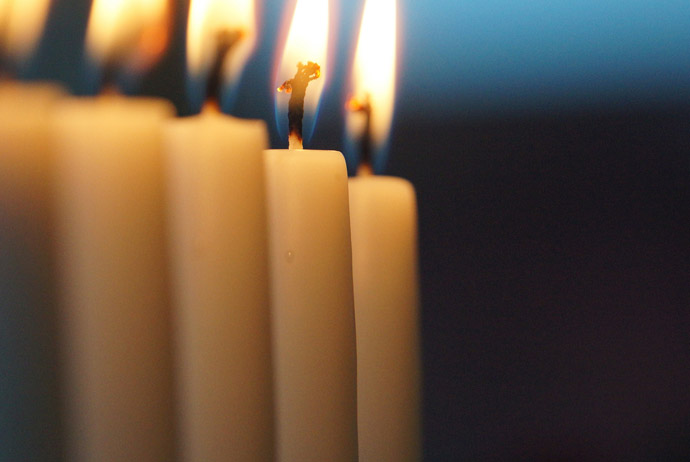 Before Christmas, the park is transformed into a winter wonderland, with snowy red cabins surrounded by forests and frozen streams.
There are daily events and shows for kids (presented in English on certain days) and there's a very good chance of meeting Santa himself.
There's no accommodation in the park but you'll find some great options in nearby Mora (check rates here).
7) Have a festive hot tub
OK, so we know that this doesn't exactly scream Christmas, but sitting outside in in a wooden hot tub full of steaming hot water surrounded by snow, watching the northern lights in the sky above is a magical experience.
And what could be more Swedish than following it up with a quick dip in a freezing lake and a sociable warm-up in the sauna?
If a relaxing, indulgent away-from-it-all Christmas is your thing, Sweden has plenty of places where you can spend the festive season in a haze of calm and well-being.
Camp Ripan near Kiruna has cabins in the woods, an indoor pool plus an outdoor hot tub to warm up in after a day out in the snow.
And if you feel like a bit of activity after all this relaxation, they can organise husky sled rides, snowmobile trips, ice-fishing and skiiing.
It may not be the most traditional Christmas but it will certainly be one of the most memorable.

Where to stay at Christmas in Sweden
If it's snowing outside then most hotels and hotels in Sweden feel pretty cosy at Christmas.
However, if you're looking for something really special, check out our guide to Sweden's most amazing places to stay.
If you're going to be in the city then our guides to the best hostels in Stockholm and Gothenburg are also worth a read – they're cheaper than regular hotels and the best ones have very comfortable private rooms.
Swedish Christmas traditions
These days, Christmas celebrations in Sweden are quite similar to those that take place in the UK or USA, with elements of Christianity and consumerism rubbing along happily.
But there are still some uniquely Swedish traditions to look out for. Some of these have their roots in old Nordic myths, while others – like the act of watching the same Disney cartoon every year – are a little trickier to explain. But more on that later.
Christmas in Sweden tends to begin early and most high-street shops have their lights and seasonal displays set up by early November.
The first real celebrations don't start until early December, with office parties taking place in towns and cities across the country, and the arrival of Advent.
Advent in Sweden
Each Sunday in December a new candle is lit (both in private homes and on TV shows), marking one step closer to the big day and giving Swedes an excuse to get together and drink glögg – a kind of lightly spiced mulled wine that's usually served with almonds and raisins.
Each year the public service broadcaster SVT also screens a special kids' TV show called Julkalendern in the run up to Christmas, with a new episode shown each day between the 1st of December and Christmas Eve.
St Lucia day in Sweden
On the 13th of December each year Swedes celebrate Lucia (or St Lucy's Day), a festival of light that sees processions of school kids carrying lights and singing.
The person at the front of the procession wears a crown of candles – battery-powered for kids nowadays – and then there are more songs.
Most Swedish towns and cities have their own Lucia celebrations, with a public vote to decide who will lead the procession.
Go to Sweden at this time of year and you'll probably be offered heart-shaped gingerbread biscuits, a lussekatt (a sweet bun made with saffron and curled into a swirly 'S' shape) and possibly a glass of glögg.
The Swedish julbord and julmust
Right throughout December, you'll see restaurants across Sweden doing their best to attract people to their julbord – or 'Christmas table' – which is packed with traditional Christmas food, including boiled potatoes, herring and meatballs.
Unless you can get yourself an invitation to a proper Christmas Eve celebration, this is the closest thing there is to experiencing a traditional Swedish Christmas dinner, and is definitely worth a try.
In the months leading up to Christmas you'll also see an unusual product appearing in Swedish stores. Julmust, a fizzy drink that tastes a little bit like root beer, is so popular in December that it regularly outstrips sales of Coca-Cola.
Christmas presents in Sweden
As the big day approaches, shoppers head out in search of gifts for their loved ones.
In recent decades, Christmas markets have sprung up to cater to the tourist market, selling wooden handicrafts, hot wine and sugar-glazed almonds, but Swedes are more likely to head straight for high-street clothes shops or design-conscious department stores.
Some people put a lot of effort into crafting personalised julklappsrim (Christmas present rhymes), which give recipients clues as to what's inside their gifts.
Christmas Eve in Sweden
A really important thing to remember when visiting Sweden at Christmas is that the 24th December is the big day – not the 25th.
Christmas Eve is when families exchange presents and sit down together for the traditional Christmas feast (usually served with ham and meatballs, rather than turkey).
Nearly everything closes for the entire day and people have little choice but to stay at home playing games, watching TV and stuffing their faces with candy.
Christmas Eve's unofficial highlight – and one of Sweden's most bizarre Christmas rituals – comes at 3pm.
At that moment, families across the nation crowd around their TV sets to watch a 60-minute cartoon featuring Disney's Donald Duck.
Although the same show has been screened in Sweden every Christmas Eve since 1960, it's still bafflingly popular, and it regularly ranks as one of the nation's most watched programmes of the year, with more than a third of the population tuning in.
For kids, another exciting part of Christmas Eve is when they get a face-to-face meeting with Santa Claus, who arrives sometime during the daytime on Christmas Eve – usually when a relative has 'gone to fetch a newspaper' (nowadays Swedish parents can hire a Santa Claus if they'd rather not dress up themselves).
Christmas Day (December 25th) is a game of two halves. Younger Swedes tend to head out to bars to catch up with friends, while older ones and little ones stay home for another day of chilling out.
How to make glögg
Fancy trying glögg before you get to Sweden? Here's a decent recipe.
Ingredients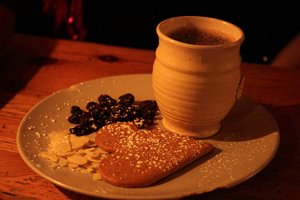 0,75 l red wine
2 cinnamon sticks
8 cloves
12 cardamom seeds
5 tsp granulated sugar
1.5 cups vodka
almonds
raisins
Method
Add some raisins and almonds to mugs or glasses and set aside. Heat the wine and spices gently in a saucepan, stir in the sugar until dissolved, and then add the vodka. Simmer everything together until the mixture is almost boiling, and then pour into the prepared mugs or glasses. Don't let it boil. Skål!
FAQ
How do they say Merry Christmas in Sweden?
Of course if you're thinking of spending the festive holidays in Sweden you'll definitely need to know this. It's simply God Jul!
And if you're staying until the 31st December, you'll want to learn Gott Nytt År (Happy New Year) too!
What is Santa Claus called in Sweden?
The traditional Santa figure in Sweden is the Jultomte, or Christmas gnome. This short figure with a large nose, a long beard and a tall red hat pulled over his face signifies Christmas for the Swedes.
He lives in the Swedish forests rather than at the North Pole, and he brings children's presents through the front door, rather than coming down the chimney. Swedes usually leave out a bowl of porridge for him to eat.
However, like most of the world nowadays, the Swedes also recognise the universal Father Christmas with a red coat, twinkling eyes and a long beard – who they call Santa.
What is a Swedish elf called?
Swedish elves are called tomten, and were mythical creatures that lived beneath houses in Sweden and protected children from evil.
It is these tomten who gave their name to the Jultomte, who appears throughout Sweden at Christmas time.
Traditionally the tomten were rather short-tempered, and the festive Jultomte also has a rather gruff reputation – in contrast to the jolly Father Christmas figure!
Is Krampus Swedish?
Before the Jultomte became popular, the Swedish equivalent of Santa Claus was the Christmas goat or julbock!
In the nineteenth-century people made straw goat decorations for their houses at Christmas time, while the men in the family would dress up as goats and wear goat face-masks.
The aim of these goat figures was to frighten the children if they'd been naughty, or give them presents if they'd been good.
This tradition is thought to have originated from the Krampus, a mythological half-goat, half-demon figure, who beat people into being nice and not naughty.
The Krampus legend actually originates in Germany, not Sweden, and the name Krampus derives from the German word meaning "claw".
Does it snow in Sweden at Christmas?
Well, that depends on whereabouts in the country you are. In the northern half of Sweden, and certainly once you're above the Arctic Circle you'll almost certainly see snow at Christmas.
In the south of Sweden if you're high up and inland, you're highly likely to have snow too.
In the southern coastal towns and cities such as Malmo and Gothenburg, the chances of snow at Christmas are lower, and in Stockholm you may have to wait until January or February to see the city beneath a white snowy blanket.
Whether you have snow or not, it will certainly be cold, and you may well get a picturesque coating of frost and ice on the rooftops.
When do Swedes celebrate Christmas?
Celebrating on the 24th of December is definitely the thing in Sweden. It's the big day, where everything closes and people celebrate with their families over a large festive feast.
Presents are exchanged on the 24th, and Father Christmas arrives in the afternoon bringing gifts for the children.
What does Sweden drink at Christmas?
Traditional Swedish festive drinks include glögg (see above for our favourite glögg recipe) and julmust, a fizzy soft drink that tastes like a cross between coca cola and root beer.
See also:
Visting Stockholm in winter
The 9 best ski areas in Sweden
Spas in Swedish Lapland
TOURS AND ACTIVITIES IN SWEDENMORE TOURS