Heading to Sweden? Want to bring back a little reminder of your trip, or a nice gift for someone at home? Never fear: we're here to make sure you don't waste your money on crappy clogs, plastic Viking helmets or bags of chocolate raisins labelled 'moose poo'.
Here are some suggestions for Swedish souvenirs that go beyond the usual tacky trinkets. Some are cheap, some are a little more expensive, and most are easy to track down, regardless of where you are in the country. One thing these souvenirs have in common is that they're all very, very Swedish.
Design stuff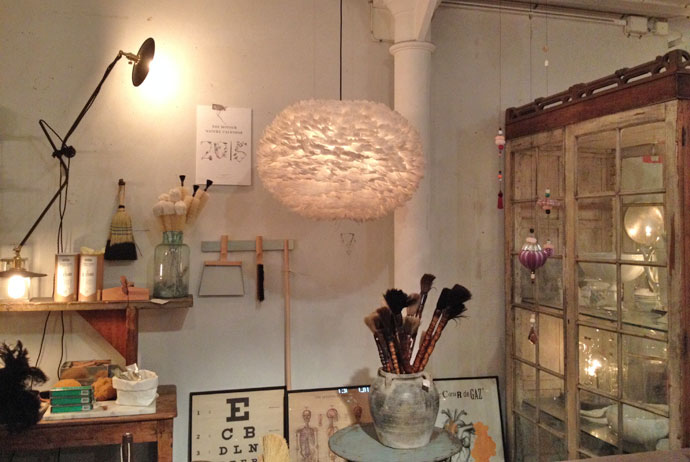 Swedish design is world famous, but there's a lot more to the country's interior styling scene than that big flatpack-furniture place with the easy-to-steal pencils. You could spend thousands on cool lamps, vases, ornaments and posters (especially if you're in one of the high-end boutiques in Stockholm or Gothenburg) but there are much cheaper ways to get hold of the latest Nordic trends.
Lagerhaus and DesignTorget both have stores in the big cities and sell Swedish decorations and homeware at reasonable prices. Stepping up a level, the department stores NK and Åhléns stock everything from Swedish coffee mugs to candle holders and smart-looking notepads.
Salt liquorice
One of the strange flavours you'll encounter in Sweden is salt liquorice (saltlakrits). It's definitely an unusual taste and one that you'll either love or hate. Most Swedes seem to be firmly on the 'love' side of the debate, so you'll find the salty flavour infiltrating all sorts of things, including ice cream, chewing gum, snus (see below) and of course candy. If you get a flavour for salt liquorice and want to share the joy with people back home, you can stock up at any sweetshop or supermarket. To really make your friends wince, grab a bag of Djungelvrål (jungle roar) – it's eye-wateringly salty.
Cool Swedish clothes
H&M is pretty much the same in Sweden as anywhere else, so there's no need to rush there to stock up on clothes. But there are still a few cool, lesser-known Swedish brands that are only just beginning to make waves outside their home country. Try Weekday (also owned by H&M), which has jeans for guys and girls, and Cheap Monday (yep, this one is owned by H&M too). Our super-detailed guide to Swedish fashion has loads more tips!

Snus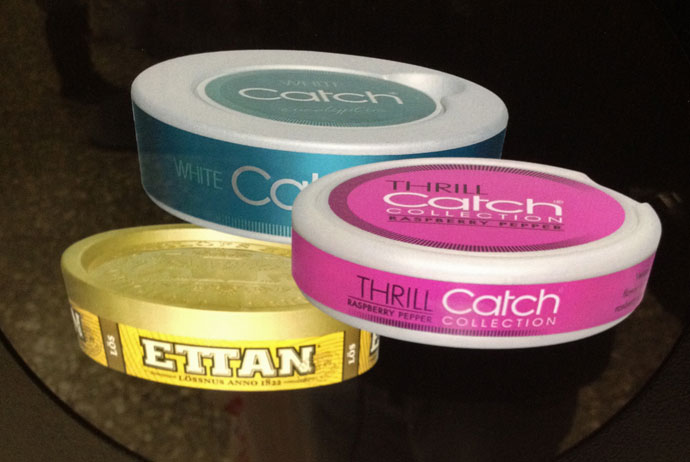 Nothing says "I'm Swedish" like a lump of tobacco stuffed under the top lip. There are two main types of snus available – one comes in a kind of tea bag, and the other is loose. If you want to try it for the first time, definitely go for the tea bag option (called 'portion'), or you'll end up battling a mouthful of brown sludge. Although it's widely considered to be much safer than smoking, we wouldn't recommend getting hooked in Sweden – snus is banned in most parts of Europe, and can be difficult to track down in other parts of the world, too. Tobacco-free versions are available on sites like Amazon.
Sami handicrafts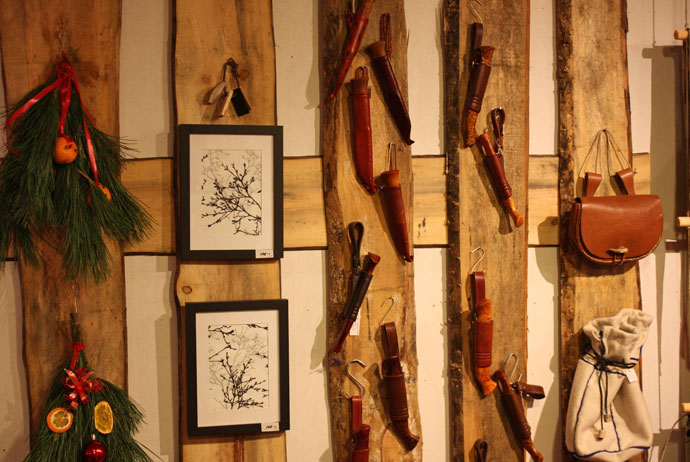 Sami designs have found their way into souvenir shops in Stockholm's Gamla Stan in the form of brightly coloured hats and ornaments. These are usually mass-produced outside Sweden; for genuine Sami handicrafts, including pretty jewellery, your best bet is to head to Jokkmokk in the north of the country. Our shopping guide has info on some of the best handicraft places in town.
Yummy cakes and pastries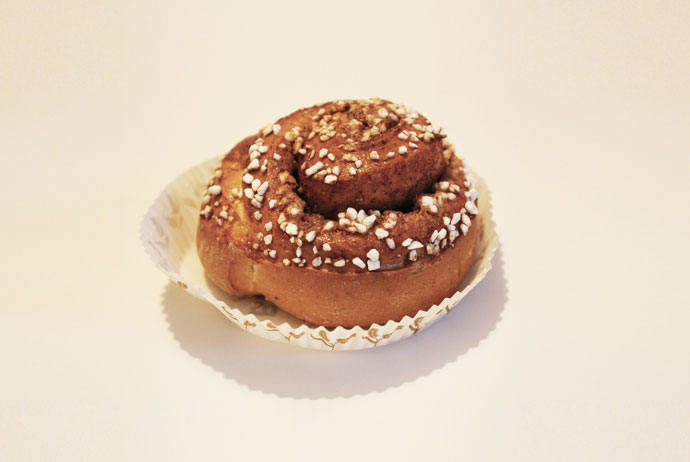 If you get hooked on the idea of fika in Sweden, make room in your hand luggage for some freshly baked goodies. Most bakeries and cafés will be able to sort you out with a takeaway box if you ask. Need help choosing what to bring home? Our beginner's guide to fika has pictures of some of the classic cakes and pastries.

A Dala horse
The wooden Dala horse began life as a simple toy but has since evolved into a symbol – not just for Dalarna, the region where it originated, but for the whole of Sweden. This is one of the few typical Swedish souvenirs that you might actually see in a Swede's house. Tacky, $5 versions are found in tourist offices and gift shops across the country, but a proper hand-carved and hand-painted Dalahäst from Dalarna will set you back $30 or more – and that's just for a little one.
Booze
No traditional Swedish knees-up would be complete without a few songs and a nice cold bottle of snaps. To get hold of a bottle that you can take home, you'll have to make a trip to Systembolaget, the government-run chain of shops that has a monopoly on sales of strong alcohol. You'll find loads of different flavours available, like lemongrass, basil, rosemary and thyme. Some are surprisingly smooth, others burn like hell. Expect to pay 170–400 SEK (US $20–45) for a bottle.
If you'd rather avoid the strong stuff, see this as your opportunity to stock up on a few Swedish beers. The craft beer scene has exploded in recent years, and you'll find dozens of brews from around the country available by the can and bottle.
Surströmming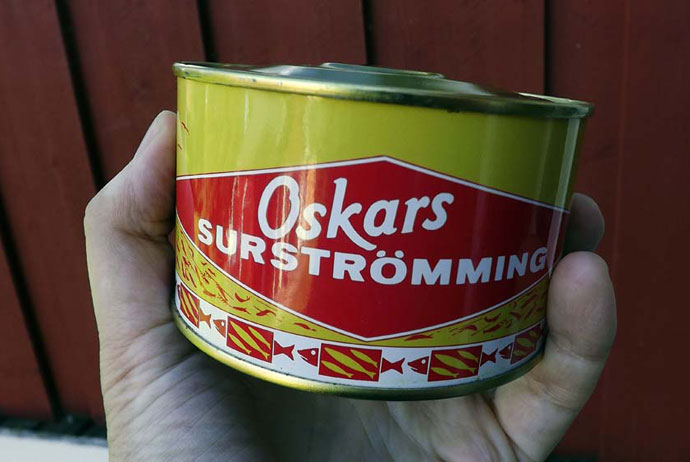 At the start of this page we promised that all of the souvenirs we listed here would be very, very Swedish. Fermented herring (surströmming) certainly fits the bill, but might not be appreciated by everyone – and it isn't especially easy to get home.
The putrid-smelling delicacy been banned from several airlines due to the risk of cans exploding mid-flight and leaving a terrible stink behind. Press reports say that when one couple tried to bring a can of surströmming home to Germany from Skellefteå it exploded in the hold, leaving them responsible for replacing all of the smell-soaked suitcases onboard.
Our advice? Order it online and let someone else take the risk (you can buy it here on Amazon).
Books from Sweden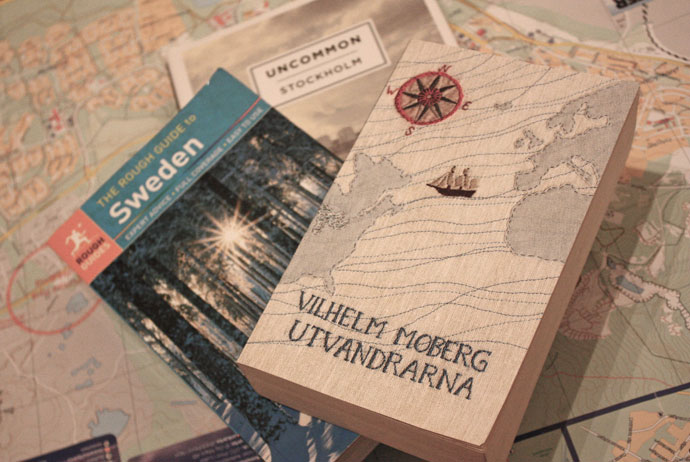 These great books make nice souvenirs from Sweden. They're all available in English and are all somehow related to Sweden (or at least set there, anyway). Buy online using the links in our article or try one of the Swedish high-street chains like Pocket Shop or Akademibokhandeln.

TOURS AND ACTIVITIES IN SWEDENMORE TOURS