Sweden has a lot of wide, open spaces, which makes it one of the best countries in Europe for hiking. And it's a great place to escape the crowds and get off the beaten track.
Despite the occasionally wild weather (especially in the far north), it's a surprisingly safe and rewarding hiking destination – as long as you take the right precautions.
Most are of Sweden's hiking trails are well-marked and well-maintained. In addition, many of them are served by a network of refuges and hiking huts run by Svenska Turistföreningen (STF).
The huts are usually located no more than a day's walk apart along the country's long-distance paths, so that there is always somewhere you can find shelter for the night.
There are so many different types of landscape to explore in Sweden, from the vibrant forests of Småland to the rocky ravines of Skåne. 
Add in dramatic stretches of coastline like Högakusten (the High Coast) and world-renowned hiking trails like Kungsleden, right up in the far north of Sweden, and there really is something for everyone. Here are some of the country's best hiking trails.
Kungsleden (The King's Trail)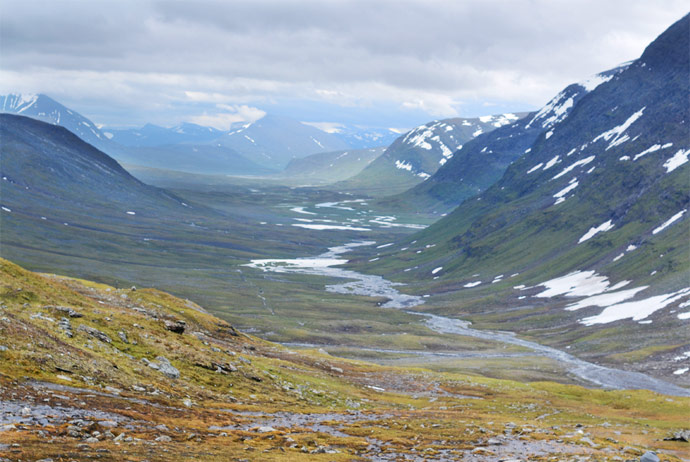 Best tackled in the summer, The King's Trail (known as Kungsleden in Swedish) is a 440km-long path that runs from Abisko in the country's far north, all the way southeast to the little village of Hemavan, near the Norwegian border.
This is Sweden at its most impressive, and the the trail passes through some pretty spectacular scenery, including the Vindelfjällen Nature Reserve (one of Europe's largest protected areas), Kebnekaise (Sweden's highest mountain), Sarek National Park, and several adorable little villages.
The northernmost section of the trail, which runs from Abisko to Kvikkjokk, is by far the most popular. Every 10–20 km or so you'll find simple accommodation operated by the Swedish tourist association STF.
These basic huts can't be booked ahead and work on a first-come, first-served basis. They're warm and comfortable but usually come with simple shared bunk rooms.
Thanks to these mountain huts, called fjällstugor, there's usually no need to bring a tent along for this section (though you may prefer to).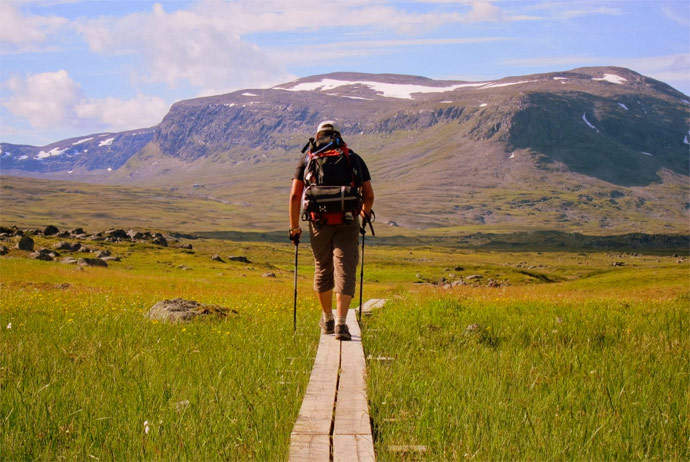 There's a lovely alpine feel to this northernmost section of the route during the summer and you'll get the chance to cross the highest pass on the whole Kungsleden route (the Tjäktja Pass), which is around 1,150 m above sea level (3,770 ft).
Further south, the section between Kvikkjokk and Ammarnäs is not as well-maintained and doesn't have any STF huts, so you'll definitely need a tent. However, this section attracts far fewer tourists, allowing you to enjoy a much wilder landscape of river valleys and wind-swept plateaus.
The southernmost part of the route, from Ammarnäs to Hemavan, has the most variation in terms of its scenery.
There are five STF mountain huts to stop at along the way and although it looks relatively short, compared with the northern sections of the route, you'll still need around six days to cover the whole stretch (it's around 78km long!).
For more on walking this amazing long-distance path, check out our ultimate guide to all you need to know about hiking the Kungsladen.
Kullaberg Nature Reserve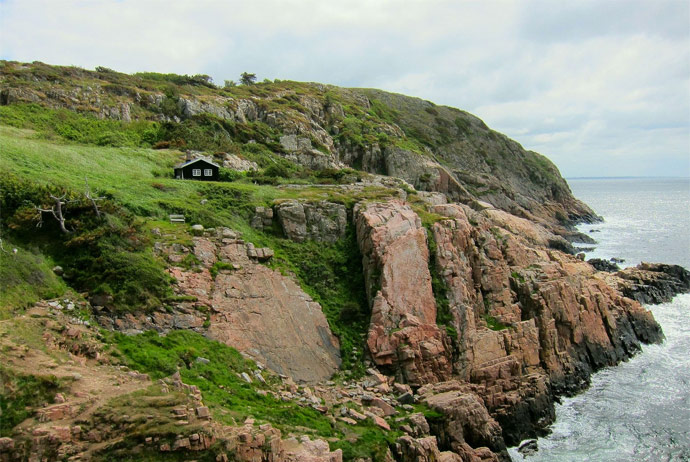 Right down in the far south of Sweden, Skåne is a famously flat part of the country. But once you've visited Kullaberg Nature Reserve (Kullaberg Naturreservat) you may just see things differently.
Although the highest point in the nature reserve is only 188 metres above sea level, there are some surprisingly tough uphill sections, making this a fun and varied place to go hiking.
If you're looking for a longer hiking adventure, the reserve itself can be reached using the epic Skaneleden trail, which criss-crosses southern Sweden with 1,250km of well-marked paths.
In addition to the spectacular hiking, the Kullaberg region offers remote coves and the most powerful lighthouse in Sweden (Kullen Fyr), plus archaeological sites from the Stone Age, and the magically quirky micronation of Ladonia, which was founded by the controversial Swedish artist Lars Vilks.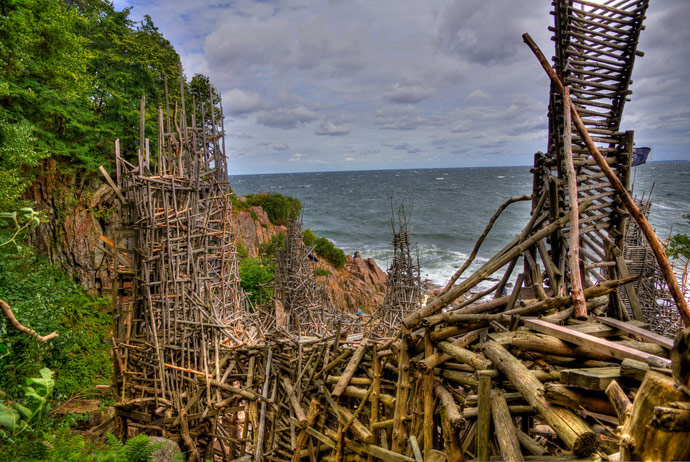 Ladonia's only residents are Nimis and Arx, two incredible structures that have been built just back from the coastline. The structures aren't accessible by car, so you'll need to hike in. It's a short but tough walk, and is only recommended if you're feeling pretty fit.
The easiest way to get to Kullaberg is to rent a car and head for the village of Mölle. From there it's an 8km-drive west to the visitors' centre (you can hike to the lighthouse from there).
You can also check out this handy site, which has a digital map of the region.
The High Coast
Boasting some insanely beautiful islands and red granite cliffs, the High Coast (Högakusten) sits halfway up Sweden's east coast. The name says it all: over the past 10,000 years or so, parts of the coastline have risen by around 300 metres, creating a wonderfully rugged environment for bracing coastal walks.
The High Coast gives you access to almost 130km of trails, running from Hornöberget in the south to Örnsköldsvik in the north. The route is split into 13 sections, each with a different 'difficulty' profile, and is well marked with orange dots on trees and posts.
Free-to-use cabins and shelters are available for everyone year round, but cannot be booked in advance. There are restrictions on camping in Skuleskogen National Park, so be sure to familiarise yourself with the area before you go!
There are countless highlights here. Aside from Skuleskogen (which is one of the most popular areas along the trail), other well-known sections include Nipleden, known for its impressive sandbanks and Arnäsleden, a family friendly trail spanning 70km.
The latter lets you visit quaint villages and is home to Räckebergskyrkan, Sweden's largest tunnel cave.
The Jämtland Triangle
The Jämtland Triangle (Jämtlandstriangeln) is a 47km triangular route near the Norwegian border. It runs from Blåhammaren in the west to the Storulvån mountain station further east and down to the dramatic Sylarna mountains further south.
The entire area is really well-maintained and has enough cosy STF huts that you won't need to carry heavy packs or tents. Blåhammaren is exceptionally family friendly and the lower peaks are easy enough for kids to take on.
The other two areas are a little more mountainous, with the summit of Sylarna being 1,762 metres above sea level (it's also in Norway, so you get a bonus visit to another country thrown in). The peaks are optional extras, however, with the majority of the hiking here being suitable for fit beginners.
Hiking trails near Stockholm
The trails mentioned above are among the most famous in Sweden, but they are by no means the only trails worth seeing. In fact, you don't actually have to venture far from the Swedish capital's tourist sites to access some great hikes.
If you're staying in Stockholm and don't have time to venture much further afield, check out these easy hikes from the city.
Hiking in Sweden: things to bear in mind
Allemansrätten (the freedom to roam)
Sweden's 'right to roam' means that everyone is allowed to access nature reserves and can usually camp there for free, as long as certain rules are followed.
The idea of leaving 'nothing but footprints' is deeply ingrained in the local psyche. Remember, this is the country that started the trend of 'plogging' (picking up rubbish when you're out on your run). There's more on the rules for camping in Sweden in this guide.
Accommodation
If camping wild isn't your scene, there may be other options. Swedish hostels (vandrarhem) aren't as cheap as you may be used to back home, but they can offer a nice (and much warmer) alternative to sleeping under canvas.
On certain hiking routes, cabins run by STF are the only realistic option – these provide a good opportunity to meet with other hikers in the evenings and get tips on the sections you'll be tackling next.
Guided hiking and nature trips
Don't fancy hiking in Sweden alone? There are some excellent guided hiking trips that take you to see some of the country's best wilderness areas, including this guided nature hike from Stockholm, and this one-night trip to hear wolves howling in the depths of the Swedish forests.
Getting around
Buses and trains are generally reliable, even in rural parts of the country. But for total flexibility, nothing beats hiring a car. There are tips on finding a good deal in this guide. You can also check out our guide to getting around Scandinavia for more information.
Safety
Large parts of Sweden experience extremely cold weather and heavy snowfalls, and not just during the depths of winter. It's not unusual for the weather to change quickly, especially in mountainous and coastal regions, or for temperatures to drop well below freezing even during spring and autumn.
For this reason it's essential to plan ahead when hiking – always start each day with a clear plan, adequate supplies and the right gear to get out of trouble if things go wrong. If you're hiking alone, you should always let someone know your plans so they can raise the alarm if something goes wrong.
Going hiking? Get insured!
It's also vital to take out adequate insurance to cover you if you get injured or need rescuing in an emergency.
It's worth getting several quotes and doing some research beforehand to check which policy is right for your trip. We recommend World Nomads. You can get a quote for covering your trip below.
See also: 
Hiking Kungsleden in Sweden
Six of the best long-distance hikes in Norway
Wild adventures in Sweden's Glaskogen nature reserve
Like what you've been reading? Get our best tips by email!