Astrid Lindgren is Sweden's best-loved children's author, and is as much a part of the Swedish consciousness as fika, salt liquorice and painted wooden horses. You'll even find her friendly face on Sweden's 20 SEK banknotes. Not bad for a writer who started her career when she was nearing 40.
Chances are, you were introduced to Astrid's stories as a child and recognise the name Pippi Longstocking. This fiery little character first made her appearance in 1945 and continues to inspire kids today.
Lindgren's books have sold 144 million copies worldwide and have been translated into 95 different languages, including Romany, Zulu and Meänkieli (a northern Finnish dialect).
It was when Astrid's daughter was in bed with pneumonia that the story of Pippi Longstocking was conjured up. Within a few years, Astrid went from having an ordinary life as a housewife to a wholly new existence as a world-famous author.
Swedes are passionate about celebrating Astrid's achievements, so you're spoilt for choice when it comes to visiting somewhere that's influenced by her work. We've done some of the hard work for you and have selected four of the best Astrid Lindgren attractions in Sweden – plus a little bonus.
Astrid Lindgren's World
Astrid Lindgren's World (or Astrid Lindgrens Värld, in Swedish) was co-created by Astrid herself. Located in Vimmerby, Småland, it's a charming activity park where children can meet their favourite Astrid Lindgren characters. It blurs the boundaries between fiction and reality in a strangely magical way.
The park receives almost half a million visitors every year and is made up of stunningly crafted sets from Astrid's most popular stories. Pippi Longstocking, Ronia the Robber's Daughter and the siblings from The Brothers Lionheart are just a few of the characters you can expect to meet. Every day in summer there are performances featuring some of the best-known scenes from Astrid's books.
There are plenty of shopping opportunities too. There's the Pippi Shop, where much of the memorabilia has been made exclusively for the park. You can also drop into Pippi's sweetshop and, of course, there's a bookshop.
Getting there
There's a train station right at the park. If you're travelling from Stockholm, take the SJ snabbtåg service to Linköping and then change to a Kustpilen train for the final journey to the park. The total journey time is around three and a half hours and should cost around 350–550 SEK per person.
Visiting Astrid Lindgren's World
The park is open daily from 10am–6pm in high season, with reduced days and hours at other times of the year. To get the most out of your visit, it's worth arriving early. If your kids love Astrid's stories then we'd recommend sticking around for two or three days. There's a chalet village and campsite not far from the park.
The entrance fee for the park is quite steep, especially in high season (400 SEK per adult from mid-June to late August) but if you go in spring or autumn, it's much better value.
More info: alv.se
Astrid Lindgrens Näs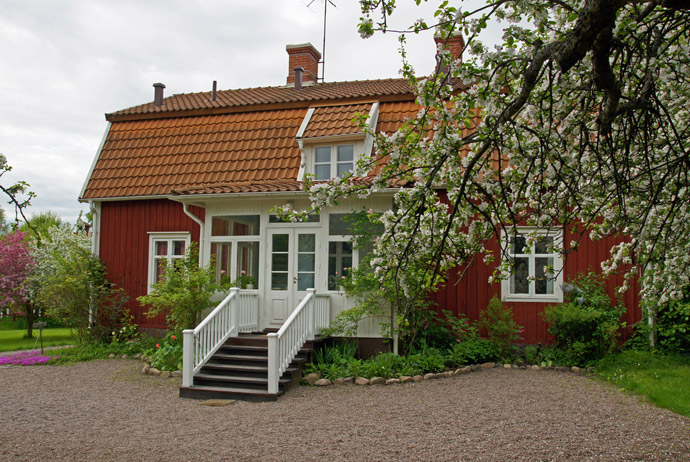 Astrid Lindgrens Näs is a cultural centre in Vimmerby, where Astrid's life began more than 100 years ago. The whole attraction is centred around her childhood home. It was here that Astrid experienced the joys of childhood and planted the seeds that would blossom into her wonderful stories.
The main event is a look around the home itself – it's a little red house that she helped to restore in later life, and it looks much the same as it would have when she was a girl.
An exhibition hall presents The Whole World's Astrid Lindgren. This gives you a thorough insight into what Astrid was like as a person and how she was able to create her extraordinary stories. It's possible to borrow an audio guide that allows you to listen to Astrid's own voice as you walk around.
There are also extensive gardens to explore at Astrid Lindgrens Näs; they're designed to express some of the themes that appear in the author's best books, including sadness, joy and courage.
Getting there
Astrid Lindgrens Näs is a kilometre north of Vimmerby's centre. The nearest train station is at Astrid Lindgren's World (see above).
Visiting Astrid Lindgrens Näs
The park is open daily from 10am–6pm during summer (early Jun–Sept), with more restrictive opening times throughout the rest of the year. Entry costs 170 SEK for adults. Guided tours of the house cost 95 SEK; book in advance.
More info: astridlindgrensnas.se
Junibacken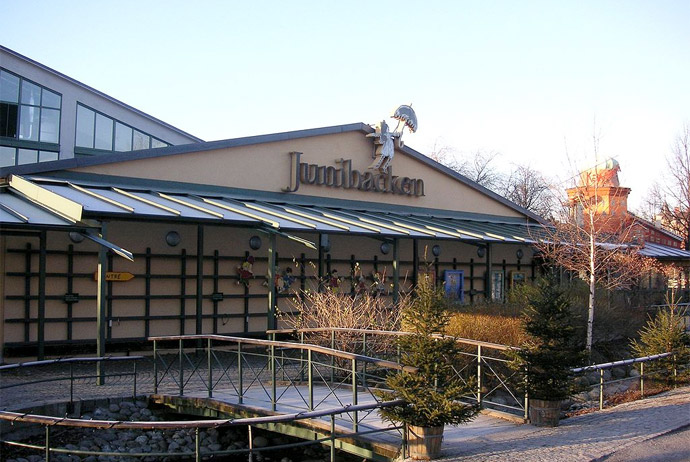 On the island of Djurgarden in central Stockholm lies Junibacken, a museum devoted to children's literature – but Astrid's work makes up the bulk of what's inside.
This little wonderland aims to get kids interested in reading by making them fall in love with famous stories and their colourful characters. The most popular part of the museum is the Story Train, which takes you on a ride through Astrid's stories and drops you off at Pippi Longstocking's house. Here, kids can go wild, try on costumes and even ride on Pippi's horse.
Sooner or later, you'll find yourself at the largest children's bookstore in Sweden. If the kids really enjoyed the Story Train, you'll be able to find the text that inspired it (The Storybook Journey) in the shop. Outside the museum are gardens where you can take a breather and – in the summer, at least – enjoy a hard-earned ice cream.
Getting there
There are two very pleasant ways to get to Junibacken. The first option is to take the tram from Kungsträdgården – get off at Nordiska Museet/Vasa and the museum is a five-minute walk to the west. A more scenic choice is to take the public ferry from Skeppsholmen to Allmänna gränd brygg – it's a quick trip that'll give you a great view of Djurgården on the way across. From the pier it's a pleasant 15-minute walk north to the museum.
Visiting Junibacken
Junibacken is open daily from 10am–5/6pm (closed Mon in winter). Admission is 159 SEK for adults and 139 SEK for kids. Allow around two hours for a visit. The bookshop is on the pricey side but search long enough and you'll probably find a bargain. There also tends to be fewer people on a sunny day, if you're looking to avoid crowds.
More info: junibacken.se
Dalagatan
If you're totally strapped for cash but are eager to experience a little piece of Astrid's world for yourself, take a free, virtual trip around her apartment on Dalagatan, Stockholm, where she lived from 1941 to 2001.
The website allows you to guide yourself through her home, read about her life there, and see some of her possessions, including an Unesco book award which she was awarded in 1993. Sometimes, the apartment is open to the public for real-life tours (150 SEK per person). Check this website (it's mostly in Swedish) for availability.