Stockholm is lovely and all, but after a few days in the city you might feel the urge to explore the great outdoors. Fortunately, there are tons of awesome hikes that you can take from Stockholm, giving you the chance to spend a few hours strolling along the coast, turn it into a day trip, or better yet, go on a multi-day hiking extravaganza.
You can reach all these hiking trails and nature reserves by bus, tunnelbana (subway) or commuter train. The cheapest option is usually to take public transport, but a car will be the quickest – as long as it's not rush hour.
Tyresta National Park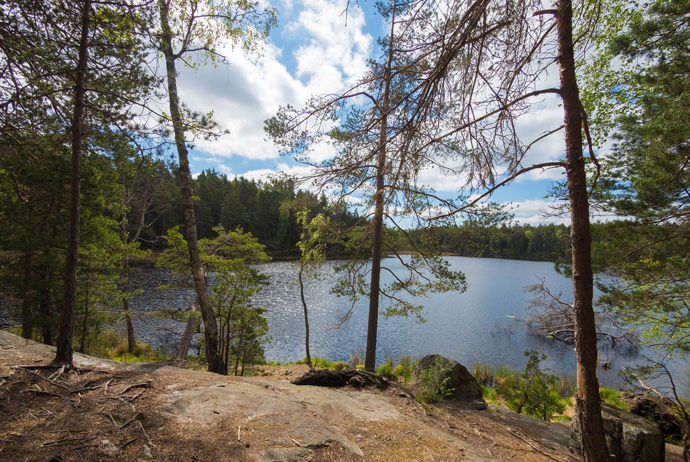 Close to the capital, Tyresta National Park offers beautiful lakes and 1,964 hectares of primeval pine forests – it's exactly what an untamed wilderness should feel like.
Designated as a national park in 1993, Tyresta is just 20km south of Stockholm's city center. It's one of the largest old-growth forests in southern Sweden, and some of the pine trees here date back around 400 years. There are also up to 8,000 species of animals here, and they depend on the area's unusual conditions to survive.
You can spend a full day hiking, spotting woodpeckers and beavers in Tyresta, or grab lunch at the café or country store. Stop by the visitor's center for information or to plan your overnight stay at one of the park's dedicated campsites.
Getting there
Take bus #834 from Haninge train station, or bus #807 or #809 from Gullmarsplan to Svartbäcken. From Svartbäcken, you can walk the final 2km east to Tyresta. At least once a day, buses #807 and #834 continue all the way to the park. If you're driving, take the road 73 between Stockholm and Nynäshamn, then exit towards Brandbergen and follow signs for the 'Nationalpark'.
Brunnsviken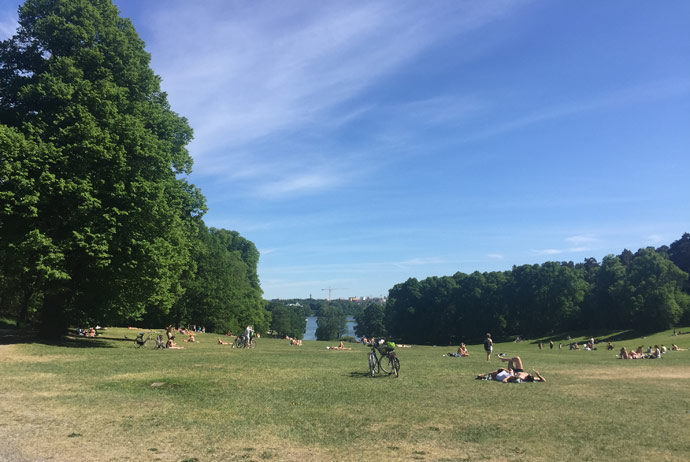 Brunnsviken is a large, picturesque lake a quick hop north of Stockholm's city center. It's a popular choice for picnicking families, but it also provides a great opportunity to go for a relaxing wander (rather than a full-on hike) and see some unusual sights at the same time.
In the 1780s, landscapers sculpted three large English parks around Brunnsviken: Bellevue, Haga and Tivoli. The area also includes beautiful, historic attractions like the Bergius Botanical Garden and the Swedish Museum of Natural History. You'll also find a butterfly house, a museum dedicated to the sculptor Carl Eldh and some ornate Turkish-style 'copper tents', one of which houses a simple café.
The grounds makes an ideal escape from the bustle of the city, and hikers can take advantage of a 12km-long trail that makes a scenic loop around the whole area. There are plenty of places to stop and recharge along the way, especially during the summer. It's totally free to visit.
Getting there
There are a few different ways to reach the parks that surround Brunnsviken. From T-Centralen, take a commuter train heading north and get off at Solna, then catch bus #515 to Haga Norra.
Alternatively, you can take the subway line #17 or #18 to Odenplan, then change to bus #515. If your goal is Café Sjöstugan in Tivoliparken, you'll want instead to take subway line #14 to Universitetet and then bus #540 to Bergshamra Södra. Since Brunnsviken is still sort of close to the middle of Stockholm, driving there can be a real hassle (expect tolls and traffic). If you're determined to drive, just keep on the E4 and take exit 167 for Haga Park.
Nacka Nature Reserve and Hellasgården
Another great place to go hiking without journeying too far from Stockholm's city limits is Nacka Nature Reserve, known by locals as Nackareservatet. Not to be confused with Nacka Municipality (a suburb east of Stockholm), this nature reserve is a lovely little slice of wilderness with great birdwatching and lakes that are ideal for swimming in the summer.
After a full day of hiking among the trees and meadows, you can kick back in the sauna at the nearby Hellasgården recreation area, which also offers good swimming and winter ice skating.
Getting there
From Slussen in central Stockholm, catch bus #401 straight to Hellasgården. Alternatively, you can take subway line #17 to Kärrtorp, then walk 2km east to the reserve. If you've rented a car, take road 73 south out of the city, then follow roads 229 and 260 to the car park at Hellasgården. A trail runs southwest towards the reserve from there.
Sörmlandsleden
Covering some 1,000km of trails in the area southwest of Stockholm, Sörmlandsleden is one of the longest hiking paths in Sweden. The path is divided into around 100 different sections that introduce hikers to plenty of wilderness areas and historic monuments. The route also crosses familiar hiking areas like Nacka and Tyresta (see above).
The 100-odd hikes are of varying lengths (from 1.5 km to 17 km) and each has its own level of intensity. Whether you're looking for a simple one-hour walk or a circular loop that takes a full day or more, the trails are suitable for most types of hiker.
Other than the beautiful Marviken lakes, there are some interesting sights to check out including the well-preserved mining area at Skottvång, the Östra Södermanlands railroad, Ådal's mill, and leftovers from the area's once-active coal industry. You can even book a guided hike if you'd like to learn more or would rather not go it alone. If you're staying for a few days, you can also overnight at one of the hostels along the way.
Getting there
The trail begins in Stockholm and passes through several cities and towns to the southwest, including Eskilstuna, Katrineholm and Norrköping. You can start from multiple points, but the shortest route from Stockholm begins in Björkhagen.
To get there from T-Centralen in downtown Stockholm, catch the subway line #17 south to Björkhagen station. Once there, thee hiking trail takes you on a 8.5km walk through rich vegetation and birch forests, past Hellasgården, and on to scenic Skogshyddan. Occasional buses run back to Gullmarsplan in Stockholm from Bäckalidsvägen, a 15-minute walk west. If you're driving from the city center, take Söderledstunneln to Hammarbyhöjden and then head for Björkhagen.
Norra Järvafältet
The pretty area known as Norra Järvafältet incorporates four nature reserves which are all ripe for trekking: Östra Järvafältet, Västra Järvafältet, Hansta and Molnsättra.
With 1,938 hectares to explore across these four areas, visitors can enjoy lots of hiking and trail riding, or spy on three-toed woodpeckers and hazelhens at the Getholmen bird sanctuary (Getholmen is actually a tiny island in the middle of Översjön lake and cannot be visited by tourists from mid-April to June).
This area has been inhabited since the Bronze Age, so history lovers will enjoy the chance to stop and check out the many hill forts and burial sites dotted across the reserves.
Getting there
Järvafältet is accessible via entrances at Säby Gard in Järfälla, Bögs Gård in Sollentuna and Hagerstalund, north of Akalla. The shortest route there from Stockholm is via Akalla, which you can reach using line #11, followed by a 1km-long walk north to Hansta. If you're driving follow the E4, merging onto road 275 and up towards Hansta.
Joining a guided hike
Hiking is generally very safe in Sweden, as long as you take sensible precautions, but if you'd rather not head out into the wilds alone, you might want to consider a guided tour.
There are several good options available, like this fun one-day trip which is run in small groups of up to five people at a time. It gives you the chance to get close to nature and enjoy good hiking among local wildlife, while learning from a knowledgeable guide.
Roslagsleden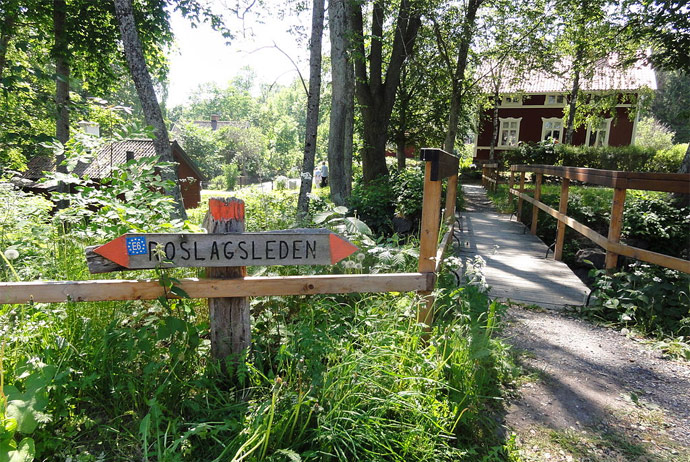 Roslagsleden is 190km-long system of hiking trails on Sweden's Baltic coast, a short journey northeast of Stockholm. Running through six municipalities from Danderyd Church to Grisslehamn, the trails reward with Viking runestones and some terrific views over the Baltic Sea.
The shortest section of the route is 9km and the longest is 25km, so you will definitely need a full day to tackle even a section of it properly. The trail has enough campsites to keep your hike uninterrupted if you choose to do a bigger chunk – allow at least a week. Although the path covers a long distance, it's well-marked with signs and arrows, which makes it a great long-distance trail for beginners.
Getting there
The quickest way from T-Centralen in downtown Stockholm is to take subway line #14 to Mörby centrum, then walk about 15 minutes to Danderyd Church. Alternatively, you can take the subway to Danderyd Sjukhus (Danderyd Hospital), then take bus #604, #607, #611, or #613 to Rinkeby. If you're driving, take Roslagsvägen and the E18 north towards Danderydsvägen before heading for the church.
Like what you've been reading? Get our best tips by email!