There's a lot more to Sweden than the mainland. When you include all of the little rocky outcrops and sandy atolls, there are an incredible 220,000 islands to choose from.
No surprise, then, that many Swedes have tales of glorious summers spent sailing. This guide will steer you straight to some of the best Swedish islands.
We've given details on how to reach them (we'll assume you're leaving your private yacht at home) and where to stay, as well as tips on what you can see when you arrive. Ready? Then we'll set sail.
There's a map showing all of the islands we've recommended at the bottom of this page.
Finnhamn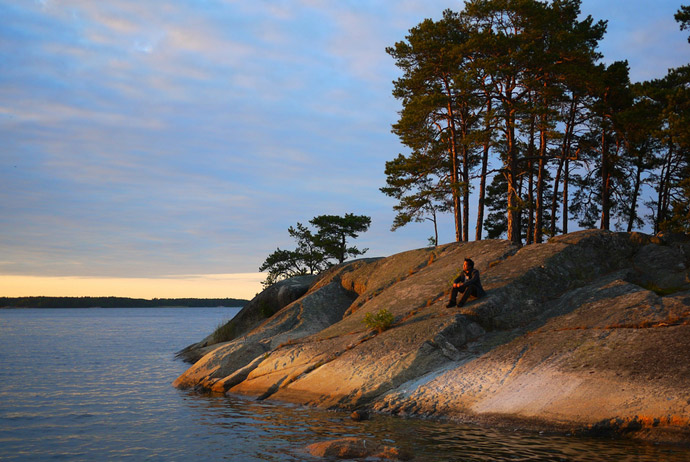 It's a bit of a slog from the city centre but if you want to experience the Stockholm Archipelago at its sleepy best, set your sights on the tiny island of Finnhamn.
There's very little to do, and to be honest, that's kind of the point: pack plenty of supplies (there's no big supermarket here) and spend your days walking, barbecuing, or hopping into the clear blue sea from the low grey rocks that skirt the coastline.
Choosing where to stay is easy: there's just one hostel on the island, as well as a few self-catering cottages and cabins.
Getting there
Ferries run by Waxholmsbolaget travel to Finnhamn from central Stockholm, with a journey time of three–four hours.
Gällnö
If you're looking for peace and quiet, less than two hours' boat ride from Stockholm, then Gällnö is the place to come. A designated nature reserve, the low-lying island is covered with pine forest where deer wander freely.
There's not much to do here except walk and cycle, meander through the apple and cherry orchards or swim off the sandy beaches.
The cosy Gällnö Vandrarhem has hostel accommodation in wooden cabins dotted around a leafy garden.
Getting there
Ferries run by Waxholmsbolaget and the Stromma/Cinderella boats run from Stockholm to Gällnö, taking 1hr 30mins to two hours.
Gotland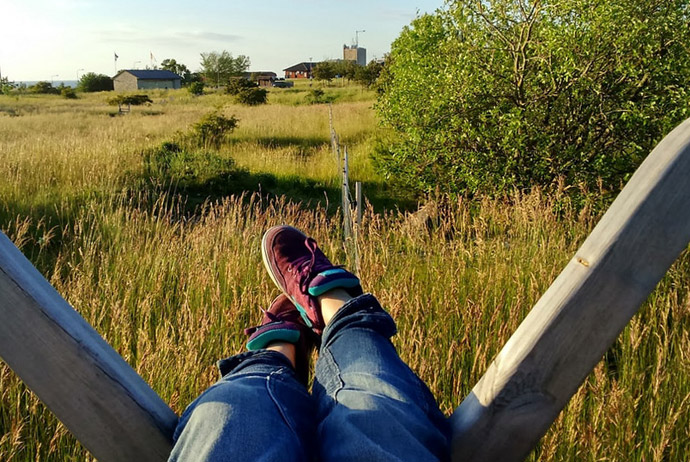 For many Swedes, the number one summer escape is Gotland. Surrounded by the Baltic, it's a big, rural island that offers sandy beaches, wild seascapes and plenty of pretty farm scenery.
The main reason to come here is for a wander around Visby, a gorgeous walled town full of wonky half-timbered buildings.
Stuff your face with yummy cakes at one of the myriad coffee shops, then burn off the calories with a look around the town's main museum, which is full to the rafters with artworks and historic exhibits.
Back out in the countryside, you can swim, hike and bike to your heart's content. Just avoid week 29 (late July), when rich kids from Stockholm descend on Visby to party and show off their wealth by pouring champagne down the sink (yes, really).
If you want to stay, try the Hotel Villa Borgen with comfortable rooms and a pretty courtyard garden in the heart of Visby's medieval centre.
Getting there
Year-round ferry services to Gotland are operated by Destination Gotland. There are two ferry routes: one from Nynäshamn, south of Stockholm, which takes 3–3hrs 30mins; and one from Oskarshamn, on the east coast, which takes around 3 hours.
Marstrand
Marstrand is the kind of place your mind drifts back to months after you've visited. On a sunny day, there's just something special about the boats bobbing around in the harbour, the cute little houses with terracotta roofs, and the noisy seagulls whirling around overhead.
Located about 50km north of Gothenburg on Sweden's west coast, Marstrand actually spans two islands that are linked together by a ferry – the smaller of the two is crowned by a stone fort that's full of interesting tales. Swedes tend to congregate in the harbourfront restaurants, gorging on tasty local seafood.
You can even stay the night in Marstrand's old fort, where Soldatens Bed & Breakfast has a variety of rooms in the historic fortress.
Getting there
Local transport provider Västtrafik runs buses from Gothenburg. See our Gothenburg guide for info on buying tickets.
Öland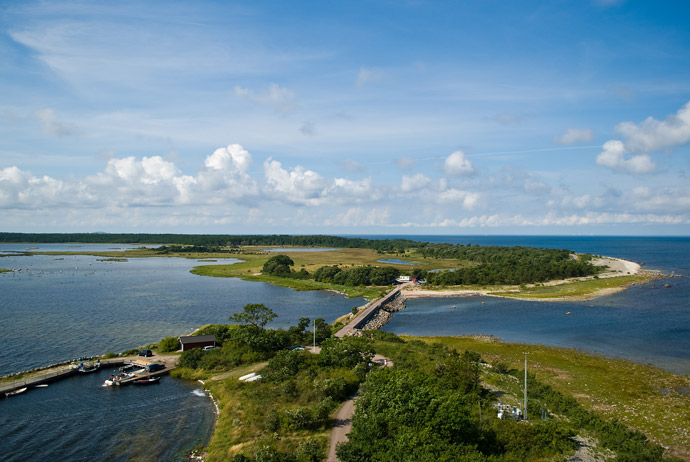 Long, skinny and edged by unspoilt beaches, Öland seems to have been built for summer holidays.
The fact that it's linked to the mainland with a road bridge only adds to its appeal, especially among folk with caravans. Apart from the sandy beaches (which are ace for swimming) highlights include a castle, a royal residence and a Unesco World Heritage Site with 5,000 years of human history.
There are plenty of places to stay on Öland, from beachfront campsites to smart hotels. Villa Ingrid in central Borgholm has a lovely garden and is a short walk from the beach.
Getting there
Planes and trains run to Kalmar; from there it's a quick bus ride over the bridge to the island.
The Weather Islands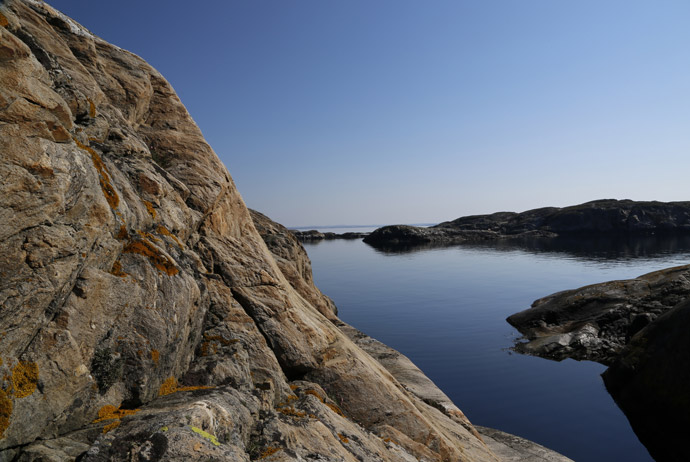 Tired of modern life? Want to spend your days swimming, spotting seals and sweating in a sauna?
Take our advice and head to the most westerly point in Sweden: the Weather Islands (Väderöarna). The hundred-or-so rocky islands have a special windswept beauty, just like the name suggests, and they are a lot more tranquil than other islands closer to the mainland – indeed, most are totally empty.
This guesthouse, on Storö Island, serves up oodles of local shellfish. Bring clothes that can put up with lashings of wind and rain, and pack a couple of good books.
Getting there
Small boats ferry visitors to the islands from Fjällbacka and Hamburgsund, both on the Swedish mainland north of Gothenburg.
Holmön
Forming a natural bottleneck in the gulf that leads to Finland, the cluster of forested Swedish islands known as Holmöarna is home to fewer than 80 year-round residents.
Natural beauty abounds – from forests to bogs and beaches – and there are loads of opportunities for hiking and birdwatching. The main island, Holmön, has a museum dedicated to boats.
Getting there
Ferries connect Norrfjärden (north of Umeå, on the mainland) with Byviken on the island of Holmön. If the sea is frozen, you may be able to take a snowmobile across.
Visingsö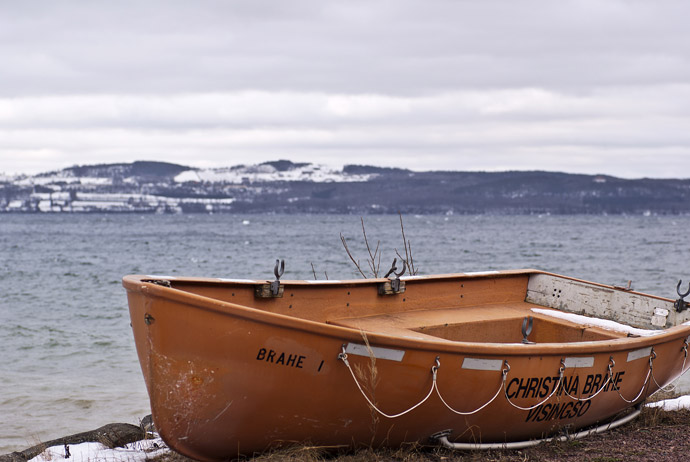 Adrift in the middle of Vättern, Sweden's second-biggest lake, Visingsö was once the home of Swedish kings. Unusually, it's partially covered by oak trees.
The story goes that, back in the 19th century, the Swedish navy planted hundreds of saplings in the hope of using the timber for boats. Today the grand oaks have reached full maturity, but the navy has – unsurprisingly – moved on from using wooden boats.
The island has enough beaches and historic sights for a couple of days of lazy exploration, and the town of Gränna (on the mainland) is famous for its sugary, red-and-white-striped candy.
Visingsö Vandrarhem is a basic hostel with rooms in wooden cabins on the island, a short walk from the sea.
Getting there
Car ferries depart for the island from Gränna, with a journey time of around 25 minutes.
Brännö
Of all the little car-free islands you can reach using Gothenburg's public transport network, Brännö is our favourite.
Borrow a bike from the ferry landing and head out to discover sedate swimming spots and areas of thick forest. When the weather allows, there's nothing better than setting up a picnic on the warm, smooth rocks, with views of the sea all around.
The Brännö Varv Bed & Breakfast is in a converted boatyard with a pretty garden, an outdoor hot tub and sea views.
Getting there
From central Gothenburg you can take the tram to Saltholmen and then hop aboard a ferry bound for the island. Our guide has info on paying for the boat trip.
Hallands Väderö
The pretty island of Hallands Väderö off the Bjare peninsula on Sweden's west coast is a nature reserve with white sand beaches and crystal clear water.
It's also home to a large number of nesting birds, including guillemots and cormorants, but its main attraction is the colony of up to 1500 seals that live on its southeastern point. Regular 90-minute seal safaris leave from Torekov and head round the island past the seal colony.
If you want to stay on the island, however, there are self-catering cabins, a hostel and a campsite on a former nineteenth-century farm or you can rent an apartment in the island's old lighthouse.
Getting there
Boats leave from the town of Torekov (up to 7 a day in the height of summer) to Hallands Väderö and take about 30 minutes.
Gotska Sandön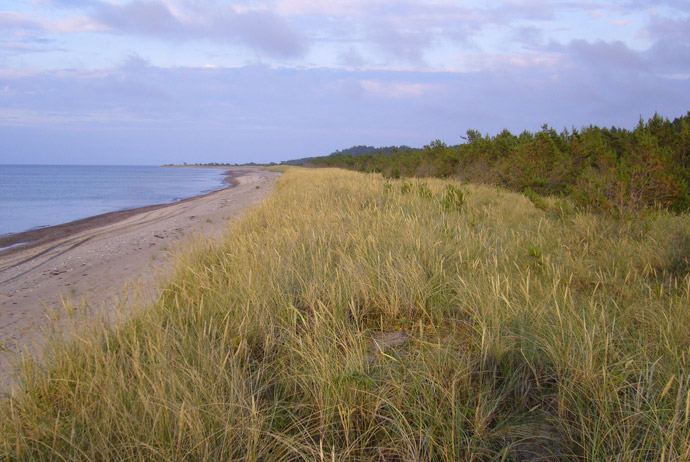 For the ultimate Robinson Crusoe experience in Sweden, try Gotska Sandön. This uninhabited sand island is around 40km north of Gotland (see above) and is a protected nature reserve, complete with pristine beaches, rolling dunes and a colony of curious seals.
With your own tent, it's possible to pitch up in one of the designated areas (our guide to camping in Sweden has more on the rules campers need to be aware of). Basic cottages and cabins are also available to rent: the national park website has details of these.
Getting there
Unless you have your own boat, you're restricted to the public ferries which serve the island from late May to early September. The departure point on the Swedish mainland is Nynäshamn.
Trysunda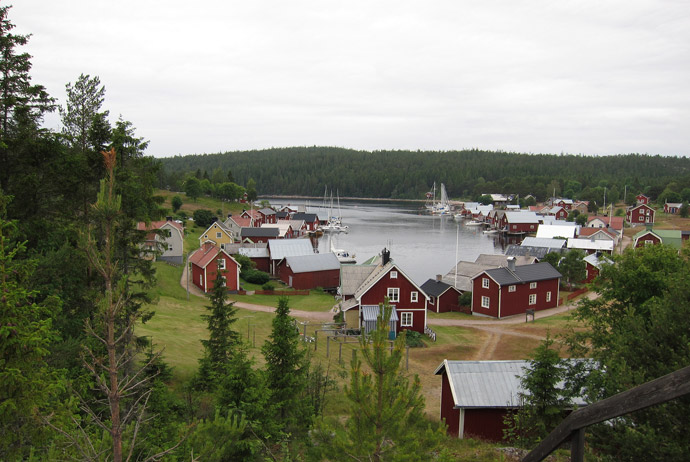 Around 130km northeast of Sundsvall on the 'High Coast' (itself a World Heritage Site), charming Trysunda is often called Sweden's most beautiful island.
Away from the idyllic, hook-shaped harbour, which is edged by rust-red wooden cottages, there are shallow pebble beaches. Don't be put off by how far north the island is; in summer, the weather can get surprisingly warm.
Trysunda Vandrarhem has rooms in its hostel on the island, plus a couple of nearby self-catering cottages to rent.
Getting there
Public boats for Trysunda leave from Köpmanholmen, on the Swedish mainland.
See also:
The best islands in the Stockholm Archipelago
The best islands in the Gothenburg Archipelago
9 amazing islands in Northern Norway
TOURS AND ACTIVITIES IN SWEDENMORE TOURS
Map of Sweden's best islands
Like what you've been reading? Get our best tips by email!