Bargain hunting in one of Europe's most expensive cities might seem like an impossibility, but Oslo can be surprisingly budget-friendly – especially if you know where to go.
When you start shopping in Oslo, our top tip is to skip the fancy boutiques and discover the city through its many markets. Besides markets being a great place to shop for all things vintage and handmade, you'll often find some great cheap eats there too (if you're lucky, you might even get some free samples).
Oslo's markets also provide an excellent opportunity for people-watching, so even if you're on a tight budget, they give you a good chance to experience the 'real' Oslo. As with all markets, early birds catch the best deals. Go before the crowds arrive!
Vestkanttorvet flea market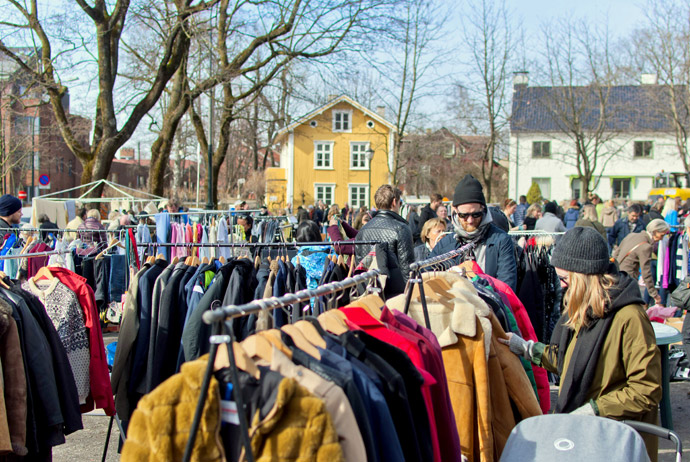 Vestkanttorvet, one of the oldest flea markets in Oslo, takes place in a small, unassuming park in the upscale Frogner neighbourhood.
People gather here on Saturdays to sell clothes, books and all sorts of trinkets and kitchenware, including plates and bowls with Arne Clausens' famous 'Lotus' pattern on them.
You can find exceptionally good deals on clothes here, especially high-end Scandinavian brands. You'll also have a chance to try something quintessentially Norwegian here: waffles. Locals top them with sour cream and jam or the legendary brunost, which is a type of local brown cheese. It's a bit of an acquired taste, but we think it works surprisingly well with waffles and is definitely worth a try. The waffles will only set you back around 25 NOK, which by Norwegian standards is a pretty sweet deal.
If you want to make most of your day out, we'd recommend visiting the nearby Vigeland Park, where you'll find more than 200 sculptures set among oodles of well-kept greenery.
Amaldus Nielsens plass
Every Saturday from 9am–5pm (March–December only)
Is the Oslo Pass worth buying?
Read this guide to see how much you could save during your trip!
Birkelunden bric-a-brac market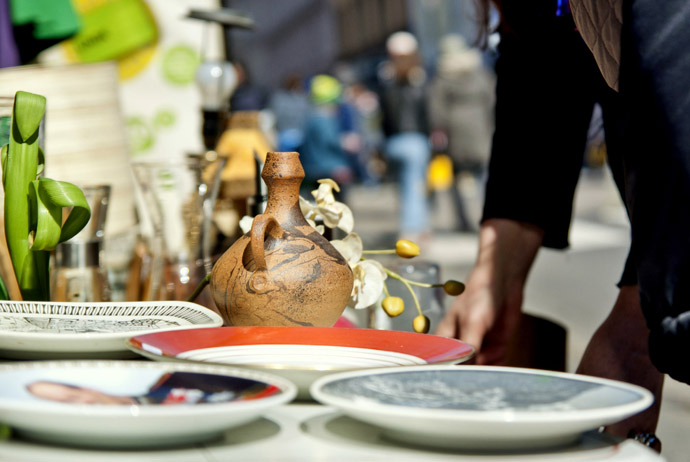 This upbeat flea market in the heart of Grünerlokka attracts a pretty cool crowd and is a real thrifters' paradise.
Its focus is mostly on antiques and vintage items, but you can also get your hands on second-hand clothes and kitchenware. Browse the stalls and you'll find everything from old cameras and vinyl records to 1960s sofas.
The park is surrounded by coffee shops and restaurants, so finding a nice cuppa afterwards is rarely a problem.
Birkelunden
Every Sunday from noon–7pm
Handicraft and art market at Blå
This great Sunday market is situated right on the Akerselva River and is definitely the most Instagram-friendly place in Oslo – it doesn't get more colourful than this!
The market takes place both inside and outside of the area's revamped industrial buildings, which of course means that the surrounding walls are covered in street art and the whole riverside area is full of quirky sculptures.
The market caters for people looking for handmade crafts such as knitwear, ceramics, jewellery, and art, while vintage clothes and accessories are also occasionally sold. If you're lucky, you might even stumble upon some live music.
Brenneriveien 9
Every Sunday from noon–5pm
Mathallen
The Mathallen food hall is just a few hundred meters from Blå (see above) and offers a great variety of Norwegian delicacies as well as international food from tapas to ramen.
This place is always buzzing and it's a must for all foodies visiting Oslo. It is a bit pricey, although the generous offerings of free cheese and other nibbles make a visit worthwhile.
Try a cup of the strong black Scandinavian coffee at Solberg & Hansen (but beware – they don't offer milk or other dairy products) or a glass of wine at one of the eateries, if you're feeling a bit extravagant.
For budget bites, try the fish burger at Vulkanfisk (around 79 NOK) or a crepe with salted caramel at La Crepe d'Elen (around 49 NOK). The atmosphere of Mathallen is so vibrant that spending a few extra bucks there is definitely worth it. Our guide to budget eats in Oslo has more suggestions for places to chow down on the cheap.
Vulkan 5
Tuesday, Wednesday & Saturday: 10am–7pm; Thursday & Friday: 10am–10pm; Sunday: 11am–6pm (restaurants stay open longer)
Bondens marked (Oslo farmers' market)
Oslo's farmers' market changes location every week and offers the best local produce Norwegian farmers have to offer (check bondensmarked.no for up-to-date locations).
Needless to say, the goodies sold here tend to come with a hefty price tag, but the market is still a nice spot for people-watching and provides plenty of nice photo opportunities.
If you're still hungry after tasting samples of local honey, cured ham and other locally sourced delights then a good way to keep the budget intact is to try a pølse, one of the simple Frankfurter-type sausages that Norwegians just can't seem to get enough of.
Various locations across Oslo
Saturdays from 10am–4pm
Other markets worth seeking out in Oslo
Besides the regular markets mentioned above, there are also some that take place more sporadically but are nevertheless worth discovering if you're in town at the right time.
One of the venues that hosts various markets is Kulturhuset. Although mainly used for concerts and debates, it's also home to The Fashion Archives, a monthly market that focuses on high-end vintage and second-hand clothes, and usually comes with a dose of live music or a DJ.
There's also the Art and Design market that takes place every once in a while and centres around original artwork of young artists (check Kulturhuset's Facebook page for exact dates).
Then there are flea markets that are meant for the most dedicated of local thrifters: the markets held at Oslo's schools, for example, where parents try to get rid of all sorts of stuff in the name of collecting money for local classrooms.
These markets are usually very cheap and there's no knowing of what you'll stumble upon. For the list of such markets, check loppemarkeder.com.
Have we missed any great markets in Oslo? Let us know in the comments!
Map of the best markets in Oslo
Like what you've been reading? Get our best tips by email!