Jokkmokk's excellent Sami museum, Ájtte, tells the story of the region's indigenous people and the forbidding landscape that they've inhabited for millennia.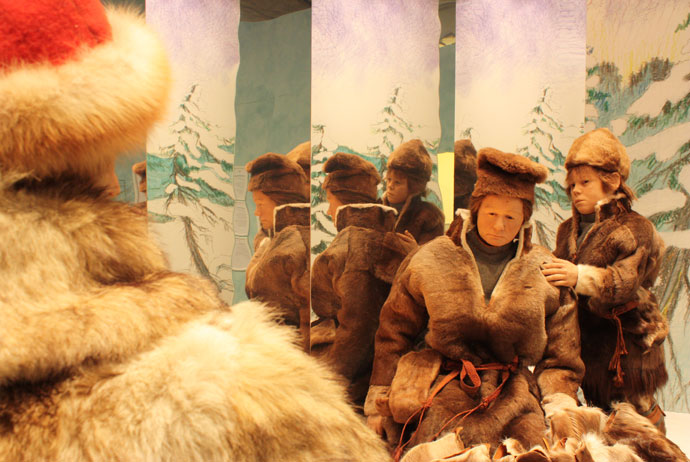 It's fitting that the museum was built here in Jokkmokk, rather than some other part of Sweden. The town is right in the heart of the Sami's ancestral lands, which spread across parts of modern-day Sweden, Finland, Norway and Russia, and it has long been an important Sami trading post.
Jokkmokk is also home to one of Sweden's few Sami schools, where Sami languages are taught alongside reindeer husbandry and traditional handicraft skills.
The museum itself doesn't have a huge amount of information available in English (Sami languages and Swedish get priority), but there's enough in the way of historic artefacts and intriguing tales to make a visit really worthwhile – you should allow at least an hour and a half if you want to have a good look around.
Arranged around a circular, central room, exhibits take a look at how the Sami have lived throughout the ages – from the earliest hunter-gatherer days to forced assimilation with the rest of Sweden and the arrival of life-changing inventions such as helicopters and snowmobiles.
Among the highlights is the museum's impressive collection of traditional Sami clothes, many of which mix dark blues with bright reds and intricate yellow details. These outfits are traditionally worn for festivals and when working with reindeer, and the unique designs give clues about the wearer's identity – where they come from, for example, and whether they're already married.
Also interesting is the 'getting by' exhibition, which reveals how simply many Sami lived right up until the 1950s and is packed with everyday items that helped people to cope with the harsh Arctic climate. There are hunting implements alongside tools and clothes made from almost every imaginable part of the animals that most people associate with the Sami – reindeer.
Reindeer have been a key part of Sami culture for centuries, but today only around 10 per cent of the 20,000-or-so Sami living in Sweden are actively involved in herding. The same tasks that were once completed by nomadic people with traditional clothes are now taken care of by Sami who own state-of-the-art machinery, wear jeans and live in permanent houses.
If you have time left over at the Sami museum then there are a couple of other things worth checking out. There's a walk-through exhibit that recreates the chill of a winter forest (though for much of the year it's actually colder outside the museum) and a quirky 'guess the poo' game that lets you match piles of fake dung with the beasts that squeezed them out.
Outside the museum is a pretty alpine garden (summer only), where you'll have the chance to see native plants and take a peek at an old research hut that was brought to Jokkmokk from the nearby Sarek National Park.
For eats and drinks, the museum has a decent café. You'll also find a gift shop right by the front desk but for traditional Sami stuff you're better off trying one of Jokkmokk's other handicraft shops.
Entry
80 SEK.
Getting there
The museum is just off Riksvägen 97 at the eastern end of Jokkmokk.
Ájtte Swedish Mountain and Sami Museum
Kyrkogatan 3
Jokkmokk
+46 971 170 70
ajtte.com
Sept–early-May: Tues–Fri 10am–4pm, Sat noon–4pm
Mid-May–mid-June & late-Aug–mid-Sept: Tues–Fri 10am–4pm, Sat & Sun noon–4pm
Mid-June–mid-Aug: daily 9am–6pm
Last updated: February 2015
Like what you've been reading? Get our best tips by email!