Want to see Sweden on a teeny-tiny budget? Then bundle your clothes into a backpack and prepare for a big adventure.
Sweden's a safe, beautiful and forward-thinking country that seems to bend over backwards to keep budget travellers happy. English is spoken everywhere, the hostels are some of the cleanest and most comfortable you'll ever have the pleasure of snoring in, and you can hike, swim and camp wherever you like (well, within reason).
The bad news is that these luxuries come at a price. Sweden is up there with Europe's most expensive countries, with everyday essentials like food and accommodation costing more than you might be used to back home.
Needless to say: sticking to a true backpacker's budget takes some dedication. But fear not – we've piled all of our hard-earned tips and money-saving hacks into one super-simple guide. Want to go backpacking in Sweden? Read on!
Sleeping
Eating
Drinking
Getting around
Money
Staying connected
When to go
What to see and do
The great outdoors
Safety
Visas and entry requirements
Destination guides
Sleeping
Swedish hostels are a real treat to stay in. Big cities have the best pick of modern, independently run places, some with their own bars, kitchens, saunas and chill-out rooms. The very best ones offer free extras like coffee, pasta and bike rental, and a few are even squeezed into unusual settings, such as old sailing ships. If you need tips on where to stay, check out our favourite hostels in Stockholm, Gothenburg and Swedish Lapland.
Out in the countryside you'll probably end up staying at one of the hostels run by the Swedish tourist association, STF. These can be a bit old fashioned but they're almost always clean, tidy and warm (trust us: you'll be thankful for that last part during winter). Another benefit is that many of these hostels and mountain huts are located in areas of natural beauty, close to walking trails or swimming spots.
Prices for a bunk in a Swedish dorm range from around 180–300 SEK, and private double rooms cost around 500 SEK a night, depending on the hostel. For some reason lots of places still charge their guests extra to borrow sheets (crazy, eh?) so make sure you take a set with you from home.
Budget hotels are a good alternative for couples, with prices from around 500–700 SEK a night. Airbnb is also a decent option. For totally free sleeps, try couchsurfing or pitching a tent in the woods – our camping guide has all the info you need to stay safe and avoid getting guzzled up by bears.
Eating
Backpacking on an empty stomach is no fun at all. Thankfully, Swedish supermarkets are packed with well-priced goodies that you can either take back to your hostel or eat on the go. Swedish chains like Ica and Hemköp tend to be a little more expensive than foreign brands Lidl and Netto.
Cafés and takeaways can also be good value, with scrummy sandwiches, wraps and pizzas going for around 70 SEK. Make sure you get stuck into some serious fika, too. If you're in one of the big cities, look for the nearest food hall (saluhall) or one of the many food carts – here are some recommendations for cheap eats in Stockholm and Gothenburg.
Don't bother buying bottled water when you're out and about – you can drink from the tap nearly everywhere in Sweden.
Actual restaurants can be affordable or downright extortionate, so pick carefully and avoid places with lots of tourists. A good tip is to eat your main meal at lunchtime, when prices for classics like meatballs and prawn sandwiches tend to be a bit cheaper. Tipping isn't really a thing in Sweden.
Drinking
Drink a lot of booze in Sweden and you won't have much money left over for your backpacking extravaganza. Or at least that's what the guidebooks will tell you.
Sure, it's expensive to drink in bars and nightclubs (painfully so if you drink cocktails) but you can save a lot by hopping onboard with the good old-fashioned förfest (pre-party), which usually involves a bunch of Swedes chatting, listening to music and emptying a box of wine.
No party invite? Head to your nearest branch of Systembolaget, Sweden's alcohol monopoly, for wine, spirits and delicious warm beer (they're not allowed to serve it chilled) at relatively low prices.
Getting around
Good news, backpackers: public transport in Sweden is surprisingly cheap! Taxis, on the other hand, will leave you sad and penniless.
You can use our destination guides to get to grips with bus, tram and boat routes in the country's main cities. Most rural towns and villages in Sweden also have good year-round bus services, so getting from place to place can be pretty cheap.
If you're from the UK or the US, long-distance journeys within Sweden will seem much better value than at home. Buses are usually cheaper than trains in Sweden, but it pays to check both options before you travel as prices change all the time. If you're doing a lot of long journeys, consider buying an InterRail or Eurail pass. This guide has more on the best passes to buy.
Another option is to hire a car (see our guide to driving in Sweden for more information). Domestic flights are always expensive, though you may decide it's worth the money if you're running out of time and need to travel to or from the far north in a hurry.
Hitchhiking is pretty rare in Sweden, and you're likely to wait a very long time before someone stops to help you out. If you want to give it a try, the procedure in Sweden is the same as everywhere else: stick your thumb up at the side of the road and try not to look too crazy.
Money
Here are some typical prices for things you might need when backpacking around Sweden. Keep in mind that cash is increasingly difficult to use. However, you can pay with a debit or credit card almost everywhere.
Accommodation
Price per night
Hostel bed in a dorm
180–300 SEK
Double room in a cheap hotel
500–1000 SEK
One-bedroom Airbnb
400–1500 SEK
Food and drink
Price
Takeaway coffee
18–40 SEK
Swedish hot dog
10–25 SEK
Bottle of water
22–30 SEK
Takeaway meal
55–105 SEK
Meal for two (mid-range restaurant)
450-600 SEK
Glass of wine in a bar
55–85 SEK
Bottle of beer in a bar
55–90 SEK
Transport
Price
Bus Stockholm–Gothenburg
 250–450 SEK
Train Stockholm–Gothenburg (2nd class)
 195–1000 SEK
Car rental (one day)
400–600 SEK
Stockholm subway/bus (one-way ticket)
36 SEK
If you're backpacking and living frugally, you should reckon on spending about 250–400 SEK a day. Our guide to budgeting for a trip to Sweden has more detailed advice.
Staying connected
You're never far from a decent wifi connection in Sweden. Almost all hotels, hostels, cafés and restaurants have free networks you can jump on. Failing that, you'll find wifi at train stations, airports and pretty much everywhere else you can imagine getting stranded.
If you're backpacking in rural Sweden it's worth getting hold of a Swedish sim card. Mobile signal is usually good, even in rural areas, and it's easy to get hold of a pay-as-you-go deal with plenty of data.
When to go
Sweden is geared up for backpackers all year round, but travelling around is a very different experience in summer and winter. This guide will give you an idea about the weather and help you decide when to go. You could also try to plan your visit around one of the big seasonal events.
Spending midsummer in Sweden
Christmas, Swedish-style
Seeing the northern lights
When and where to see the midnight sun
What to see and do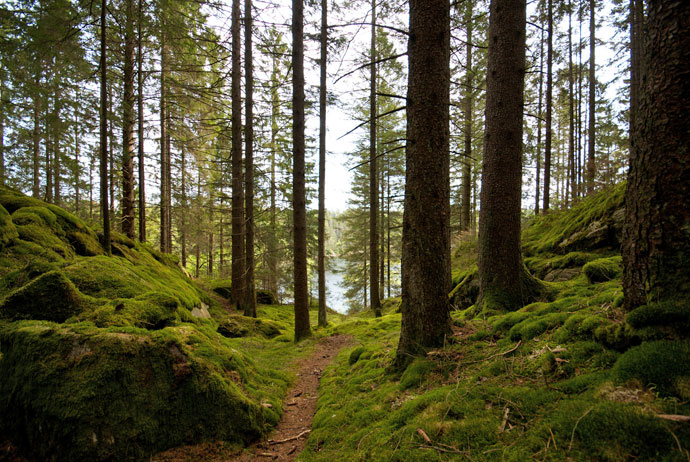 Not sure which areas to visit first? Start with our mega guide to Sweden's best places. The articles below will also be handy when trying to make the most of a modest backpacker's budget.
Two days in Stockholm for under £80 (or $120)
Where to find Vikings in Sweden
Free things to do in Gothenburg
100 free things to do in Stockholm
Seeing the Icehotel on a budget
For more ideas you can download our free guides to Stockholm and Gothenburg.
The great outdoors
One of the best things about backpacking in Sweden is having the freedom to go pretty much wherever you please.
There's loads of open space (even within a short distance of the main cities) so activities like hiking, skiing, canoeing and swimming are all really easy to get involved with. You can also camp wild without paying a penny, as long as you follow some basic rules.
Safety
Armed with a bit of basic common sense, backpacking in Sweden is safe and hassle-free. In cities you'll blend in easily with the crowd, while out in the countryside you'll probably be met with guarded curiosity rather than any kind of trouble.
Even though Sweden is safe, you should make sure you have decent travel insurance – thefts from dorms are not unheard of, and accidents can and do happen, just like anywhere else. For lots of different reasons, including the fact that they will cover you even if your trip has started, we recommend World Nomads.
Visas and entry requirements
If you're an EU citizen you won't need a visa to get into Sweden. Otherwise check out our guide to entry requirements.
Destination guides
If you're keen to get off the beaten track, check out our detailed destination guides.
Stockholm
Gothenburg
Malmö
Kiruna
Luleå
Lund
Skellefteå
Abisko
Gällivare
You can also post questions about your trip in our forum. Happy backpacking!
Like what you've been reading? Get our best tips by email!