Norway's national parks offer some of the most unspoiled areas of natural beauty that you're ever likely to come across. From soaring mountains and crystal‑clear fjords to thundering waterfalls, there's an incredible amount to discover here.
Norwegians are rightly proud of their gorgeous landscapes, and they take a serious attitude towards conservation. As a result of this, Norway's parks are an excellent place to spot any number of rare creatures including musk oxen, sea eagles and arctic foxes.
But wildlife spotting isn't the only attraction here. Adventure lovers will also find lots of things to do in Norway's protected areas, such as cycling, skiing, hiking and kayaking. Best of all, most of the parks also feature a helpful network of huts and cabins where you can cosy up after a busy day of exploring.
Read on to discover some of the best national parks to visit in Norway, along with practical information such as where to stay during your trip.
Jostedalsbreen National Park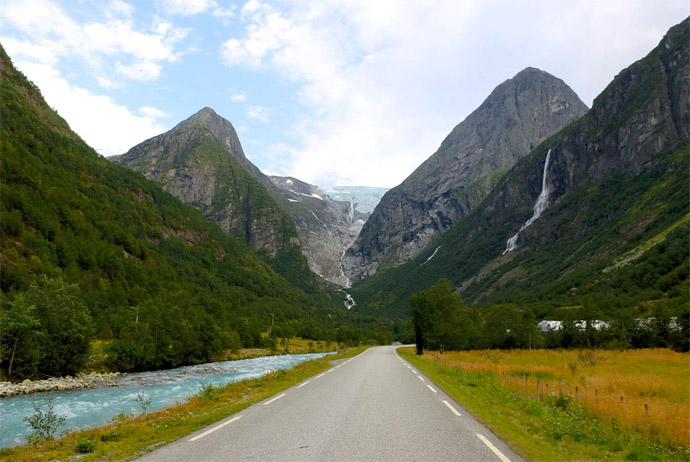 In the western part of Norway, right in the middle of fjord country, Jostedalsbreen National Park is home to some of the country's most stunning scenery.
This is also where you'll find the Jostedalsbreen glacier, the largest icecap in mainland Europe. Over many thousands of years, this vast glacier has shaped the landscape around it into a mix of steep mountains and tree‑lined valleys.
Needless to say, there are some truly amazing hikes in this part of Norway, including both easy routes and more demanding mountainside treks. In some areas, you can even walk on parts of the glacier itself – although for safety reasons you'll need to do this in the company of a local guide.
Jostedalsbreen also borders the Sognefjord, the longest and deepest fjord in Norway (more on that here). Here you can enjoy a whole host of outdoor activities, including camping and kayaking.
Getting there
The best way to get to the national park is to drive (if you need to hire a car try this page, which lets you find good rates on short-term rentals). Depending on your route, you can take the Riksvei 604 to Jostedalen, the E5 to Fjærland, the E39 to Jølster, the Riksvei 60 to Oldedalen and Lodalen, or the E15 to Erdalen.
From those places you'll find smaller roads that will take you further into some of the valleys of the national park, including Fjærland, Jostedalen, Stardalen, Veitastrond, Lodalen, Erdalen and Oldedalen.
What is there to see and do in Jostedalsbreen?
Join a guided hike onto the Nigardsbreen glacier, and explore magical blue‑ice caves
Take a trip on the Loen Skylift, a thrilling cable‑car ride up to the top of Mount Hoven
Enjoy a cruise down the Nærøyfjord, one of Norway's only two Unesco-listed fjords. At some points, this beautiful valley narrows to only 250 metres wide.
Where can I stay in Jostedalsbreen?
There are a wide range of accommodation options available at Jostedalsbreen National Park.
You could try pitching your tent in one of the park's designated camping spots, or hiring a cabin for the night. Reliable options include the Briksdalsbre Mountain Lodge and the cabins at Aabrekk Gard.
On the other hand, if you're after more luxury during your stay, there are also a number of hotels to choose from, including Nigardsbreen Hotel or Jostedal Hotel.
Stabbursdalen National Park
At the very top of Norway lies the spectacular Stabbursdalen National Park, which encompasses the world's northernmost pine forest.
This remote and enigmatic area sits well within the Arctic Circle, and is characterised by vast plains and towering mountains. It also shelters a number of rare animal species, including predators such as wolverine and lynx.
Stabbursdalen also includes some excellent hiking trails, as well as rivers where you can try your hand at fishing for wild Norwegian salmon.
And this far north, when you finally bed down for the night, you'll also stand a good chance of spotting ethereal northern lights dancing in the sky above you (as long as the season is right).
Getting there
If you're taking the E6 from the south, you'll want to drive around 13km past the centre of Lakselv.
If you're coming along the E6 from the north, you'll find the entrance around 2km south of the bridge that crosses over the Stabbur river. There should be a signposted entrance on a gravel path, and you'll find a car park after around 6km.
What is there to see and do in Stabbursdalen?
Book yourself onto a dog‑sledding adventure, and experience being whisked through the snowy landscape by a team of eager huskies.
Learn more about the indigenous Sami people who inhabit this part of Norway, and discover some of their customs and traditions.
Spend a night at the Sorrisniva igloo hotel in the arctic town of Alta, which opens its doors every January, before melting away again in the spring.
Where can I stay in Stabbursdalen?
Near to the Stabbursdalen national park, you can choose from a range of serviced cabins for hire, including those offered by Stabbursdalen Resort, and Stabbursdalen Lodge.
Within the park, the only accommodation option is the Ivarstua cabin, which is open for visitors to spend the night. This basic wooden cabin includes beds, an outdoor toilet and a wood-burning stove. There's more info about the cabin on this website.
Dovrefjell-Sunndalsfjella National Park
Close to the centre of Norway, the imposing Dovrefjell mountain range is something of a national landmark. The highest peak in the range, Snøhetta, lies more than 2,280m above sea level, making this area an excellent challenge for experienced hikers.
But there's so much more to see here than just mountains. Visitors to the Dovrefjell‑Sunndalsfjella National Park will find verdant wetlands, lush valleys and old‑fashioned dairy farms dotting the landscape.
The park also plays home to some of Norway's more unusual and charismatic inhabitants – a herd of wild musk‑ox. These giant, shaggy creatures were shipped over in the middle of the 20th Century, and have gone on to thrive in the national park.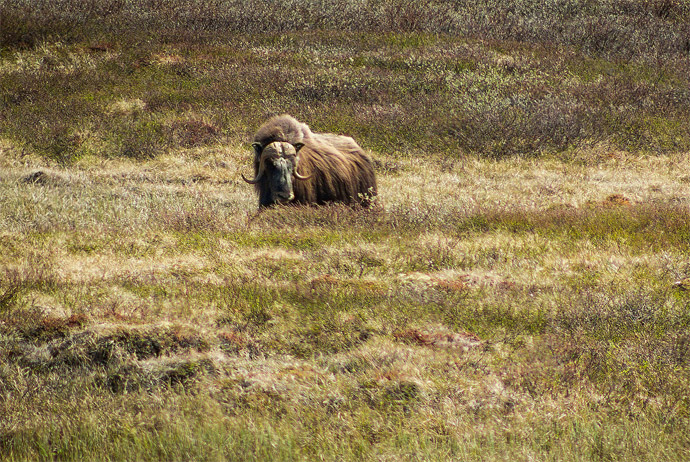 Getting there
If you're coming by train, take the Dovre line to Oppdal, Kongsvold, Hjerkinn or Dombås, or the Rauma line to Åndalsnes, Bjorli or Lesja.
For those travelling by car or bus, there are also a number of roads that lead into the national park. Options include the E6 over Dovrefjell, the E136 from Dombås to Åndalsnes, the Riksvei 660 from Åndalsnes to Sunndalsøra, or Riksvei 70 from Sunndalsøra to Oppdal.
What is there to see and do in Dovrefjell-Sunndalsfjella?
Visit the Snøhetta Viewpoint, a stylish modern building in curved timber and glass, and enjoy the view out over one of Norway's most awe‑inspiring mountains.
Book yourself onto a musk-ox safari, and witness these impressive arctic creatures in their natural habitat.
Where can I stay in Dovrefjell-Sunndalsfjella?
While in the national park, it's worth staying for a night at the Nyheim Lodge. This beautiful old hotel was once the summer retreat of an English upper-class family, and much of the furniture has been kept from this period.
If you're planning to hike through the Dovrefjell region, you'll also find many mountain cabins where you can stop for a rest.
Some of the best cabins include Åmotdalshytta, Grøvudalshytta and Gammelsetra – all of which are self‑service and can be booked through the Norwegian Trekking Association's website.
Femundsmarka National Park
The Femundsmarka national park sits on the border with Sweden and, together with adjoining nature reserves, forms one of the largest areas of preserved wilderness in southern Scandinavia.
The park is especially known for its network of lakes and wetlands, home to a range of bird species such as golden eagles, Siberian jays and black‑throated divers.
Some of the most popular activities in Femundsmarka national park include canoeing, sport fishing and hiking.
This is also one of the best places in Norway to go foraging and berry‑picking; in summer, you might even stumble across a bush of tasty, bright‑orange cloudberries – referred to by Norwegians as 'highland gold'.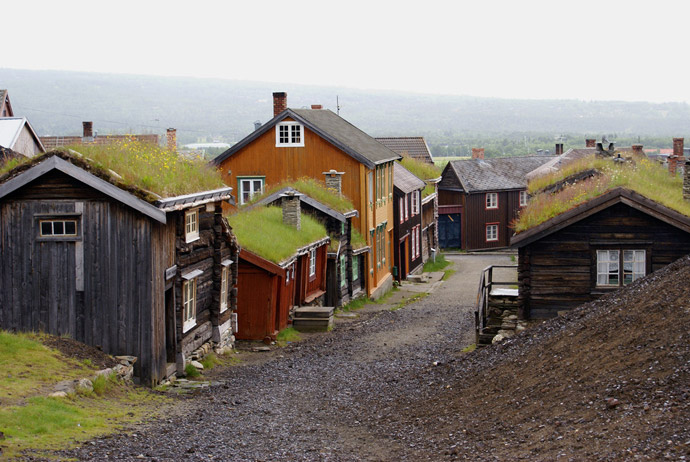 How do I get to Femundsmarka?
If you're travelling from Røros by bus or car, Road 532 will lead you to the park's Synnervika/Langen Tourist Centre. You can also take Road 221 from Elverum, Rena or Koppang to Elgå.
In summer, you can also take the boat called 'MS Fæmund II' across Femunden Lake – it departs from Buvika, Elgå, Jonasvollen, Femundshytta, Synnervika, and Femundsenden, stopping at Haugen, Røosen and Revlingen. Full details and the sailing schedule can be found here.
What is there to see and do in Femundsmarka?
Visit the nearby Unesco-listed mining settlement of Røros. This enchanting town is home to lots of traditional wooden buildings, some of which date back to the 17th century.
Sign up for a guided canoeing trip among Femundsmarka's many lakes, rivers and wetlands. This is the perfect place to enjoy the great outdoors, see some splendid birdlife, and take a break from the hectic pace of everyday living.
Where can I stay in Femundsmarka?
There are plenty of places to stay within the Femundsmarka national park, including serviced and self‑service cabins as well as open huts.
Some of the best options for overnighting in the park include Femund Nasjonalparkhotell, and the cabins at Båtstø Camping.
See also: 
Seeing the northern lights in Norway
The best fjords in Norway