Visiting Stockholm on a once-in-a-lifetime trip? Want to splash out on the very best Stockholm experience?
Private day tours or private boat tours of the Stockholm archipelago are a great way to get to know the city and its surroundings as the locals do.
And if you're travelling with a group of friends or a large family, then a private tour of Stockholm, Sweden is definitely the way to go.
Or, if you're travelling alone and want a local host to show you the sights and hidden corners of the city that others might not see, then it makes sense to book a personal guide.
Taking a private tour gives you the freedom to tailor-make your trip to your own particular interests – and, if you're with a group of friends and family, it won't necessarily cost that much more than an organised tour.
We've looked into Stockholm outdoor private tours such as kayaking and ice-skating as well as special interest and museum trips with a knowledgeable private guide.
So, if your bucket list includes sailing around the Stockholm archipelago on a luxury yacht, or an exclusive, private off the beaten path tour of Stockholm, Sweden, here's our pick of the best private tours in Stockholm, Sweden.
Explore the Stockholm archipelago by kayak
The Stockholm archipelago is home to around 30,000 islands, and the best way to explore them is by kayak.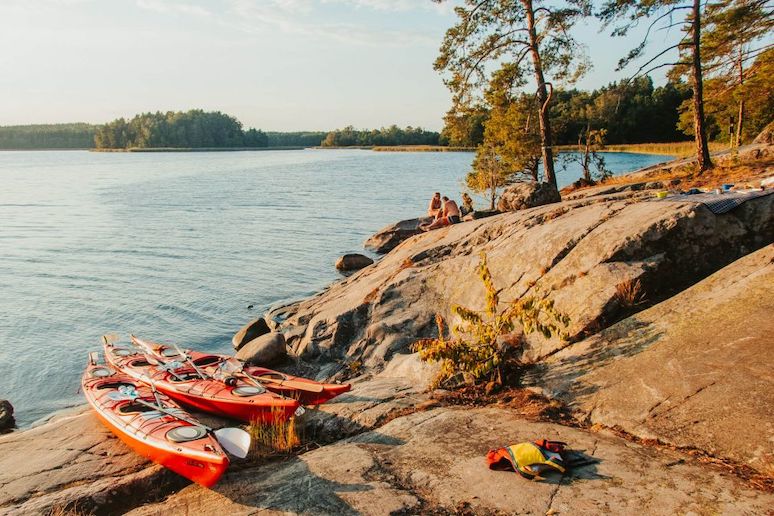 Of course, you won't get to see all 30,000 islands, but this private kayak trip takes you to some of the most scenic in the picturesque Bogesund Nature Reserve.
Since you have your own guide you can go where you like and even paddle at your own pace, so this trip is perfect for families.
Kayaks and all the gear you need are included and the guide will provide whatever level of instruction you require before heading out onto the water.
You can stop for a swim, some Swedish fika (that's coffee and cakes!) or simply watch the wildlife and chill out on an island – the itinerary is up to you!
★ SUGGESTED DISCOUNT
Save with the Stockholm Pass
Get up to 50% off at Stockholm's top attractions, including the Vasa Museum, SkyView Stockholm and The Viking Museum, plus discounts on some of the city's best boat trips.
Have a VIP museum tour
Make like a VIP on this private tour of Stockholm, with your own guide and driver who'll take you round the main sights of the city.
There's no messing around with busses or trains on this tour. Your own personal driver will drop off and pick you up from the city centre sights, as well as two fantastic museums, Skansen Open-air Museum and the Vasa Museum.
A fun festive tour of scenic Stockholm
Stockholm is at its most picturesque in winter, with frozen waterways and snow-dusted streets and rooftops.
And Christmas is particularly atmospheric, when the cobbled alleys and timbered buildings of the old town are beautifully decorated and street stalls sell mulled wine and Swedish arts and crafts.
So, why not treat yourself to this magical Christmas tour with your own private guide, who'll show you the most festive spots and tell you all about Swedish xmas traditions, culture and legends.
And since you can take up to ten people with you, if you're in a large group the price is pretty reasonable!
Take a cool tour of the Icebar
If you're just docking for a few hours, this fun shore excursion in Stockholm takes in the city's main sights plus a visit to world's first permanent Icebar.
Carved out of blocks of natural ice from the frozen Torne River in northern Sweden and kept at a cool -5ºC, the bar is filled with ice sculptures carved by ice-carvers from Sweden's famous Icehotel.
Everything in it is made from ice, even the glasses that you drink from and the seats you sit on – but don't worry, you'll be provided with a cosy cape and gloves to keep you warm.
Go ice-skating with a pro
What could be more Swedish than to don a pair of skates and head out onto a frozen lake? This private ice skating tour will take you out of the city to skate on natural ice tracks with a professional instructor.
Skates, boots and all the gear are provided and there are kicksleds for young kids – and nervous adults! – if needed, so it's ideal for a family day out.
The tour includes an outdoor lunch with warming hot chocolate, and the guide will take photos of you whizzing around on the ice. There's more on ice skating in Stockholm in this guide.
Explore hidden Stockholm with a private guide
This walking tour of Stockholm is tailored to your own personal tastes – just tell the guide what your interests are, and you can discuss with them where you want to go and what you want to see. 
Take advantage of your private guide's in-depth knowledge of the city and visit some of the lesser-known districts while learning all about the culture and little-known history of Stockholm.
Cycle round Stockholm with a private guide
What better way to discover Stockholm than on your own private bike tour?
A knowledgable English-speaking guide will take you across the islands of Kungsholmen, Långholmen, and Södermalm, as well as to the old town of Gamla Stan and the Royal Palace.
Exploring Stockholm on two wheels is the best way to see the city as the locals do. Bikes are included and because it's a private tour, you can set your own pace and itinerary.
Cruise the Stockholm archipelago on a private yacht
For the utmost in luxury, this private yacht cruise takes in the waterways and islands of the Stockholm archipelago.
The experienced skipper will take you to the most scenic spots, tell you all about the city's history and point out the local wildlife. Lunch or dinner is included on the yacht too.
For more luxury yacht rental in the Stockholm archipelago, see our guide to the best boat rentals and yacht charters in Stockholm.
See also:
The best Stockholm boat tours and cruises
The best guided tours in Stockholm
Fun bus tours in Stockholm
The best winter tours in Stockholm
Like what you've been reading? Get our best tips by email!