Whether you're in a rush and want to see all the top sights in as short a time as possible, or fancy digging deep into Sweden's history, Stockholm has a bus tour for you.
There are plenty of action-packed options too. When you jump off the bus, you can go ice-skating on a frozen lake, visit ancient Viking burial grounds, or eat dinner round a campfire on a wildlife safari. Whatever your interests are, there are some great fun-packed bus tours in Stockholm.
Amphibious bus tour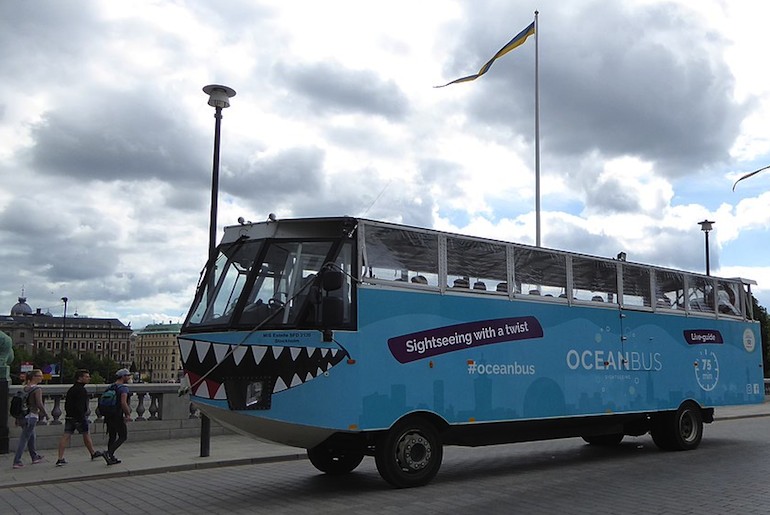 Can't decide between a bus tour or a boat trip? Do both, with this amphibious bus tour. The tour starts by exploring Stockholm's historic centre by bus, then comes the fun bit!
The bus drives into the water and turns in to boat mode to cruise round the city's islands including Djurgården, with its great museums and the trendy district of Södermalm.
★ SUGGESTED DISCOUNT
Save with the Stockholm Pass
Get up to 50% off at Stockholm's top attractions, including the Vasa Museum, SkyView Stockholm and The Viking Museum, plus discounts on some of the city's best boat trips.
Viking tour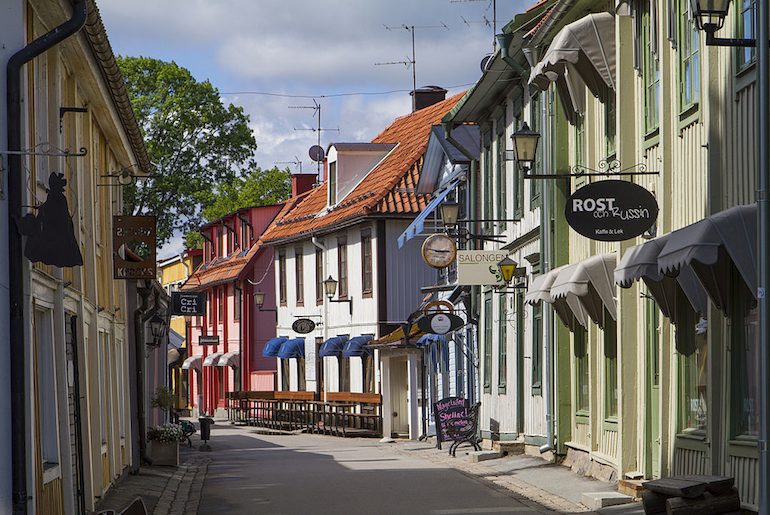 Get in touch with your inner Viking on this half-day tour of ancient Viking sites in and around Oslo. The tour takes in Viking and Iron Age burial grounds, an 11th-century Viking causeway and Sweden's oldest town, Sigtuna.
Your guide will show you round Sigtuna, where you can walk down Sweden's oldest street, explore the town's ancient church ruins and rune stones and visit the town museum.
Wildlife safari with campfire dinner
You don't have to go far from the city centre to see wildlife in Sweden. OK, so it's not the big five, but this wildlife safari takes you out into the woods to search for native animals such as moose, deer, wild boars, badgers and hares.
After cooking a simple dinner over a campfire, the guide takes you out on a dusk hike through the woods and shows you how to spot signs of the native animals that live here. The guide can tell you all about the animals' habits and environment – and binoculars are provided to help with sightings!
Ice-skating tour by bus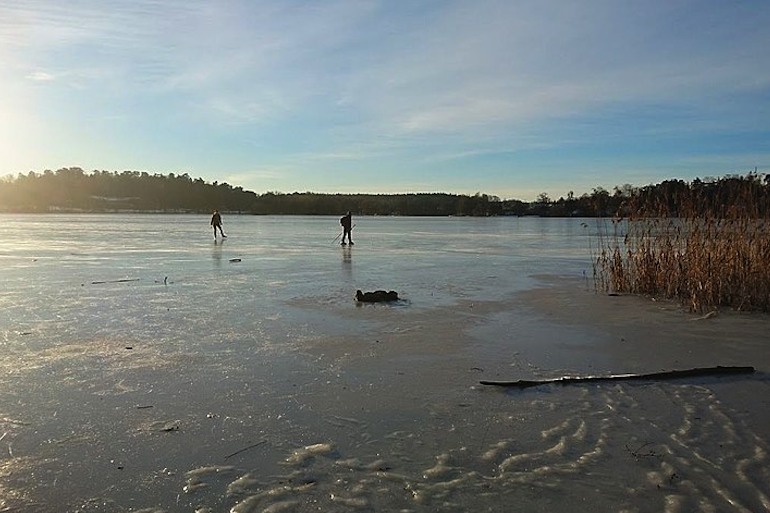 Take to the ice on this ice-skating tour (winter only), with a professional guide, all equipment and a tasty lunch included. You'll be picked up in a mini-bus and taken to a beautiful spot where the ice conditions are good.
Once you've got your skates on and got the hang off the ice, you can whizz around enjoying the natural beauty of the wintry surroundings.
Hop-on, hop-off bus and boat tour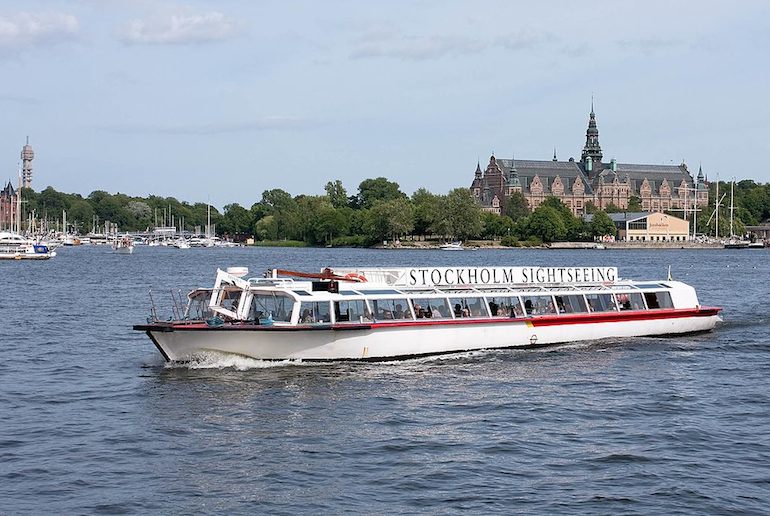 The best way to truly get to grips with the city and see everything there is to see is on this 24-hour hop-on hop-off bus and boat trip.
The bus takes in most of the city's top sights, including stops at Gamla Stan, the Royal Palace, Kungsträdgården, Skansen and the Royal Opera House – and you're free to get off anywhere along the route, then get back on again when you're ready.
The boat tour takes includes stops at the Vasa Museum, Skeppsholmen, the Abba Museum and the Fotgrafiska (Photographic Museum) – again, you can get off at any stop and spend as long as you like there before getting back on the next boat.
Both boat and bus have wifi and provide a full commentary on the sights en-route.
Historical countryside tour
Had enough of the city and want to head out into the countryside? This historical tour of the Markim-Orkesta district takes you to the villages and towns of rural Sweden, where you'll learn all about Swedish history from the Bronze Age onwards.
See beautiful frescos in a medieval church, visit Viking burial grounds and a horse farm, and enjoy the traditional Swedish countryside.
Castle and palace bus tour
Visit three castles in one day and learn about the lives of Swedish royalty on this guided castle and palace tour.
This tour kicks off with a trip to Drottningholm, a Unesco World Heritage site and one of Sweden's grandest castles, and includes a visit to the 13th-century Venngarn castle and the impressive Baroque Skoloster Castle, with its beautiful grounds and grand interior.
The tour also includes a walk through the historic streets of Sweden's oldest town, Sigtuna.
Glass-topped bus tour of the city
And if you're short of time and want to see as much of the city as you can in 75 minutes, this panoramic bus tour does just that. Settle in on the top deck of the bus and you'll get great views of all Stockholm's main sights through the large glass windows and roof.
The tour takes in top sights such as the City Hall, Östermalm, Gamla Stan, the Royal Palace and Djurgården. So sit back, listen to the commentary and enjoy the view!
See also:
110 cheap and free things to do in Stockholm
The best places to visit in Stockholm
Like what you've been reading? Get our best tips by email!