When the weekend finally rolls around in Stockholm, hard-working locals finally get to relax – and that means brunch. As most visitors quickly realise, Sweden – the land of fika – has a healthy appetite for coffee, pastries and breakfast foods in general.
We already compiled a guide to Stockholm's best breakfasts, but for you lucky travellers looking to sleep in a little bit later, here are five top-shelf brunch spots to sink your teeth into.
STHLM Brunch Club
If you're on a mission for the kind of brunch that will define your day, look no further. STHLM Brunch Club is the real deal, with everything from eggs benedict and Belgian waffles to American-style fluffy pancakes.
Be careful, though: this place is always packed on the weekends, and for very good reason. This innocent little restaurant is packing some serious heat; the menu includes Lincolnshire sausages, smoked salmon, grilled portobello mushrooms, made-to-order juices and smoothies, and wonderfully extravagant milkshakes – they're topped with donuts. Donuts!
Get here early or expect to wait in line, snow or shine. But bless their hearts for occasionally leaving free coffee outside for those who wait for a table.
STHLM Brunch Club
Dalagatan 24
Vasastan
Tues–Fri 7.30am–4pm, Sat & Sun 9am–4pm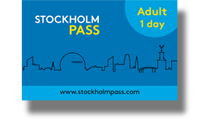 Is the Stockholm Pass worth buying?
Read this guide to see how much you could save during your trip!
Mellqvist Kaffebar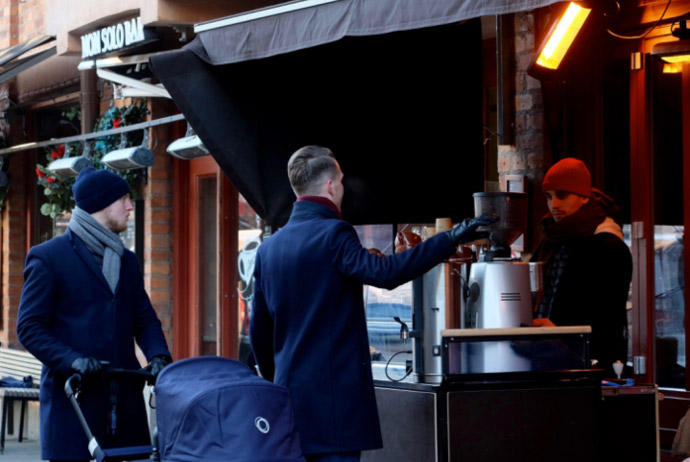 This is guaranteed to be one of the liveliest spots in the city on a weekend around 'brunch time' – it's super cozy, the staff are always friendly and their coffee game is always dialled in.
Mellqvist Kaffebar is a great brunch spot in Stockholm, even if you're on a budget. In addition to tasty pastries, they have two splendid breakfast combinations that are served well into the afternoon.
Mellqvist is all about giving you options: choose between two fresh-pressed juices, some yummy yogurt and muesli combos, and an array of baguettes and grilled croissant sandwiches. As if all that wasn't enough, they'll also throw in a hard-boiled egg and some Kalles kaviar, in true Swedish fashion. In the summertime the patio area is a great place to soak up the sun.
Mellqvist Kaffebar
Rörstrandsgatan 4
Vasastan
Mon–Thurs 6am–9pm, Fri 6am–7pm, Sat & Sun 7am–6pm
Älskade Traditioner
For those with an appetite to break away from Stockholm's regular brunch scene, Älskade Traditioner is the place to go. The name means 'beloved tradition' but this brunch is not exactly traditional.
The adorable retro atmosphere is definitely a key aspect to its charm and popularity, but the main draw is the menu: the specialty here is 'wraffles', a cross between a waffle and a wrap. They're savoury, and they're filled to the brim with all kinds of hearty breakfast ingredients.
They have three great brunch combos on offer and also do dessert waffles, plus some amazing milkshakes. Even if you're just here for a fika you will not be disappointed: literal piles of baked goodies greet you at the counter, and the coffee is from Stockholm's own Johan and Nyström. Outdoor seating is available in the summer.
Älskade Traditioner
Södermannagatan 42
Södermalm
Daily 9am-6pm
Café Pascal
Café Pascal is all about high-quality ingredients and strong collaboration. They serve the finest Swedish pastries from Stockholm's Dessert och Choklad bakery all day, and after 11am, the kitchen opens up for a wide selection of hearty brunch and lunch options.
And coffee nerds, you're in luck: having a cup here means taking a quick trip around the country, as they only serve coffee from the best Swedish roasters. The place itself has great vibes – tasteful interior design, good music, and cosy window seating.
With its super-friendly staff and delectable menu, the only problem is that it happens to be a new Vasastan local favourite and usually draws quite a crowd on the weekends. But there is plenty of seating and as the saying goes, good things come to those who wait.
Café Pascal
Norstullgatan 4
Odenplan
Mon–Thurs 7am–7pm, Fri 7am–6pm, Sat & Sun 9am–6pm
Pom & Flora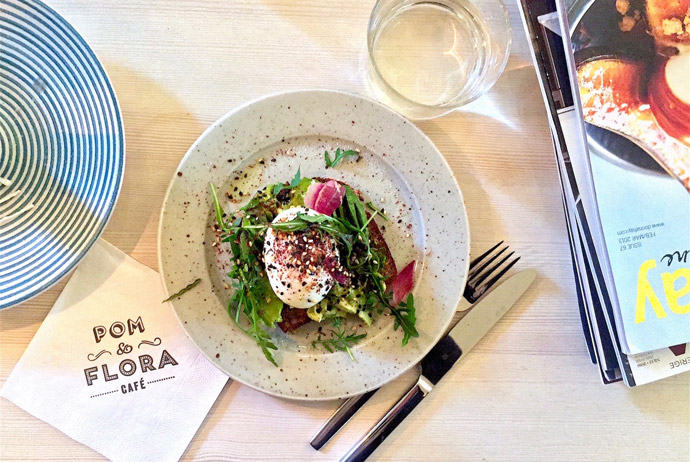 This is not exactly a brunch spot, but as a café that serves awesome breakfast foods all day, Pom & Flora certainly makes the list. If you're looking for something delicious that won't make a dent in your wallet, then this is the place for you!
There are two locations for this great café, but only the newer one near Odenplan is open on the weekends. The little café has simple yet delicious dishes, plus great coffee and a nice Swedish design aesthetic. The two main dishes that define this place are breakfast bowls and open-faced breakfast toasts. Best of all, nothing on the menu is over 135 kronor.
Pom & Flora
Odengatan 34
Vasastan
Mon–Fri 7am–5pm, Sat & Sun 9am–4pm
Also at:
Bondegatan 64
Södermalm
Mon–Fri 7.30am–4pm
Bonus brunch option: Greasy Spoon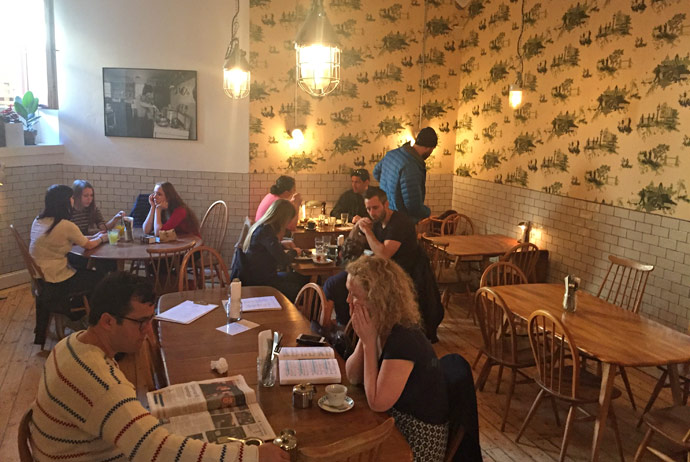 A list of brunch spots in Stockholm could never be complete without this crowd favourite. With locations in Södermalm and Vasastan, you are never too far away from the bright signal of their trademark neon egg sign. Luckily for you, hungry reader, we cover Greasy Spoon in more detail here. Happy eating!
Greasy Spoon
Tjärhovsgatan 19
Södermalm
Mon–Fri 8am–4pm, Sat & Sun 9am–5pm
Also at:
Hagagatan 4
Vasastan
Mon–Fri 8am–4pm, Sat & Sun 9am–5pm
Map: Stockholm's best brunch places
Like what you've been reading? Get our best tips by email!