You'd better believe it – Stockholm isn't all meatballs and herring! There are a bunch of awesome vegetarian and vegan restaurants dotted around town, just waiting to be discovered.
If you're tired of always having to order the one vegetarian dish on the menu, Stockholm's hidden veggie havens are your chance to really dig in. Whether you long for pulled jackfruit burgers or savoury chickpea curries, these veggie restaurants have you covered.
The best vegan and vegetarian spots around town use only high quality ingredients and have spent time perfecting their own veggie dining experiences. Even your hungriest carnivorous friends will end up wanting seconds. Here are some of our favourites.
Hermans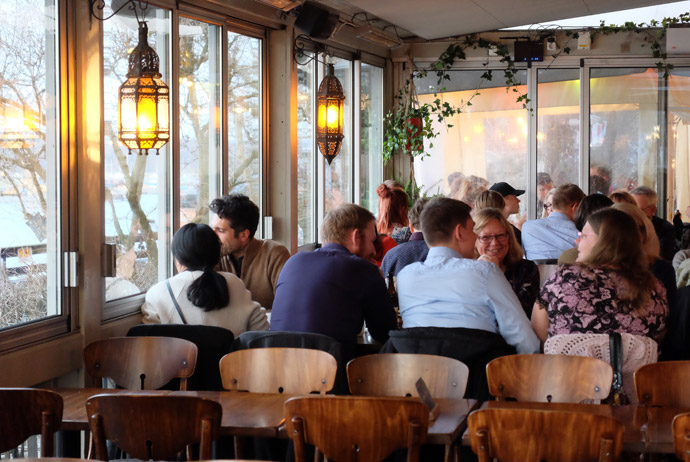 Stockholmers consider Hermans to be one of the city's classic veggie hangouts. Located on the northern edge of Södermalm with a beautiful view over the city, Hermans is a real locals' favourite and has defined the meat-free dining experience in Stockholm for a long time.
Hermans is a buffet-style restaurant offering a great selection of completely plant-based hot and cold dishes. They take culinary inspiration from across Asia, offering delicious renditions of classic dishes from around the continent.
Fill up your plate as many times as you like with their curries, couscous dishes, and zingy papaya salads – you can also tuck into samosas, spring rolls and much more. The colourful spread is a vegan's dream, and there are extra spices and sauces available to make your meal really pack a punch. Hermans also brews its own organic gold and red ales, allowing you to enjoy a nice cold brew with the city as your backdrop.
Fjällgatan 23B
Södermalm
hermans.se
Daily 11am–9pm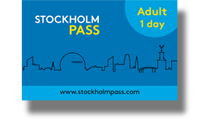 Is the Stockholm Pass worth buying?
Read this guide to see how much you could save during your trip!
Lao Wai
Lao Wai is a tiny hole-in-the-wall restaurant near Rådmansgatan T-bana station, but don't let its simple appearance fool you.
In recent years Lao Wai has been growing in popularity, and for very good reason. This is a super-modern Chinese restaurant with a stunning menu of traditional dishes… but they're all totally vegan friendly. Lao Wai is run by a Swedish chef who mastered the nuances of authentic Sichuanese and Taiwanese flavours by living in southern China.
Luckily for us veggies, he decided to come back home to Stockholm to open up this amazing restaurant. Every dish on the menu is plant-based, non-GMO, gluten-free, and totally fresh – they don't use canned vegetables or powdered ingredients, and they even make their own tofu and soy milk.
During lunch there's usually just one set meal, but in the evening there's a larger menu to choose from. The restaurant is fairly easy to find in Vasastan – just keep an eye out for the simple red sign.
Luntmakargatan 74
Vasastan
laowai.se
Mon–Fri 11am–2pm and 5.30pm–10pm; Sat 5:30pm–10pm
Falafelbaren
Skip the greasy kebab stand and head to Falafelbaren in Södermalm for a proper gourmet experience.
As the name suggests, the main event here is the falafel. It's fresh, organic, perfectly crunchy, totally filling and exploding with flavour. Falafelbaren proves that fast food doesn't necessarily mean low quality.
Everything in this hipster joint is made fresh to order, from the organic chickpea falafel to the homemade sourdough pita bread. Falafelbaren is great for vegans and vegetarians, offering up an affordable menu of falafel pitas, wraps, and salads – all paired with fresh hummus, baba ganoush, halloumi and labneh. The fresh lemonade served here is also not to be missed.
Falafelbaren tends to be busy during lunch but if there's no place to sit you can walk your meal over to the beautiful Mariatorget square just a few minutes away. When the locals line up to get served, you know it's got to be good.
Hornsgatan 39
Södermalm
falafelbaren.se
Mon–Fri 9am–7pm, Sat–Sun 10pm–6pm
Mahalo, Hälsocafet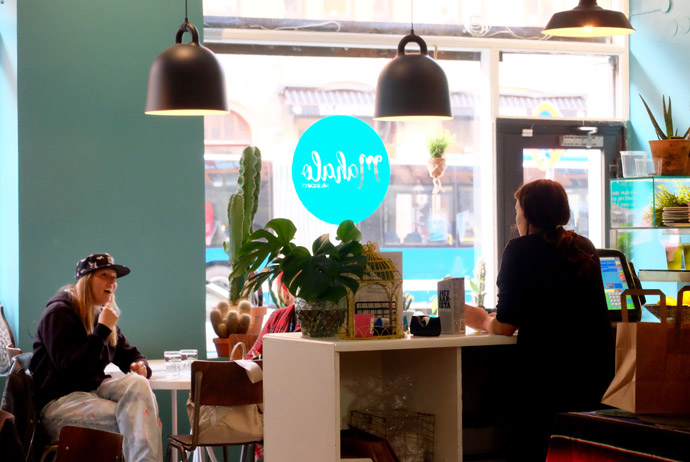 If you're craving fresh fruit and vegetables, look no further than Mahalo, Hälsocafet, on Hornsgatan in Södermalm. It's only been open for about a year, but this all-girl-run vegan café already has a loyal following amongst the vegan community in Stockholm.
The menu has an amazing range of Hawaii-inspired smoothies, milkshakes, and smoothie bowls with bases of pitaya, acai, blue spirulina algae and acerola cherries. Mahalo, Hälsocafet also offers up vegan pizzas, burgers, glass noodle bowls, salads, soups and wraps. Most of their ingredients are organic, and many are sourced from small local businesses around Stockholm.
The two-story café has a lot of cosy seats and during the summer you can enjoy your food on the sunny back patio. If you're not sure where to start, the Buddha Bowl is highly recommended!
Hornsgatan 61
Södermalm
halsocafet.se
Mon–Fri 11am–7pm, Sat 12pm–5pm
Södermanna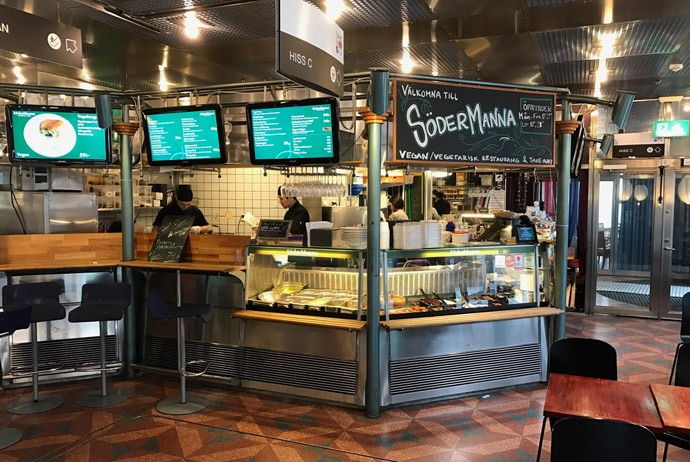 Although it's not quite a conventional restaurant, Södermanna is definitely worth mentioning on this list because of its low prices and quality food.
Located inside the Saluhall food hall at Medborgarplatsen, Södermanna is a small family-run vegetarian restaurant that's been offering up a Swedish take on Turkish cuisine for over 15 years. Amazingly, everything on the menu is under 100 SEK!
There are both vegetarian and vegan dishes available here, ranging from veggie hamburgers and kebab plates to wraps, salads and meze platters. Everything is cooked from scratch and the menu has gluten-, lactose- and nut-free options. If you're the kind of person who likes to eat on the go, the vego-wrap is perfect to munch on while you check out the rest of the food hall's edible delights.
Medborgarplatsen 3
Södermalm
sodermanna.se
Mon–Sat 10am–9pm
Looking for more cheap eats in Stockholm? Check out this guide.
Map of vegetarian restaurants in Stockholm
Like what you've been reading? Get our best tips by email!