It's not possible to see everything that Copenhagen has to offer in a single day. But if that's all the time you have you'll want to make sure you're cramming in as much fun stuff as possible.
Strap yourself in for this mega one-day itinerary, which is packed with suggestions for the best places to eat, drink, shop and sightsee.
We've included some of the city's main attractions here, but you'll also find tips for places that are off the beaten track.
The guide is written chronologically from morning to night, but if you arrive at another time of day there's nothing to stop you jumping in at that point and making the most of your stay.
Ready for a whistle-stop tour of Copenhagen's best bits? Let's go!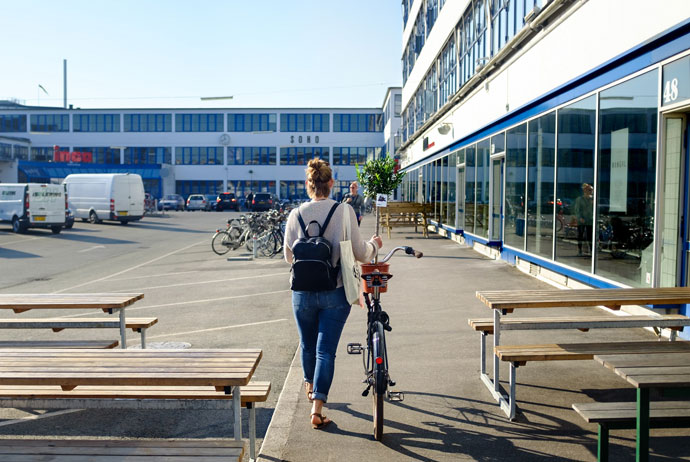 A good start to the day
Early riser? Just landed in Copenhagen? Head to Vesterbro and start the day the Danish way with a strong coffee and a kanelsnegl (also known as the yummiest cinnamon roll you'll ever eat).
Try Bagerdygtigt for yummy pastries and Koffein for your caffeine fix – both places can be found along Istedgade, a street or two away from the Meatpacking District in Vesterbro. There are tips for other great pastry shops in this guide.
For a more substantial breakfast head to Enghave Kaffe, also in Vesterbro. This place is known locally for its freshly baked buns, which come served with cheese, salami and/or a soft-boiled egg. You'll find this combo on the menu at lots of breakfast joints in Copenhagen – it's a cheap, tasty way to start the day.
If it's chilly outside you might want to try a hearty bowl of Danish grød (porridge), which comes with sweet or savoury toppings. The best place to grab a bowl is the aptly named Grød at Jægersborggade 50. Its doors open at around 7.30am (9am on weekends).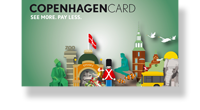 Is the Copenhagen Card worth buying?
Read this guide to see how much you could save during your trip!
Start exploring
Once you're all fuelled up, it's time to rent a bike for the day's sightseeing. Bikes are easily the most efficient mode of transport in Copenhagen, especially when you want to cover a lot of ground in a short space of time.
Amazingly high-tech public bikes are available across the city – you'll see them at docking stations on street corners and outside train stations. Not only do they have screens and GPS systems, but they also have the added bonus of an electric motor, which can really make things easier on long rides.
Keep in mind that you have to set up an account to use the public bikes and that you will also be charged (around 30 DKK per hour).
A cheaper option is visit one of Copenhagen's many private bike shops and rent some wheels for the day. Baisikeli is a good option on Ingerslevsgade, just opposite Dybbølsbro station – look out for the pile of stray wheels and bike parts outside. Renting a basic bike from here costs around 80 DKK a day.
There are heaps of scenic places to get to grips with your new wheels (you might also want to read our tips on cycling in the city centre). Start at the park called Frederiksberg Have, home to some of the city's most picturesque bridges and lakes. Frederiksberg Palace is also on the grounds. This impressive yellow building was the royals' summer residence in the 1700s and later became a school for military officers.
Pedal towards the southwest corner of the park and you'll soon see Copenhagen Zoo; even if you don't want to pay to go in, you might still be able to catch a glimpse of the elephants in their enclosure.
From the park, cycle back towards Copenhagen's Meatpacking District, where you'll find a handful of local galleries, cafés and quirky shops selling cool clothes and Danish homeware. On weekends during summer, an excellent food market sets up on Flæsketorvet.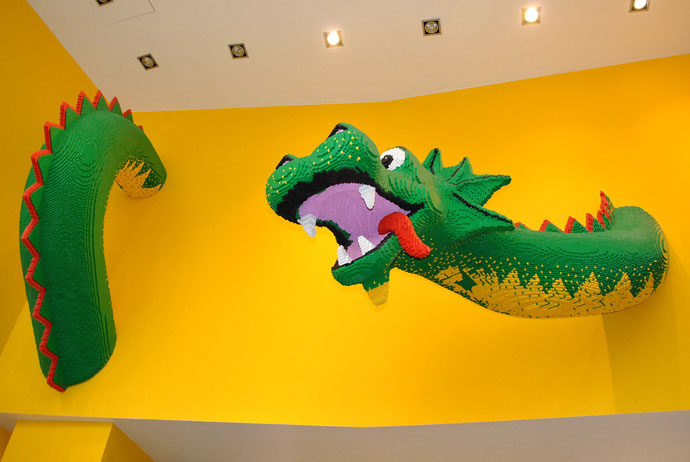 A short ride to the northeast is the Tivoli amusement park. Stop by for a quick play on the fairground rides, or continue northeast towards Strøget, Copenhagen's main shopping street.
Kids of all ages will want to check out the Lego shop here, whose entrance is usually guarded by a couple of enormous Lego characters. Nearby at Studiestræde 13, the Samsøe & Samsøe store does elegant Danish dresses, along with bags and accessories.
While you're in this part of town you might also want to pay a visit to Rundetaarn, or the Round Tower, whose 17th-century corridors spiral uphill to a lovely 360-degree view of the city centre. Admission is around 25 DKK.
A royal appointment
Next, start making your way north to Amalienborg Palace, where the Danish royal family resides. Keep an eye out for the flags flying from the roof, which give an indication of who's at home (unless you see a swallowtail flag, which means they're all away somewhere warm and sunny).
The changing of the guard ceremony kicks off at noon each day and is free to watch – try to get there early if you want a good view. You can take pictures but just bear in mind that the guards don't like to be obstructed and have been known to shout at tourists who get in their way.
On the opposite side of the palace square you'll find Marmorkirken, or the Marble Church. Its impressive turquoise dome is really quite something from the outside, and if you have time you might want to head inside for a closer look around (admission is free).
Doing lunch
Before you get too hungry, head south to the harbour called Nyhavn. This is probably the most famous place in Denmark and you'll almost certainly recognise its colourful houses and wooden boats from the postcards and fridge magnets that are sold across town.
The author Hans Christian Andersen once lived in this area, and historically this is where sailors arriving in Copenhagen were 'entertained' in brothels. The area has cleaned up its act a lot since then and is now a notoriously expensive place to eat or drink.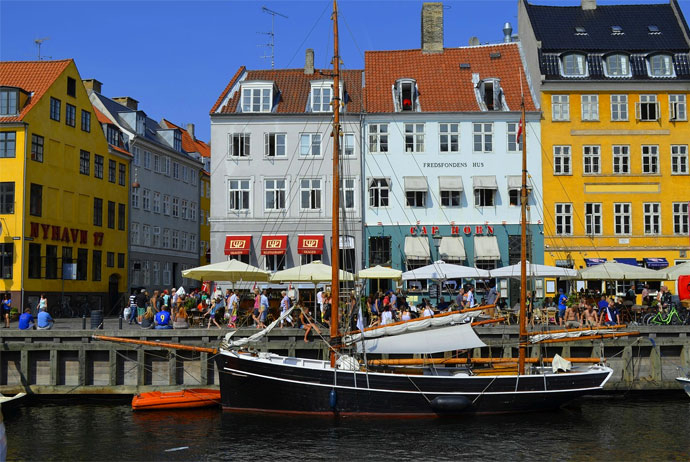 Our tip is to grab a quick photo of the pretty waterfront houses and then head across the bike bridge towards Papirøen (also known as Paper Island). It should take you less than five minutes to cycle there and you'll find street food from every corner of the planet waiting for you when you arrive.
Papirøen is one of Copenhagen's best places for cheap eats – dozens of food trucks occupy the old waterfront warehouse, which overlooks the Royal Danish Playhouse on one side and the Opera House on the other.
Do a couple of rounds of the warehouse scoring as many free samples as you can (whatever it takes to narrow down the decision-making process!). The pulled duck burgers from Duck It are always a crowd pleaser but if you're after a true Danish delicacy, you shouldn't shy away from the smørrebrød at Handmade.
These open sandwiches are as good as it gets, with gourmet toppings smothered across thin slabs of organic rye bread. If it's sunny, you can pull up one of the deckchairs outside and watch the boats go by as you eat.
Afternoon adventures
Even if you're a bit full up it's worth making the pilgrimage to Strandgade 93, once home to the world's most famous restaurant, Noma. That restaurant closed down a while back, and now a more casual place called Barr has opened in the same location, selling bright, hoppy beers from around 35 DKK a glass.
Other intoxicants are available in the nearby hippie hangout of Christiania, whose 'green light district' is synonymous with the illicit sale of cannabis. Bear in mind that, despite appearances, weed is illegal in Denmark (there's more info on the situation in Christiania here).
Whether or not you want to smoke, Christiania is a great place for a wander around – you could spend hours exploring the ramshackle streets, browsing the galleries, or chilling out at one of the graffiti-daubed cafés. If you'd rather not go it alone you can always join this guided tour of Copenhagen's creative neighbourhoods.
A quick museum visit
With a couple of hours left before the museums close, it's decision time. You could check out the national gallery (Statens Museum for Kunst; closed Mondays), which features a comprehensive collection of work from the Danish Golden Age and has plenty of other Nordic art to admire.
A nice alternative is Thorvaldsens Museum, set in a beautiful old building – it's packed with original plaster models by the renowned Danish sculptor Bertel Thorvaldsen.
For something a bit more modern you might want to visit Design Museum Denmark, which looks at how Danish design has evolved over recent decades. There are some completely free museums worth considering in this guide.
Whatever you choose, make sure you have time to follow the crowds to Den Lille Havfrue, the famous Little Mermaid statue. This might be the most overrated tourist attraction in Copenhagen (it's small, and the sheer number of tourists clambering around on the rocks makes it hard to get a good view). But hey, you're in Copenhagen, and you'll at least want a quick look.
While you're here, take walk up to Kastellet, the star-shaped fortress that doubles as a museum and is still used for military exercises. Keep your eyes peeled for one of the free outdoor events that occasionally take place here.
Dinner and drinks
A stone's throw from the Little Mermaid, the waterfront bar called Toldboden (at Nordre Toldbod 18-24) is a great place to grab a cocktail and start planning the rest of your night. Alternatively you could head straight back to the Meatpacking District, where you'll have loads of good food to choose from.
Fermentoren (Halmtorvet 29C) and Mikkeller Bar (Viktoriagade 8) both serve local brews in cool and cosy surroundings. Alternatively, you can grab a pint and food from War Pigs at Flæsketorvet 25, which does mouth-watering slow-cooked meats and has more than 20 beers on tap.
Vesterbro's other great food options include delicious hamburgers at Tommi's Burgers (Høkerboderne 21-23), the eco-friendly Mandela Café (Onkel Dannys Pl 9) or yummy, slurpy noodles at Papa Ramen (Skydebanegade 16).
If you're looking to splurge a bit more, try Paté Paté at Slagterboderne 1 or Magasasa Dim Sum and Cocktails at Flæsketorvet 54-56. Both of these places have heaps of outdoor seating, complete with heaters and blankets to enhance the hygge vibe.
Once dinner's over, the choices are endless – go to a gig at Tivoli, check out one of these budget-friendly bars or party the night away at one of these smoky bars and nightclubs. There's often live music at Nemoland in Christiania.
Winding down
When you're partied out or just plain tired from sightseeing, it's time to crash out at your accommodation (we've got tips on the best places to stay here) or grab a late-night snack – our guide to cheap eats has tips on what to look out for.
If you get carried away and pull an all nighter you might as well complete the circle and grab a coffee from one of these great independent cafés.
So there you have it: a fun-packed 24 hours in Copenhagen that should leave you wanting more!
Staying a little longer? Here are some bonus tips:
– Keep an eye out for flea markets, which take place most weekends in Copenhagen
– If you're going to do a lot of sightseeing, consider buying the Copenhagen Card
– Visit Nørrebro, a cool neighbourhood full of things to do
– Join a guided tour
– Try eating at one of Copenhagen's community kitchens
– And, if the weather's good, go swimming