Nowhere does Christmas quite like Stockholm, with its pretty cobbled streets and squares all tastefully illuminated, cosy bars and restaurants serving warm glögg (mulled wine). Then of course, there are the Christmas markets.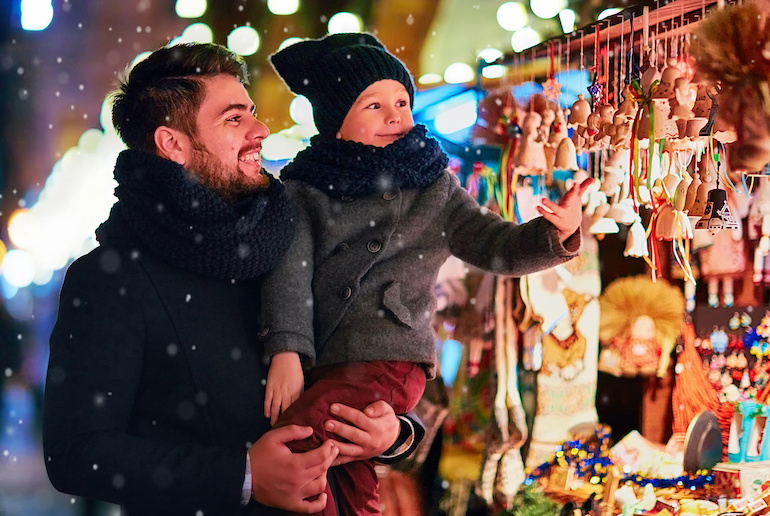 Temperatures are low and there may even be snow on the roof-tops in the run up to Christmas, to make the already-beautiful city seem even more magical and festive.
Ice rinks, open-air bars and beautifully decorated shop windows all add to the festive air.
Stockholm Christmas lights are lit from November 12th, when more than 40 streets and squares around the city are festooned with LED angels, reindeer and mistletoe.
And Stockholm has probably more Christmas markets and fairs than any other Nordic city, from the classic old town market, to farmers markets, Fair Trade markets, markets in castles and even a nautical-themed Christmas market.
Things not to miss at Stockholm's Christmas markets
For a specifically Swedish experience, there are some things that you'll want to check out and buy at a Christmas market.
Glögg. No trip to a Stockholm Christmas market is complete without a warming glass of glögg, a type of Swedish mulled wine. This warming mix of red wine and aquavit is flavoured with spices, such as cinnamon, cardamon, cloves and ginger; raisins, almonds and orange zest add a burst of flavour too.
Pepparkakor. These tasty wafer-thin spicy ginger biscuits are a Christmas tradition in Sweden. Although you can get them all year-round, at Christmas they are cut into festive shapes, such as reindeer, stars or Christmas trees.
Julstjärnor. In silver, gold, white, red or green, an advent Christmas star made of paper or cardboard is a staple in every Swedish home. Many Christmas markets sell beautiful handmade versions to hang on the tree or in a window. The word is also the name for a poinsettia, and these plants with bright red flowers and dark green leaves are popular in Swedish homes at Christmas too.
A julbock. A Christmas goat woven out of straw hangs on most Swedish Christmas trees – look out for them at stalls selling artisan Christmas goodies. For more on which Swedish decorations to buy, check our guide to the coolest Nordic Christmas decorations. Fun fact: a giant version of this goat is often burnt down by arsonists in the northern Swedish town of Gävle.
Some local knowledge. To really get the most out your Christmas market, go with a local. This small group tour is led by a knowledge local who will share Stockholm's Christmas tradition with you and take you to the best best stalls to try festive food and buy your gifts.
Stortorget Julmarknad, Gamla Stan
The ultimate Stockholm Christmas market has been held on Stortorget in Gamla Stan (Stockholm's old town) since 1837.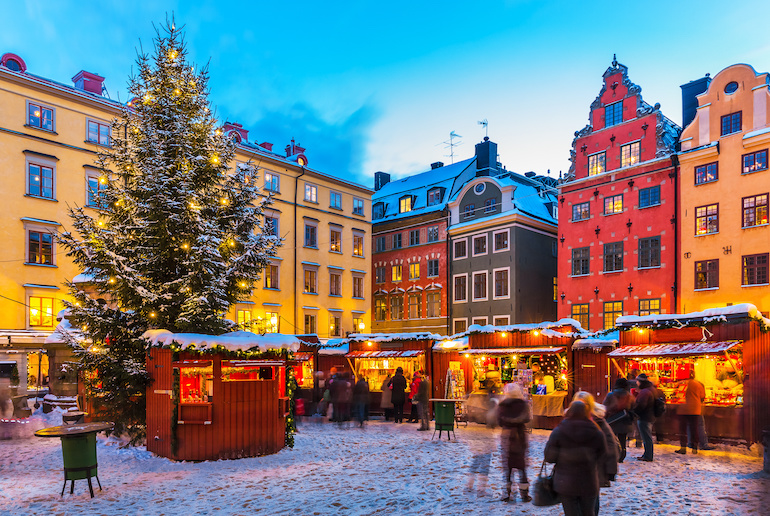 Sweden's oldest Christmas market, it has been running every year since, except for a few years between 1907–1914 and in 2020.
Held on Stockholm's oldest square, with a backdrop of colourful gabled buildings, it has around 40 stalls selling goodies such as mulled wine, candles, handicrafts, ceramics, festive food, artworks, sweets and Christmas decorations.
When and where is it?
The market is on Stortorget in Gamla Stan, right in the centre of the city. In 2023, it's open from 25th November to 23rd December. Admission is free.
How to get there
The best way to get to Stortorget is to take the T-bana to Gamla Stan, from where it's a four-minute walk.
★ SUGGESTED DISCOUNT
Save with the Stockholm Pass
Get up to 50% off at Stockholm's top attractions, including the Vasa Museum, SkyView Stockholm and The Viking Museum, plus discounts on some of the city's best boat trips.
Skansen Christmas Market, Stockholm
The Skansen open-air museum has hosted a Christmas market for more than a hundred years, with stalls selling traditional arts and craft, home-made sweets and preserves and handmade candles and decorations.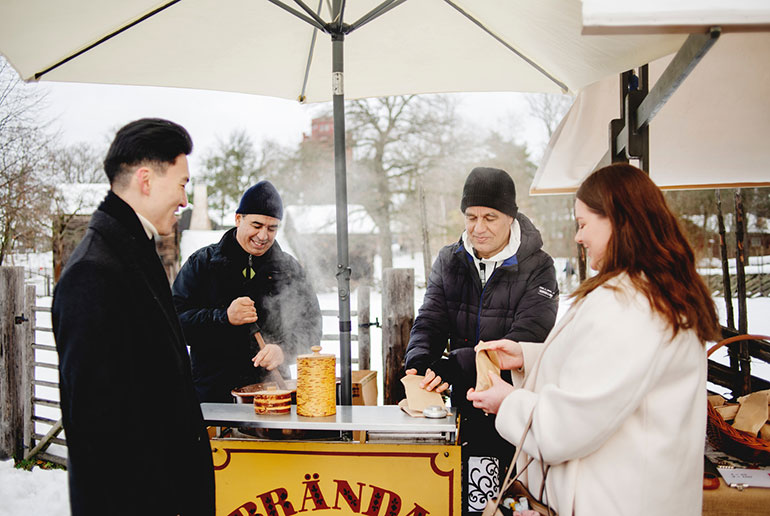 There are a variety of Christmas activities on offer. The renovated buildings show how Christmas was celebrated in a typical farmstead in the past, and there are festive workshops where you can make your decorations and Christmas concerts in the church.
When and where is it?
Skansen is at Djurgårdsslätten 49-51, 115 21 Stockholm. The Christmas market takes place every Friday, Saturday and Sunday from 24th November to 17th December.
Entrance to the market is included in the museum admission fee of 245 SEK; US $22.
How to get there
You can get there by boat from Allmänna Gränd quay, or by tram #7 from T-Centralen to Djurgården, or on bus #67 from Odenplan to Skansen.
Christmas Fair at the Royal Stables
A small arts and crafts far is held in the atmospheric Royal Stables in the centre of the city.
Visitors can look around the tack room, the stables and the coach shed and buy handmade arts and crafts from the makers and artists. There will also be tasty festive food and drink on sale.
When and where is it ?
The Royal Stables are located at Väpnargatan 1 in central Stockholm. This year, the market is on the 8th (11am–7pm), 9th (9am–6pm) and 10th December (10am–5pm).
Entrance to the market is included in the admission fee to the Stables, which is SEK 100.
How to get there
To get there, take the T-bana to Östermalms torg or Kungsträdgården.
Skeppsholmsgården Christmas market
And how about a Christmas market with a crafty, nautical theme?
At Skeppsholmsgården Christmas market, you can watch jewellery makers, knitters and other crafts people at work, including blacksmiths selling their hand forged products.
The stalls are lined up along the quay, which is decorated and lit with fires.
It's a great place to buy some original hand-made gifts and to enjoy a mulled wine or hot waffle.
When and where is it?
The market takes place on December 16th and 17th from 11am–5pm at Östra brobänken,111 49 Stockholm.
How to get there
You can get there on bus #65 from T-Centralen (get off at the the Architecture Museum), or take the Djurgård ferry from Slussen or Djurgården and get off at Skeppsholmen.
The Stockholm Fair Trade Christmas market
The Schysst Jul Christmas market is the place to head for ethical Christmas gifts. The stalls here sell Fair Trade, organically grown and ethically sourced products, from spices to chocolate, clothing and handicrafts.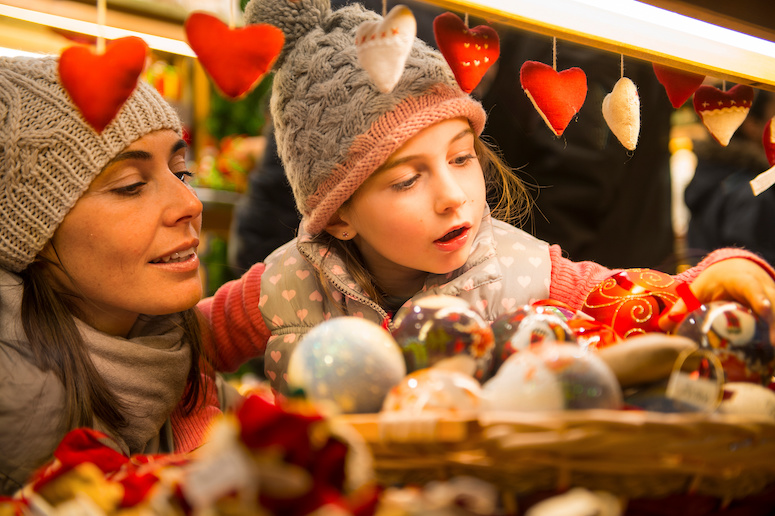 So, your Christmas spending goes to support companies with good human rights and environment credentials.
When and where is it?
The market is on December 2nd at ABF Huset, Sveavägen 41, 111 83 Stockholm.
How to get there
The ABF Huset is just a fifteen-minute walk from T-Centralen, or you can get bus #17, #18 or #19.
The Farmers' Christmas Market
We love the Christmas Farmers market in Östermalm, where you can buy locally grown seasonal fruit and veg directly from the farmer.
All the produce is grown in the area around Stockholm on small-scale farms, and sold straight from the farm, so you know it's carbon footprint is low – and it will taste fresh!
Stall-holders sell their own home-made pickles and jams as well as locally produced honey, oil, meat and fish.
When and where is it?
The market takes place on the 2nd, 9th and 16th December at Tessinparken, opposite the Fältörsten shopping centre in Östermalm.
How to get there
To get there, take the metro to Karlaplan (red line 13) and get off at Tessinparken. Or you can get bus #1 or #4 (get off at Värtavägen) or bus #54, and get off at Tessinparken.
Christmas market at Näsby Castle
You can't get a much more picturesque backdrop for a Christmas market than Näsby Castle in Täby. More of a manor house than a castle, Näsby Slott is set in beautiful grounds and houses a hotel and restaurant.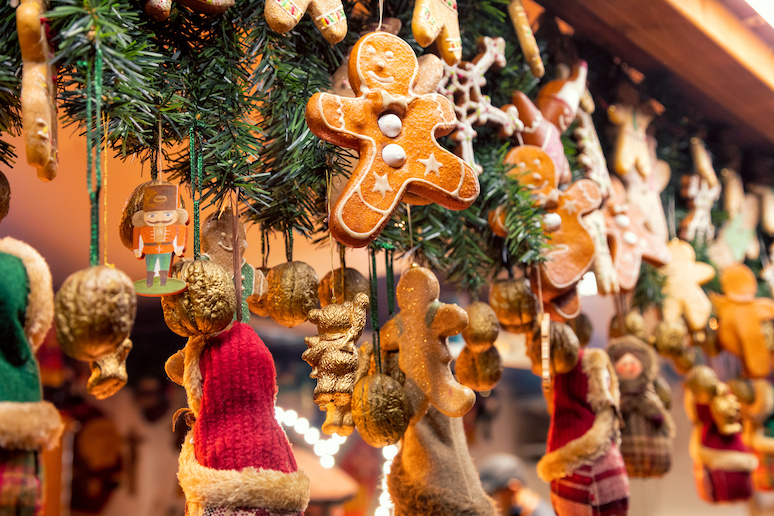 The Christmas fair specialises in stalls selling local and home-made food and gifts, such as cheeses, jams, bread, pickles and sheep and leather products.
When and where is it?
The market takes place on December 17th from 11am–4pm at Näsby Slottsallé 11, 183 52 Täby
How to get there
The easiest way to get to Näsby Slott is by car. It's just a fifteen-minute drive north of Stockholm in the suburb of Taby.
In summer, boats run from Stockholm to Näsby and dock at the steamboat jetty.
Christmas Fair at Taxinge Slott
Claiming to be Sweden's largest Christmas fair, the market at Taxinge Castle has more than 130 stalls selling arts and crafts from around the country.
Locally produced sheepskin clothing, beautifully carved Christmas decorations and hand-knitted jumpers are all on sale, as well as tasty treats from local artisan food producers.
You can buy home-made cheeses, hams, sausage and breads, as well as a huge array of cakes and pastries, all laid on what claims to be Europe's largest cake buffet!
As it starts to get dark, bonfires are lit around the grounds.
When and where is it?
This market is for those want to get into the festive mood early – it takes place from 17th–19th and 23rd–26th November (10am–6pm; closes at 4pm on Sundays).
The entrance fee is 100 SEK, which includes parking.
The castle sits on shore of Lake Malaren at Näsby 52, 155 93 Nykvarn.
How to get there
These way to get to Taxinge is by car. It's a 50-minute journey southwest of Stockholm on the E20.
Christmas market at Stora Sköndal
With stalls inside and around a huge glass greenhouse, the Christmas Market at Stora Sköndal is an atmospheric affair.
It's surrounded by the attractive grounds of the Kristinahuset that look out over the Drevviken Lake to the south of Stockholm.
Around fifty stalls sell crafts, gifts, food and drink, with an emphasis on local and organic producers and artists.
Mulled wine, hot chocolate and grilled sausage are on sale to warm you up, and there are choir concerts and pony rides for the kids.
When and where is it?
The market is at Herbert Widmans väg 7, 128 64 Sköndal and takes place on 2nd and 3rd December from 11am–6pm.
How to get there
Take bus #188 from Gullmarsplan or bus #181 from Farsta or Skarpnäck, and get off at the Stora Sköndal stop. Alternatively, it's a 20-minute drive south of Stockholm.
Sigtuna Christmas Market 2023
OK, so it's not exactly in Stockholm, but it's less than an hour away so easily do-able as a day trip from city. And, believe us, the Christmas market at Sigtuna is worth the journey.
With its pretty wooden houses, old churches and cobbled streets on the shores of Lake Mälaren, Sweden's oldest town, founded in the 10th century, makes a great backdrop for a Christmas market.
Stalls here sell traditional Christmas decorations, arts and crafts and locally produced food, and there's also dancing round the tree, Christmas music concerts and the chance to visit Santa.
When and where is it?
Market stalls fill the narrow streets and squares of the city centre in the Stora Torget, along Stora Gatan and outside the Sigtuna Stadshotell. The market is held on November 26th, and December 3rd, 10th and 17th from 11am–4pm.
How to get there
It takes under an hour from Stockholm to Sigtuna by car and a similar time by public transport. To get there, take the train from Stockholm T-Centralen to Marsta and change there to bus #570.
Other festive events to check out this Christmas
The other big day in the lead-up to Christmas in Sweden is St Lucia Day on December 13th, though many of the celebrations take place on the nearest weekend to the 13th (December 9th and 10th).
It commemorates St Lucia, who was killed by the Romans in 304 AD for her Christian beliefs.
Traditionally, the oldest daughter of the family would dress in white robes and serve coffee and saffron bread to the rest of the family.
Today the celebrations usually involve a young girl dressed in white and leading a candle-lit procession of children singing, with a wreath of candles in their hair.
A Lucia Procession has taken place at Skansen for 130 years, and it's still one of the best places to watch the spectacle. They have various St Lucia events on the weekend on 9th and 10th December, including a traditional concert in Segora church.
St Lucia celebrations are a big deal around the whole of the city, with a procession and concert at Stockholm Cathedral on December 9th and a Lucia Gala at the Stockholm Waterfront on December 10th.
For more on spending Christmas in Sweden, check out our guide.
See also:
Must-have Scandi Christmas decorations
The best Christmas markets in Scandinavia
Ten ways to save with the Stockholm Pass this Christmas