Lund has its fair share of decent restaurants but lots of them charge more than 300 SEK for a single main course – not ideal if you're trying to stick to a budget. The good news is that you shouldn't have any trouble tracking down cheap eats; you'll find good-value restaurants dotted around the city, and there are some great takeaway options too. These are some of our favourites.
Rå Epok
Cheap sushi restaurants can be found in almost every Swedish town and city, but Rå Epok does things a little differently. The restaurant's tagline, 'sushi på skånska' (sushi, Skåne-style) says it all: this is raw fish and rice with a decidedly local twist.
All of the fish served here is sustainably caught, and the focus is on seasonal, locally sourced ingredients. That means you won't find tuna, tiger prawns or eel on the menu. The replacements – like salmon, perch, cod and char – work surprisingly well with the usual combo of sushi rice, pickled ginger, soy and wasabi.
The music played here is always by local artists, and the great-value lunch deal (85 SEK for a 10-piece meal when we visited) includes a big mug of hot soup. It's not your regular miso stuff, but a similarly salty Swedish fish soup that's stained yellow by saffron. Prices go up slightly outside lunchtime (11am–3pm on weekdays) but you can still eat very well here for less than 130 SEK. Takeaways available.
Klostergatan 7
+46 421 411 44
raepok.com
Mon-Fri 11am–9pm, Sat noon–9pm, Sun 4pm–9pm
Hummus Bar
If you're vegetarian or vegan and like your Middle Eastern food, look no further than Hummus Bar. Handily located just across the road from the train station, this friendly joint does some of the freshest, healthiest food in Lund, and has super-cheap prices to boot.
Fillings available to mix and match include tahini, pine nuts, fava beans, marinated aubergine and hummus (obviously). A stuffed pita costs just 50 SEK and you can add roughly the same again if you want a couple of sides or a glass or two of the homemade lemonade.
Cutlery is available but most people just eat with their hands. Things can get a bit messy but there's a hand basin near the till, so scoff away safe in the knowledge you can get cleaned up easily when you're done. Allergies are catered for, so just ask.
Bangatan 8
Visit the website
+46 461 263 00
Mon–Fri 11am–7pm, Sat noon–7pm
Lundafalafel
These days Malmö is the Swedish city with the reputation for great falafel, but it's said that the country's first-ever falafel restaurant actually opened here in Lund. This tiny takeaway joint (literally just a hole in the wall with a few benches out front) is the locals' favourite and sells falafel wraps in two sizes – large or extra large.
Prices are extremely low but the quality's pretty good. If falafel's not your thing then pizzas, kebabs and salads are all available for less than 100 SEK. This is a very popular place after the bars kick out, and apparently prices go up by a few kronor after midnight, but we've never hung around long enough to find out.
There's a place further down the same street with a confusingly similar name. The one you want is next door to the shop called Lindex. No card payments.
Stora Södergatan 5
+46 463 233 16
No website
Mon–Thurs 11am–10pm, Fri & Sat 11am–4am, Sun noon–10pm
Restaurang Bellman
If you're trying to track down traditional Swedish food in Lund and feel like a proper sit-down dinner, try the wood-panelled Restaurang Bellman. It's not the flashiest place in town but not the most expensive, either – most mains cost less than 200 SEK, starters less than 70 SEK.
The classics on offer here include a sill (pickled herring) sandwich and köttbullar (Swedish meatballs). Come here between 11.30am–3pm and lunch costs just 80 SEK, including a soft drink and a big ol' pile of salad.
Mårtensgatan 6
+46 461 583 57
bellyman.se
Mon–Fri 11.30am–10pm, Sat 3pm–10pm
Meat
Carnivores flock to this cool steakhouse on Kattesund, which serves up fine cuts of meat from as far afield as Australia and the USA. It's not cheap by any stretch of the imagination but if you skip the steaks and order one of the burgers (179 SEK) you can enjoy a proper restaurant experience without giving your bank manager nervous sweats.
Even if you decide not to eat here, the terrace out front is lovely during the summer (you can grab popcorn and other snacks from the bar). The whole place gets very busy from around 7pm, so ring ahead to ensure you get a table.
Kattesund 8
+46 461 278 65
meatgrill.se
Mon–Thurs 11.30am–11pm, Fri 11.30am–1am, Sat noon–1am
More tips for finding cheap eats in Lund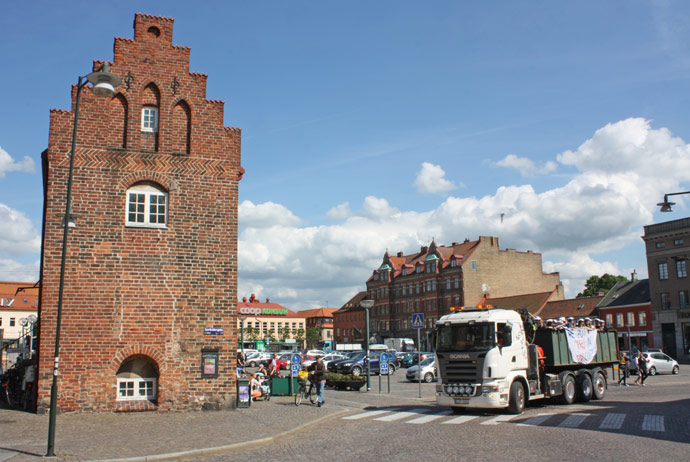 The most convenient supermarket in Lund is Coop Konsum at Mårtenstorget 11 – it has everything you need to make a meal at your hostel or Airbnb rental. Inside the food hall across the road (look for the sign that says saluhallen) you'll find stalls selling gourmet food – more interesting for budget travellers is the Systembolaget bottle shop up on the first floor. A food and flower market often sets up on Mårtenstorget itself.
If you're looking for cool bars in Lund, try Stortorget – in summer, it has a big outdoor bar on the square of the same name. Around the corner, Café Ariman is a cool, bohemian hangout serving tea, beer and cocktails. For friendly banter, good ale and impromptu jams try Inferno, up near Winstrup Hostel.
Looking for a coffee shop? Check out our guide to Lund's best cafés.
Like what you've been reading? Get our best tips by email!