Gothenburg has enough fun activities to keep you busy for a week or more.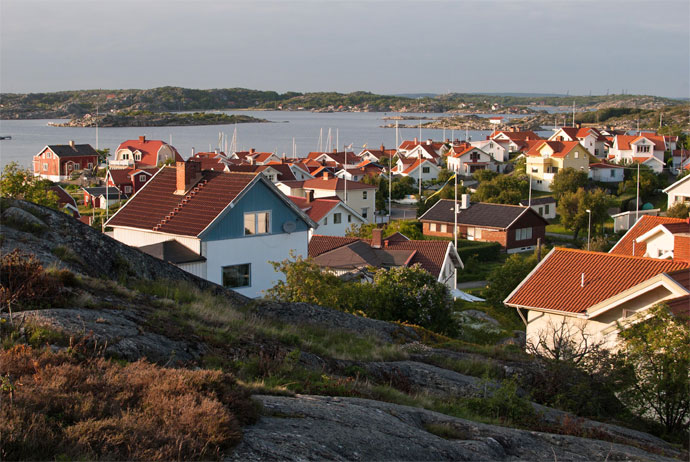 Travel a few kilometres from the city centre, however, and you'll uncover some wonderfully unspoilt places, from grand country houses and car-free islands to huge lakes that double as magical swimming spots during the summer.
One of the city's main attractions is as a hub to explore the beautiful forested islands of the Gothenburg archipelago and the rugged, picturesque coastline, dotted with atmospheric fishing villages, that runs north towards the Norwegian border.
This guide will help you find the perfect day trip from the city, whatever time of the year you're visiting.
We've given details on how to get to some of these day trip destinations – there's also a handy map at the bottom of the page to show you where each place is in relation to the city.
The Southern Archipelago
A few miles southwest of Gothenburg, the Göta Älv river empties into a sea that's speckled with thousands of smooth, reddish-grey islets.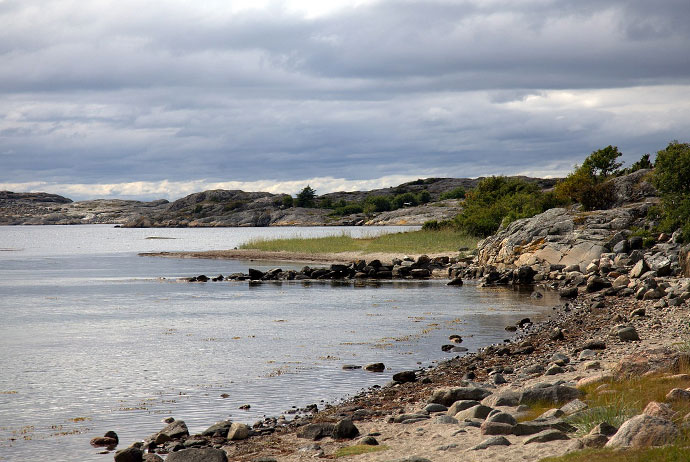 Most of these little islands are uninhabited but there are a few that sustain small communities. Fishing, tourism and a sprinkling of government funding helps to keep the local economy afloat.
From the centre of Gothenburg the easiest islands to reach are those that make up the so-called Southern Archipelago. There are 13 main islands to choose from, and they're all served by fast boats from the mainland.
Cars aren't allowed anywhere in the Southern Archipelago (only the postman and some other important locals are allowed petrol-driven vehicles) so the whole place feels a world away from the city.
If you're visiting for the first time it doesn't really matter which island you choose; they'll all give you a nice introduction to life on the Bohuslän coast, where life is considerably slower than in Gothenburg and – in summer, at least – seems to revolve around swimming, eating, sailing and generally living the good life.
However, some islands have a few more things to do than others, and are also a bit easier to reach from the city.
Styrsö
If you'd like to experience a good mix of natural beauty and local life, the best island to visit on a day trip from Gothenburg is probably Styrsö.
There are a couple of nice cafés near Styrsö's main harbour, Bratten, including Öbergska, with a pretty summer garden.
The southern half of the island is given over to a sprawling nature reserve, which offers gentle, well-signposted walks through coastal and woodland scenery.
Hiking up to the island's highest point, Stora Ros gives great views of the archipelago. It's just a 25-minute walk north of Strysö Skäret harbour.
Bränno
Another good day-trip destination from Gothenburg is Bränno.
Our tip is to hire a pushbike from the harbour when you get off the boat at Bränno Rödsten and then cycle south to the beautiful swimming spot at Ramsdal, passing pretty cottages along the way.
If you decide to spend the night on the island there's a very good bed and breakfast near the harbour.
Vrångö
If you're looking for peace and quiet, unspoilt nature and the chance to get away from it all, the island of Vrångö is a good bet.
It's the southernmost inhabited island in the archipelago, and ideal for walking, swimming and sun-bathing with countless bays and beaches and a nature reserve.
Getting there
Getting to the Southern Archipelago from central Gothenburg is easy. Hop aboard any number 11 tram bound for Saltholmen.
Get off at Saltholmen (it's the last stop) then walk with the water on your right-hand side until you reach the ferry terminal – you'll know you're there when you see the 'Skärgårdsbåtar' sign. Electronic signs show you which boats are going where.
This guide has info on paying for tickets aboard Gothenburg's public transport system. The same payment system works for trams and boats.
When to visit the archipelago
Of course, when you visit will impact on your island experience. On some islands, ferries run less frequently in winter and some cafés, restaurants and bed and breakfasts close in low season.
So you may want to choose one of the larger islands if you're travelling in winter. You can visit the islands all year round; just be aware that some cafés and services may be closed outside of the summer season.
Also, bear in mind that pretty beach may look less appealing in the wind and rain! But, the islands will certainly be quieter off season and you'll have no problem getting away from it all.
For full details on the islands, read our guide to the 7 best islands in the Gothenburg archipelago.
And if you can't decide which island to visit, why not take an archipelago cruise round the islands and admire their cliffs, beaches and wooded coastlines from the sea?
Delsjön
Lake swimming is up there with saunas and visiting Systembolaget. In other words: if you're visiting Sweden, you have to give it a go.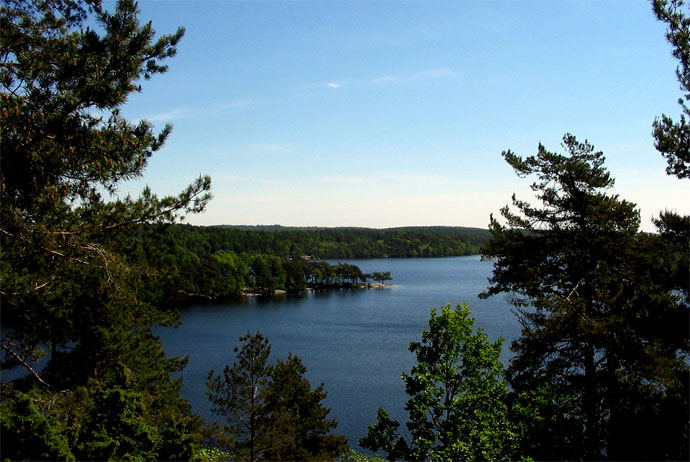 There are loads of options for swimming in and around Gothenburg, either along the coast or in what the locals call 'sweet water' (lakes).
Just glance at a map of the area around Gothenburg and you'll see that you're spoilt for choice, lake-wise.
If you're looking for a lake that's clean, easy to reach, and big enough that you won't be disturbed by other bathers, we'd recommend Delsjön.
Around 5km east of the city centre, it's actually made up of two conjoined lakes, and it offers everything you need for a fun day of splashing about and making the best of the Swedish summer weather.
Head to the main lake's most built-up area, near Alfred Gärdes väg, and you'll find a coffeeshop, a small sandy beach  and a shop that rents out canoes.
When the weather's good it's easy to spend a day here just lounging on the rocks. Mountain-biking and fishing are popular activities too – a mountain bike trail loops round the lakes or there's a more challenging ridge ride. 
And the Stora Delsjön loop trail is great for hikers, it's an easy walk of around five miles that ends up at the handy Kaffestugan Lyckan coffee shop.
Gunnebo Slott
There's a lot of history along the west coast of Sweden, as evidenced by the large number of forts and stately homes that dot the landscape.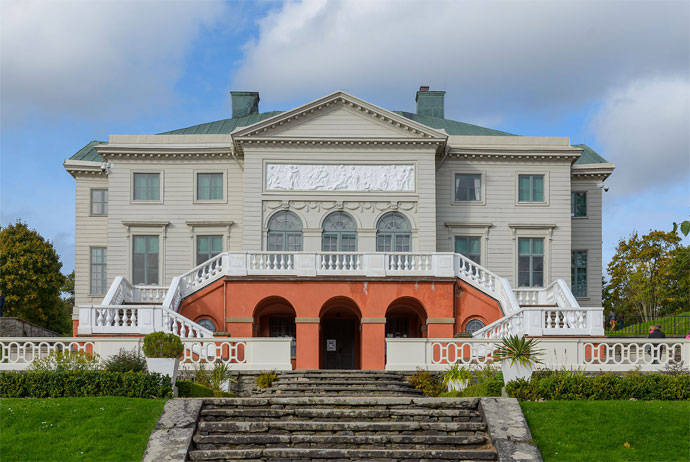 One of the easiest historic homes to visit from Gothenburg is Gunnebo Slott. This grand, wooden mansion is just 9km from the city centre and is easy to reach using public transport.
On this guided walking tour of the building and its gardens, you'll see some lavish interior design and learn how wealthy Swedes lived in the 18th and 19th centuries. 
Look out for the beautiful newly restored orangery, and there are some lovely formal gardens to enjoy.
There's also a very good café that serves organic food prepared with ingredients from the mansion's own allotment, and has its own on-site bakery.
You can read more about visiting Gunnebo Slott in this guide.
And if fancy staying over night, the comfortable Hotel Mölndals Bro is just 10 minutes away by car.
Is the Gothenburg Pass worth buying?
Read this guide to see how much you could save during your trip!
RECOMMENDED HOTELS IN GOTHENBURGMORE HOTELS
Nääs Slott
A little further afield than Gunnebo Slott (see above), Nääs is also more impressive.
It'll take you around an hour to get there from Gothenburg using public transport, or it's about 40 minutes by car, but the setting for this grand manor house is really worth the wait.
It's located high on a peninsular and there are great countryside views off in every direction.
The house itself is well worth a look around, too – Nääs is one of Sweden's best-preserved 19th-century homes and there are some beautiful rooms to admire as you walk around (photos are forbidden though, so we can't show any here).
You can only visit the castle on a guided tour, which costs 160 SEK for adults and lasts 45–60 minutes. Tours are in Swedish only, but there are printed information sheets in English or you can book a private tour in English.
You can even spend the night at the castle in either the north or the south wing. The rooms are traditionally decorated, comfortable and clean with shared bathrooms.
There's more info on taking a day trip to Nääs Slott from Gothenburg in this guide.
Marstrand
One of several swanky seaside settlements on the west coast of Sweden, Marstrand is a picture-perfect town split in two by a narrow sound and crowned by an imposing fortress.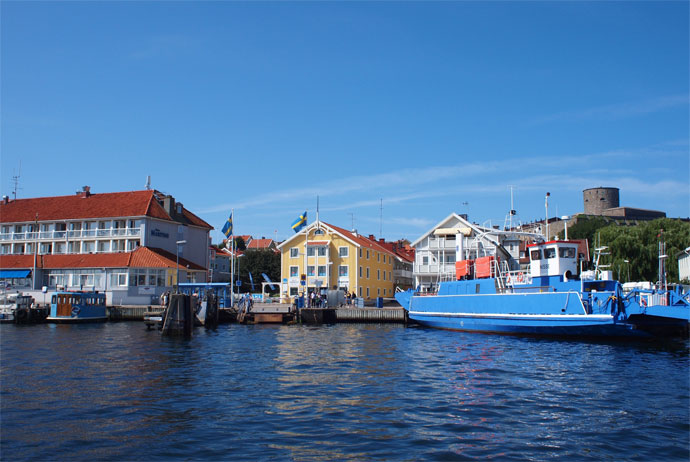 This was once an important strategic outpost, but today is a playground for wealthy boat owners on their way up or down the coast.
Tourists come here to sail, shop, sightsee and eat seafood – or in other words, enjoy all the stuff the makes the west coast such a nice place to visit during summer.
And if you want to stay the night, why not stay in the castle? Soldatens Bed & Breakfast has en-suite rooms inside  Marstrand's historic Carlstens fortress.
It's surprisingly easy to reach Marstrand from Gothenburg; direct buses run from Nils Ericson Terminalen (55–70 minutes) and a small ferry shuttles people over towards the fort.
Be warned, though – this place gets very busy on hot summer days, so go early if you want to make the best of a trip there.
Fjällbacka
Moody skies, red fishermen's huts and tangled lobster pots – there's a lot to like about Fjällbacka, one of the prettiest little fishing villages along the Bohuslän Coast.
Roughly halfway between Gothenburg and Oslo, this sleepy hideaway is most famous as the birthplace of actress Ingrid Bergman.
It's also the setting for the crime fiction books by local author Camilla Läckberg; volunteer guides here run informal walking tours that take in some of the locations where her characters were bumped off (but trust us, it's really very safe here!).
Otherwise the main appeal of a trip to Fjällbacka is enjoying the great sea views, eating world-class shellfish and snooping around the local history museum, which has a good overview of life here throughout the ages.
Fjällbacka is also the jumping-off point for exploring the remote, Väderöarna Islands, also known as the weather islands. If you want to visit them, it's just a 40-minute boat trip there, and you may get to see seals on the way.
If you decide to stay over, there are cosy rooms at Stora Hotellet Bryggan.
Smögen
In the summertime this lively, idyllic west coast island is the perfect place to go for a dip – or simply sit back with a glass of a white wine and a mountain of fresh seafood.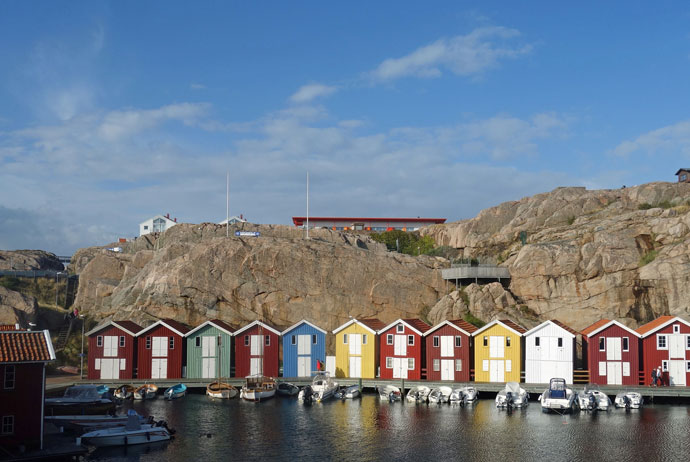 Many of the colourful old fishermen's huts that line the waterfront have been transformed into shops selling all kinds of clothes and souvenirs.
Little ones will love clambering around the island's low-slung coastline and going fishing for crabs (reels and buckets are cheap and easy to find).
In the 1970s, Smögen became known as Sweden's party island and in summer it was packed with partying teens.
Today it's much calmer and, while the central area can get very busy during summer (and can even feel a bit too touristy), it's still easy to find a quiet spot away from the crowds make the most of the island's special atmosphere.
Staying at a hotel here isn't cheap but there are several simple guesthouses to choose from. Book ahead.
Without a car, the easiest way to reach Smögen is by bus – take #861 from Nils Ericson Terminalen in central Gothenburg (around two hours and ten minutes).
Hindås
If you really want to get off the tourist trail, try this small town east of Gothenburg – it's exactly halfway to Borås and has plenty of authentic Swedish charm on its doorstep, including bubbling streams, lush tracts of woodland and two big lakes, joined together by a pretty canal.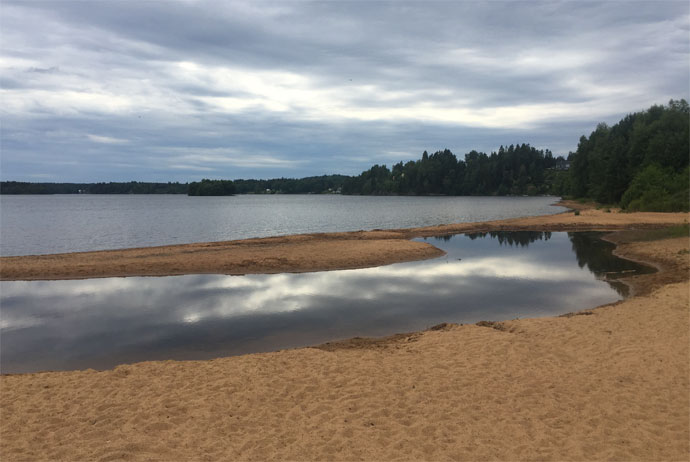 You can rent kayaks and go exploring – take a picnic with you if you can and park up on one of the islands for a splendid bit of isolation.
The best place to rent canoes is at Hindås Kanot & Friluftsklubb, just north of the village on the western edge of Västra Nedsjön.
There are a couple of places to stay around the lakes, but beyond a couple of small shops and pizzerias, there's not much else here – which, let's face it, is really part of the charm.
Pilane sculpture park
For something totally different, consider a trip out to the open-air sculpture park at Pilane on the island of Tjörn, around an hour's drive north of Gothenburg.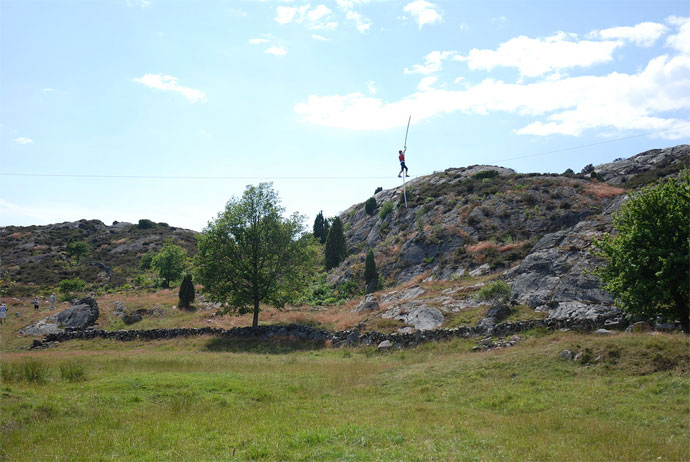 The open-air gallery is dotted with sculptures around a huge 8-hectare site, so you can enjoy a unique combination of modern sculpture and ancient, wind-blown coastal scenery
As well as the permanent artworks, temporary exhibitions by international artists are put on – Ai Weiwei's Roots exhibition is currently on show. The park is open from mid-May to mid-September, and costs 150 SEK to look around. 
Arriving with public transport is a little tricky; from Gothenburg's Nils Ericson Terminalen you'll need to take a 'Tjörn Express' bus to Kållekärr, and then change to a #357 bus and get off at Basteröd.
From here it's about a 15 minute walk to the park. The whole journey takes around 1hr 30min.
Hav & Logi Skärhamn is a nice campsite on the island, with cabins and cottages to rent as well as hostel rooms, about 15 minutes by car from the park.
There's more on visiting Pilane in this guide.
Uddevalla
Located in the heart of Bohuslän surrounded by coast, cliffs, mountains and forests, Uddevalla is just an hour's drive south of Gothenburg (or 75 minutes by direct bus #810).
It has a long wooden walkway that follows the coast around steep cliffs to Gustafsberg, Sweden's oldest bathing and health spa, where you can still visit the heated baths and the old spa hotel.
Uddevalla is also home to the Bohuslän Museum where you can learn all about the region's, through historical artefacts, archeological finds and traditional tools and textiles.
Local activity company Upplevelsebolaget can organised guided hiking, kayaking, rock-climbing and mountain-biking trips.
If you want to stay, the Gustafsbergs Badhotell and hostel is our top choice. It's right by the waterfront and has en-suite double rooms as well as cheaper bunk rooms.
Borås
Boråshas been associated with the textile industry for over 400 years, and its fascinating Textile Museum explores the city's clothing connections as well as displaying Swedish fashion and couture.
We also like the Abecita Modern Art Museum and its collection of contemporary photos, pop art and graphic design, as well as Nordic textile art. Look out for works by Hockney, Warhol and Alison Jackson.
The city is also home to the remarkable Borås Djurpark. Laid out with a variety of habitats, it's home to more than 500 animals, including lions, giraffes, orangutans, zebras, rhinos and Sweden's only African elephants.
Borås is 50 minutes east of Gothenburg by car or by Flixbus #100, and if you want to stay the night we like the smart Hotell Boras in an art deco building in the centre of the city.
Alingsås
On the edge of Lake Mjörn, Alingsås is known as the "Café City" and claims to be the place where Sweden's fika culture originated.
And indeed, the city has more than 30 cafés spread around its cobbled streets and in wooden houses – you can even take a fika tour with your own private guide and visit some of the best cafés.
Every October, the city is filled with light installations, light displays, illuminations and a light trail during its annual Lights in Alingsås festival.
Alingsås lies northeast of Gothenburg and only 30 minutes away by train, or 40 minutes by car. If you want to stay, we like the well-renovated Grand Hotel Alingsås in a an old building on a cobbled street.
Vänersborg
At the southern end of Sweden's largest lake, Vänern, Vänersborg is a small town known for its beautiful Skräckleparken (literally the "horror park") alongside the lake.
One of its main attractions is the nearby Ecopark Halle and Hunneberg, with mountains, rocky cliffs and forests. You can hike here or rent kayaks and mountains bikes, or even go on a beaver safari by canoe – watch out for moose, too. 
Back in town, the Vänersborg Museum contains Sweden's oldest museum display of stuffed African birds from the 1880s, as well as glass and ceramics collected by the museum's founder Adolf Andersohn.
It takes 40 minutes to get from Gothenburg station to Vänersborg by direct train, or one hour ten minutes by car.
If you want to stay, we like the Ronnum Herrgård, just outside town in a charming manor house dating the fourteenth century with attractive gardens.
Trollhättan
The industrial city of Trollhättan is known for its impressive locks along the 82km Trollhätte Canal and the Trollhättan falls, the highest in southern Sweden.
Although the falls don't have as much water as they used to, the sluice gates are occasionally opened so that they can be seen at their full strength.
Trollhättan is also home to the Saab Car Museum, where you can learn about 70 years of Swedish car history and admire Saab cars through the ages.
The fastest direct train from Gothenburg to Trollhättan take about 30 minutes, or it's an hour by car.
The Albert Kök Hotell is our top choice of place to stay, surrounded by trees on Strömsberg Hill, but just a ten-minute walk from the city centre.
Longer day trips from Gothenburg
Thanks to the region's great transport links, it is possible to travel further afield.
Karlstad
The handsome city of Karlstad can be visited on a day trip from Gothenburg, as long as you set off early. 
Once you're there you can take a boat trip round the city's waterways, or rent a SUP or kayak and explore at your own pace.
If you want to stay, this one-bedroom apartment is close to the centre, with views over a garden.
Trains run throughout the morning, taking around 2hr 30min to reach Karlstad. Book ahead and tickets go for as little as 200 SEK each way.
Oslo
It take around 3hr 30min to get to Oslo by direct Flixbus. Again, it's best to book as far ahead as possible for the best prices. 
There no shortage of things to do once you're there: read our guide to 50 free things to do in Oslo for some ideas. 
And if you want to stay the night, check out some of our favourite hostels.
Malmö
It takes around three hours, thirty minutes to get to Malmö from Gothenburg Central station, with a change of trains at Mölndal Nedre station just south of the city.
Once there it's easy to cross over the bridge to Copenhagen: read our guide for the best way to do this.
If you want ideas for things to do in Malmö, read 22 free things to do in Malmö. And click here to check out our favourite places to stay in Malmö.
Map of places to visit from Gothenburg