One of the world's most expensive cities, Oslo is well known for the slimming effect it can have on tourists' wallets.
While you're almost guaranteed to encounter pricey hotels, overpriced food and incredibly expensive beer (up to $12 for a pint!), there are plenty of activities to fill your day which are absolutely free.
From cultural sites and outdoor activities to stunning viewpoints and seasonal festivals, this guide will show you 50 ways you can enjoy your visit to Oslo without breaking the bank.
Use the menu below to hop between sections.
Museums and tours
Lakes, islands and nature
Window shopping
Viewpoints and lookouts
Seasonal activities
Historic sites and cultural experiences
Music and street performances
Urban exploration
Museums and tours
1) Gawp at Oslo's massive City Hall, which dominates the city's western waterfront and is free to enter and explore.
You can wander freely through various rooms, each of which showcases unique art depicting Norway's historic past and political struggles for a better future.
2) Stop by the Architecture Museum. Housed in the old headquarters of the Bank of Norway, this museum offers permanent exhibitions on the evolution of architecture over the past 200 years.
The museum is currently undergoing renovation, so not all areas remain open to the public. The good news is that while the renovations are taking place, entrance to the museum is completely free: check the website for the latest info.
3) History buffs will love the Museum of Oslo. This interesting museum is located in an old farm villa which once belonged to the city's richest merchant family, and its exhibitions trace the history of the city over the past 1,000 years.
Admission is free on Saturdays, and 100 NOK the rest of the week.
4) Bring out your inner botanist at Oslo's carefully cultivated botanical gardens, where you'll find over 5,500 species of plants from every corner of the world. Entrance to the gardens and greenhouses is free.
5) Visit Oslo's Theatre Museum. Explore Oslo's theatrical history, with displays of costumes and original props from productions from the 18th century onwards.
Admission is free on Saturdays, and 100 NOK the rest of the week.
6) Go back in time at the Labour Museum. Hidden behind the old industrial mills along the Aker River at Sagveien 28, this museum highlights daily life for the working classes in 19th-century Oslo. Entrance is free.
7) Explore the historic Akershus Fortress. Entrance to the fortress and its visitor centre is free.
Inside are several museums including the Armed Forces Museum, which features Viking-era weapons, massive cannons and displays on Norway's dramatic history during the Napoleonic Wars.
Admission to the museum costs 100 NOK, but all the fortress museums are free if you have an Oslo Pass.
To see if an Oslo Pass can save you money, read our guide. Or buy an Oslo Pass here.
8) Children will enjoy exploring the Oslo School Museum, with displays on school life in Norway stretching back over 100 years.
Based in the former teachers' residence at Møllergata school, the museum has three recreated classroom dating from 1900, 1950 and 1970 including maps, teaching material and furniture from these eras.
It's only open on Thursdays (noon to 6pm) and the last Sunday of every month (noon–4pm), but it's completely free to visit.
9) Based in a former police station, the Intercultural Museum in Grønland explores the thorny issues of race, immigration and cultural integration in Norway.
Using art, interactive displays, video and engaging exhibitions, it gives interesting insights into the influences of ethnic cultures on Norwegian society.
10) Norway's worst peacetime atrocity is explored at the July 22 Centre, which tells the story of the terrorist attack which killed 77 people on July 22nd, 2011.
The free museum is located in the government office block where a car bomb went off – its effects can still be seen on the building – followed by a co-ordinated mass shooting on island of Utøya.
Lakes, islands and nature
11) If Norwegian nature is what you crave then hiking in Nordmarka, the vast forest north of the city, is the quintessential Oslo outdoor experience.
This large wildness of rocky hills and hidden lakes is crisscrossed by dozens of trails and dotted by small cabin cafes, making it perfect for both short day hikes and multi-day backpacking adventures.
12) Take a trip out to the peaceful Østensjø lake on the edge of Oslo's eastern suburbs, which offers a pleasant place for leisurely strolls away from the crowds.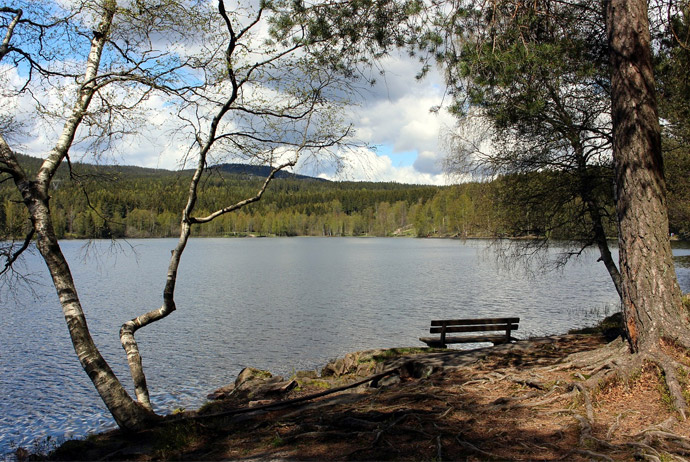 13) On warm summer days, join swimmers and sunbathers on the rocky Huk Beach on the Bygdøy peninsula, a 25-minute bike ride west of the city. It's a public beach with free entry to all – just be aware that clothing is optional.
14) Take a leisurely stroll or an early morning run in the mist around Sognsvann Lake.
Easily accessible from the subway station with the same name, a trip to Songsvann is an excellent way to join local Oslo residents in a short respite from the city hustle.
15) The boats out to the islands in the Oslofjord are included in the public transportation network and can be used like any bus or subway.
Grab a seat on one of the ferries and island hop between Hovedøya, Lindøya, Gressholmen, and Langøyene. Each island offers opportunities for swimming, sunbathing, barbequing, and even camping.
We've got tips on the best islands to explore here.
Is the Oslo Pass worth buying?
Read this guide to see how much you could save during your trip!
Window shopping
16) Bring your appetite and visit the Oslo Food Hall at Vulkan 5. Called Mathallen in Norwegian, the food hall offers a wide range of culinary offerings from around the world.
Entry is free, as is window shopping along the various food stalls, where you may be lucky enough to find some free samples on offer.
17) Stop by the Sunday afternoon Birkelunden flea market at Birkelund Square in the Grünerlökka neighbourhood.
You can browse the stalls of fresh farm goods, antique furniture, used books and vintage clothing, among many other offerings.
18) Take a stroll down Norway's most famous shopping street, Bogstadveien, which cuts a diagonal line through the city.
Designer labels, specialist stores and name-brand outlets are all found here, giving ample opportunity to stroll the sidewalks and take in the latest offers.
19) It costs nothing to browse round Oslo's markets, which sell everything from arts and crafts, local food, bric-a brac, pre-loved clothes and just about anything you may want.
They often have free live music too. Of course, we can't guarantee you won't spend lots of money once you're there!
For more on what you can get where, read our guide to bargain-hunting at Oslo's markets.
The chilling events of the day are recounted, with video footage and witness statements, plus details of the police investigation and ultimate conviction of a right-wing extremist for the atrocity.
Our five favourite almost-free tours!
If you fancy taking a tour, but can't afford to pay out loads, there are plenty of cheap alternatives that are just as much fun, but won't break the bank.
Go on a guided walking tour by app
This guided walking tour app takes you to ten of Oslo's top sights for a bargain price. With maps and an audio guide it leads you round the city on an hour-long walking tour giving you interesting facts and history about the sights you see. And because it's an app, you can do it at your own pace, stopping off whenever you like and resuming the tour when you're ready.
Have fun on a Viking treasure hunt
Add a little excitement to your sightseeing with this Viking treasure hunt outdoor escape game. Solve the clues and unlock the stories behind each sight, while learning interesting facts about Oslo and the Vikings as you go.
Take a combined scavenger hunt and city tour
This interactive scavenger hunt can be played on your phone and takes you round Oslo's landmark attractions as well as the city's lesser-known sights. It sets challenges and puzzles that can only be solved when you reach the next sight. You need to use logic and observation to unlock the clues to your next destination.
Have an outdoor adventure date in Oslo
Test your knowledge of Oslo and your partner with this outdoor date exploration tour. Designed for couples, it sets challenges and clues that will help to discover how well you really know each other. Do you work well together as a team? Answer funny and challenging questions about each other while exploring the sights of central Oslo.
Explore Oslo on a fun fairytale tour
Kids will love this fairytale app game based on the forgotten fairytales of the Brothers Grimm. Solve riddles and puzzles that unlock a new fairytale and take you to a different part of the city. Complete challenges while exploring the city on foot or by bike.
Viewpoints and lookouts
20) Situated on a forested hill above the famous Holmenkollen Ski Jump, the Frognerseteren Café and Restaurant is located is a rustic wooden villa offering spectacular views across Oslo and the surrounding fjord.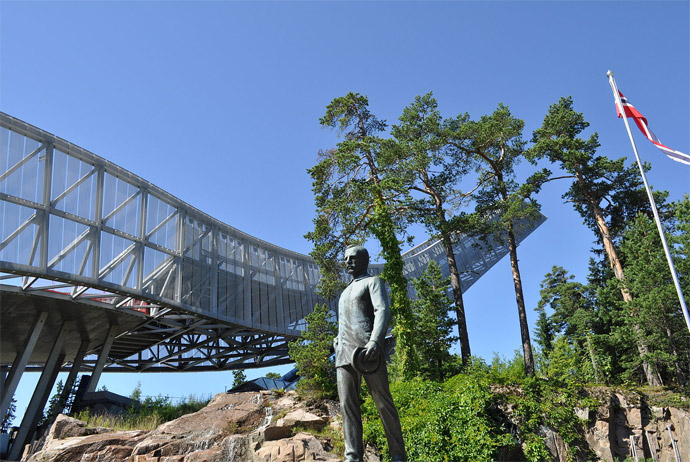 If you're hungry, the traditional Norwegian food inside is delicious and affordable, but for those on an extra-tight budget, the excellent views and nearby hiking opportunities are absolutely free.
To get there, take the subway to Frognerseteren and walk south for around five minutes.
21) For cheap eats with a view, pack a picnic and plop down on a grassy spot on the western battlements of Akershus Fortress.
With picture-perfect views of Oslo City Hall and Aker Brygge, this is a wonderful location to sit back, relax, and watch the sunset over the city while the ferries pass below.
We've got more tips on eating cheap in Oslo here.
22) Head up to Grefsenåsen, a forested ridge towering over the north side of the city.
From the parking lot just below the Grefsenkollen Restaurant, a short walk through the woods brings you to a rocky outcrop with magnificent views across all of Oslo.
23) Take the tram or walk to the viewpoint by the Ekeberg Restaurant, high above the ruins of the medieval city.
From here you can enjoy great views across eastern Oslo, including the city's Opera House and Fortress.
Seasonal activities
24) Make a special effort to be in town on Norway's national day, May 17th.
Norwegians from across the country descend on downtown Oslo dressed in their finest suits and beautifully detailed national costumes.
During the event the city is awash in Norwegian flags, and a huge parade goes down the city's main street and around the Royal Palace, where the King and Queen stand on the balcony waving to everyone marching by.
25) Soak up the sounds of the Mela music festival, held in Oslo every August. The city's largest free music festival hosts musical acts from around the world, as well as a wide selection of international dishes.
26) Amazingly, one of Norway's biggest rock festivals is completely free! Granittrock takes place over two days every May in Grorudparken in the east of Oslo.
The family-friendly festival is drug and alcohol-free, and attracts top Norwegian names plus a few international acts. So check it out if you're in Oslo in May.
27) Try something new at Oslo Culture Night. Every September, more than 150 of Oslo's cultural centres open their doors for a night of free experiences and entertainment.
From salsa dancing classes and concerts to cosplay workshops and film screenings, the annual event offers opportunities for everyone's interests. It's impossible to see everything, so read over the yearly schedule and plan ahead!
28) If you're in town during the holiday season, the Oslo Christmas Market along Karl Johans Gate offers classic Norwegian food, homemade gifts and souvenirs, plus entertainment for the kids.
It takes place from mid-November through to the end of December – entry and browsing the various stalls is completely free.
29) Go ice-skating for free – if you have your own skates! The Spikersuppa ice rink is open daily on Karl Johans Gate each winter from late November to March, and is free for all to use.
If you don't have your own skates, you can rent them for 200 NOK a day.
Historic sites and cultural experiences
30) Visit the Bogstad Manor and Farm. Originally owned by one of Oslo's richest merchants, Bogstad is a storybook example of 18th-century luxury.
Adults can enjoy the picturesque lakeside views and well-maintained English gardens, while kids will have fun meeting the barnyard animals at this working farm.
The grounds and parkland are free to explore: a tour of the manor house costs 140 NOK.
31) Step back in time with a walk around the medieval ruins. Oslo was a bustling port city in the Middle Ages, but the constant risks of war and fire forced the city to relocate two kilometres to a new location behind Akershus Fortress.
The ruins of the medieval townsite are still visible in eastern Oslo, just behind the Opera House, and can be easily explored in an hour.
32) Step inside Oslo Cathedral, which dates from the 17th century and features a variety of artistic styles, from baroque to modern. Entry is free, as are many of the special concerts which are held inside the venue.
33) Hop on the boat to Høvedøya, where you can explore the ruins of a medieval Cistercian monastery.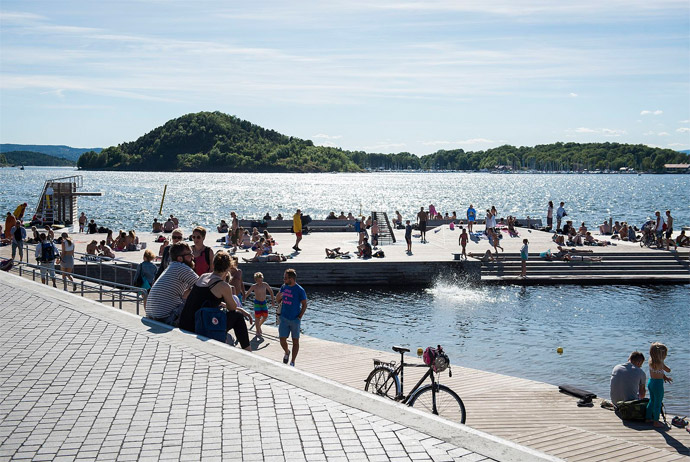 Careful not to pick any plants there, though – many of them are descended from herbs planted by the monks centuries ago, and have a protected status.
34) One of Oslo's most famous attractions is also completely free. The magnificent, open air Vigeland Park is home to over 200 granite and bronze sculptures from Gustav Vigeland.
His evocative portrayals of human figures at all stages of life, from the crying baby to the contemplative elder, will capture the attention of both young and old, making this a great place to take the kids.
Although the open-air park is free, admission to the museum costs 100 NOK – or free with the Oslo Pass.
35) Visit Old Aker Church, the oldest building in Oslo. This medieval church is tucked away on a small hill in the St. Hanshaugen neighbourhood, and has been in continuous use since at least the 12th century.
Inside, a small museum showcases relics from the church's nearly 1,000 year history. Entry is free, but opening times can vary so check online before you visit.
36) Spend some time in Oslo's House of Literature. This unique institution is a bookstore, café, and literary institution all in one.
There are year-round panel discussions on art, literature, and current events, and guest lecturers such as Haruki Murakami, John Irving, and Zadie Smith have been known to stop by.
Most events are free – check their website to see what's happening now.
37) Oslo's Royal Palace may not be as large as those in Copenhagen or Stockholm but its daily changing of the guard at 13.30 is still impressive, and free. The views from the palace hill down Karl Johan street aren't bad either.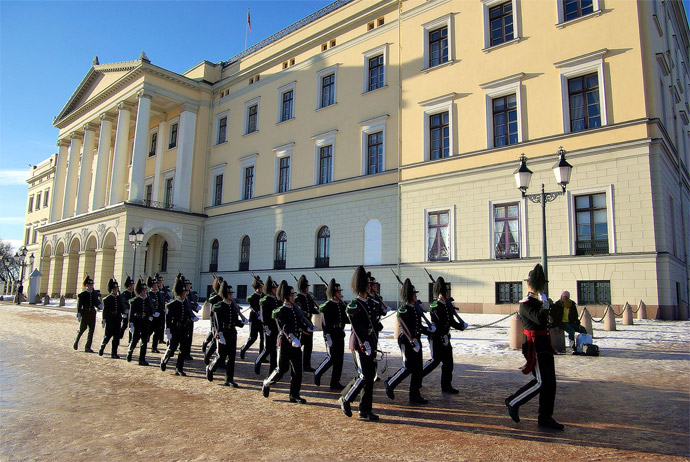 38) Tackle the steep climb up Telthusbaken, or its nearby neighbour Damstredet. Both of these streets showcase charming wooden homes from the 18th century.
While this style of house used to dominate the outer areas of Oslo, development has seen nearly all of them disappear.
Fortunately, community action has ensured Damstredet and Telthusbaken have protected status, so their old-style homes will remain for everyone to enjoy.
39) Get on the roof! No visit to Oslo is complete without climbing the roof of Oslo's Opera House, which offers views of the surrounding harbour and an opportunity to appreciate this architectural marvel up close.
40) Go celebrity grave-spotting in Æreslunden Cemetery, Norway's main honorary burial ground. Look out for the graves of famous Norwegians such as Edvard Munch Henrik Ibsen and Alf Prøysen.
Music and street performances
41) Every Sunday afternoon, head to Blå (Blue), a former gold and diamond warehouse that's now a great club and live music venue.
The Frank Znort Quartet has become an institution here on Sundays, playing a mellow acoustic set at 4pm – and entrance is completely free.
42) Stroll down the pedestrianised Karl Johanns Gate for some free entertainment, from buskers, street actors, outdoor performers and human statues.
43) Oslo cathedral often hosts atmospheric concerts, choral singing and organ recitals, many of which are free to attend. Check the cathedral website for the full programme.
Urban exploration
44) Discover Oslo's industrial heritage along the Aker River. Marking the divide between Oslo's east and west sides, the tree-lined banks of this winding river offer a pleasant respite from the bustle of the city.
As you near the city centre, the imposing brick factories from the industrial revolution – which have been recently repurposed into restaurants, offices, and apartments – add an urban touch to the natural surroundings.
45) Walk along Karl Johans Gate. Oslo's main avenue is the most photographed street in Norway thanks to the massive celebrations that take place here every May 17th (see above).
Leading from the Royal Palace in the west to the Central train station in the east, the street is home to plenty of shops, cafés and restaurants, street performances (see above), plus an ice rink in winter (see above).
46) Go west! The Lysaker River marks the western border between Oslo and the neighboring community of Bærum, and offers ample opportunities to walk, run and even fish along its banks.
Like the Aker River, plenty of industrial and historic buildings can be found here as well.
47) Meander along the seaside Oslo Promenade.
The entire waterfront of Oslo has been redeveloped over the past decade to create a nine-kilometre pedestrian pathway area stretching from Bygdøy in the west to the Opera House in the east, passing many of Oslo's best sites along its way.
48) Explore Grünerløkka, Oslo's coolest neighbourhood. Its independent shops, chic cafes, and multitude of pubs serving specialty beers make this the perfect area to visit when you're craving something a little different.
Read here for more about Oslo's hippest districts.
49) Check out some of Oslo's wonderful independent book stores – there are some great ones to choose from in this guide.
50) Head east to the district of Tøyen to check out Oslo's best urban art and graffiti by local and international street artists. This district is particularly rich in street art claiming to be Scandinavia's largest outdoor art gallery!
The tourist board has an interactive map online showing where some of the best art can be found.
See also:
Is the Oslo Pass worth buying?
Where to find cheap beer in Oslo
Eating on the cheap in Oslo