It's one of Sweden's most diverse and cosmopolitan cities, and there are loads of cool things to do in Malmö.
Linked to Copenhagen since 1999 by the iconic Oresund bridge, the Swedish city has adopted some of its Danish neighbour's free-thinking and progressive ideas and is now an appealing eco-friendly city with an alternative vibe.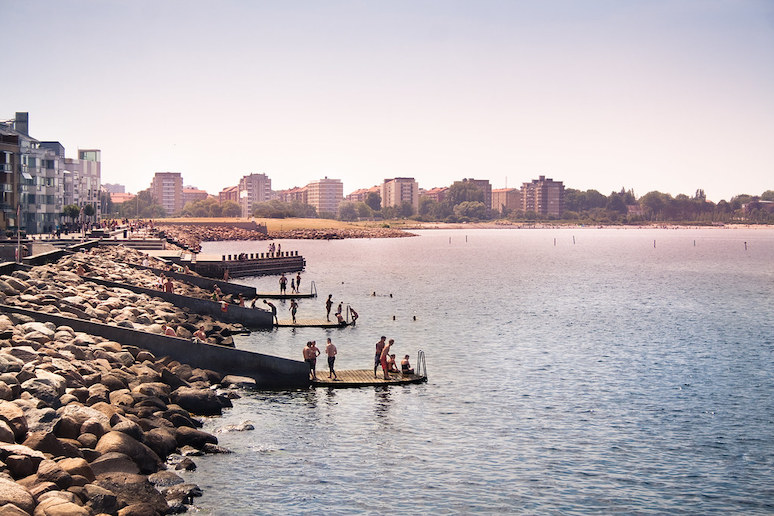 But we know that Sweden can be pricey, so we've checked out a load of things to do in Malmö that won't break the bank – and most won't cost you anything at all. So, if you're looking for free things to do in Malmo, you've come to the right place!
Sights and attractions
1) Explore Stortorget. Malmo's oldest square is the centrally located Stortorget, which was once Europe's largest market square. Dating from 1540, the square is surrounded by grand buildings including Malmo's sixteenth-century town hall.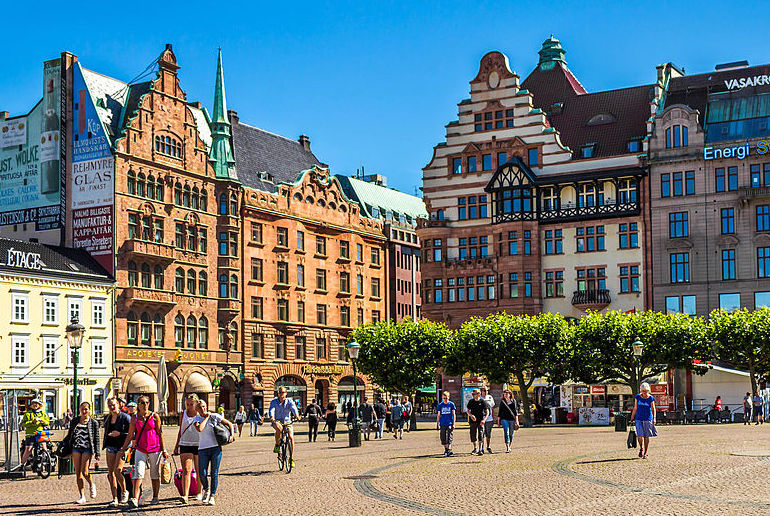 2) Admire the Kocksa Huset. This unusual, ornate gabled red-brick building was built in 1524 for the mayor of Malmo and master of the Danish mint, Jörgen Kock. You can't look round the house itself, but to get an idea of the opulence you could treat yourself to a glass of wine at the upmarket restaurant Arstiderna in the former wine cellars. It will set you back about 95 SEK (£8).
Fun and entertainment
3) Party in the summer. There are plenty of fun things to do in Malmo, especially during the longer summer days. For eight days each summer, Malmo's streets, squares and parks come alive to the sound of music, dance, food and fun. The Malmo Festival is a completely free city party, with musicians, art and craft workshops, films, theatre and food trucks.
4) Feel festive at Katrinetorp. One of the best things to do in Malmö in winter is to visit the Christmas market in the Katrinetorp country estate. It's free to visit the manor house and its attractive landscaped gardens year-round, but if you're here at Christmas, check out its market, one of the most beautiful in the region.
Museums and galleries
5) Get arty at Malmö's Moderna Muséet. The city's contemporary art museum is completely free to enter and is worth visiting for the building alone, which combines a former steam turbine hall dating from 1901 with an imposing contemporary annexe built in 2009.
It hosts a variety of exhibitions from Scandinavian artists, as well as the odd display of works by the likes of Andy Warhol, Picasso and Matisse.
6) Check out some cool Scandi design. Housed in an attractive former grain warehouse, Malmö's Form Design Centre is free to visit and has exhibitions on design, architecture, furniture, textiles, ceramics and all things Scandi chic.
Walks and bike rides
7) Have a waterside walk. Take a stroll around the regenerated dockland area of Western Harbour, or Västra Hamnen, with its landscaped canals, vibrant waterfront and the impressive Turning Torso building (see below). There are plenty of lively waterfront cafés, bars and restaurants and you get great views over the Öresund Bridge.
8) Get on your bike! One of our top things to do in Malmo is to explore by bike. Malmö is one of the world's most bike-friendly cities with plenty of dedicated cycle lanes and paths where you can ride safely. It also has the advantage of being very flat! 
9) Cycle the Sydkustleden This long-distance cycle path runs from Helsingborg to Simrishamn, via Malmo. The sections north and south of Malmo both make for a fun bike ride, following flat trails alongside windswept beaches and through pretty countryside.
Parks and nature
10) Chill out in Slottsparken. One of the best things to do in Malmo is to enjoy its many parks and green spaces, and Slottsparken – or the Castle Garden, in English – has plenty of mature trees and lawns to relax on. Together with neighbouring Kunsparken, it has two ponds, a lake and a canal, and this landscaped green oasis is also home to a windmill and the Malmöhus, or castle.
11) Picnic in Pildammsparken. Malmo's largest park is a lovely leafy spot with a large lake, plenty of lawns to picnic on and a pretty pavilion built for the 1914 Baltic Exhibition.
Tours and day-trips
12) Go Danish. If you're looking for things to in Malmo in one day, you could always go abroad! It's not quite free, but fares for the bus trip from Malmo to Copenhagen start from about £5, and the journey takes just 50 minutes. So, why not take a day-trip to a different country, just for the fun of it?
Shopping
13) Go bargain-hunting in Malmö's second-hand shops. Malmö is a great destination for pre-loved and vintage shopping, where you can pick up a bargain. There are loads of fascinating second-hand and charity shops to browse round: for more ideas, check out our guide to second-hand shopping in Malmö.
14) Take a peek inside the Apotek Lejonet. You don't have to be ill to visit Malmö's oldest pharmacy on Stortorget. Its grand gabled exterior is impressive while the interior is lined with old wooden shelves, cabinets and balconies. You can pop in and have look round even if you don't need to buy anything.
15) Lose yourself in the Drottningtorget flea market. On Sundays, this huge open-air flea market has stalls selling everything from genuine antiques to junk sold by locals having a clear-out. Even if you don't buy anything, it's fun to wander around and marvel at the quirky things that people sell!
16) Go window shopping along Sodergatan. Malmo's main pedestrianised shopping street, Sodergatan runs from the Stortorget down to the canal. It's the place in Malmo to browse around the shops – and look out for the quirky Optimists Orchestra street sculpture at the Stortorget end.
Viewpoints and lookouts
17) Don't miss the Turning Torso. Definitely up there in our top 10 things to do in Malmö is to check out Scandinavia's tallest skyscraper, the towering Turning Torso, designed by Spanish architect Santiago Calatrava.
At nearly 200 metres high and with 54 floors, it can be seen from pretty much anywhere in Malmö. Unfortunately, it's closed to the public, but you can get a good idea of its height from the Western Harbour area below.
Eating and drinking
18) Hang out at the Lilla Torg. If you're looking for things to do in Malmo at night, head over to the pretty medieval Lilla Torg which is packed with bars, restaurants and cafés, whose tables spill out from half-timbered buildings onto the cobbled square. It's the place to come for an evening meal or drink to just to soak up the lively atmosphere.
19) For cheap eats head to the food hall. The Malmo Saluhall has a wide selection of food stalls, serving up everything from falafels and toasted sandwiches to noodles, sushi and salads. For more ideas on where to eat on a budget, check out our guide to cheap eats in Malmo.
Things to do with kids
20) Have fun on the beach. Just a twenty-minute walk from the city centre, Ribersborg beach is a 2.5 kilometre-long stretch of sand where kids can run around and swim, or simply sunbathe on a summer's day.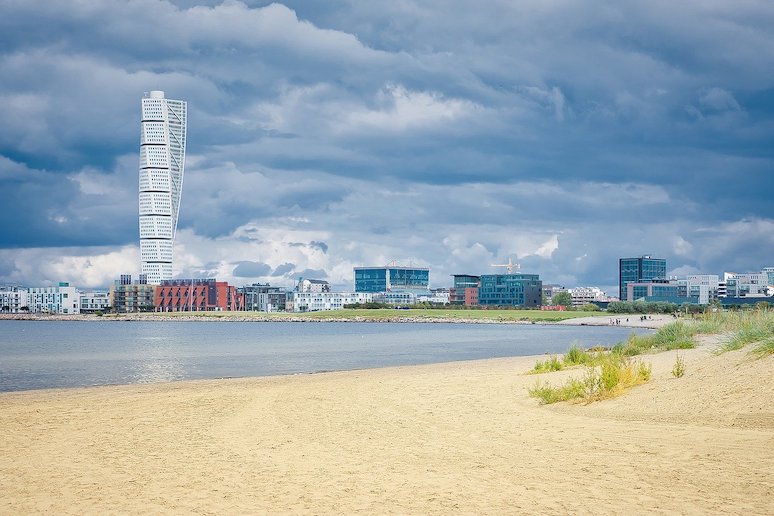 21) Practise your skills in the half pipe. Malmö is home to one of Europe's largest skate parks, the Stapelbaddsparken in Västra Hamnen, which is completely free to use. There's also a climbing wall and roller-skate track here too.
22) Hang out in Folkets Park. This busy urban park, whose name means the People's Park, hosts plenty of kids' entertainment in summer, including bouncy castles, family-friendly theatre performances and crazy golf.
See also:
Where to stay in Malmö
Getting around Malmö
Should you buy the Malmo city card?
Like what you've been reading? Get our best tips by email!