From the centre of Gothenburg it's only a short bus or tram ride across the river to Hisingen. Despite this area being just minutes away from the city's main attractions, few tourists seem to bother crossing over for a look around – and we reckon that's a real shame!
This big, underestimated island (it's Sweden's fifth biggest) has great transport links and an abundance of fun sights and activities, from cool-as-hell cafés and exquisite bars to pretty parks and swimming spots. And yes, there's a museum full of Volvos.
So why not unleash your inner explorer and venture across the Göta Älv river to the handsome island of Hisingen? Here are some of our favourite spots to check out when you arrive.

Things to see and do
Ramberget viewpoint
For a fantastic view over Gothenburg, head up towards Ramberget, a five-minute walk south of the tram stop called Wieselgrensplatsen.
A neat, asphalt road twists up towards the summit, some 87 meters above sea level. On clear days you can expect to see local lovebirds who've driven to the top to enjoy views over towards the low-slung islands of the Gothenburg Archipelago.
Is the Gothenburg Pass worth buying?
Read this guide to see how much you could save during your trip!
The Volvo Museum
If you'd rather see cars at sea level, check out the Volvo Museum at Arendal Skans, around 14km west of the city centre. The museum takes you through the whole history of Volvo cars (including the invention of the three-point seatbelt) and lets you admire vehicles from as far back as 1927.
You can also learn about new safety innovations by the Swedish brand, which has a very noble and ambitious vision: the aim is that by the year 2020, no one should be hurt or seriously injured in a new Volvo. Entry is around 100 SEK for adults, but admission is free with the Gothenburg City Card.
The Volvo Museum, Arendal Skans
Mon–Fri 10am–5pm, Sat & Sun 11am–4pm
Jubileumsparken
If the weather's good, there are few nicer places to be than Jubileumsparken, an outdoor park and leisure area that's being built at Frihamnen to mark the 400th anniversary of Gothenburg's foundation.
That big milestone won't be reached until 2021 but there's already lots to enjoy, from soaking in the open-air pool, which is connected to the Göta Älv river, to baking in the spectacular public sauna. Built mostly from recycled materials, it's free to visit but you'll need to make a booking online in advance (the site is in Swedish only).
Eriksberg
No trip to Gothenburg is complete until you cross the river by ferry. Take one from Stenpiren or Lilla Bommen on the south side of the river and get off at Eriksberg.
This fast-growing area has plenty of new-ish bars and restaurants worth trying, and a stroll along the river here is a great way to spend an afternoon. Try Restaurang Piga at Ostindiefararen 11, which serves up everything from hamburgers to fresh fish and oysters.
Aftonstjärnan
The oldest cinema in town still screening movies, Aftonstjärnan also doubles as a theater, an opera house and a concert hall. Even if you don't have the time or the inclination to watch a show, you might want to drop in for one of their famously good semlor (cardamom-spiced buns), usually sold before the start of Lent. The venue is at Plåtslagaregatan 2, a short walk south of the bus stop at Sannegårdshamnen.
The Swedish Ship Götheborg
If you're already in Eriksberg, be sure to check out the Götheborg ship at Pir Fyra 2. This huge wooden sailing boat is an exact replica of an East Indiaman ship, and was built in 1995 using the same tools that would have been available in the 18th century. It's one of the biggest wooden sailing ships in the world.
You can take a guided tour of the boat (in Swedish or English) every day during summer (1st June–31st August). Tickets cost 120 SEK per person.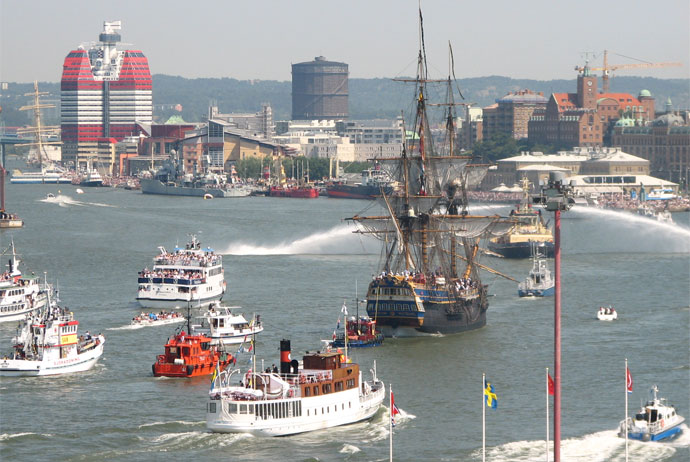 Eating and drinking
Llama Lloyd
This quirky coffee shop should be high on your Hisingen hit list. Offering a 10% discount to anyone who arrives by bike, Llama Lloyd has built up a reputation for selling tasty, local, organic food. Its bold ambition is to support cycling and an environmentally friendly approach to the classic Swedish fika break. The soup is homemade and there's local art to enjoy while you slurp Swedish-roasted coffee.
Väderkvarnsgatan 16a
Tues–Sat 11am–6pm
RECOMMENDED HOTELS IN GOTHENBURGMORE HOTELS
Rosa Mi
A legendary Hisingen café and takeaway, Rosa Mi opened way back in 1956 and still serves tasty sandwiches and classic Swedish köttbullar (meatballs), which might just be the biggest we've ever seen. Otherwise this café stands out from the crowd thanks to its welcoming, old-school vibe and its crack-of-dawn opening times – the coffee starts flowing at 5am on weekdays.
Nansensgatan 2
Mon–Fri 5am–3pm, Sat & Sun 7am–2pm
Cuckoo's Nest
Proving that not all of Gothenburg's best bars and restaurants are in the centre of town, Cuckoo's Nest is a good option for upscale waterside dining and drinks. Part of the Radisson Blu hotel, it's right near the Lindholmen Science Park and does a nice job of mixing science-themed interiors with cosy Swedish charm. As with most restaurants in Sweden, the lunches are better value than the dinners.
Radisson Blu, Lindholmspiren 4
6.30am–late (opens at 7.30am on Sat & Sun)

Kville Saluhall
A relatively new addition to Hisingen's burgeoning dining scene, this two-storey market and food court is a great alternative to the much more touristy Stora Saluhallen food hall on Kungstorget.
Local specialities are accompanied by goodies from as far afield as Italy, Peru and Hungary, and the casual restaurants on the upper level do great lunchtime specials with surprisingly low prices. Definitely worth a trip if you're hungry and want to eat on a budget.
Gustaf Dalénsgatan 2
Mon–Fri 10am–7pm, Sat 10am–4pm (restaurants open at 11am)
Where to stay on Hisingen
If you like the laid-back, local vibe on Hisingen and want to do some serious exploring then you might want to stay for a night or two. Luckily there are a few good places to rest your head.
Affordable, basic rooms are on offer at Hisingen Hostel. Or if you want to splash out, try the Radisson Blu (mentioned above), which is right by the waterfront.
Map of things to see and do in Hisingen, Gothenburg
Like what you've been reading? Get our best tips by email!