Staying at a hotel in Oslo certainly isn't cheap, so if you want to keep costs down you might want to crash at a hostel instead.
The hostelling scene in Oslo isn't as developed as in Stockholm or Copenhagen, but there are still some good options that are clean, comfortable and – most importantly – friendly enough on the wallet for budget travellers to enjoy.
Whether you want to party until the small hours or just have somewhere peaceful to rest your head, you'll not be left wanting in Oslo. Here are five of the best hostels the city has to offer.
Saga Poshtel Oslo
A modern, stylish lobby welcomes you at Saga Poshtel Oslo Central, a relatively new addition that promises a 'posh, upscale' hostel experience – hence the unusual name.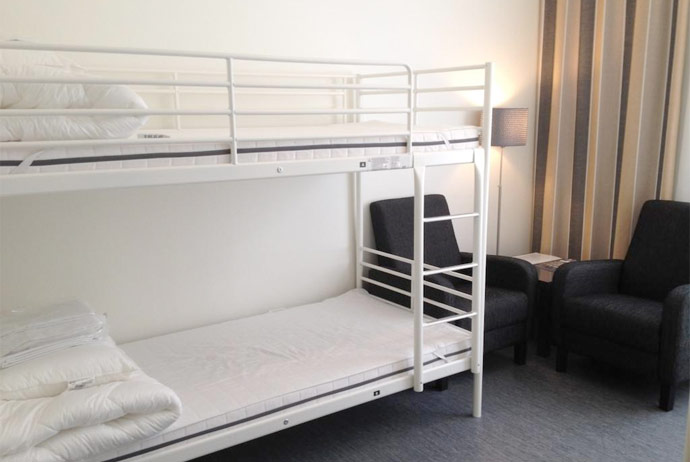 Saga Poshtel offers rooms and dorms with 2–12 bunk beds, some with their own bathrooms and others with shared facilities. Bedding and towels are included in the price, as is wifi. You also get a decent breakfast (included in the price) in the morning.
The whole place is bright and welcoming. Large windows allow natural light into the lobby lounge where couches (with minimal Scandinavian styling, of course) offer a great place to sit back and plan your day in the city.
The downstairs area features a large seating and dining area, as well as a tastefully decorated TV lounge with a huge screen and plenty of couches and chairs. When we visited, though, the whole common area was a bit empty, despite the hostel being fully booked.
Saga is located in the Kvadraturen, a grid of streets dating from the 17th century right behind Akershus Fortress and within easy walking distance of the train station. It's also handy for ferries to and from Denmark, so if you're coming by boat then staying at Saga is a good choice. From here it's also just a short walk to Karl Johan street and downtown, and is fairly close to both the Opera House and Aker Brygge as well.
Kongens gate 7
Is the Oslo Pass worth buying?
Read this guide to see how much you could save during your trip!
Central City Hostel
More of an apartment hotel than a conventional hostel, the Central City Hostel is an attractive converted industrial building that has been divided into apartments.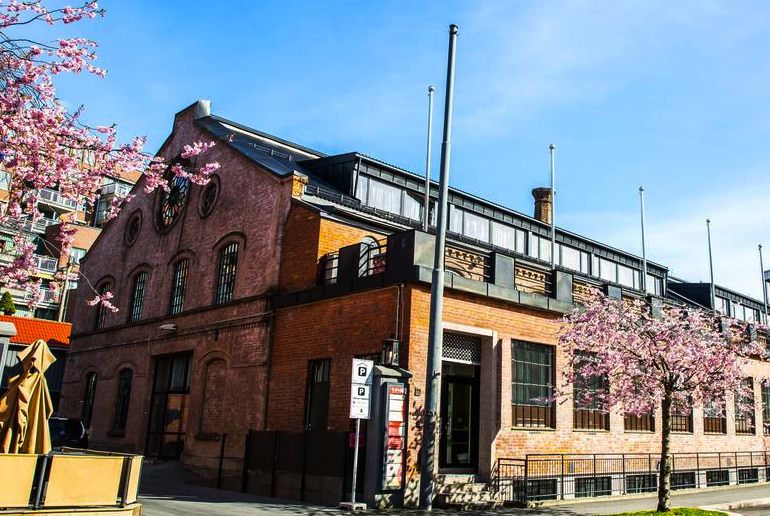 Each apartment has private twin rooms that are rented out individually plus a kitchen, bathroom and communal living space that is shared with the other people in the apartment.
There's also a 24hr reception and restaurant/bar downstairs in the lobby. Linen and towels are included in all the rooms, but be warned that some of the bedrooms have no windows.
The hostel's main plus point is its location. In Oslo's Kampen district, it's right by the Tøyen metro station and a stone's throw from the Munch Museum – and a 20-minute walk from the centre of the old town.
The rooms and facilities here are basic, so the Central City Hostel may not be everyone's cup of tea, but it is cheap and cheerful, and in a great location.
Kjølberggata 29B
Oslo Hostel Haraldsheim
Just outside the city centre, this lovely hostel is perfect for families. It's on the crest of a hill in a quiet residential area, and is right on the edge of a huge park with a frisbee golf course and plenty of room for kids (and big kids) to run about and play.
A spacious outdoor eating area, along with a ping-pong table and an oversized chess board, greet you on your arrival, and the staff are incredibly friendly and accommodating. A bed in a dorm here goes for around 350 NOK a night, including towels and sheets.
Haraldsheim has a huge kitchen with refrigerators where you can store and prepare your own food, or you can pay extra for the all-you-can-eat breakfast buffet. There's plenty of parking and the rooms are spacious, though the shared bathrooms are a tad run down. The upstairs common area is well-lit, comfy, and offers good views out across the city and the Oslofjord.
The hostel is a bit isolated if you don't have a car, but there's a tram stop around five minutes' walk away down calm residential streets. From there it's a 12-minute ride downtown.
There are no major attractions nearby, though, so this isn't the best location if you plan to do lots of sightseeing in central Oslo. But if you're driving into the city, or travelling with kids, we reckon Haraldsheim is an excellent and affordable choice.
Haraldsheimveien 4
Cochs Pensjonat
Cochs Pensjonat is housed in an apartment building from the early 1900s. Parts of this place have been maintained well and retain an elegant charm, while other parts look a little drab. The TV lounge seems to have been done up to resemble a doctor's waiting room, but it does have decent selection of reading material, a large screen TV, and a couple couches to relax on.
One of this guesthouse's best features is its location – you can't get more central than this. It's just behind the Royal Palace, right across the street from the Literature House, and at the beginning of Bogstadveien, the busiest shopping street in Oslo.
The entire city really is right outside your front door, offering oodles of free things to do. The nearby tram stops ensure you can reach anywhere else in town quickly and easily.
Cochs Pensjonat is more of a guesthouse than a hostel, but it's still cheaper than most hotels in the city. A budget room with four beds costs around 1300 NOK a night, which is comparable to some of the other hostels mentioned here. Premium twin rooms can run up to around 1000 NOK, offering private bathrooms and flat-screen TVs.
Some rooms come with a small kitchenette, so if you want to keep your dining costs to a minimum then be sure to ask for one of those at reception. Alternatively, guests can get a discounted breakfast at the next door café.
Parkveien 25
Club 27
This arty backpackers' hostel has a comfy communal lounge area with a book exchange and dart board. The décor is an unusual mix of chipboard walls and furniture and quirky colourful murals.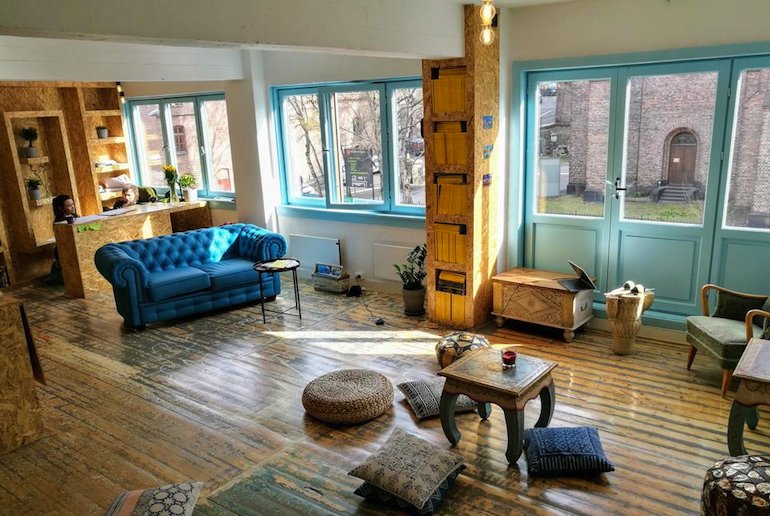 The mixed and single-sex dorms have bunk beds and the bathrooms are all shared, but it's well-equipped with laundry facilities and there's free tea, coffee and milk available in the communal kitchen.
The building is right in the centre of the city, conveniently located near the main bus and train stations, though the hostel entrance is in a small alley and quite tricky to find – once inside the building, the hostel itself is on the third floor.
The reception is not manned all day, but you'll be given entrance codes to access the building. Overall, it's a clean and friendly hostel, and one of the cheapest places to stay in central Oslo.
37 Grønlandsleiret Unit 3, 5
Oslo Vandrerhjem Rønningen
Part of the Hostelling International network, Oslo Vandrerhjem Rønningen is a seasonal hostel open every summer from May to August.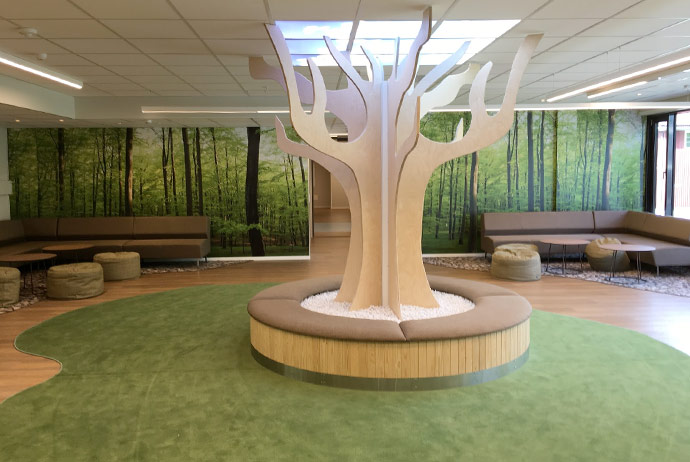 It's located on the campus of Rønningen Folk High School, and the hostel's rooms are the school's dorm rooms which are rented out to travellers when students head home for the summer. Though it's on an academic campus, the hostel still offers excellent facilities including a breakfast bar (with a good breakfast included in the price), seating areas, two pool tables, and a large common area.
The rooms are modern and clean, if a little spartan. Single rooms are available, including options with private bathrooms and others that share toilets and showers down the hallway. Some rooms are located upstairs, while others are in an annexe just a short walk away.
Be warned, though: this is the most isolated of all the hostels on this list. The only bus in the area comes just twice an hour, and it's a 15-minute walk to the nearest tram station, then a 30 minute ride from there into downtown, so this might not be the best choice if you're keen to see the central tourist sights.
Rønningen's location is perfect, however, if your interests lie more in the great outdoors. Situated near Oslo's urban growth boundary, Rønningen is right on the doorstep of Nordmarka, the vast, unspoiled wilderness north of Oslo.
From the hostel you can easily walk or catch a bus up into the woods, and from there enjoy a scenic stroll, a long day hike to a rocky summit, or even a multi-day backpacking adventures deep in the rolling, rugged hills.
Myrerskogveien 54
Prefer Airbnb? Get 326 NOK off your first stay with this code.
Map of hostels in Oslo