Even though Oslo is a busy capital city, it's actually very easy to escape the bustle and get back to nature. There's no shortage of natural beauty spots and accessible hiking trails within easy reach of the city – and we're here to help you find the best ones!
Some of these hikes circle around lakes or weave between trees in the forest, while others lead up to mountain peaks with panoramic views of the landscape.
Below are a few of our favourite hikes, ranging from easy to moderate, that you can do in a day-trip from Oslo by car or on public transport.
Kjerkeberget
At 631 metres above sea level, Kjerkeberget is both the highest and northernmost point within the Oslo city limits, and its peak gives beautiful views over the Nordmarka forest.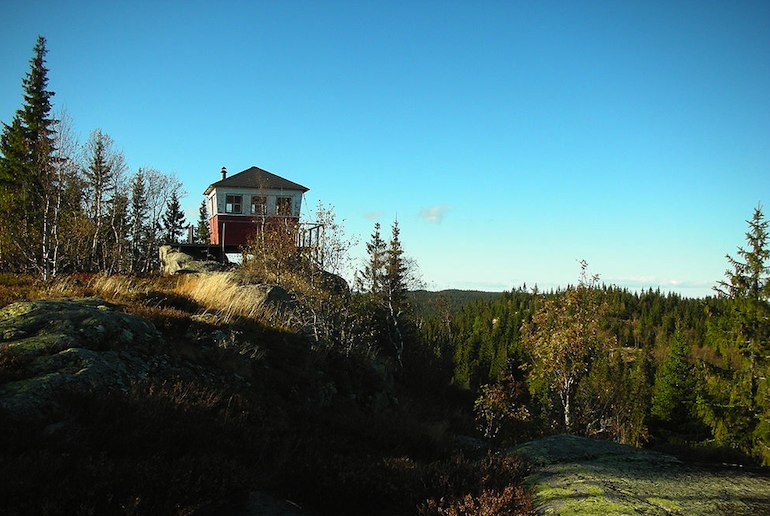 The 23km hike up Kjerkeberget begins at Sørkedalen school and continues towards Finnerud. It takes the average hiker around 5 hours to reach the top – and about 3hr 30 minutes to get back down again.
Another option is to cycle along the gravel path to Sandungen farm, then continue on foot from there along the blue-marked trail.
Getting there
Bus #41 goes hourly from Røa to Sørkedalen. Alternatively, drive from Røa to Sørkedalen on Sørkedalsveien, then turn right onto Zinoberveien and follow the road a short distance to the car park.
Is the Oslo Pass worth buying?
Read this guide to see how much you could save during your trip!
Lysakerelva
This lovely riverside walk follows the Lysakerelva, or Lysaker River, along the county border between Oslo and Bærum, passing rapids and waterfalls en route. Since the 12th century the river has been used as a source of power for mills and factories, but today it's a popular destination for nature lovers.
The hike begins at Bogstadvannet, which is the source of the river, and ends in Lysaker, where the river meets the fjord. It's an easy, relatively flat walk of just over 8km and takes from 90 minutes to three hours to walk.
Getting there
Since Lysakerelva is a point-to-point hike, it's best to arrive by public transport. From Røa, take bus #32 to Bogstad Camping and begin hiking from the south side of Bogstadvannet.
The Bygdøy Peninsula
Close to the centre of Oslo, on its west side, the Bygdøy Peninsula is both a residential community and a forested nature area.
There are many marked trails that weave between the local neighbourhoods and trees, a favourite of which is the path to the sandy beach at Huk.
This 6.5km round-trip hike hugs the western edge of the peninsula and then turns inwards, passing the Bygdøy Chapel and the Bygdøy Royal Estate on the return leg of the trail.
If you'd rather not go it alone, there's a really nice private tour that lets you explore this area with a knowledgable guide.
Getting there
Take bus #30 from downtown Oslo to Bygdøy and get off at either Karenslyst Allé or Huk. Alternatively, drive to one of the many car parks on the peninsula. Note that these are paid car parks which take credit cards only.
Kolsåstoppen
The 8km round-trip hike to Kolsåstoppen involves climbing two 'peaks' – a north peak at 379 metres above sea level and a south peak at 342 metres above sea level.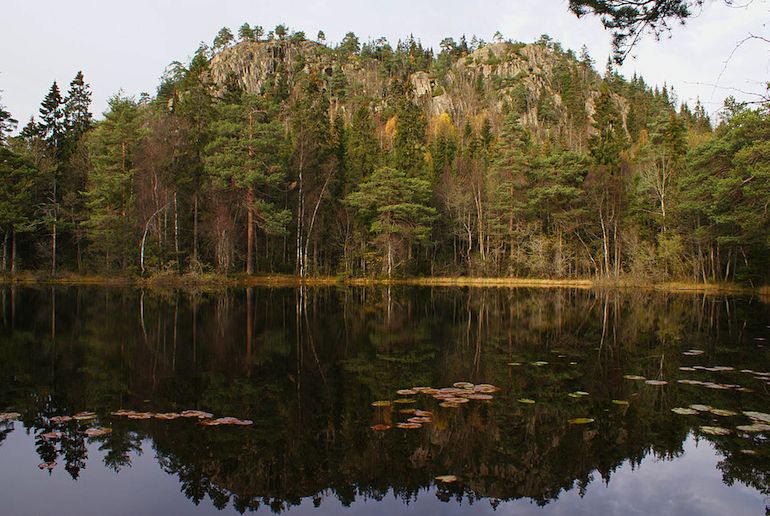 The hike begins at the Stein Farm car park. From here, you follow the old road to the blue-marked trail labelled Nordre Kolsås, and take that path to the top.
From the north peak, you'll need to backtrack slightly to a small lake called Setertjern, then continue onwards to Søndre Kolsås, the south peak. This moderately easy hike is well-marked and takes 4 hours to complete.
Getting there
Take bus #150 to Stein Farm from either Bekkestua or Bærums Verk. Alternatively, drive to Stein Farm and park on the north side of Rv168.
Songsvann
A lake to the north of Oslo, Songsvann is a top destination for hiking, running and swimming. The most popular trail in this natural area is the 3.3km loop that circles the lake, along a well-maintained gravel path surrounded by trees.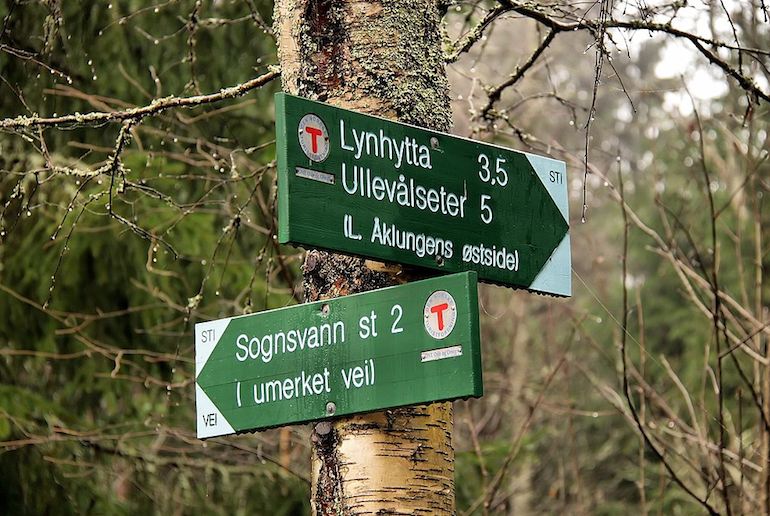 The trail is relatively flat and suitable for both wheelchairs and baby strollers. It takes about an hour to walk around Songsvann, though there are plenty of other paths to explore that leave the main path at several points along the lake.
Getting there
Take metro 5 in the direction of Songsvann and get off at the last station. The trailhead is just a couple hundred metres from here. Drivers should follow Sognsveien to the free public car park by Sognsvann lake.
Gaustatoppen
Some 180km east of Oslo in Norway's Telemark region, Gaustatoppen is a long yet popular day-trip from the country's capital. The mountain stands some 1883 metres high, and from the top you can see over huge swathes of Norway – and even to parts of Sweden on a clear day.
This 8.6km round-trip hike may not be that long, but it has an elevation gain of 660 metres and typically takes around 2 to 3 hours to get the top – plus the same again to get back down. Alternatively, you can ride the Gaustabanen funicular railway to the peak, which takes around 15 minutes.
Getting there
From Oslo, follow the E18 and E134 to the Fv651: between Tuddal and Rjukan, you'll see a large parking area and the Stavsrohytta café. The path up Gaustatoppenm, which is well-marked all the way with red Ts, leaves from here.
See also:
8 great hiking tours in Norway
6 of the best long-distance hikes in Norway
7 of the best Airbnbs in Oslo
Five cool Oslo neighbourhoods you have to check out
Like what you've been reading? Get our best tips by email!