One of Norway's most celebrated artists, Edvard Munch was an often misunderstood individual whose talent went far beyond his iconic Scream painting.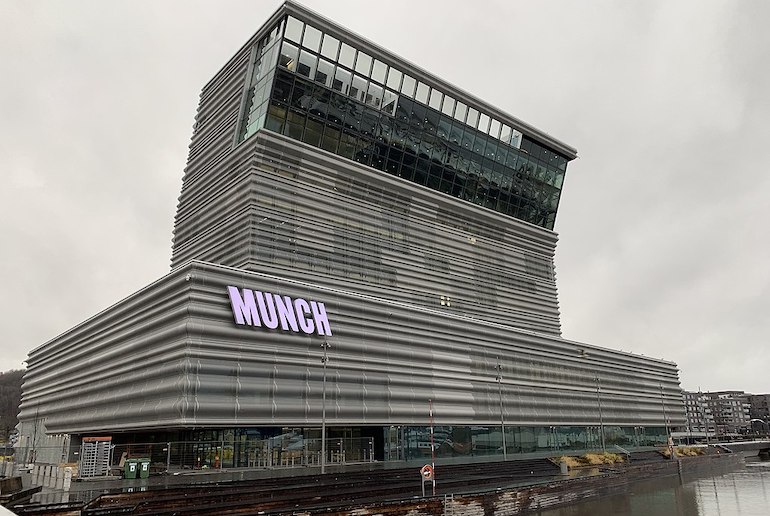 Munch spent much of his life in Oslo, and his legacy now has a new home in the recently-renovated Munch Museum.
The new museum is in an impressive modern structure along Oslo's upscale waterfront. Entry is, like many things in the Norwegian capital, pricey – but is it really a Scream? And is it really worth paying for? Let's find out.
What's the museum like?
What are the exhibits like?
Who's the museum for?
Practical info
Our verdict: is it worth visiting?
What's the Munch Museum like?
Located right by the waterfront in the heart of Oslo, the new Munch Museum opened in October 2021 and covers 13 floors.
It's one of Norway's most comprehensive art museums, and there's enough variety to keep you busy for a couple of hours at least – even if art isn't usually your thing.
In fact, considering how much there is to see and do, this place feels more like a cultural centre than a museum.
Besides admiring famous works of art and learning about the life of Edvard Munch, the museum is also a place to play. For example, up on the seventh floor, you can create your own version of Munch's art.
We particularly love the top of the museum, too, which offers perhaps the best view of Oslo's Sørenga and Bjørvika neighbourhoods – plus you can see the Oslofjord from up here too.
You can buy tickets on the day of your visit (subject to availability, of course), and prices are the same as if you reserve ahead.
But the Munch Museum is very popular, so you should consider booking beforehand. You don't need to choose a time slot, but we do recommend going early if you want to avoid the crowds.
Handily for parents visiting with kids, the Munch Museum has free lockers where you can safely store your bags.
What are the exhibits like?
Your main reason for visiting the Munch Museum might be to see The Scream, and you can certainly see one version of the iconic painting on the fourth floor.
However, the museum also displays more than 200 of Munch's other works as permanent exhibitions.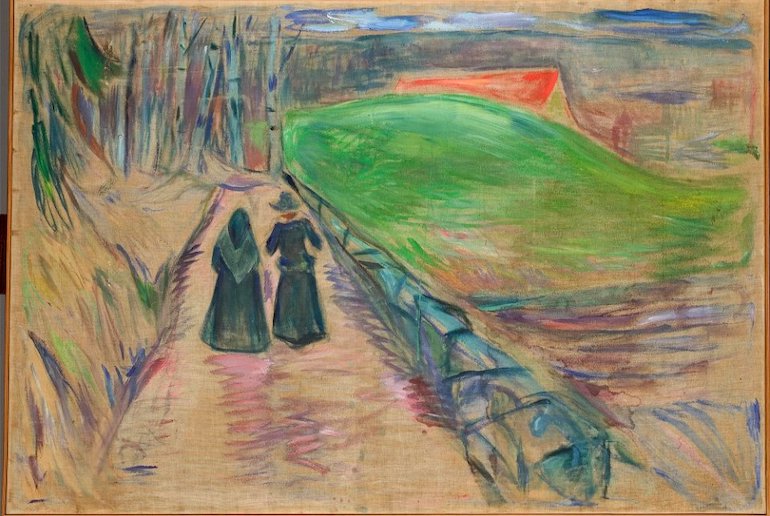 Besides paintings, you can also see numerous artefacts from Munch's life in Norway and other European cities such as Berlin.
Furniture from the artist's home in Oslo's Ullern district is also on display, though you aren't allowed to touch it. The same goes for much of the artwork you see.
That's not to say that the Munch Museum experience isn't interactive, though. As you wander around each floor, you can view videos explaining the artist's life in more detail.
For example, there are videos of the area around where Munch lived for almost 30 years until his death in 1944.
Is the Oslo Pass worth buying?
Read this guide to see how much you could save during your trip!
Who is the museum best for?
The Munch Museum isn't just a celebration of the artist's life – it also aims to inspire all kinds of people to bring their ideas into the world. Who will the museum appeal to most, though?
Art lovers
Art lovers won't want to miss the Munch Museum in Oslo, which is home to some of Europe's most important works of Expressionist art.
The new space is well-thought-out and each floor has a different theme, which all combines for a thoroughly rewarding experience.
You can also create your own masterpieces and take those with you.
History fans
Munch lived during a transformative period of history, and he was around at the same time as iconic artists like Salvador Dalí and Pablo Picasso.
The Munch Museum does an excellent job of explaining Munch's influences and how his travels shaped his art.
Practical info
How much are the tickets?
| | |
| --- | --- |
| Adults | 160 NOK (or free with the Oslo Pass) |
| Youths (17–25) | 100 NOK (or free with the Oslo Pass) |
| Children (under 17) | Free |
TIP: Entry to the Munch Museum is free for everyone on Wednesdays from 6–9pm!
Members of other selected Scandinavian museums, such as the Louisiana Museum in Denmark and Bergen's KODE Museum, get free admission too. Art students with a valid ID can also enter for free.
Entry to the Munch Museum is also free with an Oslo Pass. Read our guide to find out if buying an Oslo Pass can save you money.
An audio guide add-on is available for 49 NOK. If you decide not to get an Oslo pass, you can book museum entry tickets here.
Is the museum open every day?
The Munch Museum's normal hours are:
Wednesday–Saturday: 10am–9pm
Sunday–Tuesday: 10am–6pm
The whole place is closed on 1st May each year, but it opens from 10am–6pm on most other holidays in the Norwegian calendar, except for Christmas Eve and New Year's Eve, which have reduced hours.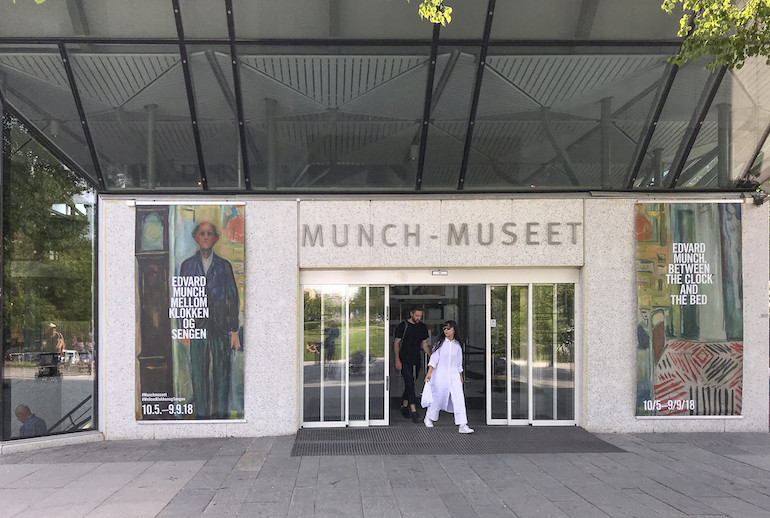 Where is the Munch Museum?
The Munch Museum's address is:
Edvard Munchs Plass 1, 0194 Oslo, Norway.
Getting to the Munch Museum
You can walk to the Munch Museum in under 10 minutes from Oslo Central Station. Alternatively, you can take tram #19 to Bjørvika – it's a three-minute walk to the museum from there.
Driving around downtown Oslo is quite difficult, and we don't recommend doing so unless you really have to. Cycling is quite simple, however, and you'll find parking spots for your bike outside the museum building.
What do people say about the museum?
The Munch Museum building is polarising; some people love the exterior design, whereas others view it as an eyesore.
Some users have commended the museum's layout and how it's not just all about The Scream.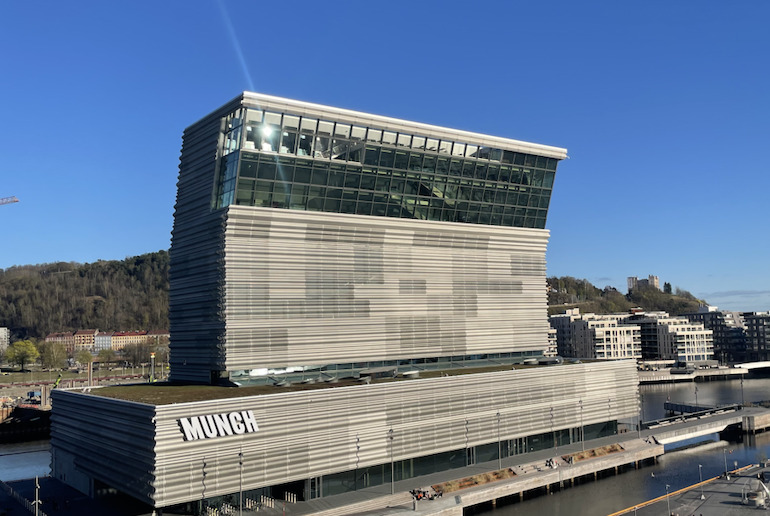 The view from the top receives lots of positive feedback, and the effort put into showcasing Munch's personal life – not just his art – is also widely appreciated.
On the downside, some visitors aren't huge fans of the café. We think it's a little overpriced and would recommend eating elsewhere before your visit (you'e right in the centre here, so there are loads of options nearby).
Our verdict: Is the Munch Museum worth it?
We love the museum's look and the layout of the galleries. It has a lot of natural light and is very easy to navigate, despite it being such a huge place.
Each exhibition has been carefully planned, too, and the effort is visible in the end results. The view from the top is also great.
While the museum has lots of child-friendly activities throughout the year, the exhibitions themselves could perhaps have more things to do for kids. But at the same time, it's hard to strike a balance when works of art are on show.
If you're a Munch fan or even vaguely like art in general, we think that this museum is a great way to spend an afternoon.
FAQs
Is the Munch Museum suitable for kids?
The Munch Museum has a selection of kid-friendly activities, but supervising them in the areas with artwork might be a good idea. The museum recommends that you let your children lead and follow their curiosity.
Is the Munch Museum suitable for people with disabilities?
The Munch Museum has elevators and spacious floors to accommodate wheelchair users. For those with visual impairments and hearing difficulties, special tours are available. Wheelchair companions can obtain free entry.
What else can you do nearby?
The Oslo Opera House is close to the museum, and its roof is worth climbing on for the view of Norway's largest city.
Oslofjord tours and sightseeing trips also start not too far away. There are many restaurants and cafés nearby, too. We recommend Godt Brød Munch Brygge for coffee, sweet treats and sandwiches.
How long do you need at the Munch Museum?
The Munch Museum is quite large, and you should set aside 3–4 hours to cover everything.
See also:
Our guide to Oslo
Stockholm's Abba Museum: is it worth visiting?
Is the Vasa Museum worth visiting?
Like what you've been reading? Get our best tips by email!