Crossing rivers and other difficult terrain is part of the fun of travelling off road in Iceland. So booking a super jeep tour can be a smart idea if you're thinking of getting off the beaten track.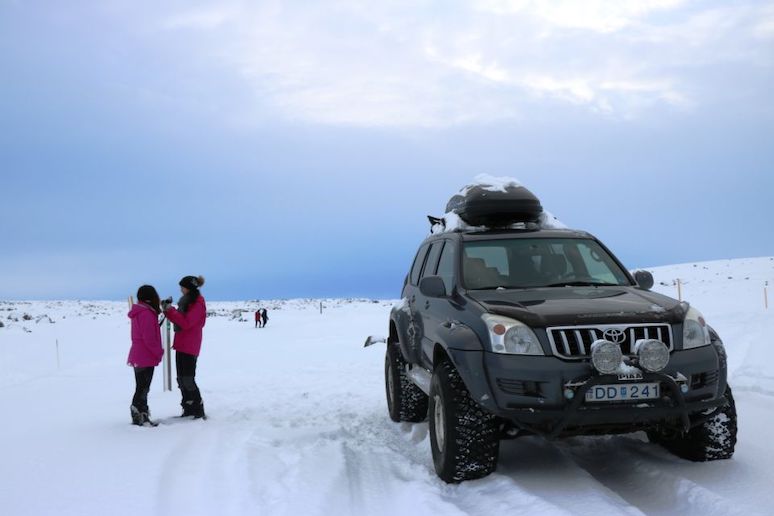 So what you can see on a super jeep tour in Iceland? And what about the potential environmental impact? You'll learn about both those, and more, in our ultimate guide to super jeep tours in Iceland.
What is a super jeep?
Can you drive the jeep?
Environmental concerns
The best places for jeep tours
Choosing the right tour
What to expect from your tour
Tips for joining a trip
Where to book and how to save
What is a super jeep?
Super jeeps are large four-wheeled vehicles that you are likely to come across in the Icelandic countryside.
They're designed for use in parts of the country where you'll encounter difficulties when crossing certain areas, such as in the Highlands.
Super jeeps have larger wheels that can help you cross rivers, and they're also useful for navigating mountainous landscapes. Most parts of Iceland, however, are accessible without a super jeep – in all but the most remote areas, main roads are passable in a normal car.
Can you drive the jeep yourself?
It is possible to rent and self-drive your own super jeep in Iceland, but it is very expensive and you don't actually need one to visit most parts of Iceland.
Also, they are not that easy to drive for beginners, so you're much better off booking a tour and going with an experienced driver.
Isn't this bad for the environment?
Controversy has surrounded super jeeps and their impact on the environment in Iceland. For example, black carbon – which these vehicles omit when you drive them – has been linked to making ice that they settle on melt faster than otherwise.
You might also be worried about the impact of these vehicles driving over Iceland's fragile landscape. After all, moss can take years to repair if it's damaged.
However, most tour operators – and Iceland's government – take measures to minimise the potential damage.
So if you do want to experience a super jeep, make sure you go with a reputable company and guide/driver who will know which places to avoid to minimise the impact of the tour.
Where are the best places for super jeep tours in Iceland?
The Golden Circle
This popular tourist route takes in the Þingvellir National Park, Geysir and the Gullfoss waterfall.
It's a great place for super jeep tours, such as this one, which also combines a snowmobile ride and includes a pick-up from central Reykjavík.
The South Coast
The South Coast includes picturesque Vík, along with black sand beaches stretching along the coastline.
In this part of the country, you'll also find the Seljalandsfoss and Skógafoss waterfalls – along with Vatnajökull National Park.
Super jeep tours here often combine with activities, such as this one where you can also visit an ice cave. You can choose whether you want to be picked up from Vík or Reykjavík.
Þórsmörk Valley
In the south of Iceland, Þórsmörk features rugged landscapes with three glaciers and lots of hiking opportunities in summer.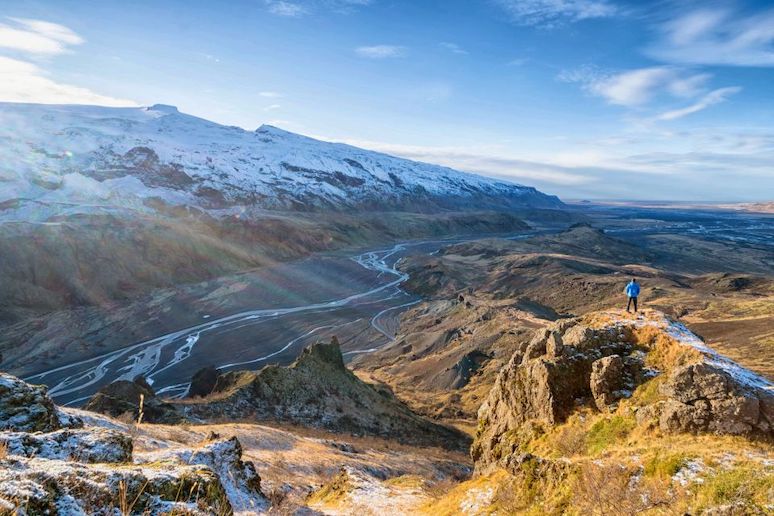 It's also home the infamous Eyafjällajökull volcano, whose eruption caused so much disruption in 2010. You can explore the area with its incredible views on this full-day super jeep tour.
Landmannalaugar
Not far from Þórsmörk is the Landmannalaugar geothermal area, known for its colourful rhyolite mountains. It's also home to natural wonders like Frostastaðavatn lake and the Hjálparfoss waterfall.
In the summer, this mega 14-hour tour from Reykjavík explore the area's landscapes and hiking trails and includes a dip in a thermal pool.
Choosing the right super jeep tour
When picking a super jeep tour in Iceland, there are several factors to consider.
Full-day vs. half-day tours: You'll find a mixture of full-day and half-day tours, and you should pick whichever best fits your time requirements and the area you want to visit.
Group size: Most super jeep tours in Iceland are quite small, though some take 10+ people. For a less crowded experience, check that your operator only takes small groups.
Seasonal considerations: Some parts of Iceland, such as Landmannalaugar, are only accessible from around May–October. However, other areas – such as the Golden Circle – are open year-round.
Specialised tours: You can combine your super jeep trip with other experiences, such as Northern Lights hunting and visiting volcanoes. Check to see if your tour offers these before booking.
If you're stuck, we can recommend the three tours below as a starting point.
Super jeep tour from Jökulsárlon: Ride a super jeep to one of Iceland's most beautiful glaciers before exploring an ice cave. From around US$180 per person.
Northern lights hunting: Search for the northern lights with an experienced photographer. From around US$180 per person.
Private jeep tour from Akureyri: Explore the north of Iceland and Europe's most powerful waterfall, along with Lake Myvatn and other natural landmarks. From around US$1500 for up to 6 people.
What to expect from your tour
When booking a super jeep tour in Iceland, you'll get knowledgeable guides who can tell you all about the history of where you're visiting and have experience of navigating the country's tough terrain.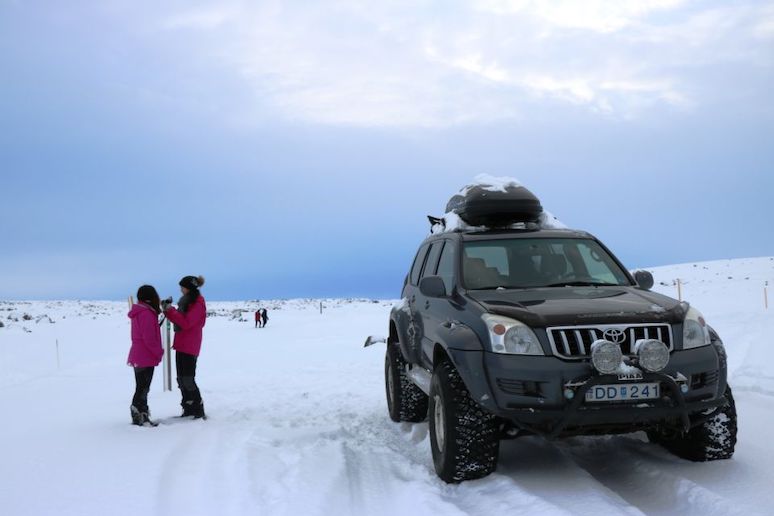 And, of course, you'll also get inside knowledge of the best places to capture memorable photos that you can later look back on.
Some tour guides may also take you to see their personal favourite spots that aren't on the agenda.
Some tours include hot drinks and snacks, but not all. Those that don't usually have stops where you can buy food and drink.
If your trip is cancelled due to bad weather, you can either rebook or receive a full refund.
How to make the best of your super jeep tour
Dress appropriately. Wear layers, waterproof clothing and sturdy shoes. Bring a hat, gloves, scarves, etc. Inland areas can be cold, even in the summer.
Bring necessary accessories. Sunglasses, sunscreen, camera gear and extra batteries. Some jeeps may have charging ports, but not all will.
Follow safety guidelines. Listen to your guide's instructions and respect the environment.
Never drive off-road. This is illegal and you can receive huge fines, such as this influencer who had to pay more than $3,000 in 2019.
Embrace the adventure: Be prepared for changeable weather and enjoy the experience!
Booking your tour and getting the best deal
Ready to hit the road? The first thing you should do is research for reputable tour operators. Read reviews and recommendations, and look for their certifications.
To make the vetting process easier, you can use booking platforms like GetYourGuide, which provide reviews from other tourists. Many of their tours, including this half-day tour, offer free cancellation up to 24 hours in advance.
Summer is typically the busiest season for super jeep tours in Iceland, so it's worth booking well in advance to ensure availability and secure your preferred dates.
Tours can frequently sell out as many are limited to small group sizes, such as this tour for up to seven participants.
If you want to pay later, some tours – such as this one – let you reserve your spot and pay at a later date.
If you have any special needs or requirements, ask your tour operator in advance. For example, this tour can provide baby seats if you contact them beforehand.
Our word on super jeep tours
Super jeep tours in Iceland are a great way to explore the country's harder-to-reach regions.
There are plenty of extra activities available, too, such as Northern Lights hunting or exploring an ice cave – meaning that you can easily find something that fits your needs.
Before booking a tour, do your research to pick reputable guides so that you make the most of your adventure. Have fun!
See also:
Helicopter tours in Iceland
The best volcano tours in Iceland
The best private tours in Iceland
Snorkeling in Iceland: the ultimate guide