You've heard it a million times before, and it's true: Oslo is expensive. The Norwegian capital has some of the highest prices for everyday items in Europe, and that naturally extends to food and drink. Even simple snacks and meals that are affordable back home can cost you a fortune in Oslo.
But trust us when we say that eating on a budget definitely is possible! With a little bit of careful planning and these insider tips, you'll be able to eat really well and get a taste of the amazing food that Oslo has to offer. Here's what we recommend.
Meet the local fishermen
While the definition of Scandinavian cuisine has broadened considerably over the past few years, fish is still a staple for many meals in Norway. And if seafood is what you're after, the sheer range of options in Oslo will not disappoint.
If you have a kitchen where you're staying, one of the best options is to buy directly from local fishermen, who sell fresh fish and shrimp from their boats early in the morning. They sail in directly from their fishing excursions in the Oslo Fjord and then stick around until the day's catch is sold out. The boats come in at around 7am most mornings (but never on Sundays). Just head to Rådhusbrygge 3 – that's pier number 3 behind the City Hall, right in the middle of the city.
Freshly boiled, ready-to-eat shrimp is the most popular purchase but there are plenty of other options as well. Walking along the docks with a strong cup of black coffee is a wonderfully Nordic way to start the day.
Is the Oslo Pass worth buying?
Read this guide to see how much you could save during your trip!
Make brunch (or lunch) your main meal of the day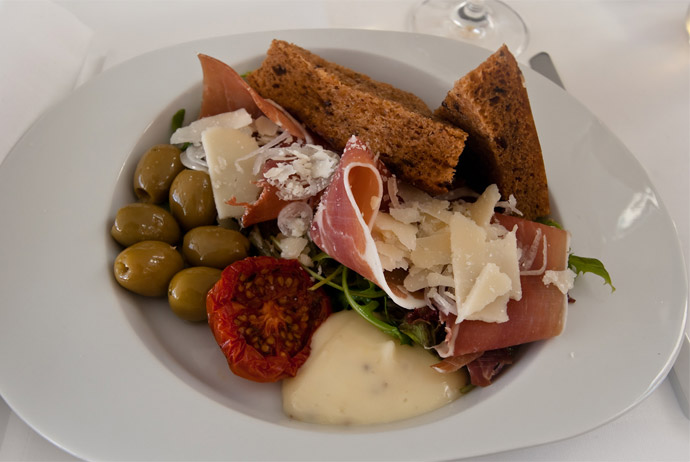 Eating out is a great way to mix with locals and get a feel for Norwegian culture. However, travellers sticking to a budget won't want to eat every meal at a restaurant. Our tip is to eat one big meal during the day when prices are cheaper, either by combining breakfast with lunch, or simply by eating your main meal of the day at lunchtime, instead of in the evening.
At lunchtime, it's worth keeping an eye out for the dish of the day (called dagens rett on restaurant menus). This usually includes a hearty main, plus salad and coffee, and it should leave you feeling full up for hours.
Brasserie Paleo is a good-value brunch spot worth recommending in Oslo. Centrally located just behind Karl Johan's Gate at Rosenkrantz' Gate 1, it serves up a beautiful display of Scandinavian favourites in the form of an all-you-can-eat buffet.
It may not be the cheapest place in town, but in terms of the quality of the food, you'll certainly get your money's worth if you eat enough! For around 350 NOK you get unlimited access to all sorts of goodies, including smoked meats, cheeses, salads, artisanal pastries, homemade jams and fresh juices.
As an added bonus, the barista at the bar does mean lattes and espressos to take away. The buffet brunch is served until 10am on weekdays, 11am on Saturdays, and a civilized midday on Sundays.
NB: Brasserie Paleo is temporarily closed due to Coronavirus restrictions: check the website for scheduled date of re-opening.
Another great spot where you can get a full meal up until 8pm in the evening (7pm on Saturdays) is Krishnas at Sørkedalsveien 10. It serves just one set dish each day – usually a vegetable curry or stew – for a bargain 130 NOK, or for 180 NOK you can have the main dish plus extras such as soup, salad or pudding (up to five dishes in total).
Visit Vippa – Oslo's food court
Housed in former warehouse buildings alongside the Oslofjord, Vippa is home to a variety of stalls selling food from all sorts of ethnic cuisines, including Mexican, Italian, Chinese and Moroccan, as well as local Norwegian food.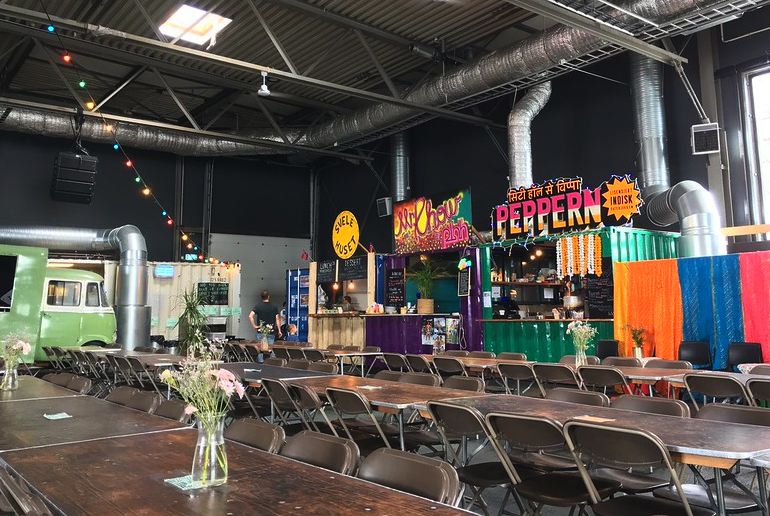 You can order dishes from any of the stalls and eat at communal tables in the middle of the large hall, or sit outside by the waterfront. All the chefs here specialise in using local seasonal and organic ingredients, where possible, including Norwegian fish and vegetables from local farms, with food waste kept to a minimum.
One of the most popular stalls is the non-profit-making Aleppo Bahebek (which means "Aleppo, I love you") run by refugees from Syria, who serve up delicious home-cooked Syrian street food, such as chicken shwarma (made with organic chicken) and homemade hummous; prices start at 125 NOK for a schwarma or falafel sandwich.
Vippo is open Tuesday to Sunday from midday til 9pm (8pm on Sunday).
Head to a park (and barbecue like a local)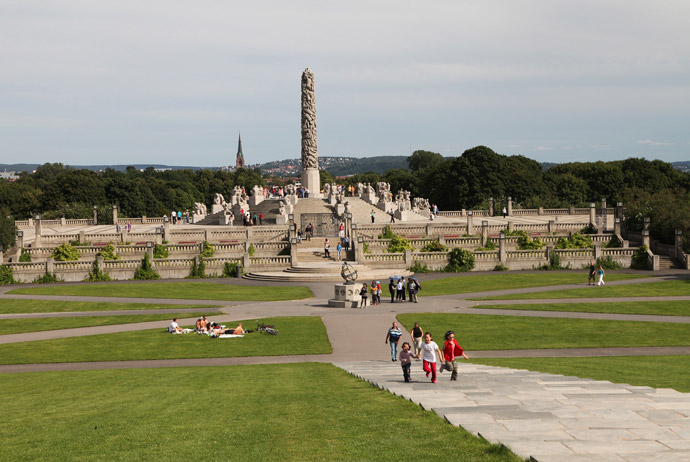 If it's a warm summer's day in Oslo, the air will likely be filled with the scent of sizzling barbecues. Whenever the sun's out, the city's many pretty parks are filled with locals taking advantage of the long days and nice weather. Even among those who can afford to eat out in Oslo, grilling outdoors is one of the most popular ways to spend an evening with good food and good friends.
Barbecuing in Oslo is made easy thanks to the glut of cheap disposable barbecues (or engangsgriller). These can be found in most grocery stores for around 30 NOK. You can make things more interesting by doing as the locals do and supplementing your meat or veggie mains with ready-made salads, corn on the cob and some yummy desserts.
These throw-away grills are so popular in Oslo that the parks have specially designed bins – just carry your barbecue over to the bin when you're done and push it into one of the slots.
Do a bit of 'pre-drinking'
If you're planning on drinking alcohol while in Oslo, there's just one tip you need to remember: stop at the airport duty free before you clear customs! Alcohol is notoriously expensive at bars and restaurants across the city, so the best thing to do is buy what you like at the duty free shop and then enjoy it in your hotel, hostel or Airbnb rental before going out.
All this might seem a bit extreme but you will definitely be in good company – pre drinking is a long-standing tradition in Norway and this pre-party ritual, known as vorspiel, is a key part of local culture.
Forgotten to buy in advance? You're limited to shopping at Vinmonopolet, the country's alcohol monopoly. Prices are higher than you're probably used to at home, but they will still be cheaper than at any bars, restaurants or clubs you're likely to encounter in Oslo.
Drink water from the tap
The tap water in Oslo is completely safe to drink, and it tastes great too. So whatever you do, don't waste cash on buying bottled water. A single small bottle of the wet stuff costs around 25 NOK (or US$3) at a convenience store. This can really make a dent in the dining budget if done daily, so bring a refillable bottle and take water from the taps at any museum, hotel or water fountain around the city.
Look for 'alternative' places to eat
As with any capital city, you can keep costs down by avoiding the main tourist areas. But Oslo also has a couple of alternative places to eat where things work well for budget travellers.
Take Oslo Mekaniske Verksted as an example. This casual café/bar is a five-minute walk east of the central station and the main bus terminal, and doesn't actually serve food – instead, it allows patrons to bring whatever they want to eat with them. You'll need to buy drinks but you can then make use of the fun board games supplied by the café, or just chill and listen to the sounds.
Happily, there are also loads of cheap take-out places and food boutiques nearby – pick up your food beforehand or have it delivered, if you prefer. This is the perfect spot for those on a budget who still want the experience of dining out.
See also:
The best hostels in Oslo
Where to find cheap beer in Oslo
50 free things to do in Oslo
Is the Oslo Pass worth buying?
Like what you've been reading? Get our best tips by email!