Oslo is a surprisingly compact capital and most of the main tourist attractions are grouped fairly close together in the heart of the city. If you're visiting for the first time, you could happily get from one sight to another without needing to use taxis or public transport.
But even if you're on a fairly tight schedule, we'd recommend exploring beyond the central areas. In recent years, some of Oslo's lesser-visited neighbourhoods have made some big changes – and it's definitely worth trying a couple of different ones to get a good feel for how the city works.
Here are five Oslo neighbourhoods you should really make time for!
Grünerløkka
A formal industrial area stretching north from Oslo's main train station, Grünerløkka began to revive itself in the late 1980s.
The tree-lined streets are pretty during any season, and you'll find plenty of vintage and second-hand shops to duck in and out of as you wander around.
The neighbourhood hugs the eastern side of the Akers Elva (that's the river that runs through the city centre) and is also home to some laid-back parks and independent art galleries, including RAM Galleri  and S9, which often puts on exhibitions featuring local artists.
Grünerløkka has no shortage of decent coffee shops, and since Norway has one of the world's highest rates of coffee consumption (second only to Finland), the standards are consistently high. Try Tim Windelboe at Grüners Gate 1 – this place has won the Nordic Roaster Competition several years in a row, along with a slew of other coffee brewing achievements.
Is the Oslo Pass worth buying?
Read this guide to see how much you could save during your trip!
Gamle Oslo
Just east of the city centre, Gamle Oslo (or Old Oslo) is the oldest part of Oslo. It's full of history and is also a lively, multicultural district – it's made up of a few smaller areas including Tøyen, Bjørvika and Grønland.
You could easily spend a whole day in this part of the city, checking out the Botanical Gardens, the Munch Museum, or some of the grand, graffiti-daubed houses. Our advice is to wear decent shoes as you can really clock up a few kilometres strolling the streets.
For a restful afternoon pit stop, visit Dattera til Hagen near the Grønland T-bane stop. This colourful café is perfect for a leisurely lunch or a couple of well-mixed cocktails. It's a little tricky to spot (just look for the arched entranceway leading to a courtyard) but we guarantee this place will leave you feeling like a real Gamle Oslo local.
Frogner
Frogner is one of Oslo's most upscale neighbourhoods, home to countless swanky restaurants and wine bars. As you might imagine, the real estate here is some of the most expensive in Norway (and by extension, Europe).
Originally part of an estate extending outwards from Frogner Manor, which you can visit on guided tours during summer, the area is also home to most of Oslo's international embassies.
If you're not up for spending loads of money, we'd recommend making time for a visit to Vigeland Park (also known as Frogner Park), where you'll find more than 200 bronze and granite sculptures by Gustav Vigeland – this huge and impeccably well-tended garden is the perfect place for a stroll. The park also houses Frogner Stadium; there's an ice rink in winter and you can enjoy a bit of outdoor swimming during summer.
Oslo Sentral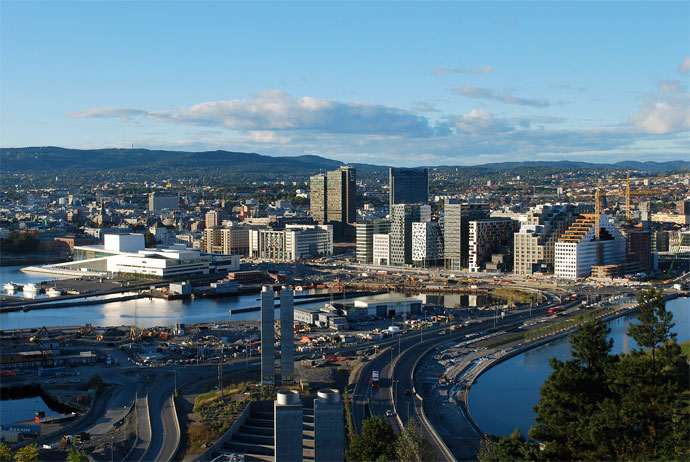 You don't have to travel far from the Central Station to get some incredible views of the city and the Oslofjord. The Opera House gives you a magnificent (and free) view over the glittering water all year round. You should also be able to see The Barcode, Oslo newest business district, on the other side.
After a walk south along the waterfront you might want to stop at Vippa, an old warehouse turned food hall that's packed with stands serving zingy Asian grub.
Keeping the water on your left-hand side, you'll eventually run into Akershus Festning. Dating back to the 1200s, this fort was originally built to protect Oslo but has also been used as a royal residence and a prison.
Continuing further along the waterfront you'll end up at Aker Brygge – a sprawling harbour area that's home to the Nobel Peace Center and the Astrup Fearnly Modern Art Museum. Looking for souvenirs? The Aker Brygge Mall is home to some of the best shopping in the city.
Bygdøy
West of the city, the leafy peninsular called Bygdøy is easy to reach – it's a 10-minute boat ride from Aker Brygge. Bygdøy is worth visiting in its own right but getting there is half the fun. It's cheap and easy enough, as local travel passes can also be used on the boats.
Expect great views of the city during the crossing, and some interesting sights to enjoy when you arrive, including the Viking Ship Museum, which is home to some amazingly well preserved boats.
Bygdøy is also connected to the city by road, so you could easily visit on a rented city bike; allow around 25 minutes. If you're in town during the summer, make time for a trip to Huk Beach, on the peninsular's southern edge. It's a beautiful horseshoe-shaped stretch of sand where you can barbecue or place volleyball. Just be aware that this is a popular spot among naturists – clothing is most definitely optional!
Guided tours in Oslo
If you'd rather not explore alone, why not join a guided tour? There are lots of options in Oslo, including this four-hour private tour that gives a great introduction to the city's history and landmarks. A much cheaper option is this two-and-a-half-hour group tour, which takes you to the fortress and the City Hall, among other essential sights. You can see more Oslo tours here.
See also:
40 free things to do in Oslo
The best hostels in Oslo
Exploring the Oslofjord
Like what you've been reading? Get our best tips by email!