An adventurous way to experience the full splendour and drama of the Norwegian coastline is to view it from one of the iconic Hurtigruten ships.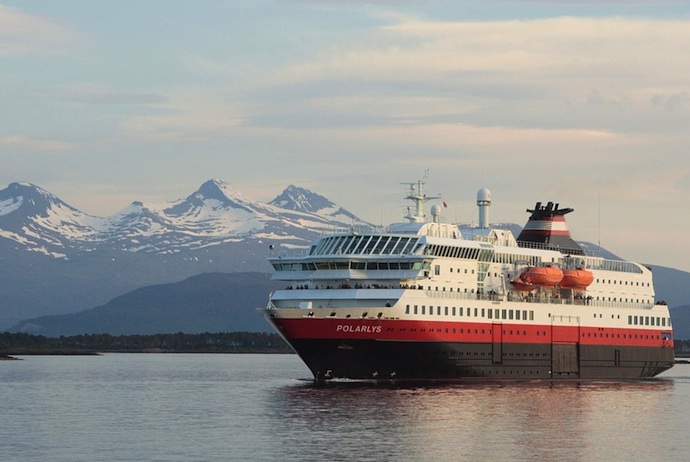 The 12-night round trip from Bergen to Kirkenes passes some of the world's most sublime landscapes, docking at some of Norway's remotest settlements. It may be pricey – but this journey is definitely one for the bucket list.
How to pronounce Hurtigruten
First things first: what is that word all about? The word Hurtigruten means "express route" or "rapid route" and the most usual way to pronounce is "hurti-rerten", without the "g" .
What makes the Hurtigruten trips different?
Subsidised by the Norwegian government, Hurtigruten ships have been plying the Norwegian coast for more than 120 years, providing a vital lifeline to settlements that were otherwise inaccessible by road or rail. Eleven ships run along the full route taking valuable supplies to the country's remote outposts.
So what's a Hurtigruten cruise like?
While the boats still carry out their original function as essential supply ships, they also carry visitors and tourists. The ships vary in their level of comfort and facilities – and correspondingly, price – but all are well-adapted to cover the 1500-mile journey through Arctic waters in all weathers.
Where can you go on a Hurtigruten cruise in Norway?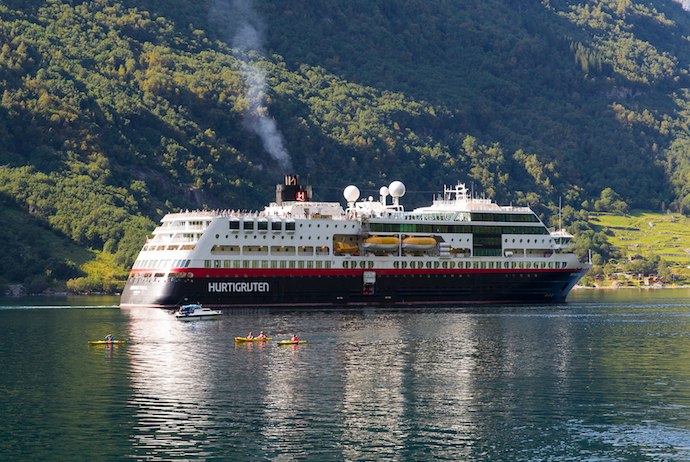 The full Hurtigruten cruise runs along the Norwegian coast from Bergen to Kirkenes in the Arctic Circle, stopping at 32 ports on its way, then the same on the way back down. The ports vary in size from Norway's third largest city, Trondheim, to the tiny village of Risøyhamn, which has just 203 inhabitants.
In summer, the northbound ships sail into the Unesco-listed Geirangerfjord, while in autumn they explore the beautiful Hjørundfjorden.
How do Hurtigruten cruises work, then?
A Hurtigruten ship leaves Bergen every day, right throughout the year, stopping at towns such as Ålesund, Trondheim, Bodø and Tromsø en route to Kirkenes, where it heads back south.
You can either book the full 13-day round-trip; a seven-day Bergen to Kirkenes cruise; or a six-day Kirkenes to Bergen cruise. Alternatively, you can book individual port-to-port legs if you just want to use the boat as a way of hopping from one destination to the next.
How long do Hurtigruten boats spend in each port?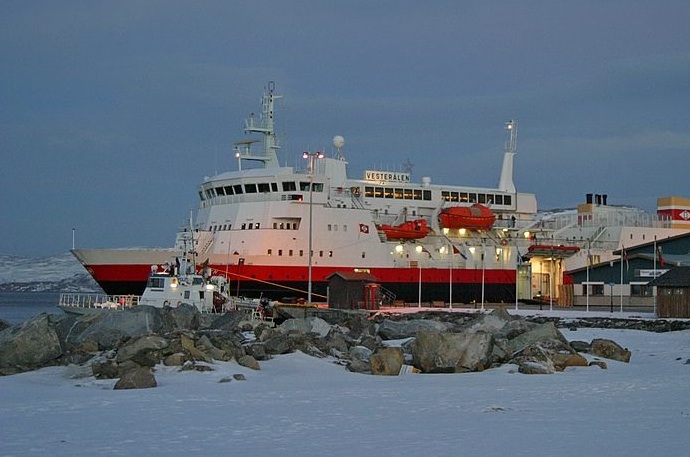 The amount of time you'll have at each port varies depending on the size of the settlement and the time of day that you arrive.
Ships can spend six hours in Trondheim during the day, for example, but only 15 minutes in tiny Måløy, where they can dock in the early hours of the morning. The schedules are arranged (as far as possible) so that ports which are visited at night on the northward journey will be visited by day on the way back down.
What about side trips and excursions?
If the boat is spending 30 minutes or longer at a port, you are free to disembark and explore on your own. Alternatively, you can book an organised excursion, which can be anything from dog-sledging in Tromso or horse-riding in the Lofoten Islands to quad-biking to the Russian border.
Some trips, such as the drive along the Trollstigen, may take the longer than the boat docking time. As long as you've booked an official tour with Hurtigruten, you'll be transferred to the ship's next point of call in time for its departure.
Excursions can either be booked online up to four weeks before you travel (two weeks if you pay by credit card), or on the boat itself. If there are any trips that you particularly fancy, it's a good idea to pre-book as the most popular ones fill up fast. All trips booked on the boat itself are payable in Norwegian kroner.
How to book the Hurtigruten port-to-port
It is possible to book individual legs of the journey through the Norwegian version of the Hurtigruten website (let your browser translate it into English for you). Alternatively, you can contact the dedicated port-to-port booking office in Tromso, on +47 7759 7019, or port2port@hurtigruten.com.
Combining short hops on the Hurtigruten boats with bus and train travel can be a fun way of exploring the Norwegian coastline, but it's not particularly cheap. The three-hour trip from Alesunde to Molde, for example, starts from around 250 NOK per person. You don't need to book a cabin for any trip under 23 hours, so you can keep costs down by snoozing on deck or in a chair.
Can I take my car on the Hurtigruten ships?
All the ships except MS Lofoten and MS Spitsbergen carry cars, though none take caravans and camper vans. Taking your car for a short hop on the Hurtigruten can save hours of driving over mountain passes and along indented fjords, though again it's not a particularly cheap option.
If you need to catch a specific boat, it's worth booking well in advance as the boats only have limited spaces for cars.
What are Hurtigruten ships like inside?
A cross between a cruise ship and passenger ferry, the boats are smaller than most cruise liners. They have an informal, relaxed vibe on board, with no set dress code in the restaurants. This means you can focus on packing practical stuff for the trip (like comfy clothes and outdoor gear) without needing to worry about dressy clothes for the evenings – unless you'd like to, of course!
What are Hurtigruten cruises like?
If you're after a classic luxury cruise with cabaret entertainment, ten types of restaurant and waterslides on deck, this is not for you. The emphasis is less on luxury and more on appreciating the natural surroundings and the environment.
The onboard entertainment is also low-key, consisting of star-gazing, wildlife-watching and looking out for the northern lights, plus the odd lecture on local habitats and culture.
Are Hurtigruten cruises all-inclusive?
All the cruises include full-board buffet or set menu meals, and you can also opt to upgrade to the à la carte menu. Port-to-port passengers can either pay to eat in the restaurant, or in the café selling snacks and drinks, which is usually open 24 hours a day.
Restaurants on the Hurtigruten boats are known for their good food and specialise in dishes made from local, sustainable and seasonal produce. The boats pick up ingredients from ports along the way, so the fish and seafood is literally fresh from the water.
What to pack for Hurtigruten cruise
What you pack depends, of course, on what time of year you're travelling and how active you intend to be onshore. Bearing in mind that the boats sail into the Arctic Circle, you'll certainly need thermal clothing, a thick coat, hat and gloves in winter.
If you're planning any hikes or excursions, such as skiing, Rib rides or king crab fishing, make sure you bring suitable clothing.
Which Hurtigruten ship is best?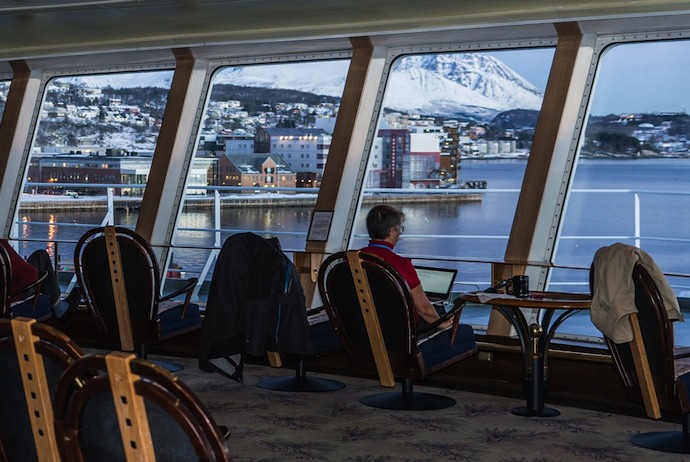 Well, that depends on what you want from your cruise. The smallest and oldest Hurtigruten ship, the MS Lofoten, has been in service for 55 years, so its facilities are pretty basic. However, it's got a certain classic old-world sense of adventure about it – and it's certainly the cheapest boat to travel on.
If you're after a bit more luxury, opt for one of the more modern refurbished boats. The MS Finnmarken, for example, has a pool and hot tub on deck, while the MS Midnatsol and MS Trollfjord also have outside jacuzzis.
Two new luxury, eco-friendly hybrid ships, the MS Fridtjof Nansen and MS Roald Amundsen, each with an infinity pool and hot tub, are due to be in service within the next couple of years, though they will only run the Bergen to Kirkenes route at certain times of the year.
Which Hurtigruten ships have balconies?
The MS Midnatsol, the MS Trollfjord, the MS Fram, MS Finnmarken and the MS Spitsbergen all have some cabins with balconies, though you'll have to pay extra for a top-of-the-range cabin to guarantee one with a balcony.
Some of the other ships are currently being refurbished so may have some cabins with balconies in the future – check the website for details of individual ships. Half the cabins on the new MS Fridtjof Nansen and MS Roald Amundsen ships will have balconies.
How much do Hurtigruten trips cost?
It really depends where you're based, and whether you want to include flights. For example, prices for the classic 13-day full-board round trip including flights from London start at around £1450 per person (approx 16,500 NOK at the time of writing). A one-way northbound 7-day full-board journey without flights starts from around £660 (7,500 NOK).
Erm… why are Hurtigruten trips so expensive?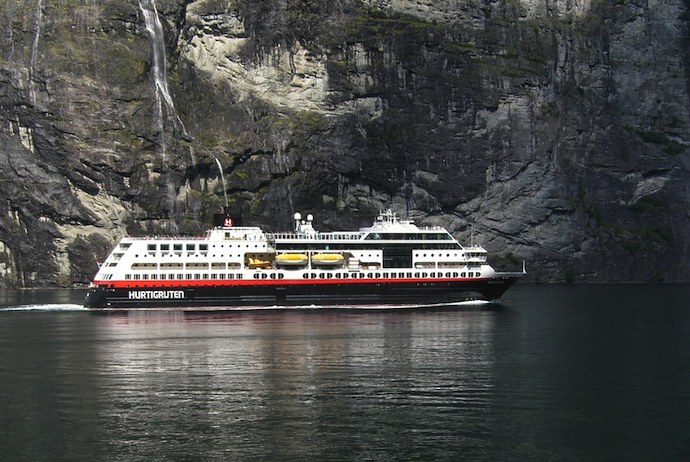 A Hurtigruten cruise is not a cheap option. On top of the basic price, you'll pay extra if you want to upgrade to an outside or balcony cabin, or to a more luxurious ship – and booking a couple of excursions will add yet more to the cost. And don't even think about having a drink; alcohol on-board is very pricey.
Having said that, if you're happy with basic facilities, doing your own thing onshore and simply watching the dramatic scenery drift by, you needn't spend much on board.
On port-to-port trips you can save money by buying food at the café or eating on shore and bringing sandwiches back with you – though, this being Norway, even this option is not cheap.
What is the Hurtigruten northern lights promise?
If you do the 12-day Hurtigruten cruise, you're pretty likely to see the northern lights at some point. The company is so sure of this, that if they don't appear during the trip, they'll give you another free six- or seven-day trip free of charge. You can read more about seeing the northern lights in Norway here.
Where are the Hurtigruten ferry terminals?
| | |
| --- | --- |
| Town | Port location |
| Bergen | Nøstegate 30, N-5010 |
| Floro | Fugleskjærskaien, 6900 |
| Ålesund  | Skansekaia, 6002 |
| Molde | Hamnegata 8, 6413 |
| Trondheim | Pir 1 nr. 7 (HR-kaien), 7010 |
| Bodø | Terminalveien, 8006 |
| Svolvær | Fiskergata 23, 8300 |
| Harstad | Torvet 7B , 9487 |
| Tromsø | Samuel Arnesens gate 5, 9008 |
| Hammerfest | Hamnegata 3, 9600 |
| Kirkenes | Kaiv. 4, 9900 |
Read more:
Seeing the northern lights in Norway
Norway's best fjords
Glaciers worth visiting in Norway


Like what you've been reading? Get our best tips by email!