High up inside the Arctic Circle, this scenic Lofoten Islands along Norway's north coast are incredibly picturesque – with white sand beaches, snow-capped mountains and pretty wooden fishing villages.
And it's not just the views that appeal – there are plenty of things to do in the Lofoten Islands too. You can take a Lofoten tour around the fjords and fishing villages, head out on a boat trip, climb a mountain – and even go surfing.
So read on to find out our 12 best things to do in Lofoten.
1. Take a cruise round the Lofoten fjords and islands
The best way to see the Lofoten Islands, inlets and fjords is from the water. This boat trip leaves from Hamnøya, then cruises through beautiful Kjerkefjorden and Reinefjorden fjords, past pretty fishing villages and dramatic mountain scenery.
The tour has several departures a day, so you can organise with the captain to get off en route, do a hike and then get a later boat back again.
2. Go kayaking in the Lofoten Islands
If you'd rather explore the waterways and islands under your steam, a kayak trip is a gentle, calm way to engage with the surrounding natural beauty.
You don't need any previous experience to do this full-day kayak tour round the islands of the archipelago with a professional guide.
A picnic lunch and afternoon tea are included so you can paddle up to a secluded beach and admire the views.
3. See the spectacular northern lights
Since the Lofoten islands lie entirely above the Arctic Circle, they have long hours of darkness in winter so make a great destination for northern lights viewing.
And with no large settlements nearby, there's very little light pollution to dull the spectacular sight.
If you're staying in the Lofoten Islands during winter, there's a good chance you'll see the light show yourself, but if you want to go with an experienced guide who'll take to the best viewing points and tell you all about the phenomenon, try this northern lights tour from Svolvær.
4. Be a beach bum
The Lofoten islands are known for their stunning white sand beaches with clear blue water, that could almost be in the Caribbean if it weren't for the bone-numbingly cold sea!
But even if you're not Wim Hof enough for an icy swim, beaches such as Haukland, Kvalvika and Horseid are beautiful places to explore, have a picnic, or build a bonfire barbecue and watch the sunset.
5. Go surfing in the Lofoten Islands
You may not think of Norway as a big surfing country, but the remote Unstad beach on the island of Vestvågøy is a hot destination for in-the-know surfers.
Home to the world's most northerly surf school, Unstad boasts rideable waves year round, though surfing in summer under the midnight sun is hard to beat.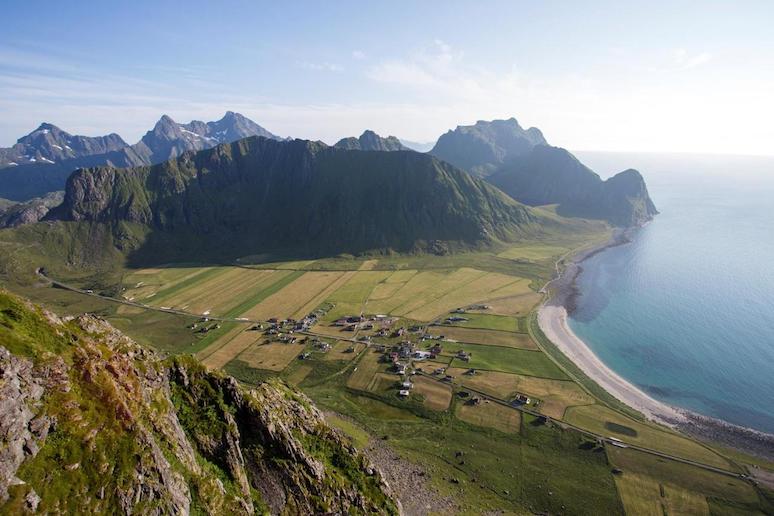 Unstad Arctic Surf Lodge has wooden cabins with sea views and a communal hot tub and can sort out lessons, board hire and provide the all-important high-tech wetsuits that you'll need to surf these waters.
6. Watch out for wildlife in the Lofoten islands
There's no shortage of wildlife living in the waters in and around the Lofoten Islands.
The real big ticket is whale-watching which you can do from Svolvær on this full-day tour, which takes you on a scenic drive to Andenes, then a RIB tour out to search for sperm, humpback or minke whales.
Or, look out for sea eagles and seals on this RIB ride through the Trollfjord.
7. Take a hike
There are plenty of great hikes in the Lofoten Islands, particularly in summer, including the spectacular trek up Reinebringen which gives great views over Reine and the islands below.
Or, for a gentler walk through classic Lofoten countryside with an expert guide, why not try this nature walk on Austvågøya and learn all about the islands' geography and geology, flora and fauna.
8. Stay in a waterfront rorbu (fishing huts)
The Lofoten islands are known for their pretty wooden fishing huts that have been converted into B&Bs and self-catering accommodation.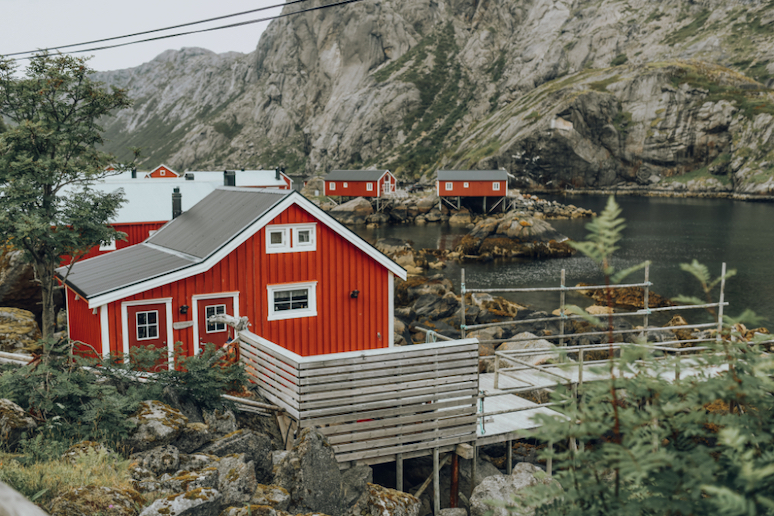 Often painted in traditional red, these atmospheric buildings dot the Lofoten coastline and range from basic simple wooden huts to smart hotels in former fishing communities.
RIght on the waterfront, the Lofoten Rorbuer in Svolvaer has self-contained apartments, double rooms and bunk-bed rooms all with wonderful sea views.
Alternatively, the comfortable and well-equipped Eliassen Rorbuer on Hamnøy has pretty wooden cottages with decks over the water and a well-regarded Italian/Norwegian fusion restaurant.
9. Perfect your pics
With its pristine beaches, rugged mountains and clear blue waters, the picturesque Lofoten region is a great place for photography – especially in winter.
And if you want some help in getting your ideal island Insta snaps, this two-day tour takes you round the five main islands with a professional photographer who can show you how to capture the most spectacular sunsets and snow-capped scenery .
10. Go fishing in the Lofoten islands
The clean waters around the Lofoten are known for their fish and the islands have been home to fishing communities for hundreds of years.
Try your hand at catching mackerel, coalfish, haddock or even cod on this traditional fishing boat.
11. Sample the local Lofoten specialities
Of course fish is the food that Lofoten is most famous for – and indeed the fishing industry is so important to the islands' economy that there's even a museum dedicated to it.
But it's not just fish that is popular here – fresh sea urchins, crabs and kelp are all local specialities.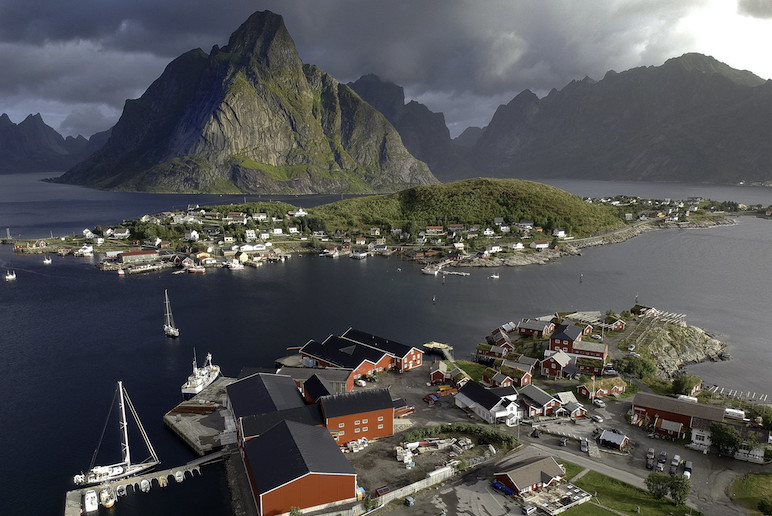 This evening sunset cruise give you the chance to sample a tasting platter of traditional and local seafood dishes that is served up while you sail along the stunning coastline.
12. Snowshoe up a mountain
Climb up to the top of Ryten mountain on Moskenes for fantastic views over the icy landscape and snowy slopes. An experienced guide will kit you out with snowshoes and poles, then lead the way up the mountain, pointing out sea eagles and grouse en route.
When to go to the Lofoten islands
The Lofoten Islands make an interesting destination in both winter and summer.
Clearly, you have to be well-equipped if you're planning a winter visit – warm clothes, waterproofs, woolly hat, sturdy boots and snow chains on the car are a must.
Even in summer you should be prepared for rain, and bear in mind that the sea temperature here never gets much above about 12C!
Things to do in Lofoten in winter
But if you do venture this far north in winter, you'll be rewarded with spectacular snowy landscapes, cosy cottages with roaring fires and a good chance of seeing the northern lights.
You can even go on a winter northern lights tour by horseback.
And the best surf conditions in the Lofoten are from November to March, so winter is a great time to don your thickest wetsuit and get out on the water.
What to do in Lofoten in summer
Summer of course has long days, warmer weather and the midnight sun – perfect for hiking, boat trips and bonfires on the beach.
We particularly like this midnight sun kayaking trip, where you head out onto the water at about 10pm and kayak round the islands with the sun above the horizon surrounded by spectacular colours and the eerie light of the midnight sun.
And if you want a taste of the real Lofoten, this three-day trip runs at weekends in the summer.
You'll stay in a traditional, relaxing fjordside house with mountain views, with breakfast, dinner and packed lunch included as well as a guided snowshoe walk or a hike.
See also:
9 amazing islands in Norway
Where to see the midnight sun in Norway
Seeing the northern lights in Norway