Norway is famous for its natural beauty, and while the fjords and the northern lights always seem to make it onto tourists' itineraries, the country's stunning islands rarely get a look in.
If you've got the time to spare, these beautiful islands in the north of the country are well worth a visit. Go in the winter for snowy wonderlands and dancing aurora, or wait until summer for wild flowers, blissfully empty beaches and gorgeous, slow-motion sunsets.
Svalbard
Norway's northernmost archipelago, Svalbard offers so many opportunities for getting outdoors and reconnecting with raw, untamed nature. From hiking in the mountains to going dog-sledding in the snow, there are lots of guided tours on offer, but solo exploration can be difficult (not to mention downright dangerous, thanks to local population of polar bears).
Other options include going snowmobiling or exploring the abandoned Russian mining settlement known as Pyramiden. Svalbard has become a popular winter and summer destination in recent years, so you'll find plenty to do all year round. This is a not an adventure you should embark on lightly, though; this guide to visiting Svalbard has more on how to get there and what to see and do when you arrive.
Magerøy
Further south but still a long way from being tropical, Magerøy is sometimes called the northernmost point in mainland Europe. Of course it's actually an island, so that statement is not strictly true, but it is connected to the mainland by a long undersea tunnel (Nordkapptunnelen).
Magerøy – a wild, edge-of-the-world place – has long fascinated visitors, and archaeologists have found traces of human activity dating back some 10,000 years. The island looks magnificent during the winter, when the handful of pretty, coloured houses stand out against the endless white snow, but it's really best visited during the summer (as with all of these islands, it's light around the clock for much of May, June and July).
The island's main attraction is undoubtedly the North Cape (Nordkapp; pictured above), where a vast, flat-topped sea cliff provides life-affirming views of the sea and the midnight sun. If you've got a car you can drive there using Europe's northernmost road – alternatively, you're at the mercy of the Hurtigruten cruises or the public buses from Honningsvåg, in the southeastern part of the island.
Kvaløya (Hammerfest)
If you're already driving as far as the  North Cape, you should definitely make time for a detour to the island of Kvaløya – and specifically, the picture-perfect town of Hammerfest.
Together with Vardø in the very northeast of Norway, Hammerfest is the oldest town in the country. Here you'll find colourful, chocolate-box houses and one part of the Struve Geodetic Arc, a huge, multi-country-spanning contraption that was used to measure the size and shape of the Earth back in the 1800s. You'll also be able to enjoy the beautiful viewpoint up at Mount Salen – you can see pretty much all of Hammerfest from up here.
Before you leave town, make sure to become a member of the exclusive 'Royal and Ancient Polar Bear Society' down at the Hurtigruten pier! Upon joining (a process which costs around 180 NOK and helps to support the exhibition) you'll receive a lovely bear-shaped pin. Wear it proudly, polar bear lover!
Kvaløya (near Tromsø)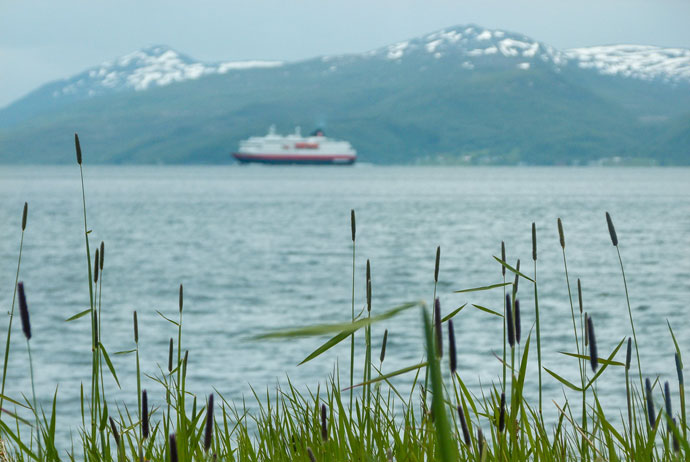 The second island in this guide with the same name, this particular Kvaløya lies around 28km west of Tromsø. This is Norway's fifth-largest island and it's connected to the city of Tromsø by a bridge; you can make the entire 'crossing' in around 40 minutes.
The island is exceptionally pretty to look at and its mountainous interior offers up spectacular views and the promise of some memorable wildlife encounters (reindeer run wild and there are often eagles circling overhead).
Another nice highlight to look out for on Kvaløya is the open-air museum called Hella. Situated close to ancient rock carvings and at a bay that's great for fishing and watching the Hurtigruten cruise ships glide by, Hella makes a great destination for a road trip from Tromsø if you want to escape the city and explore the landscapes of Northern Norway.
There are plenty of cosy rental properties here, in case you want to escape from the hustle and bustle of modern life.
Sommarøy
Named the 'summer island' by optimistic locals, Sommarøy feels a long way from the Caribbean, but it does share certain features with its tropical counterparts – expect plenty of sandy beaches and turquoise water, along with colourful wooden cabins (these can be rented at Sommarøy Arctic Hotel).
Granted, neither the water nor the air temperatures invite you to take a dip in the ocean, and the island is known for its strong gales, but looks-wise it's an absolute beaut, and is well worth the hour's drive from the Tromsø. Go for a hike and enjoy the views – but remember you're in the Arctic, so dress accordingly!
Senja
Senja is Norway's second-biggest island and a paradise for any hiker, skier or photographer, with endless possibilities to take beautiful pictures or just get out and enjoy the great outdoors.
The easiest way to get to Senja is to take a plane to Bardufoss and then rent a car at the airport, or make the three-hour drive from Tromsø. Another (very scenic) option would be to take the Hurtigruten cruise or the regular passenger ferry from Tromsø to Finnsnes.
Vesterålen Islands
The Vesterålen Islands are just north of the Lofoten Islands and are home to similarly stunning landscapes, but they tend to be a little less crowded – making them the perfect destination if you want to see Norway without any of the tourist hubbub. There are a few great places to stay, and prices tend to be a little lower than in Lofoten.
Another advantage of heading to Vesterålen is that you'll have the chance to go whale watching. While this is also possible in Tromsø during the winter, the whales appear around the Vesterålen Islands pretty much all year round. If you want to visit, the easiest option is to base yourself in Andenes, at the archipelago's northernmost tip – it's home to an airport and a couple of nice hotels.
Lofoten Islands
The spectacular Lofoten Islands are understandably high on many tourists' itineraries when visiting northern Norway and although the islands do tend to be quite crowded these days – especially in the summer – there still are some serene spots left that will leave you feeling awestruck.
The tiny archipelago of Røst, for example, is right at the very edge of Lofoten, 100km from the mainland. The biggest island here, Røstlandet, has a total area of just four square miles but is surrounded by hundreds of smaller, uninhabited islands (well, uninhabited by people, at least). Almost a million birds nest out here during summer, including lots of cute puffins. You can get to Røst by plane or ferry from Bodø on the Norwegian mainland.
Kjerringøy
Kjerringøy is actually a peninsula, rather than an island, but as it can only be reached by ferry, we think it's worth including in this round up of northern Norway's best islands.
This old trading post lies around 30 minutes north of Bodø, and tends to hit its stride in the summer, when visitors can learn more about the history of the area, enjoy typical Norwegian waffles topped with brown cheese, or just wander along the beach and admire the views. If you're in need of a bit more action, head to Sjunkhatten National Park for a hike in the mountains – with a little bit of luck, you might also meet some of the resident reindeer.
Map of islands in northern Norway
Like what you've been reading? Get our best tips by email!