Not everyone is a fan of camping, but what if you could experience the great outdoors without sacrificing comfort? That's where glamping comes in, and there's no better place to do it than in Norway.
Glamping in Norway will offer you the chance to immerse yourself in stunning surroundings while enjoying all the comforts of a luxurious camping adventure.
So get ready to pack your bags, and let's take a closer look at what makes Norway such a fantastic destination for glamping.
What kind of glamping options are there in Norway?
Norway offers a wide variety of glamping options to suit all tastes and budgets. From traditional to luxurious, you're sure to find something that appeals.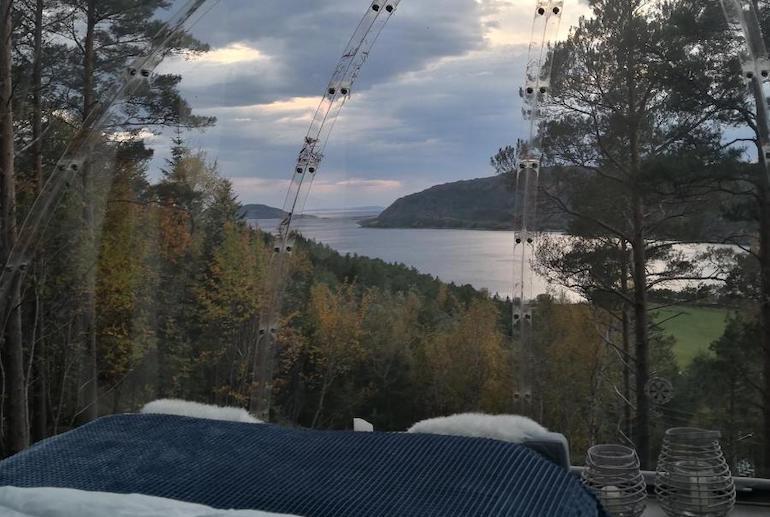 For traditional glamping, you can book a luxurious tented camp in Reinheimen National Park in Norway's beautiful fjords, where you can hike, fish and soak in the views of the dramatic mountains.
Those looking for an enchanting adventure should consider glamping in a northern Norwegian town like Tromsø, where you can drift off in a cosy ice dome as the northern lights dance overhead.
If you prefer glamping by the river, head up to Norway's famous fjords. Here, you'll wake up to breathtaking views of towering mountains and crystal-clear waters, while still enjoying the rustic charm of a cosy cabin in the wilderness.
No matter what you opt for, you can be sure that Norway's natural beauty will envelop you throughout your entire glamping experience.
What to expect when glamping in Norway
Most glamping sites in Norway have many of the comforts of home. Here are some of the basic amenities you can expect:
A stylish abode, often with comfy beds and linens
Some kind of heating unit and/or air conditioning
Electricity
A bathroom with toilets and running water
Other glamping sites may include a private shower, a TV, free wifi, a fully equipped kitchen and an on-site restaurant. Each glamping site offers different facilities, so check the specific details before booking.
What's the best time of year for glamping in Norway?
The truth is there's no honest answer to this question. It all depends on your personal preferences, as well as what you want to get out of your glamping experience.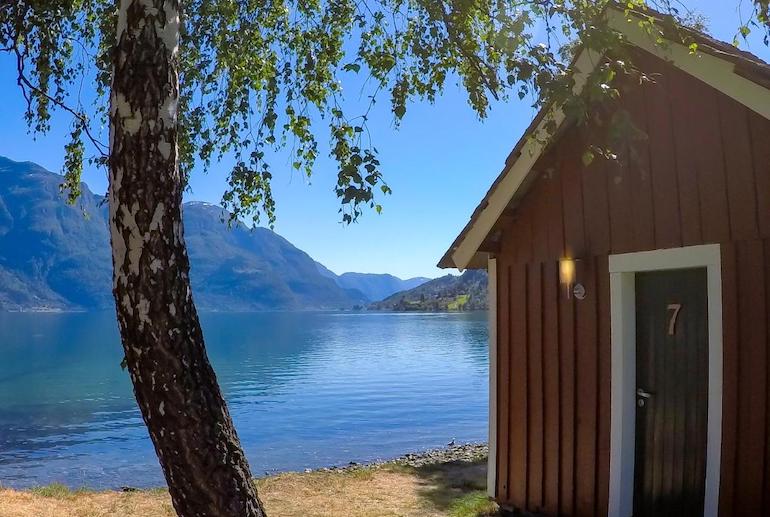 Remember, Norway's climate varies greatly throughout the year, so each season has its own unique appeal.
If you're looking for long, sunny days with lots of outdoor activities, then summer will be the best time for you.
On the other hand, if you want a chance to see the magical northern lights amidst a winter wonderland, then come in winter.
Then you have autumn, when you can witness the stunning and vibrant foliage, while going in the springtime allows you to see the fresh greenery and blooming flowers.
No matter which season you opt for, you can rest assured that you'll witness Norway's natural beauty and have an unforgettable glamping adventure.
Good glamping options near Oslo
If you're short on time but still want to go glamping, there are a few great options within easy reach of Norway's capital city.
6 of our favourite glamping spots in Norway
Stay at a ski-lover's dream
Are you dreaming of a mountain-top getaway? Look no further than Liapark. Here you will stay in your own cosy cabin surrounded by stunning views of Norway's Buskerud region.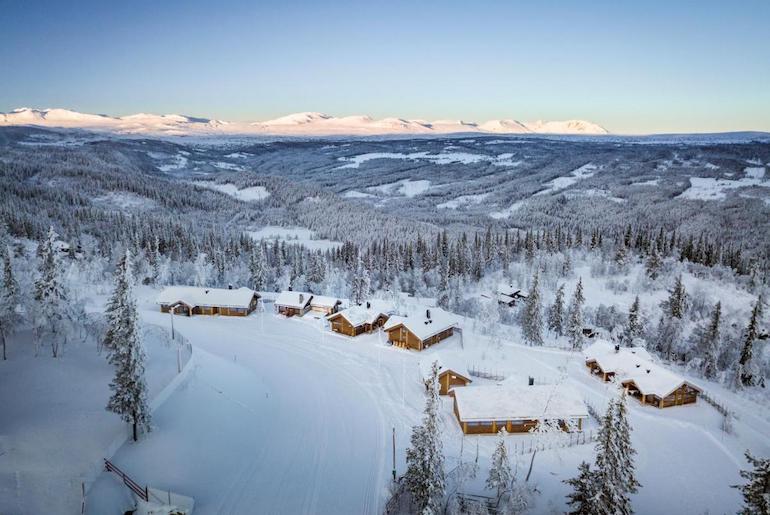 Don't forget your skis if you come in the winter, because Liapark is next to the Liatoppen ski resort.
Your cottage comes with everything you need including free wifi, a tea/coffee maker and a fully-equipped kitchen with a dishwasher and oven.
You'll also have access to a sauna, a barbecue area and dozens of ski runs. Liapark is a perfect option for those who want to escape the city while staying cosy and comfortable.
You can go skiing in the morning, warm up with a barbecue lunch, and then take a relaxing walk through the beautiful mountain scenery in the afternoon. What a dream!
Frolic in the fjords
Stay in the town of Luster, on the shores of the Lustrafjord, near the Jostedalsbreen national park, where the mountains meet the sea.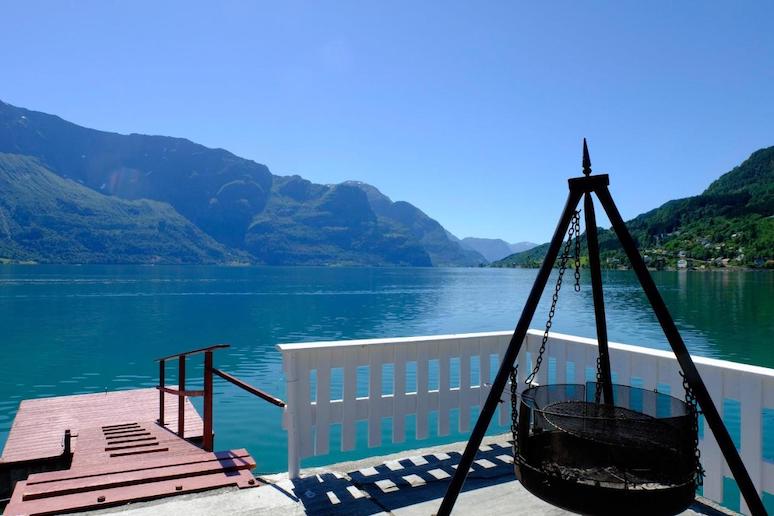 Dalsøren Camping og hytter has simple newly renovated cabins and cottages right on the waterfront, with wonderful views of the majestic fjords.
These cottages are located right next to the water, so you can take a dip in the refreshing fjord waters and enjoy the stunning views.
You can also go fishing or kayaking, or simply relax on the beach and soak up the tranquil atmosphere.
Sleep in an enchanting igloo
North of Trondheim near the village of Husby, Sørfjorden Eye Iglo – Fosen is the perfect retreat for those wanting to sleep in an igloo. The igloos are completely see-through, with 360 views of the surrounding forests and skies.
You will truly feel immersed in nature, with the ability to stargaze – and maybe see the northern lights – from the comfort of your bed.
Each igloo has a cosy bed and warm blankets to ensure a relaxing night's sleep.
You can also enjoy the beauty of the fjord from the outside seating area, which is perfect for a cup of coffee or a glass of wine. It doesn't get much better than that!
Bed down on the beachfront in Bø
Only a few steps away from the sea is the Vesterålen Beach Glamping site in Bø i Vesterålen. Here you'll sleep in a round yurt-like tent in beautiful surroundings.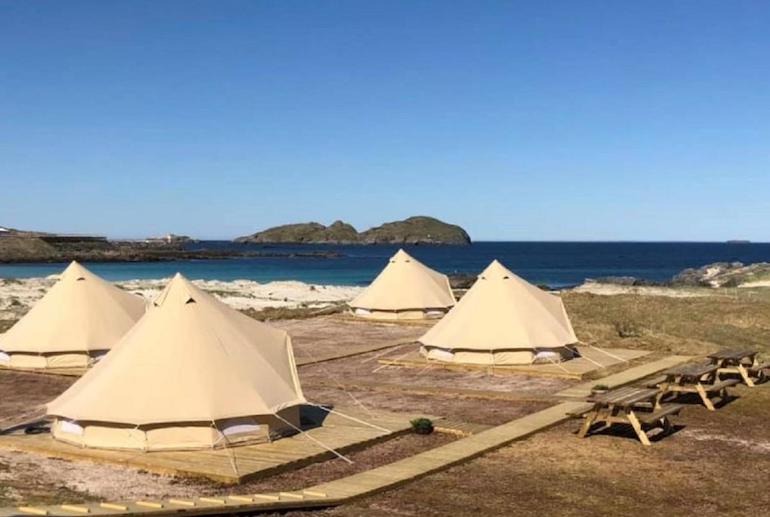 In the morning, wake up to the sound of the waves and step outside to enjoy a cup of coffee or tea while taking in the stunning views of the sea in front of you.
Vesterålen is a large archipelago spanning the northern part of Norway, where you can go kayaking, fishing, hiking and cycling. The nearby town of Bø offers restaurants and cafes where you can try the local cuisine.
Charming stay in a lodge
For something a little more rustic, consider the authentically Norwegian Reinheimen Lodge in Skjåk, nestled in the heart of the Reinheimen National Park.
The lodge itself is on a lake, and each individual cabin has its own patio with a lake view. It also offers a yummy buffet-style breakfast, which guests can enjoy with views of the Reinheimen mountains.
Have a hiker's getaway
Hikers Camp, Part of Preikestolen BaseCamp, is a great spot for all those who love to be outdoors, but especially for hiking enthusiasts.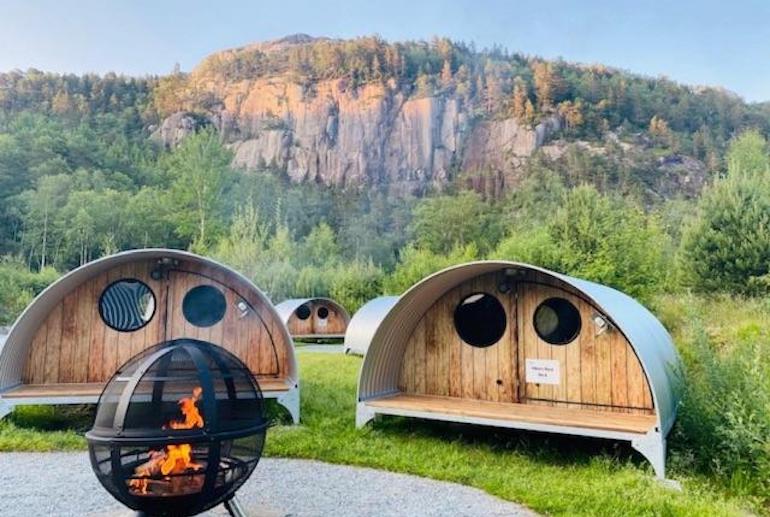 This glamping site is part of Preikestolen BaseCamp in Jørpeland and is situated in a stunning forested area at the base of the iconic Preikestolen cliff.
There are several hiking trails in close proximity to the site, and it's the jumping-off point for the trek up to the famous Preikestolen cliff, or Pulpit Rock.
For more on climbing this iconic summit, see Hiking to Pulpit Rock. In addition to hiking, you can try a range of other outdoor activities, including kayaking, fishing and mountain biking.
After a long day of hiking, guests gather around the campfire to swap stories with other hikers or head to the nearby restaurant for some delicious local cuisine.
How much does glamping cost in Norway?
The cost of glamping can vary widely depending on many factors. On average, glamping in Norway can range from around $50 to $200 (that's 516–2,067 NOK) per person per night, depending on the level of luxury and the season.
Where to book glamping in Norway
There are many websites where you can book glamping spots in Norway, but our recommendation is Booking.com. It has endless glamping choices, and you can easily filter your search by location, price, amenities and more.
See also:
Camping in Norway
Glamping in Scandinavia
Camping in Sweden: the ultimate guide
Like what you've been reading? Get our best tips by email!