Much of Norway's craggy western coastline is cut by fjords – steep-sided, narrow inlets gouged out millennia ago by glaciers. And cruising their blue-green waters is a highlight of any Norwegian trip.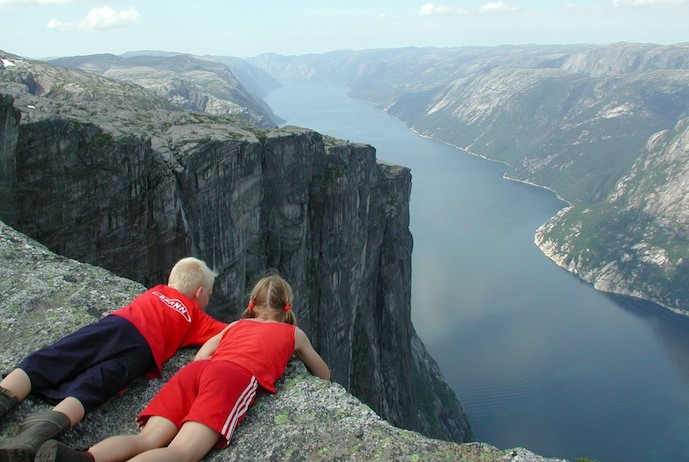 However, there are around 1,100 fjords in total, and there's no way you could see them all in one trip. And due to their geography, surrounded by towering mountains and jagged coastlines, the fjords are not always easy to get to.
To help you out, we've made this guide showing on the best places to base yourself. All of the following places have good public transport links and budget accommodation, allowing you to experience some of Norway's most scenic fjords without blowing your budget.
Stavanger: the best for selfies
Seen Mission Impossible: Fallout? Pulpit Rock (Preikestolen in Norwegian) is the monumental slab, jutting out over Lysefjord far below, that Tom Cruise faces in the final fight scene.
And nearby Stavanger is probably the best base for visiting Lysefjord and Preikestolen, one of the most snapped sights in the country.
But, before you join the selfie-stick wielding throngs, take some time to explore this buzzing oil town with its good-looking harbour, where herring were landed by the billion in the 19th century.
The seafarers' and cannery workers' quarter, Gamle Stavanger, is the prettiest neighbourhood for a wander along cobbled streets among white clapboard houses.
Check out the life-size, cast-iron human figures around town, too – the 23 sculptures make up a work called Broken Column by British artist Antony Gormley.
You can get to Preikestolen from Stavanger by public transport: the journey involves a ferry and bus followed by a steep two-hour hike up to the top. The easier option is to take a guided tour, which includes return transport from Stavanger.
To avoid the crowds, opt for a sunrise hike or an off the beaten-track tour. Other less busy options from Stavanger include an early-morning fjord cruise and hike to Kjerag – the boulder famously suspended between two rocks.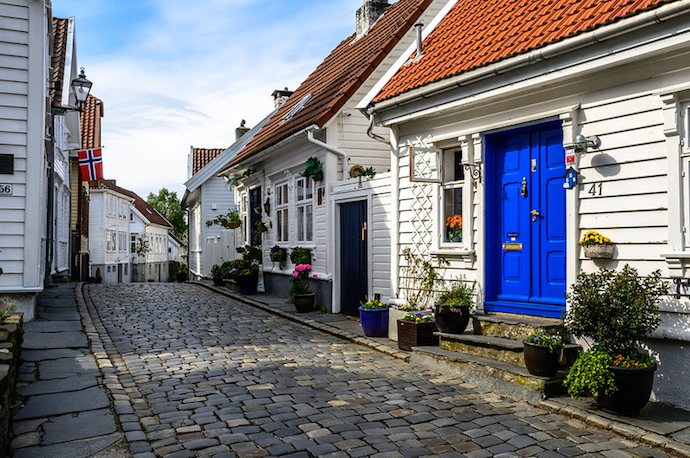 Alternatively, quieter fjords such as Boknafjord, Sandsfjord and Saudafjord (the latter with many small beaches) can all be reached by express ferry from Stavanger.
Getting to Stavanger
Stavanger airport is about 20 minutes out of town, with international and internal flights, while Nor-Way Bussekspress runs regular buses from Bergen to Stavanger (5h 20m).
Where to stay in Stavanger
Stavanger Bed & Breakfast is central and friendly, with free waffles and coffee every evening. Beds of Stavanger near the ferry terminal offers hostel-style dorm beds in a old beamed building.
Voss: best for adrenaline junkies in a hurry
Voss is in a great position between Sognefjord and Hardangerfjord, with fast, frequent public transport connections, so you can easily see the best bits of the Western Fjords without needing to hire a car.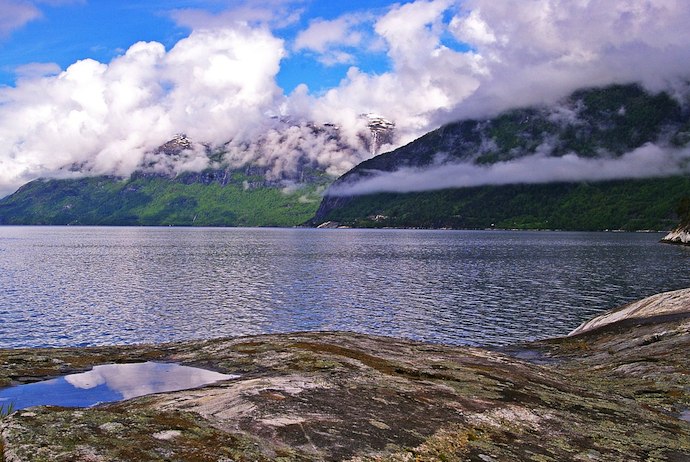 It makes a great base if you have limited time and are ready to pack a lot in. Known for its whitewater rafting, downhill skiing, paragliding and kayaking, Voss has more of a resort vibe than the sleepy villages around it.
Tre Brør café is its social hub, with live music and DJ nights, a seasonal menu and 20 beers on tap from the village microbrewery (the brewing tradition goes back centuries).
From Voss, a great trip is doable in a day, that includes the Flåmsbana railway, a cruise or paddle on Sognefjord into Naerøyfjord, then the bus back from Gudvangen.
You can also get to the bucolic villages of Hardangerfjord by bus. Some of the best villages to aim for include the cider-producing Ulvik, Eidfjord for the Vøringsfossen waterfall, Odda for Trolltunga (another insta-worthy rock to clamber up) and Lofthus, for a hike up to Hardangervidda national park.
Skyss buses and Norled ferries will get you around.
Getting to Voss
Regular trains run to Voss from Bergen (1hr 15min) and Oslo (5hr 16min).
Where to stay in Voss
Voss Hostel (HI) on Lake Vangsvatnet is large, modern and does a good breakfast of local, organic produce.
Åndalsnes: for nature lovers
Tucked away on the innermost arm of Romsdalsfjord, Åndalsnes lies within striking distance of Geirangerfjord, one of Norway's best-known fjords – yet it's out the way of the stampede of visitors.
Arriving by train from Oslo is part of the fun, with the final leg on the Rauma branch line giving a glimpse of the Trollveggen, a vertically overhanging mountain wall.
A don't-miss day trip from here is the Golden Route from Åndalsnes to Geiranger along Highway 63. Geiranger itself is tourist honey-pot, but for mountain scenery it's off the scale, dwarfed by horseshoe-shaped fjord walls reaching 1,400m above sea level.
You get there via the 11 hairpin bends of Trollstigen (Troll's Ladder) – if you're brave enough, you can drive it yourself (summer only), or join a guided tour (late-June to August).
Alternatively, you can tackle the 10km Romsdalseggen high-level ridge hike, which starts in Vengedalen (bus from Åndalsnes, mid-June to end Sept) and ends in Åndalsnes, giving bird's-eye views along Romsdalsfjord to the sea.
And if that's all too energetic for you, you can just hire a kayak and go for a peaceful paddle on the fjord.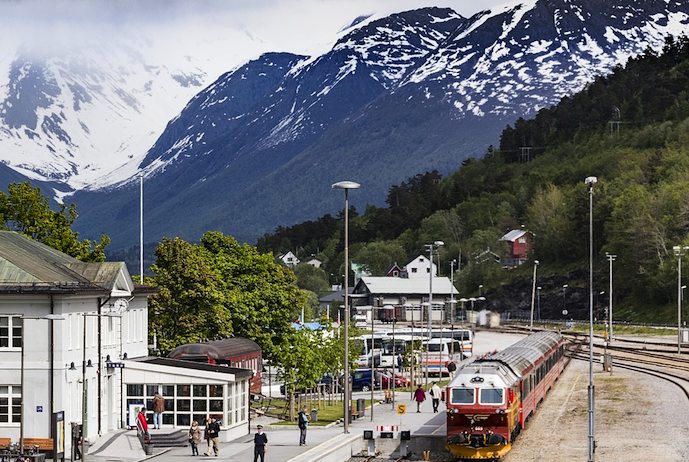 Getting to Åndalsnes
Trains run from Oslo (6hr 41m, 1 change), or it's a 6hr drive from Oslo, and a 4hr drive from Trondheim.
The slowest but most exciting way to arrive is on a Hurtigruten cruise ship from Bergen to Molde (19hr 30min), then by bus to Åndalsnes (1hr 20–30min; hourly).
Where to stay in Åndalsnes
Åndalsnes Vanderhjem hostel (HI) is a turf-roofed building with views down to the fjord, while the waterside Åndalsnes Camping offers cabins as well as pitches.
But, if you really want the wow factor, splash out on a luxuriously minimalist Birdhouse room at Juvet Landscape Hotel in the middle of nowhere between Åndalsnes and Geiranger.
Bodø: best for wilderness adventure
When people refer to 'fjord country' they normally mean the western fjords near Bergen.
But the fjords run all the way up the coast to the Russian border. Bodø in the Arctic Circle has a fab setting on Saltfjorden, with the Børvasstindene mountain range to the south, and the bonus of midnight sun between 1 June and 12 July.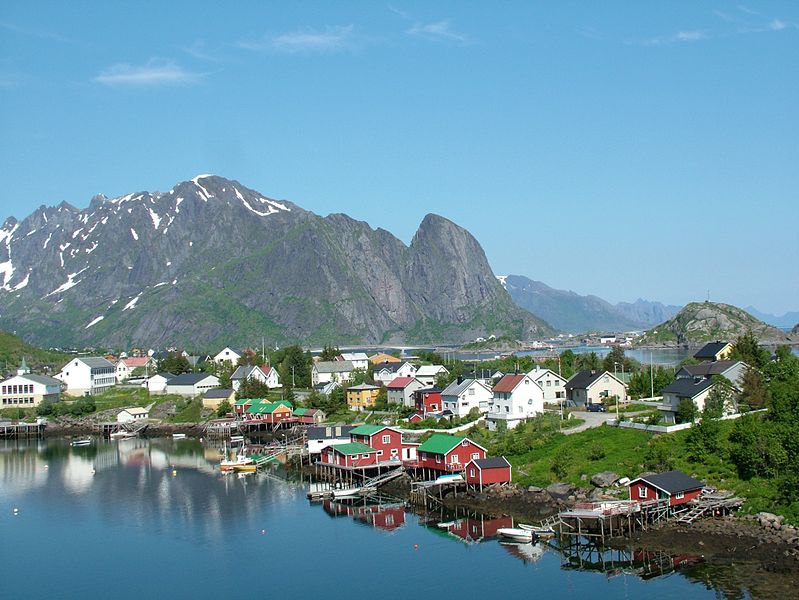 Rebuilt after bombing in WW2, Bodø is cheerful enough, but you don't travel all this way for its urban attractions. The major draw here is the Lofoten Islands across Vestfjorden – in good weather they can seem lapped by a Caribbean-blue sea.
The Nordland Express passenger ferry crosses to Solvaer on the island of Austvågøya daily (3hr 20min), passing islands and skerries on the way, and Hurtigruten ships call in as well. Alternatively you can spot sea eagles and see the Hartøy islands from the decks of a yacht, with a 'refreshing' swim thrown.
Getting to Bodø
There are direct flights from Oslo to Bodø. From Trondheim, the overnight bus or train takes 9–10 hours, or it's a 10-hour drive.
Where to stay in Bodø
Airbnb choices include the spacious, centrally located Nordlysbuen, and Mariann's cottage, a 15-min drive out of town, full of character with vintage finds.
See also:
Like what you've been reading? Get our best tips by email!