Devil worship, church burning, murder and violence – is that what Norwegian black metal is all about? Or is it an energetic music genre with poignant lyrics and symbolism based on Norse mythology?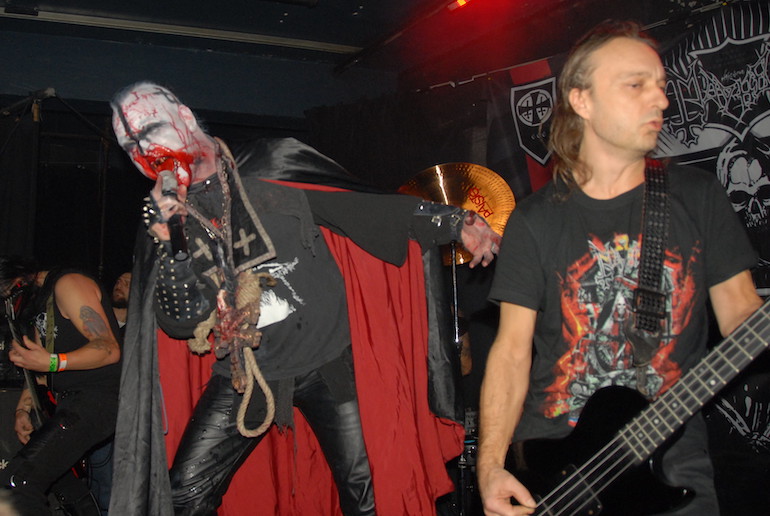 Our ultimate guide to Norwegian black metal gets to the root of the subject, suggests some bands and albums to check out, and explores the dark side of Norwegian metal.
What is black metal?
So, black metal is a type of heavy metal music that features shrieking vocals, dissonant guitar riffs and satanic, anti-Christian lyrics.
It combines extreme metal elements, such as thrash metal and death metal with lyrics that are often based on Viking and Norse mythology with a nihilistic or even apocalyptic world view.
Black metal bands often have a very distinct look, with dramatic make-up featuring macabre corpse images, and band members are usually known by gnarly pseudonyms, such as Cadaver, Dead, Euronymous and Faust.
What is Norwegian black metal music?
Norwegian black metal music is a type of black metal that developed in and around Oslo and Bergen then became popular throughout the rest of Norway. 
The occult and satanism are key parts of the Norwegian black metal scene, with high-pitched vocals and deliberately low-tech production values.
Swedish black metal vs Norwegian black metal
So what's the difference between Swedish black metal and Norwegian black metal? Well, hardcore metal fans will tell you that the music which emerged from Sweden is death metal, while the Norwegian sound is black metal.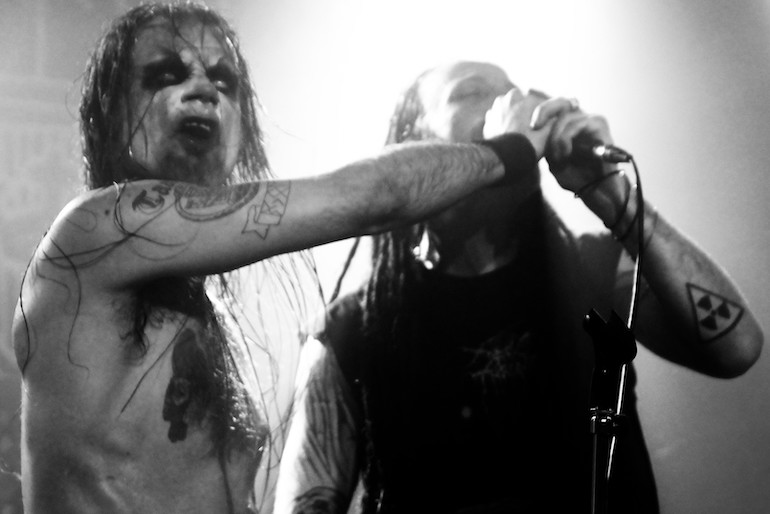 Swedish death metal is all about volume, noise and energy with low growly vocals, while Norwegian black metal is more emotional, with poignant lyrics, discordant key changes and high-pitched vocals.
And as for which country has the best black metal? Most metalheads agree that, with a few notable exceptions like the Swedish band Bathory, it's Norwegian black metal bands that rule the roost. Unless of course, you ask a Finn…
Why is black metal popular in Norway?
So, why do so many Norwegians like black metal in particular? There is clearly something about its pagan message, bleak ideology and Viking roots that appeals to Norwegian sensibilities. 
But also, one of the key features of the Scandinavian black metal sound is its accessibility and authenticity – the idea being that anyone with a guitar can produce their own black metal music.
You don't need a high-tech studio sound, a huge budget, or even the best instruments. You just need talent and to 'live' the scene.

Who invented Norwegian black metal?
Like most musical genres it's hard to say that it was invented by one particular person or band, but the name black metal actually came from the title of the second album by the English group Venom in 1982.
The first Norwegian black metal band was Mayhem, who released their first album Deathcrush in 1987.
Norwegian black metal history
However, it was the second wave of Norwegian black metal in the early 1990s that really had an impact, with bands such as Burzum and Emperor hitting the headlines – and not just for their music.
In 1991, the singer from Mayhem, Per Yngve Ohlin (whose stage name was Dead), committed suicide. He slit his wrists, then shot himself and his body was found by the band's guitarist Euronymous (real name Øystein Aarseth).
Euronymous's notoriety grew after he rearranged the scene to take photos before calling the police, then allegedly made necklaces from pieces of Dead's bone.
His behaviour also started rumours of Norwegian black metal cannibalism, with allegations that he made a stew from his dead friend's brain then ate it.
Shortly after his band mate's death, Euronymous opened a record shop called Helvete (Hell) and a record company called Deathlike Silence Productions in Oslo.
And it was Helvete that became the focal point for the Norwegian black metal scene, with Euronymous' satanic, anti-society and anti-religion ideology gaining traction amongst other bands and their followers, who became known as the Black Circle.
Their pagan ideology spread into a cult of Norwegian black metal burning churches, supposedly in revenge for the destruction of Viking temples.
Eight churches in Norway were set alight in 1992 alone, and Count Grishnackh (Varg Vikernes) of Norwegian black metal band Burzum was convicted of three of them.
Faust (Bård Guldvik Eithun) of the band Emperor and Jørn Inge Tunsberg from Immortal were also convicted of further counts of arson.
Norwegian black metal murders
The scene also became known for its Norwegian black metal killings after Count Grishnackh joined Mayhem as a bassist, and then stabbed Euronymous to death in 1993. Count Grishnackh was arrested for murder and arson and served sixteen years in prison.
Faust, the drummer from Emperor, also stabbed a man to death in Lillehammer in 1992, for which he served fourteen years in prison.
For more on the dark side of the scene, the Norwegian black metal documentary Until the Light Takes Us explores the characters behind the disturbing violence, while the controversial book Lords of Chaos: the Bloody Rise of the Satanic Metal Underground and its subsequent film adaptation provide insights into the rise of the violent nihilistic doctrine.
And check out this with interview with Gaahl, the Norwegian former frontman of Gorgoroth and Trelldom, for a fascinating insight into his reclusive life in a remote Norwegian valley.
List of Norwegian black metal bands
So if you want to find out more about Norwegian black metal, here's a list of some of the top Norwegian black metal bands.
1349 Black metal band from Oslo named after the year that the Black Death reached Norway, killing almost 70 percent of its population.
Bathory Swedish black metal band named after the Hungarian serial killer, Countess Elizabeth Bathory.
Burzum One of the early and most influential Norwegian black metal bands, founded by Count Grishnackh (Varg Vikernes) in 1991, with its name inspired by JRR Tolkein's Lord of the Rings.
Darkthrone Norwegian black metal duo, that was founded in 1991 and are still recording, though they never play live.
Dauden A metal band from Sarpsborg that started out as a four-piece in 2007, though it's now only got one permanent member, the original founder, drummer and songwriter Malignant.
Dimmu Borgir Norwegian band formed in 1993 and named after an Icelandic volcano.
Emperor Formed in Notodden in 1991, Emperor is one of the earliest Norwegian black metal bands – and also one of the most notorious.
Gorgoroth A self-cenfessed Satanic metal band from Bergen that was founded in 1992 by the guitarist Infernus.
Immortal Norwegian black metal band from Bergen, formed in 1991 by Abbath Doom Occulta and Demonaz Doom Occulta.
Kampfar Black metal band from Fredrikstad in Norway, whose name is an ancient Norse battle cry.
Mayhem Seminal Norwegian black metal band founded in 1984 and notorious for their provocative stage shows and off-stage scandals.
Mork Founded by Thomas Eriksen in Halden, Mork is more of a one-man band since Eriksen performs and records accompanied by a variety of black metal guest musicians such as Silenoz from Dimmu Borgir or Malignant.
Order Founded in 2013, this relatively new band features former Mayhem members including Cadaver and Gluecifer.
Ragnarok Formed in Sarpsborg in Norway by Jerv and Jontho, Ragnarok is named after the final battle between the Norse gods and the giants.
Satyricon Formed in Oslo in 1991, Satyricon was the first Norwegian black metal band to be signed by a multi-national mainstream label, EMI.
Taake Originally named Thule, Taake was formed in Bergen in 1993 by Ulvhedin Hoest, who is now the band's only permanent member.
Venon English band from Newcastle who kickstarted the black metal movement with the title of their second album.
The best Norwegian black metal albums
And if you fancy having a listen to some Norwegian black metal, here are our five favourite Norwegian black metal albums, with Spotify links.
Hordalands doedskvad by Taake
Released in 2005, Hordalands doedskvad is widely considered to be Taaak's best album, with great guitar riffs, excellent vocals and drumming.
Filosofem by Burzum
Burzum's fourth album and arguably its best, Filosofem is more experimental and original than previous albums with a minimalist aesthetic.
At the heart of winter by Immortal
Immortal's experimental fifth album (released 1999) fuses black metal with thrash metal to great critical acclaim.
Under a funeral moon by Darkthrone
Released in 1993 as a "pure black metal album", Darkthrone's third album is considered essential black metal listening, with short, focussed songs and distortion playing a big part in the album's vibe.
Stormblåst by Dimmu Borgir
Dimmu Borgir's second album from 1996 has symphonic black metal undertones and was the last album that they sung entirely in their native Norwegian.
See also:
Nordic and Viking tattoos
The Valkyrie symbol: what is it and what does it mean?
Norse gods, goddesses and giants
Like what you've been reading? Get our best tips by email!