Pulpit Rock, or Preikestolen to use its official name, is one of Norway's best-known natural attractions.
Even if you don't know the name, you may recognise the rock, as it's been photographed countless times, with people perched near the edge proudly raising their arms at having reached the plateau.
You may also recall Tom Cruise climbing the cliff face in the final fight scene of Mission Impossible: Fallout. But you don't have to be a Hollywood star to visit!
Where is Pulpit Rock?
Located in western Norway in the county of Rogaland, Pulpit Rock rises 604m above sea level, its iconic flat outcrop towering over the fjord and interlocking valleys below.
It's open for hikers from May to October each year. And in 2018, Pulpit Rock drew close to 300,000 visitors. Make no mistake – this is a seriously popular attraction!
Trekking up to the top demands a reasonable level of fitness. It's a moderate trek with breathtaking views, and it's a great introduction to hiking in Norway.
The trek begins easily enough, and the route is marked. It takes about four hours to do the whole trek to the top, including the return leg.
The route to Pulpit Rock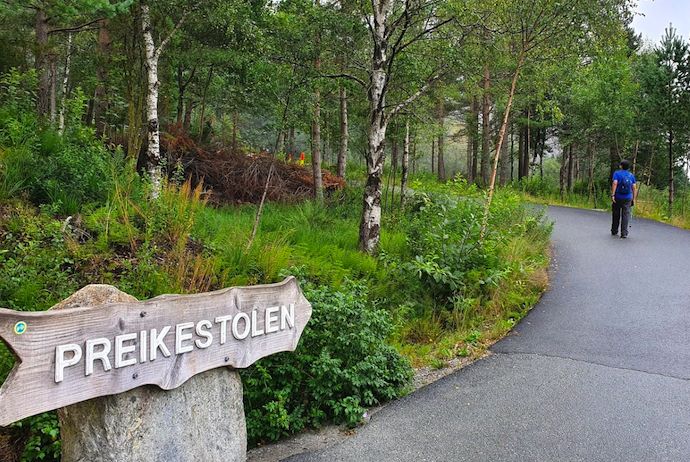 To reach the summit, you'll hike upwards for about two hours, along largely rocky terrain. The most challenging part of the climb lies between the 1.5km to 2km mark, as you ascend a series of steep rock steps.
Other than that, the rocky route undulates relatively gently upwards for most of the 3.8km-long trail, with the landscapes changing as you make you way up to the summit.
The route starts Preikestolen Mountain Lodge's car park. Expect zen-like forests in the early part – you'll know you're around halfway up when you see shallow ponds with ducks paddling in them.
As you near the top, you'll reach granite cliffs that overlook passing cruise ships in the fjord below.
Climbing Pulpit Rock: what you need to know
Although this is a 'touristy' hike, it's important to come prepared. The weather can change quickly during your climb, from clear sunny skies to rain and fog, and when that happens, the rocks get slippery.
This means wearing proper footwear designed for hiking, having warm clothing handy and using hiking sticks if possible.
Exercising caution and common sense is important too – and yes, this applies to your victory pose as well! Some 74 rescue operations were carried out in the first half of 2019 alone, 25% more than the total number in 2018!
Pulpit Rock is a tourist favourite, especially during the June to August peak, so things can get very busy. Narrow parts of the route can get clogged with hikers as a result, but practise the spirit of giving way and you'll be fine.
Civic courtesy applies at the summit as well – everyone wants a shot of themselves near the edge, and a queue will form organically. Be nice and don't jump the queue!
Getting to Pulpit Rock
The city of Stavanger in western Norway is the easiest and most usual starting point for hikers to Pulpit Rock, with the walk itself beginning at the car park of the Preikestolen Mountain Lodge, where you can also spend the night.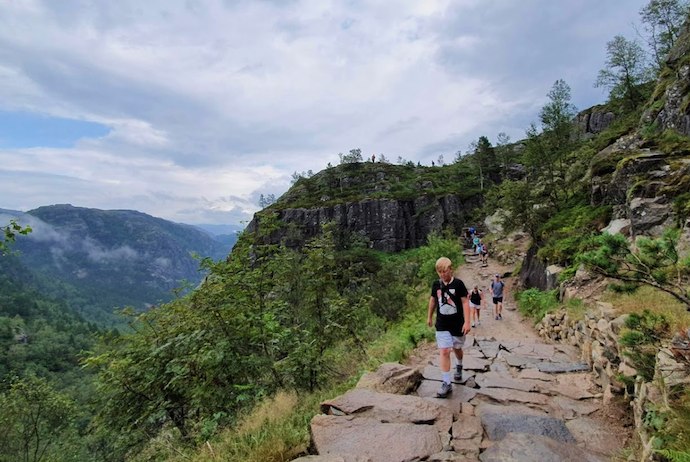 By ferry and bus
To get to the start of the hike, take the public Norled ferry from Fiskepiren in Stavanger to Tau, and from there, catch the bus up to Preikestolen Mountain Lodge. The entire journey takes about an hour one-way.
One-way ferry and bus tickets cost 62 NOK and 135 NOK respectively. Ferries depart every 40 minutes, and bus schedules are timed to meet the ferry arrivals.
By cruise boat
For a more scenic route, book a spot on a Preikestolen cruise and hike with Rodne Fjord Cruise. Instead of heading north on the public ferry to Tau, this trip departs from Strandkaien ferry terminal in Stavanger and heads eastwards.
The cruise takes you through the scenic Lysefjord, meandering up close to Vagabond's Cave, named after a group of vagabonds who hid from police for months in a cave surrounded by dramatic cliffs.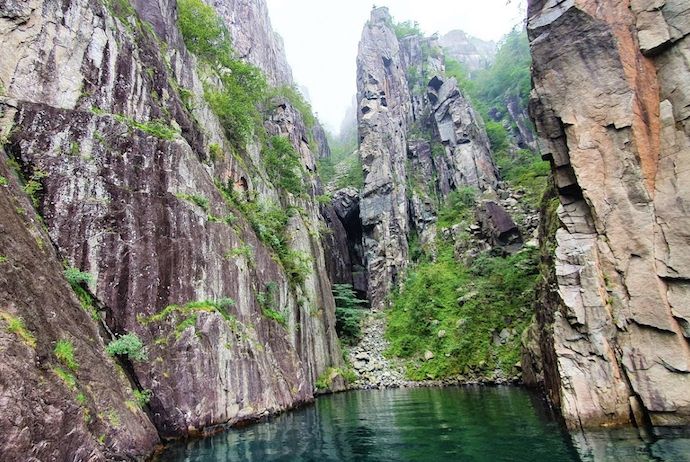 The boat also stops beneath Pulpit Rock, so you can look up and see the craggy plateau majestically hanging overhead before you climb it.
If you're still keen on the climb after seeing that view, get off the boat at Forsand, where a bus will take you to the start of the hike, then pick you up from the drop-off point for your return journey back via Tau on the public ferry.
The tour departs once a day at 10am, and takes about 8 hours for the entire trip, including the hike. Adult tickets cost around 470 NOK each. The price of the return ferry trip from Tau (around 62 NOK) is extra, and can be purchased onboard.
Alternatively, you can book this super-simple cruise and hike, with a professional guide accompanying you on the trek and all transport, including pick-up and drop-off at your hotel in Stavanger.
On a guided tour
There are a range of other guided tours available to make hiking the rock easier. One of the best, if you want to avoid the crowds en route, is the Sunrise Hike.
Okay, it's an early start – 5am pick-up! – but your reward will be watching the sun rise at the summit and the sense of satisfaction as you arrive back down in time for breakfast just as the crowds are setting off up the path.
What to do near Pulpit Rock
Unless you're driving past and staying near the start of the trail, chance are you'll be setting off from Stavanger, Norway's fourth most populous city.
Stavanger is a great place to base yourself for a few days, with plenty to see and do, including one of Norway's oldest and best-preserved medieval cathedrals.
Gamle Stavanger, or Old Stavangar, is also worth exploring with its cobblestone paths, 18th-century wooden cottages, galleries and handicraft shops.
And the city also boasts some interesting and quirky museums, such as the Norwegian Canning Museum, the open-air Museum of Archaeology, with Viking Age artefacts and an Iron Age Farm, and the Nordic Petroleum Museum.
Recommended tour: See Stavanger with a local
Eating and drinking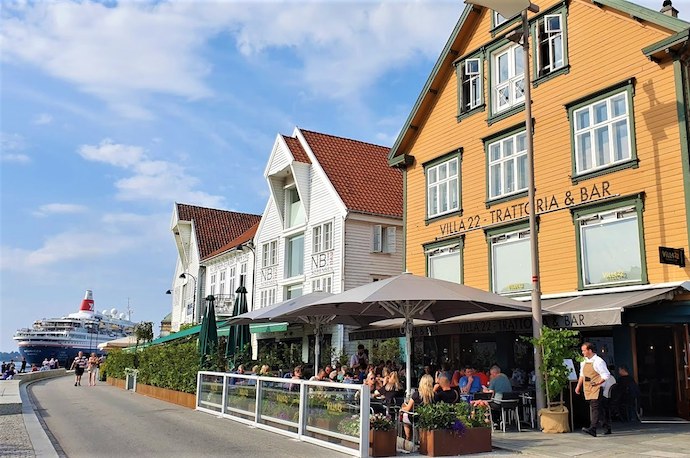 Fisketorget is the place to head for fresh seafood (reservations recommended, especially in summer), while the Cardinal pub is a Stavanger institution. Listed in the New York Times' '52 places to go in 2019′, it has 600 beers (on tap and bottle) to choose from.
Alternatively, Villa22 Trattoria & Bar is a crowd-pleasing favourite located on the harbour, serving traditional Italian dishes and coffee alongside a wide selection of cocktails.
See also:
8 great hiking tours in Norway
Camping in Norway: the ultimate guide
Like what you've been reading? Get our best tips by email!