With 10 days and a budget of less than £800 (around US $950), how much of Scandinavia is it really possible to see? We booked a cheap flight to Turku in Finland, packed a tent and set off to find out.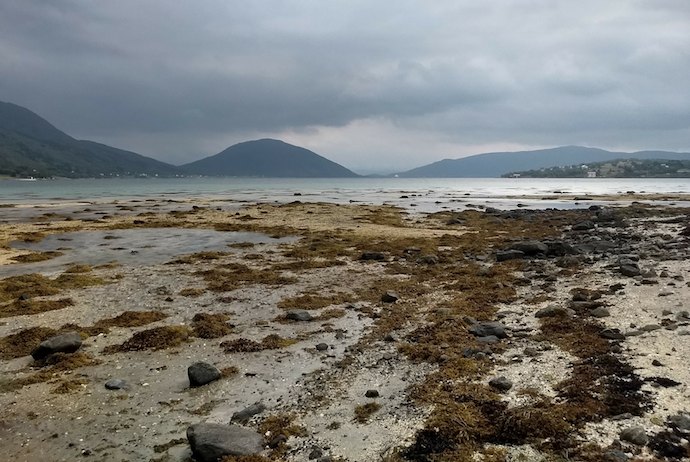 Three countries, two capital cities and 3000km later, here's our guide on what to do (and what not to do!), how to save money, and where to splash out, on a budget road trip round Scandinavia.
Finland
First stop was Turku airport, which is really little more than an airstrip. In fact, the airport is so small that within 15 minutes of landing, we were in our hire car and setting off to explore Finland. Beat that, Gatwick!
Our first night was spent camping on a small but pretty beach on one of the many islands in the Turku archipelago, accessed via a series of small ferries that allow you to hop from island to island.
The good news is that camping and the ferries are both completely free, and we bought a cheap bucket barbecue to cook on, so little outlay so far!
On day two, we drove for just over two hours to Helsinki, parking on the outskirts of the city at the aptly named CheapSleep Hostel. For €30 a night (in a 12-bed dorm), it was clean, sociable and just a ten-minute tram trip into the city centre.
We spent the day looking round Helsinki's best free and cheap sights, including the impressive cathedral (free to enter) and the main market square, stopping off at one of the city's many reindeer burger and hot dog stands for a cheap lunch (€6).
Suomenlinna fortress was a highlight, and is free to explore – the ferry there costs €5 return, and is included on the Helsinki public transport ticket.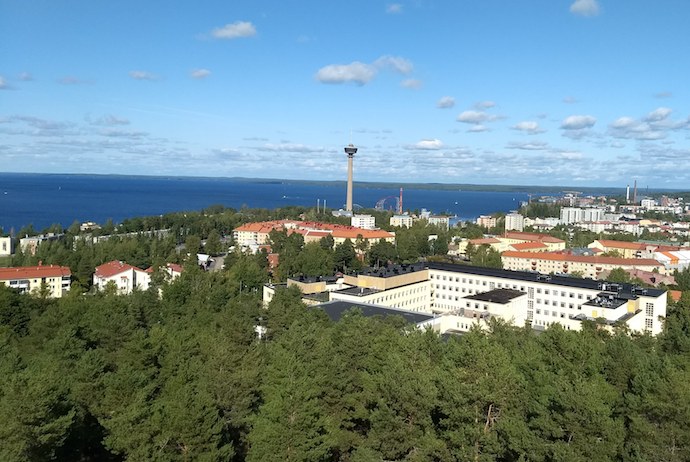 On day three, the driving began in earnest, and we cruised along the fast, fairly empty motorway up to Tampere in about three hours.
Tampere is notable for its many tall chimneys, signalling the town's industrial past. Today it is a pleasant place, surrounded by lakes, and the best way to get the lay of the land is from the top of the Pyynikki observation tower.
For a couple of euros, you get a good view of the city and surrounding lakes – and there's a great café at the bottom selling tasty Finnish doughnuts!
If you fancy sticking around in Tampere, this reasonably priced two-hour guided tour is worth a try.
Later in the day, we head north, pitching up at one of Finland's thousands of lakes, with a jetty for swimming, plus toilets and a barbecue area.
Marked by signs off the main road, these are dotted all over Finland and completely geared up for free camping and swimming.
On day 4, we head north via Oulu, a fairly non-descript town, that happened to be hosting a surprisingly good international market while we were there.
Here we had our best-value meal so far – a huge pizza buffet for €9 including unlimited salad. Not very Finnish it's true, but it seemed very popular with the locals too.
Beyond Oulu, the roads start to become more winding and towns few and far between. Our only companions on the three-hour drive up to Rovaniemi were plenty of reindeer alongside (and sometimes on!) the road.
Capital of Lapland, and on the edge of the Arctic Circle, Rovaniemi is better known as the home of Santa Claus.
The centre of Finnish Lapland's festive and winter activities, it's the base for numerous tours, such as these reindeer sleigh rides, husky tours and snowmobile safaris.
So what did we do here? We went to watch a Finnish premier league football match, of course! Rovaniemen Palloseura versus FC Lahti to be precise.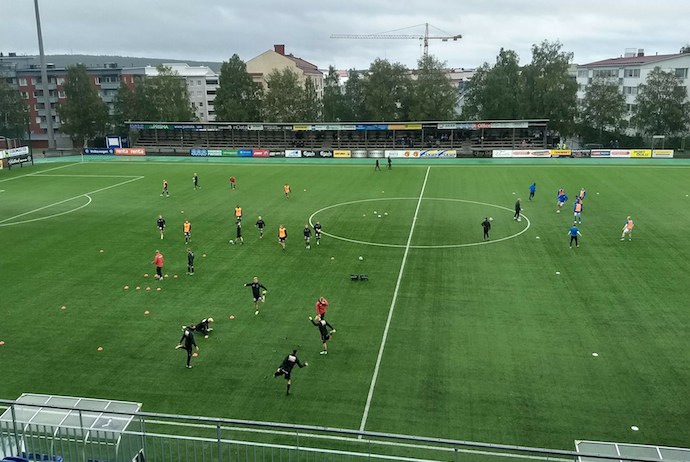 Tickets to this top-flight football match cost just €6, though a guy we met in the local bar was so excited at our interest in the team that he gave us free tickets!
Since we were here in the summer, the town was fairly empty and we got a twin room in the cheap but aptly named hotel Santas Hotel Rudolf for just €45.
Unsurprisingly, there was so sign of Santa, and we seemed to be the only people staying there.
Sweden
Day five consisted of a monster journey across the Swedish border following the winding river Torne.
We stopped at the mining town of Kiruna, where we filled up on a cheap pay-per-weight takeaway lunch from the local Co-op.
Beyond Kiruna, the scenery changes dramatically from a flat lake-strewn landscape to wild and mountainous terrain.
We trundled around the vast Lake Tornetrask and up into even more rugged countryside across the border into Norway.
Norway
First stop was the pleasant town of Narvik, site of the Battle of Narvik fought in the bay during World War II.
Its story is told at the town's modern, interesting War Museum (entrance 100 NOK).
Narvik is also home to a rather pricey cable car that has great views over the town, but you can drive to a cool lookout half-way up and get similar views for free.
After spending the night camping on a rocky beach just outside Narvik, we drove around the coast into the picturesque Lofoten islands, with their winding roads and remote beaches.
The lookout is also the best place to see the (manmade) Narvik waterspout shooting a jet of water 75 metres up into the sky every day at 1pm and 9pm (from May to September).
And back to Sweden
Norway was beautiful but noticeably more expensive than the already pricey Sweden and Finland, so we headed back into Sweden alongside Lake Tornetrask, pitching up at stunningly beautiful Abisko, which is popular with hikers and skiers in winter.
The 20-minute ride up the cable car at Abisko is not cheap at about 250 SEK (around £20) return, but gives great views and access to some wonderful well-marked hikes.
Day 6 involved a long drive from Abisko to Luleå, past plenty of pretty lakes. B
eyond Lulea the scenery flattens out again, and the route follows a rather dull motorway to the university town of Umea, which is pretty enough but not a must-see.
We camped on a beach just outside town, again with free public toilets and a barbecue area.
On day 7 we had another long drive from Umea into Stockholm. We stopped off for a walk up Skuleberget on the way to stretch our legs and admire the views over the aptly-named High Coast (Höga Kusten).
Central Stockholm has paid parking pretty much everywhere, but it's pricey, so we parked on the outskirts and got the tube into the centre.
The tube trip was worth it for the elaborate stations alone, which are carved out of rock and decorated with interesting artworks.
Here, we stayed in the very nice, clean Generator Hostel where we paid about 320 SEK (€30) for a bed in a 4-bed room.
There are less expensive options, but it's stylish and comfortable, so worth the extra.
Day 8 was spent in Stockholm exploring and splashing out more money. The centre of Stockholm feels very decadent and grand, but also pretty, with big old buildings, not too high-rise.
It's not a cheap city so be prepared to dip into your pockets, but wandering around the atmospheric old town Gamla Stan is great – and doesn't cost a penny. There are loads more ideas for free things to do in this guide.
Finland finale
At 8pm we boarded the overnight ferry from Stockholm to Helsinki. It cost €70 per car (including passengers). Sleeper cabins cost a lot more, but they're not compulsory. There's not much seating (to encourage people to get a cabin), but it's doable if you bring a sleeping bag.
Those in the know take their own airbeds into the seating zone and sleep on floor, and bring their own food, which is expensive to buy on the boat. Check out our guide for more on the ferry from Stockholm to Helsinki.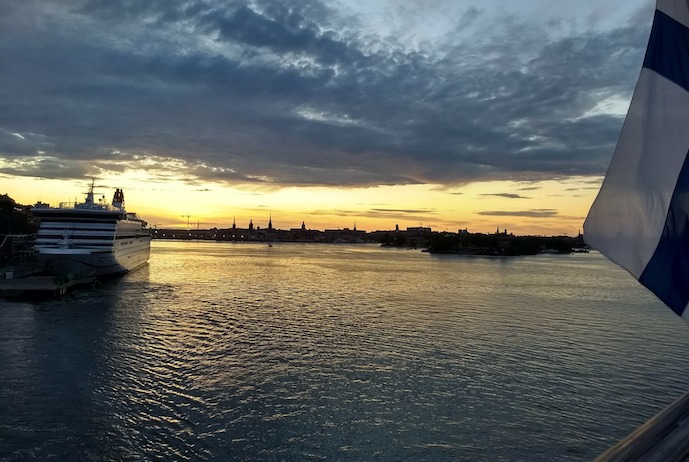 On day 9 we're back in Turku – and to celebrate we hired electric scooters (€1 release fee, then 30 cents a minute) and whizzed round the city exploring. They're great fun and good for quick trips, or sightseeing if you're short of time.
So, what did we learn from our budget, whistle-stop Scandinavian road-trip? Well, the main thing is that Scandinavia is big – very big! We would love to do the trip again, but would factor in less driving next time and more time for stops and exploring.
Top tips: Best bargains on a budget road trip round Scandinavia
Transport
Car hire was surprisingly affordable, at £220 for a nice spacious 4-door car for 10 days – that works out at £22 a day, or £11 each.
It's cheaper still to hire a car in Tallinn in Estonia and take the 2-hour ferry over to Helsinki, but once you've added in the ferry fare for the car, it may well wipe out any savings. Only worth doing if you want to include Tallinn on your trip.
Of course, you have to factor in petrol too. Prices in Finland and Sweden are about the same as in the UK, in Norway it's a little more.
Petrol is cheaper at petrol stations on outskirts of town, while those in remote locations charge more.
Food
There's no escaping that food is Scandinavia is pricey. To save money, we bought a cheap barbecue then cooked on it in the evening at the lakeside campsites. Atmospheric, fun and cheap!
We bought breakfast and lunch from the supermarkets, and occasionally splashed out on pizza, which seemed to be cheapest and best option for filling warm meal.
Accommodation
Clean, free lakeside camping spots with toilets and swimming jetties are widespread throughout Finland and Sweden, and campfire and barbecues and allowed.
So, pack a tent, a sleeping bag and a bucket barbecue and you can really keep your accommodation budget down.
See also:
5 of the best Scandinavian road trips
110 cheap and free things to do in Stockholm