Iceland's volcanoes have hit the headlines multiple times this century. You might remember Eyjafjallajökull grounding flights across Europe in 2010 and Fagradalsfjall's eruptions in 2021 and 2022, for example.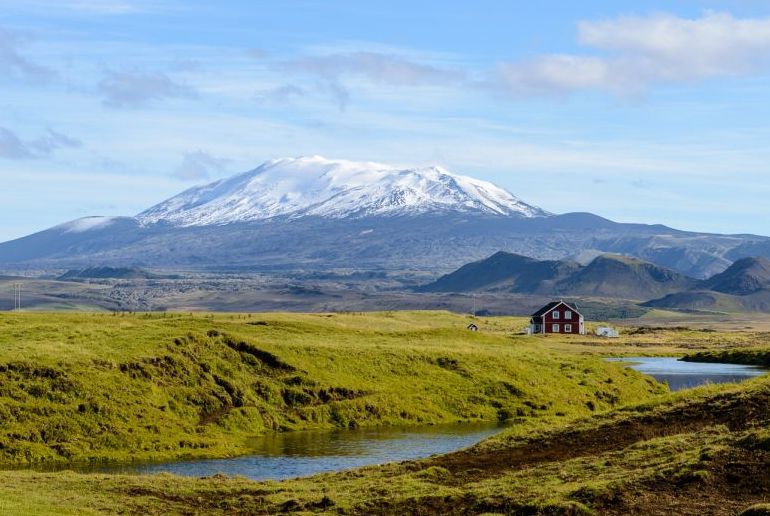 The Land of Fire and Ice lives up to its nickname spectacularly, and taking a volcano tour is one of highlights of visiting Iceland. This guide reveals everything you should know and picks out some of the best tours you can join. 
Why is Iceland such a good place to see volcanoes?
Iceland has roughly 130 volcanoes – the 11th most in the world – which come from just over 30 volcanic systems.
The country is especially great for seeing volcanoes if you want to do so safely; each volcano in Iceland is closely monitored, and local guides are skilled and knowledgeable in equal measure. 
Another reason why Iceland is great for seeing volcanoes is that you have plenty of choice in terms of location. Many volcanoes are close to the capital Reykjavík, but you'll find numerous others in more remote parts of the country. 
How many of Iceland's volcanoes can you actually visit?
Volcano tours in Iceland tend to focus on a few that are easy to access. Some you can hike to, others you'll get to see others from a distance on day tours – especially when you go to the country's south coast.
Are Iceland's volcanoes active or extinct?
Of Iceland's volcanic systems, it's thought that around 18 have not erupted in the past 10,000 years.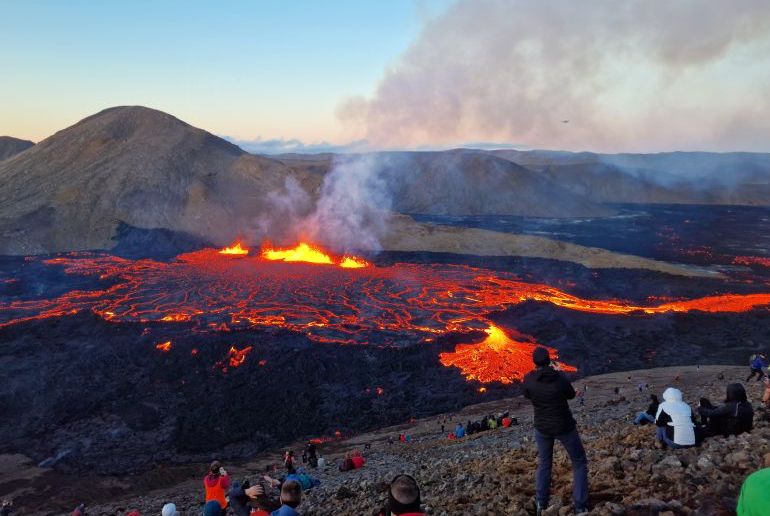 The remaining volcanic systems have erupted at least once in the past 10,000 years, with five Icelandic volcanoes erupting in the 21st century alone.
Do volcano tours run all year round in Iceland?
Many volcano tours in Iceland take place year-round, but it depends on numerous factors. The daylight hours are significantly shorter in the winter, meaning that some hikes might not be available when you're visiting. 
Moreover, your tour will potentially get cancelled if the weather's bad – though you'll usually get a full refund if this happens. 
Can you really go inside a volcano?
Iceland has a selection of tours that allow you to go "inside a volcano", and one you can actually go inside is Thrihnukagigur. This is the only magma chamber on earth you're actually allowed to enter – making it a truly one-off experience.
What's it like to go inside a volcano? Interesting, to say the least. There often isn't much lighting, so you'll typically get a flashlight on your helmet. You'll see lots of fascinating formations in the rocks, with several colours as well.
What other stuff can you do on a volcano tour?
Other volcano tours in Iceland include going inside ice caves and lava tunnels. You can also visit volcano museums and ride Icelandic horses over lava fields.
5 of the best volcano tours in Iceland
Hike round Hekla and Landmannalaugar
Hekla has erupted dozens of times since the 9th century and is one of Iceland's most unpredictable volcanoes.
It's also located in some of the country's most stunning natural surroundings, and this guided hike will take you around the region. 
The hike lasts for around four hours, and you can book a pick-up from Reykjavík. Besides Hekla, you'll also get to see the beautiful Landmannalaugar valley.
And you'll get to take a dip in  a natural hot spring. From around 150 USD per person.
Visit the Meradelir eruption site
This awe-inspiring tour explores the Meradelir eruption site, close to Reykjavík. You'll also will also get to see other parts of the Reykjanes Peninsula – which many visitors often skip when travelling between Keflavík Airport and Reykjavík. 
Some of the trip highlights include the basalt beach at Kleifarvatn and the mud pots at the Gunnuhver Hot Springs. From US$82 pp.
Pick a private hike to Fagradalfjall
Fagradalfjall's eruptions in 2021 and 2022 have died down for now, but it's still worth checking out the area. This private hike will take you to the eruption site, and includes a detour to hidden parts around the lava field.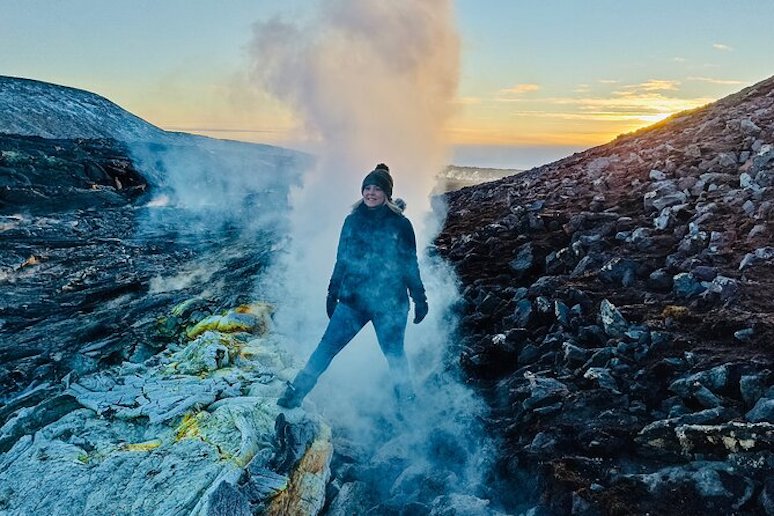 You'll get a stunning view of the surrounding areas on this trip, and it takes place year-round. Note that it might be a bit windy, so make sure that you're prepared. From US$189 pp.
Take a tour of the Land of Fire and Ice
This four-hour tour will take you to the Reykjanes Peninsula, where you'll see mud baths, hot springs and the iconic Reykjanes Lighthouse.
The excursion includes a visit to the stunning Sandvík beach and the Gelingdalir volcano. 
If you've only just arrived in Iceland, you can book this tour with a pick-up from Keflavík Airport. From around 1,670 USD per group. 
Explore the Katla ice caves
Many Icelanders expect the mammoth Katla volcano to erupt spectacularly in the near future – but for now, you can visit the ice caves nearby.
You've almost certainly seen these on Instagram, and stepping inside is an intriguing experience.
During the tour, you'll also get close to the volcano and the nearby Myrdalsjökull glacier. The meeting point is in Vík, which is the best place to stay if you're taking a tour of southwestern Iceland. 
From around 185 USD per person.
Stuck for time? Try these easy volcano tours from Reykjavík.
| | | |
| --- | --- | --- |
| Fagradalsfjall hike with a geologist | Take a tour with a geologist and see the iconic Fagradalsfjall eruption site from 2021 and 2022. | Book here |
| Full-day Fagradalsfjall hike | A long day exploring Fagradalsfjall, Gelingadalur, Kleifarvatn and more. | Book here |
| Fagradalsfjall hike | A tour to Gelingadalur and the surrounding areas. | Book here |
| Thrihnukagigur tour | Step inside the only magma chamber you can enter in the world. | Book here |
Tips for joining a volcano tour in Iceland
Check the meeting spot options before booking. You might be able to get a free pick up.
Wear appropriate shoes for the trip.
Dress warmly. Besides the cold, Iceland is very windy – and this can make it feel colder.
Listen to your guide, and don't stray from the group.
Check to see if you need to bring food and drink; some tours don't include these.
Check your tour's cancellation policy before booking.
Look at the hiking difficulty before joining; some tours require good fitness levels and prior experience.
Allow extra time for potential detours and other activities.
Learn why it's called the Land of Fire and Ice
Iceland is one of the world's most unique countries, and a volcano tour is unforgettable. From hiking to exploring ice caves, you'll find something that meets your interests.
You'll find several volcano tours close to Reykjavík, but you can also go further afield if you want. Why not book your next adventure now?
See also:
Snowmobile tours in Iceland
The best hotsprings in Iceland
When and where to see puffins in Iceland