Instantly recognisable, the Icelandic sweater may have started life as a humble fishermen's garment, but today it is an iconic fashion staple.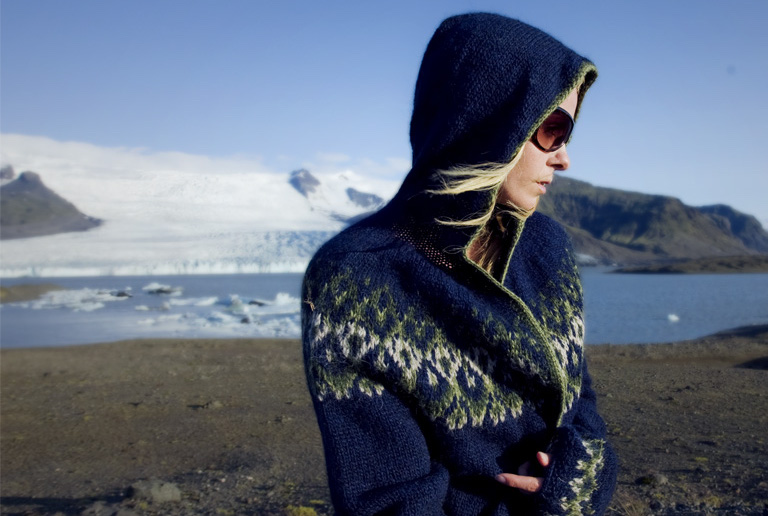 Worn by celebs and seen on the catwalk paired with shorts or even long skirts, Icelandic sheep sweaters are no longer simply practical winter wear for farmers.
And when the evenings draw in and temperatures drop what could be more cosy than wrapping up warm in a beautiful Icelandic sweater?
But what is the origin of the iconic Iceland sweater pattern? How much does a wool sweater cost in Iceland? And why are Icelandic sweaters so expensive?
Read on to find out all you need to know about traditional Icelandic sweaters!
What's the history of Icelandic sweaters?
Of course, warm woollen jumpers are nothing new and farmers and fishermen have been keeping cosy in their knitwear for hundreds of years.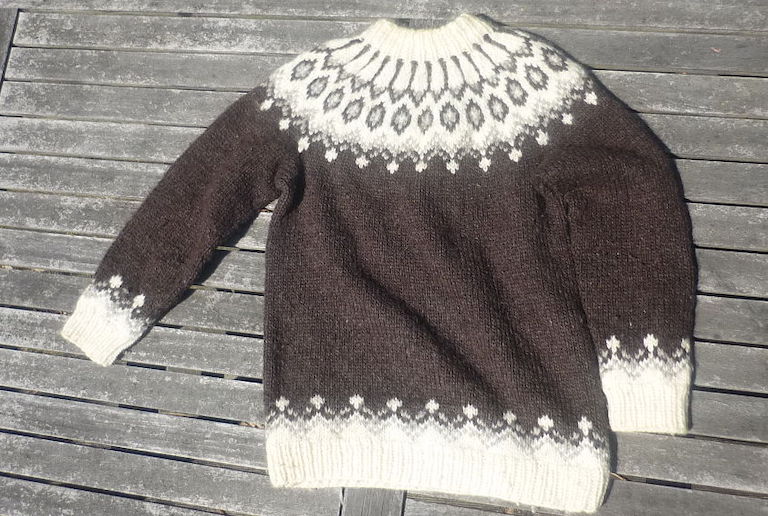 Sheep were introduced into Iceland from Norway by the Vikings, and now the country boasts more sheep than people. And knitting has long been a popular way to pass the long winter evenings for both men and women.
Some Icelanders argue that the sweater is so traditional that even Jesus wore one! To see for yourself, visit the Iceland Church of Christ on the tiny island of Flatey off Iceland's northwest coast. 
Inside the church, there's a mural of Jesus in an Icelandic sweater, painted by Icelandic Catalan artist Baltasar Samper.
In reality, however, the distinctive Icelandic sweater patterns are relatively new, dating from the 1940s.
Some credit Auður Laxness, the wife of Halldór Laxness – Iceland's only Nobel Prize winner for Literature – with the original Icelandic sweater design, though it's more likely to have been influenced by a variety of patterns including Latin American and Swedish designs.
What are Icelandic sweaters called?
Traditional Icelandic sweaters are known as lopapeysa, which comes from the Icelandic words lopi (which means wool or yarn) and peysa (which means sweater or jumper).
Lopi is the name of a specific type of unspun yarn that comes from Icelandic sheep, and has particularly warm and waterproof properties. And an authentic lopapeysa must be made of this Icelandic wool.
What is a lopapeysa sweater?
So, a lopapeysa sweater is an authentic Icelandic sweater made from Icelandic wool with the traditional pattern around the yoke.
The pattern looks similar to a fair isle sweater, but has a distinctive zig-zag design around the collar.
The traditional lopapeysa sweater was made in muted natural colours, such as grey, brown, black and white, but today they can be bought made from a range of brightly coloured wool. 
In fact, the lopapeysa now has protected status, and there are a list of criteria that a jumper must meet to be designated an official Icelandic sweater or lopapeysa.
It must be handmade in Iceland from Icelandic, unspun virgin wool (not recycled), and must have the distinctive circular patterned yoke.
How much are Icelandic sweaters in Iceland?
Of course, such craftsmanship doesn't come cheap. So if you're wondering how much will a lopi sweater cost in Iceland, the answer is a lot!
A traditional authentic lopapeysa that's is guaranteed handmade from Icelandic wool will set you back around 25-30,000 ISK (approximately £150–180, or US$170–200).
Where to buy Icelandic sweaters
So if you're thinking, where can I buy an authentic Iceland sweater, you've got pretty much two options. The first is to hop on a plane and go to Iceland, and the second, of course, is to look online.
Lopapeysa prices in Iceland may not be a whole lot cheaper than online but you'll have the joy of choosing and trying on your sweater in person, and with no delivery fees.
Where to buy authentic Icelandic sweaters in Reykjavik
If you do happen to be heading to Iceland, your first port of call should definitely be the ultimate lopapeysa shop in Reykjavik, the Handknitting Association Store.
With two shops in central Reykjavik, it was set up in 1977 by a group of Icelandic women knitters and all its jumpers are guaranteed hand-knitted in Iceland from Icelandic wool.
Icewear Icelandic sweaters are also a genuine brand with concessions around the country, while Nordic Store has three branches in Reykjavik selling all things Icelandic including authentic sweaters.
Buying Icelandic sweaters online
But you can also find lopapeysa for sale online too.
Icewear, the Handknitting Association Store and Nordic Store all sell their sweaters and lopapeysa cardigans online and ship to other countries. 
The Icelandic Store, based in Hafnarfjörður, just outside Reykjavik, also sells authentic lopapeysa sweaters for men and women online.
Buying Icelandic sweaters second hand
Buying vintage or pre-loved sweaters can be a great way to save money, and you may be lucky enough to get hold of classic brands such as Hilda ltd Iceland sweaters, that are no longer made.
In Reykjavik itself, vintage shops such as Spúútnik and Gyllti Kötturinn, and the indoor flea-market Kolaportið are the best places for a browse, while Etsy and E-bay are good international options.
Are Icelandic sweaters worth it?
Yes, Icelandic sweaters are pricey, but you are getting a handmade premium product that, if you  look after it properly, will last for years.
And if you want a cheaper version, why not knit your own Iceland men's sweater or a women's wool sweater?
You can buy a book of patterns online, and the Handknitting Association Store sells genuine Icelandic yarn online too.
Once you've bought your yarn and pattern, check out this video on how to knit your own lopapeysa.
Are Icelandic sweaters itchy?
Icelandic sweaters can be itchy, because of the tough properties of the wool that is used.
However, Icelandic children are dressed in Icelandic wool clothing from a young age and rarely seem to be bothered by it. 
Some people claim that it gets less itchy the more you wear it, and many people wear layers beneath their jumper so that it doesn't directly touch the skin.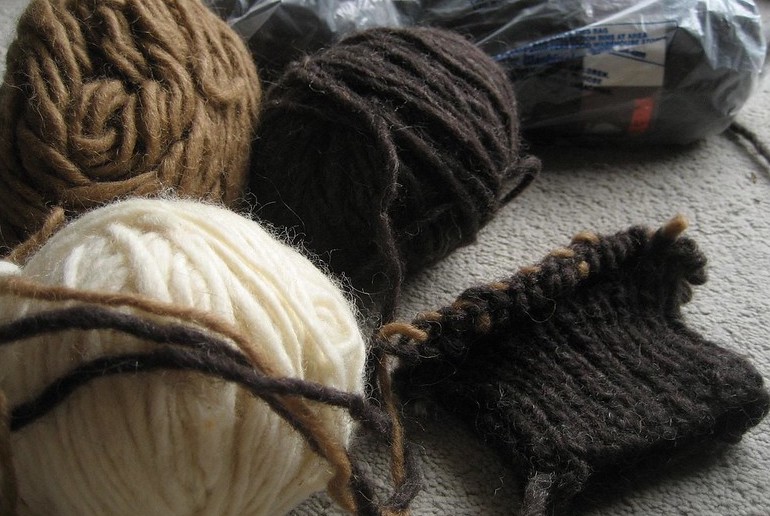 There is a debate about Icelandic wool vs merino wool, and it is true that a merino wool sweater (like this one) tends to be softer and less scratchy on the skin.
However, it doesn't have the same insulating qualities as Icelandic wool and, of course, it's not an authentic Icelandic sweater if it's not made from Icelandic wool!
What is the Iceland Eurovision sweater?
Not an authentic Iceland sweater, of course, but Icelandic sweaters went viral in 2020 when Icelandic singer Daði Freyr wore a very distinctive sweater while performing in the Eurovision Song Contest.
The jumper had a pixellated version of his face on it and even though the contest was ultimately cancelled that year due to Covid, Daði Freyr and his distinctive jumper took first place in the popularity stakes.
And if you want to see for yourself what all the fuss is about, the jumper is now on display at the Eurovision Museum in Húsavík.
Where can I get an Iceland puffin sweater?
Again, not a genuine Icelandic sweater, but this cute Icelandic puffin sweater is a popular – and cheaper – alternative.
See also:
Traditional Norwegian sweaters: what to known before you buy
Iceland packing list: what to bring with you
A guide to Danish fashion