Iceland has some of Europe's most dramatic and beautiful scenery, and it's well worth getting out of the towns and cities to explore the other-worldly landscapes.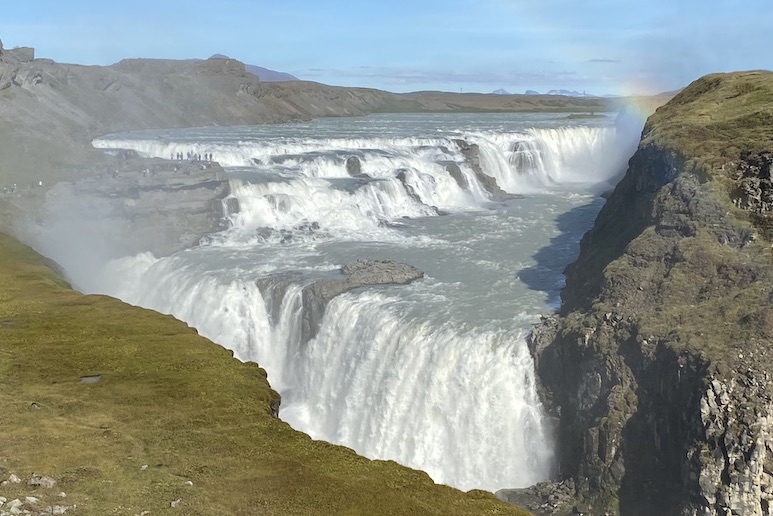 Hiring a car is the obvious way, but driving on Iceland's roads and getting off the beaten track in winter can be tricky.
Guided tours are great – they take you to see places you'd never otherwise access with expert local guides on hand – but you may not want to stick to a set itinerary and be with a busload of other people.
So, why not consider a private tour of Iceland? If you're travelling out of season, private winter tours in Iceland can be a really good idea.
And private multi-day tours of Iceland are a great way of seeing the best of the country in a hurry.
Whether you're on a stopover from the US, a two-week trip from India, a long weekend from the UK or a holiday from anywhere else in the world, a private tour of Iceland tailored to your own specific interests is a great bucket-list adventure.
We give you the lowdown on private guided tours of Iceland and explain how to book private tours in Iceland. So read, on and find out our pick of the best Iceland private tours.
Are private tours expensive?
So, first things first. Are private tours just for the superrich? Well, no, not really!
It's true that some of the most exclusive multi-day tours can cost thousands.
But it's worth bearing in mind that everything in Iceland can feel expensive and if you want to do any specialised activities you'll have to pay the going rate for an expert experienced guide anyway.
So if you're travelling with a group of friends or family, booking a private driver in Iceland will not necessarily cost much more than going on a bus tour, or hiring a car.
Where to book private tours
There's no shortage of companies offering private tours in Iceland, from a private day tour in Iceland, to the expert skills of a fully-qualified ice-climbing instructor.
But how do you know where to book and which companies are good? One of the best ways to find out what's on offer is to look on one of the tour sites, such as Get Your Guide or Viator.
They list a full range of tours run by private companies, where you can either browse all the private tours on offer or filter according to your specific interests.
Alternatively, you can check out specialist companies such as the highly-rated Pink Iceland who run private day tours specifically geared to the LGBTQ+ community.
Hike to an active volcano
The world's most volcanic island, Iceland has a volcanic eruption roughly every four years.
Its most recent volcanic eruptions (including one in August 2022) took place on the Reykjanes peninsula and, whilst they are no longer spewing hot lava and flames into the air, these volcanoes are still very active.
This challenging hike with an expert guide takes you to see the newly formed volcanoes and the fresh lava fields which are still steaming.
Take a jeep and snowmobile tour of the Golden Circle
One of the best private tours of Iceland's Golden Circle, this fun jeep trip combines the iconic sights of Iceland's Golden Circle with the excitement of riding a snowmobile on the country's second largest glacier.
You'll visit the ancient site of Thingvellir, where the Continental shelves of Europe and America meet, the impressive erupting geysers and powerful Gullfoss waterfall, before taking an optional snowmobile ride on the Langjökull Glacier.
Sail on a glacial lagoon
See icebergs floating in the eerie blue waters of the Jökulsárlón glacial lagoon. And in summer, you can sail amongst the icebergs on the lagoon.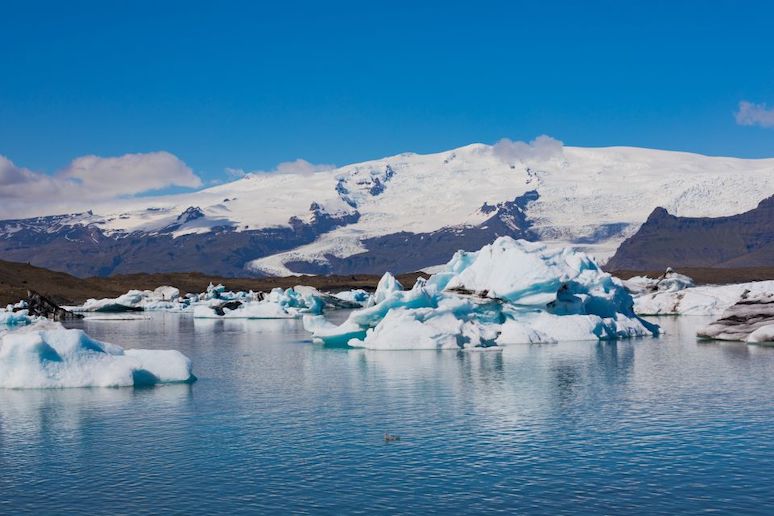 This tour of Iceland's south coast also takes in the 60-metre high Skógarfoss waterfall, the volcanic black sand beaches of the south coast, the village of Vik and Iceland's second-largest active volcano, Öræfajökull.
Go on a northern lights hunt by jeep
If you're looking for private northern lights tours in Iceland, try this evening tour in a super jeep lead by an expert northern lights guide.
Because you're in a jeep, you can head off road into the wilderness away from any light pollution to the find best place to view the lights.
Your experienced guide will tell you all about the science and legends behind the spectacular light show, and provide warm blankets, hot drinks and pastries too!
Climb a lava column
One of our favourite private tours in Akureyri, Iceland, this full-day climb up the spectacular Hraundadrangi Peak is accompanied by a professional mountain guide and includes all the climbing gear you'll need such as crampons and ice picks.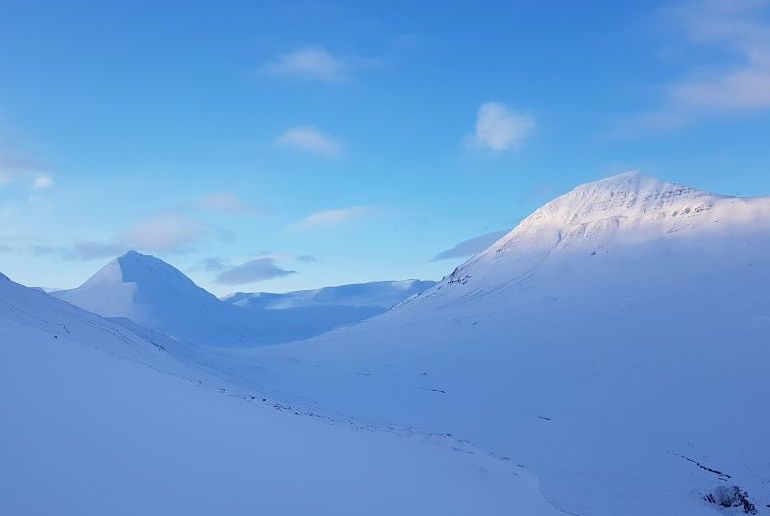 The highlight is an 80-metre ascent of a lava column, with far-reaching views over the mountains of northern Iceland.
Perfect your pics on a photography tour
Get your Insta up to scratch with this Iceland photography private tour that takes in some of the most dramatic, scenic spots on the south coast. 
Accompanied by a professional photographer, you'll visit gushing waterfalls, wild black sand beaches, rugged basalt columns and the awesome Katla glacier.
The ultimate Iceland Ring Road trip
If you're looking for Iceland Ring Road private tours, this ultimate Iceland outing may well be the answer. It's not exactly private, but it's guaranteed to be a small group with a dedicated English-speaking tour guide.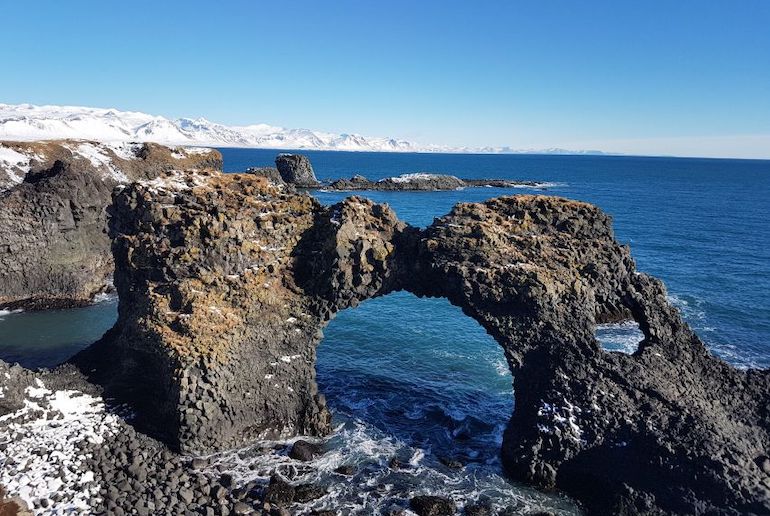 You can chose anything from a four- to seven-day trip that takes you round the entire island on the Iceland Ring Road, and includes such treats as a boat trip on a glacial lagoon, entry to the Blue Lagoon, a whale-watching trip and a guided glacier hike.
Explore the lava fields round Lake Mývatn
This tour starts from Akureyi and explores the volcanic area around Lake Mývatn near Iceland's north coast.
You'll visit the historic Goðafoss waterfall, the basalt pillars and sculptures at Dimmuborgir, Grjótagjá underground hot water cave and the Hverarönd fumarole fields, with their steaming vents.
Visit the Game of Thrones mountain
Game of Thrones fans will love this trip to Iceland's stunning Snæfellsnes peninsula and the iconic Kirkjufell Mountain, which features as Arrowhead Mountain in the series.
The tour also takes in the beautiful black church at Búðir, Kirkjufellsfoss waterfall and the Snæfellsjökull glacier.
Hike and swim in a thermal pool
One of our favourite private super jeep tours in Iceland, this off-road trip includes a two-hour hike through the Landmannalaugar geothermal area, a dip in a thermally-heated natural pool plus a trip to Hekla, one of Iceland's most active volcanoes.
You'll also stop off at Hnausapollur crater with its blue volcanic lake and the waterfalls of Sigöldufoss and Hjálparfoss.
See also:
11 best hot springs in Iceland
Self-drive tours in Iceland
The best boat tours and cruises from Reykjavik
Like what you've been reading? Get our best tips by email!