Once you've spent a day or two in Reykjavik, sampling its lively nightlife and quirky cafés and restaurants, you'll be keen to go and see the rest of the Iceland.
You can easily do this by taking day-trips out in to the countryside – click here to see some of our favourites day tours from Reykjavik.
But, many people want to get off-the-beaten-track and explore the real wilderness of the island – and that means a self-drive tour.
You can either book an organised tour, through a company such as Touris which includes car rental, accommodation, maps and a suggested itinerary, or you can simply rent a car – see our guide to car rental in Iceland for the lowdown – and do it yourself.
If you choose the do-it-yourself option, you can book your accommodation en-route through Booking.com or Airbnb – see here for some of our favourite Airbnbs around Iceland.
Is Iceland good for road trips?
The simple answer is yes! Iceland is a great place to do a road trip. There is one road that runs all the way round the island (the aptly named Ring Road), so it's pretty hard to get lost. The traffic is light, and the scenery is stunning.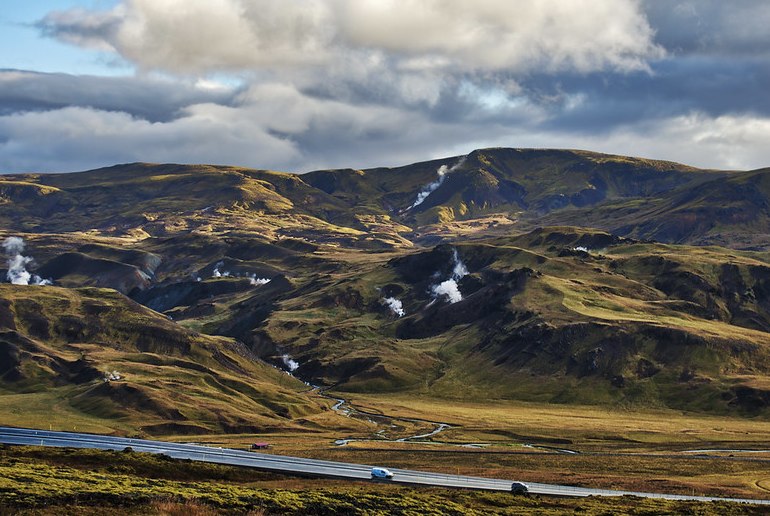 But there are also plenty of shorter road trips that will take in many of the main sights and give you a good taster of the island.
How long does it take to drive around Iceland?
Driving around Iceland on the Ring Road (Road 1) takes about 13 hours non-stop.
So, technically, you could do it all within a day – particularly in the height of summer, when the hours of daylight are long.
But of course, that would be madness, because you'd miss all the amazing sights en route.
In an ideal world, you'd give yourself a fortnight for the trip, which would allow time to stay for a couple of days in each place, so that you can do a few long hikes and really get to know the island.
However, it is perfectly doable in a week, allowing you to stay a night at each stop with time to see the main sights, spend an afternoon in an outdoor hot tub and fit in a walk or two.
What are the best self drive tours of Iceland?
There are some great self-drive tours that you can do in Iceland. Depending on how long you have to spend, you can anything from the full-on 828-mile Ring Road that runs all the way round the island, to the shorter Golden Circle tour that takes in some of Iceland's most iconic sights. Here are some of our favourites.
The Golden Circle
Iceland's most popular self-drive route is the Golden Circle that takes in three of Iceland's best-known tourist sites: the Þingvellir (Thingvellir) National Park; the original Great Geysir and the nearby Strokkur (still errupting and more impressive than its better-known counterpart); and the gushing Gullfoss waterfall.
The Golden Circle route is about 140 miles long, and it takes around three and a half hours to drive.

But of course, you'll want to stop off and explore the sights en route.
Plenty of companies run guided day trips from Reykjavik around the classic route, but the advantage of driving it yourself is that you can spend as long as you like at each site – and pick your times to avoid the coach parties!
The Unesco-protected Þingvellir (Thingvellir) National Park is a must-see – it's where the world's first parliament was set up in 920, and is also the point where the North American and Eurasian tectonic plates meet.
But, you can also stop off at other sites along the route, for a dip in the Fontana Geothermal Baths, for example, or a hike to the Kerið Crater.
The Snæfellsnes Peninsula
Often called Iceland in miniature, the Snæfellsnes Peninsula is is a beautiful, rugged, mountainous stretch of land that juts out into the Atlantic on the country's west coast.
With picturesque harbours, basalt cliffs, volcanic craters, waterfalls, lava fields and a mountainous spine, it's a great place to see some of Iceland's most dramatic geological features in a short amount of time.
You can actually drive round the peninsula in not much more than two hours, but it's much better to take two days over the trip, to give you enough time to explore the black sand beaches, lava caves, and the Snæfellsjökull National Park, home to the Snæfellsjökull glacier.
The Hótel Fransiskus Stykkishólmi in the bustling harbour town of Stykkishólmur on the peninsula's north coast makes a good place to spend the night, with views over the sea and the snow-capped mountains beyond.
The Arctic Coast Way
The Arctic Coast Way is a new route that follows the fjords and inlets of Iceland's beautiful north coast for some 560 miles.
Some of it is on tarmac roads, but in other sections, it's a real off-the-beaten-track route that follows narrow lanes and gravel tracks – you'll definitely need a 4WD.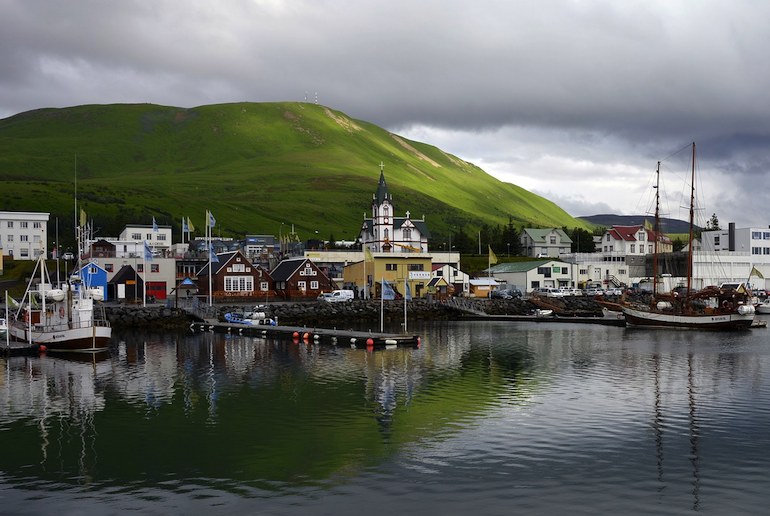 The route takes in pretty fishing villages, remote beaches where seals gather, wild bird colonies, isolated hot springs, sea rock formations – and, of course, plenty of opportunites for some stunning hikes.
The Iceland Ring Road
The ultimate Icelandic road trip, the Ring Road takes in Iceland's epic landscapes, including glaciers, volcanic craters, snow-capped mountains, waterfalls, black sand beaches, national parks and glacial lagoons.
It's a great route, whose jaw-dropping scenery is worth the drive alone, but make sure you also factor in time to stop off at its atmospheric fishing harbours, go whale-watching, dip in thermal pools and hike up mountains.
Don't forget insurance!
Whether you opt for a weekend trip along tarmaced roads, or a week-long off-road adventure, it's always worth getting insurance. Your car insurance will be included in the rental rate, but personal insurance is a must too.
Always shop around and get several quotes, but we recommend World Nomads, who can add on cover for any extra adventure activities you may do too. Get your personalised quote below.
See also:
What to see and do in northern Iceland
Getting an Icelandic sim card
The weather in Iceland (and when to visit)