You've landed in Iceland, picked up your bags, passed the passport check, and now you're ready to explore the land of ice and fire. First things first, welcome to Iceland!
Chances are, you landed at Keflavík Airport (KEF). Iceland's main international airport, Keflavík is situated roughly 40 kilometres from Reykjavík city centre. Don't get it confused with Reykjavík Airport, which is mainly a domestic airport with the odd flight to Greenland.
Now you're ready for the next part of your journey – getting to Reykjavík city centre from Keflavík Airport.
The good news is that there are several options available. We've looked into all the different transport methods, whether you're after the cheapest, fastest or most convenient way into the city.
By airport bus
By taxi
By public bus
By car
The most popular way: take the FlyBus
The Flybus is the easiest and most reliable way to get to Reykjavík. Run by a private company in partnership with the airport, it leaves every 35 to 40 minutes from right outside the arrival terminal building.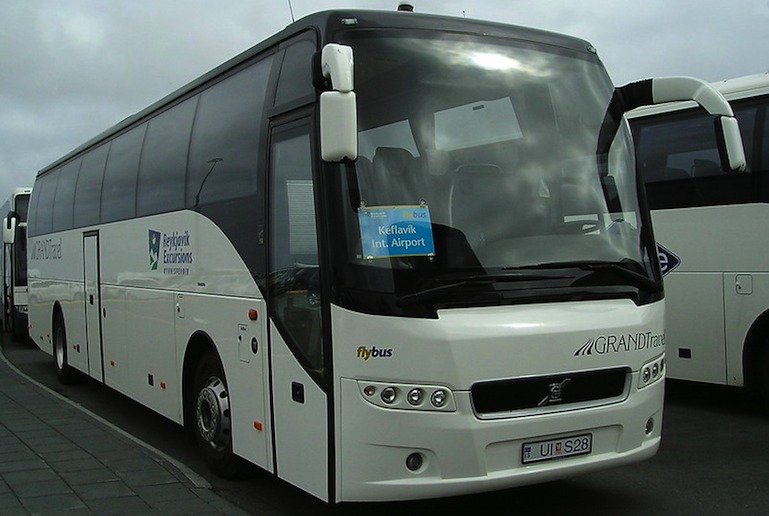 The journey from the airport to Reykjavík takes around 45 minutes, and it stops at almost all the major bus stops, hotels, hostels and guesthouses in the Reykjavík area. Wifi is available on the bus.
To guarantee a seat on the bus, we recommend booking your ticket in advance. However, if you didn't get the chance to do so then you can book your ticket at the Flybus stand in the arrivals hall.
Remember to book a return ticket for your way back, too. The Flybus drops travellers off right outside the departure hall.
A single ticket from Keflavík to Reykjavík on the Flybus costs 3499 ISK ($26 USD) and 6499 ISK for a return ($48 USD). The earliest bus leaves the city centre around 4am, so this option is great if you've got an early flight to catch on the way back.
The easiest way: grab a taxi
Taking a taxi is, of course, the most expensive way to get to Reykjavík. However, it's also the easiest and fastest way to the capital and a great option if you're in a hurry. And taxi drivers in Iceland have a good reputation for being safe, friendly and on-time.
There are usually plenty of taxis waiting directly outside the arrivals hall. If you're a small group or you've got a lot of luggage then it might be a good idea to book in advance.
Big-name taxi companies such as Uber or Lyft don't operate in Iceland, but there are two main taxi operators in the Reykjavík area – Hreyfill Bæjarleiðir and BSR. To order a taxi with Hreyfill Bæjarleiðir, call +354-588-5522, and for BSR call +354-561-0000.
A trip from KEF to Reykjavík city centre in a 5-seater taxi will cost around 15,000 ISK ($120 USD), or 20,000 ISK ($160 USD) for a larger 8-seater taxi.
The cheapest way: take public transport
Taking the public bus is the cheapest, but also the slowest, way to travel from KEF to Reykjavík city centre. The #55 bus leaves from behind the airport departures hall. The journey takes around 90 minutes, with several stops along the way, ending up at BSI, Reykjavík's main bus terminal.
During peak hours, it's sometimes difficult to get a seat on the #55 bus as it's also a popular route connecting the outskirts of Reykjavík to the city centre – therefore this option might not be ideal if you've got a lot of luggage.
The first #55 bus from KEF leaves at 6.35am and the last bus leaves at 11.55pm. The price of a public bus ticket from Reykjavík to KEF is 1920 ISK ($14 USD) per adult. You can find more information and the bus schedule at straeto.is
The most convenient way: rent a car
Renting a car in Iceland is not only a good way to get into Reykjavík, but also a great way to get around the island. The car journey from KEF to Reykjavík city centre takes around 45 minutes.
You can either book your car in advance, or directly from one of the many car rental companies found in the arrivals hall at KEF. You'll need an international drivers licence and a credit card to rent a car.
The cost of car rental depends on the company and the size of the car, but expect to pay around 2,500 ISK ($20 USD) to 6,000 ISK ($48 USD) a day. Remember that unforeseen weather events and road conditions can be difficult year-round, so we highly recommend getting insurance in Iceland for extra peace of mind.
See also:
10 of the best Airbnbs in Iceland
Getting an Icelandic sim card
The best boat tours and cruises from Reykjavik
Like what you've been reading? Get our best tips by email!